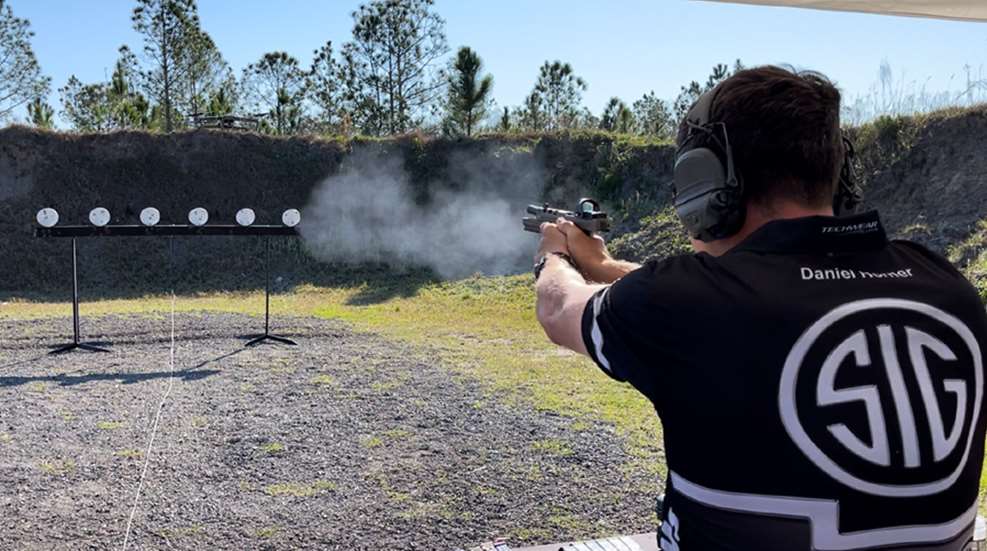 SIG Sauer is again breaking glass and shaking up the shooting sports scene, but not by way of launching a new product as you might expect.
During SHOT Show 2023, SIG Sauer kicked off the new year by announcing a signature shooting competition called SHOOT SIG. Team SIG members had been toying around with the idea of starting new competition series for some time, but it took the initiative of Team SIG pro shooter Daniel Horner to organize it into a formal concept and get it through the corporate hurdles. Horner's many years of experience in and with a variety of shooting sports disciplines gave him much to draw upon to develop a vision for what SHOOT SIG would become. Months of planning, coordinating, and collaborating at levels within the company and throughout his extended network of experienced match directors and competitors from all over the shooting community, finally materialized with the inaugural SHOOT SIG event happening in Florida the second weekend of March.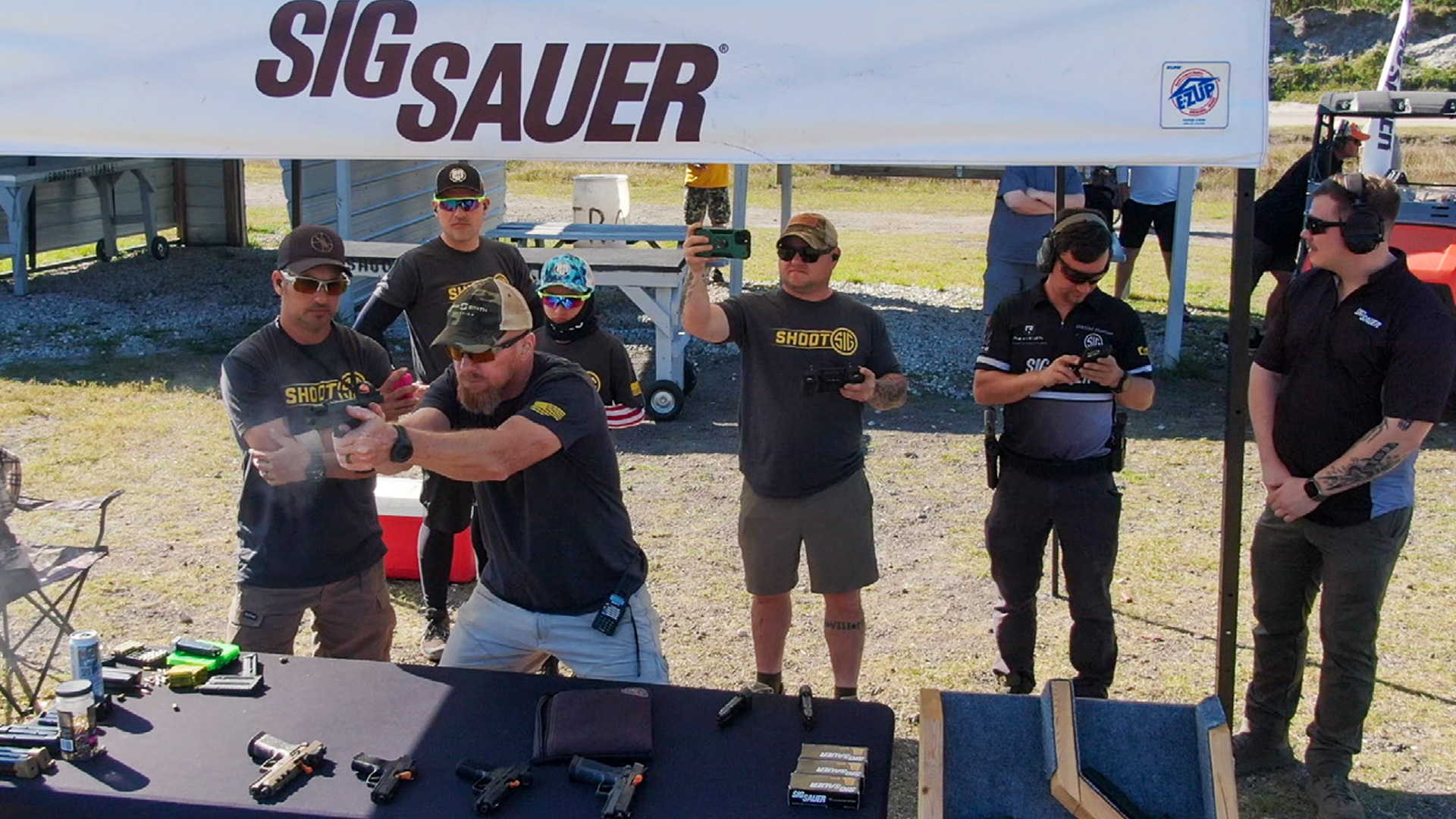 So, what is SHOOT SIG anyway? SHOOT SIG is much more than just another brand name attempt at creating a shooting competition. According to SIG Sauer's Director of Media Relations and Communications, Samantha "Sam" Piatt, "the vision for SHOOT SIG is to grow the shooting sports community and get people invested and involved with SIG products."
Part of the way Piatt envisions this happening is by continuing to support and promote strong partnerships with USPSA, IDPA, Steel Challenge and other similar organizations and/or clubs that are bringing shooting enthusiasts together for competition and recreational shooting alike. While this falls under her portfolio and direction as the manager of Team SIG, which SHOOT SIG is nested under within their corporate hierarchy, she notes that the real wizard behind the curtain running the program is Horner. In discussing how the vision for SHOOT SIG came to be, Horner said, "the inspiration came from identifying a gap between the people who are passionate firearm enthusiasts who shoot a couple boxes of ammo at a range on a regular basis and want to take that next step, but not go straight into a high-pressure shooting competition scenario such as a USPSA match." The idea therefore was to keep it simple and basic, with guide rails so to speak, along the whole process start to finish. "You can come to a SHOOT SIG event, and you'll know exactly what you are getting into. There are classes all along the way to assist new shooters with how to conduct themselves on the range, what to expect, understanding the range commands, and then there will be a SIG representative there to take you through the event and help with any questions you have," Horner said.
Although SHOOT SIG is geared towards a soft introduction to the shooting sports, veteran shooters will also find aspects of the event enjoyable and worth a fair shake.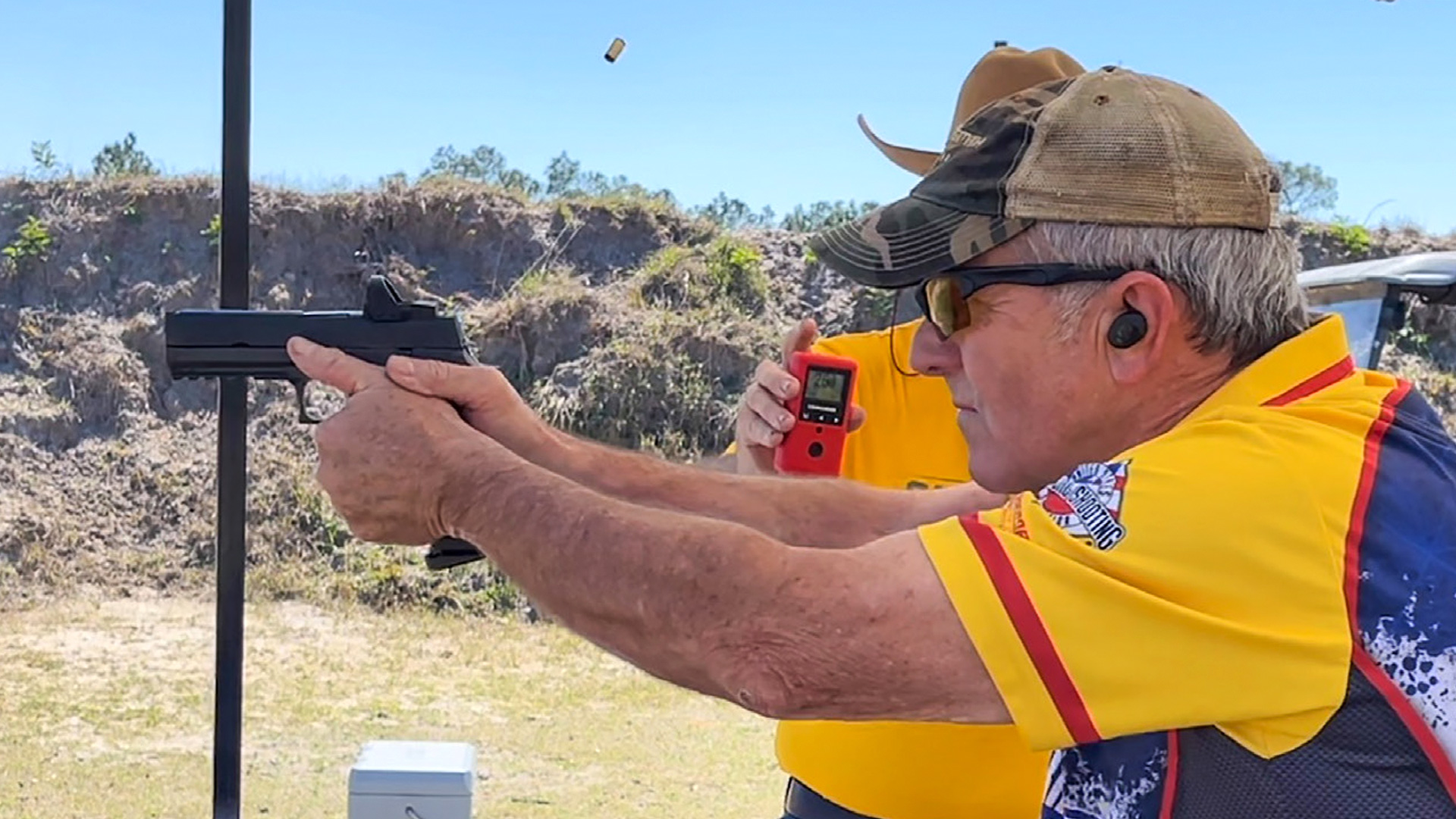 Before outlining what one can expect at a SHOOT SIG event, let's talk about the SHOOT SIG Membership first and what it entails. To start, you must be a member of SHOOT SIG to participate in any of the scheduled events. The membership is $50 annually, and in addition to being able to register and compete in SHOOT SIG events nationwide, you will get the following perks: access to the SHOOT SIG Program Shooter Ranking and Leaderboard, participation in the SHOOT SIG Product Purchase Program for exclusive member pricing, access to purchase SHOOT SIG gun of the year, partner discounts, and a 15 percent SIG Webstore cart discount after completing a match (must complete match to be eligible). Members will also receive the power to access exclusive SHOOT SIG member events and online seminars, a quarterly newsletter with exclusive training tips and drills, an entry into quarterly raffles for a SHOOT SIG product pack and, finally, an entry into an annual member-only aspirational raffle. This year's aspirational raffle is for the new MCXSPEAR rifle with a SIG Sauer Electro-Optics TANGO6T and SLX Suppressor package. You can count me in.
OVERVIEW OF A SHOOT SIG EVENT
A SHOOT SIG event is about as straightforward as it gets for a shooting competition. It is a short, relatively simple match to shoot, and a lot of fun to boot. It takes 56 rounds to complete if you shoot it clean (no misses), but less than two boxes of ammo if you use all the allotted rounds at each stage. The match itself takes less than an hour to complete and the stages were designed with the new shooter in mind. Although SIG is in the title and the event is primarily geared towards competing with SIG Sauer firearms, you do not have to own or shoot a SIG Sauer firearm; however, you do have to shoot a SIG Sauer firearm to win in any of the respective SHOOT SIG divisions (explained later). If you do not own a SIG Sauer firearm, no problem—you can purchase the ammunition necessary to shoot the match at registration and SHOOT SIG will provide you with a firearm at each stage for the division you wish to compete in. In terms of eliminating the most common barriers to entry into the competition shooting sports—time, money and intimidation factor—SHOOT SIG checks all the boxes. What more can you ask for?
SHOOT SIG STAGES
There are three separate courses of fire, or stages, that are shot in sequential order. In other words, all competitors will start on Stage 1 and finish on Stage 3 regardless of what time they start the event. The three stages are set courses of fire that will always be the same no matter where a SHOOT SIG event is hosted. Stage 1 "X Series" is a standard plate rack consisting of six eight-inch plates from 30 feet (see Fig. 1 "X Series") that consists of three strings of fire for time, with the slowest time being tossed out.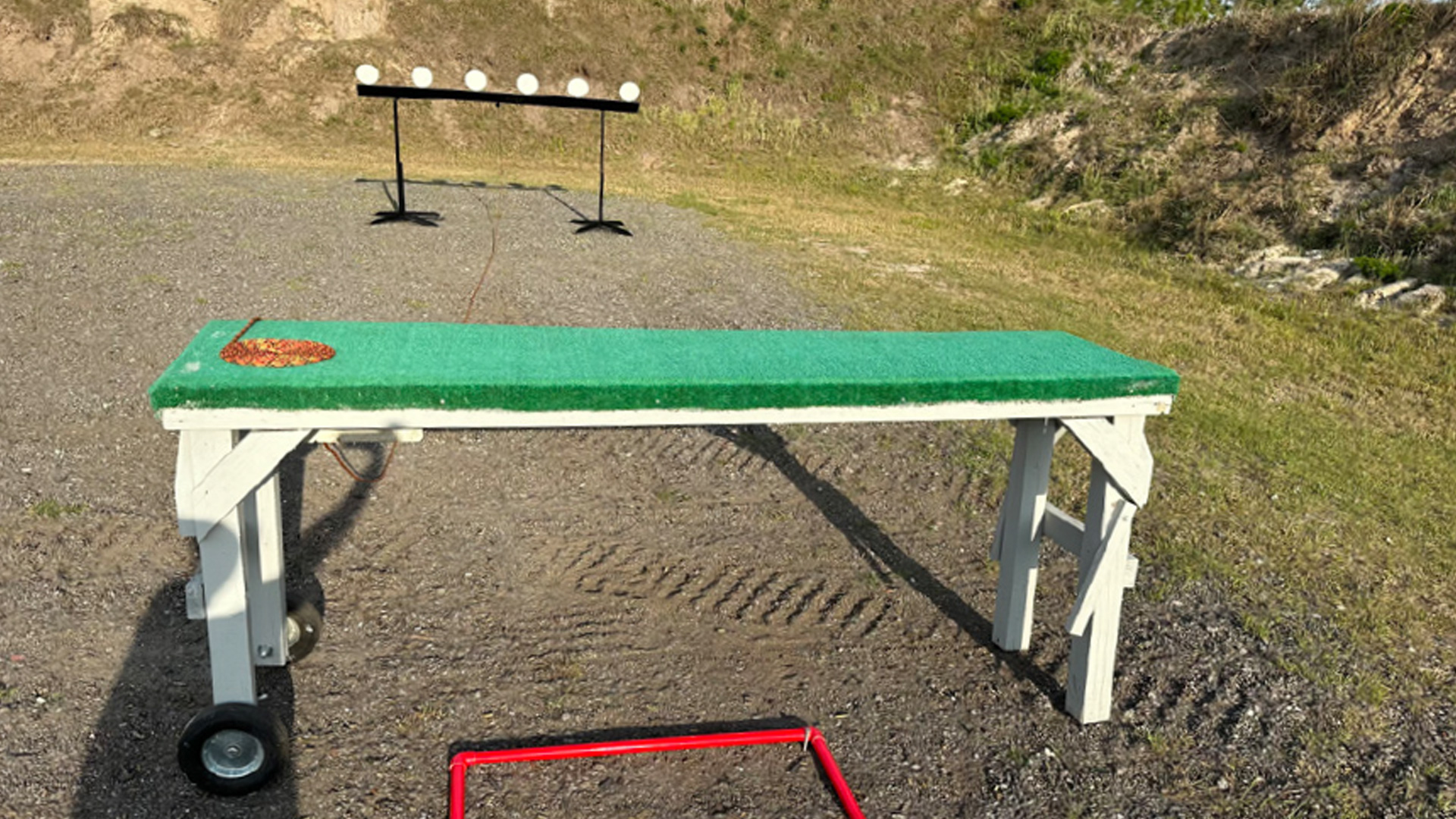 Stage 2 "V-Crown" consists of two strings of fire, one of which will be tossed out, against five SHOOT SIG bullseye paper targets at 15, 25, 35 and 45 feet respectively (see Fig. 2 "V-Crown").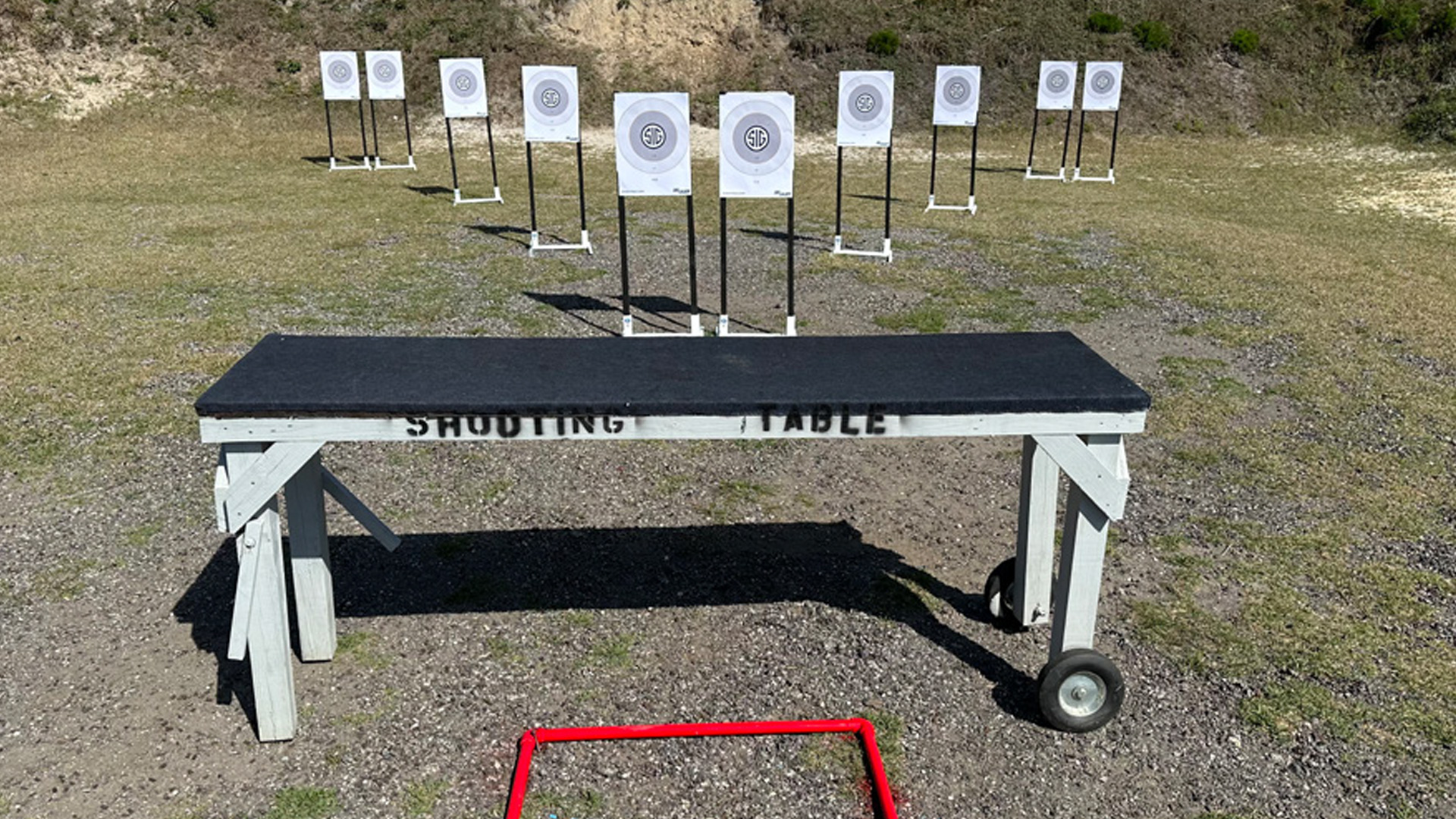 Stage 3 "DH3" is comprised of a total of six 12-inch steel hexagon plates; five are painted white and one is painted blue, the five white plates must be engaged first and then you stop on the blue plate (see Fig. 3 "DH3"). Stage 3, like Stage 1, requires three strings of fire with the slowest time being thrown out; the furthest shot will be from 45 feet, while the closest shot will be from 30 feet.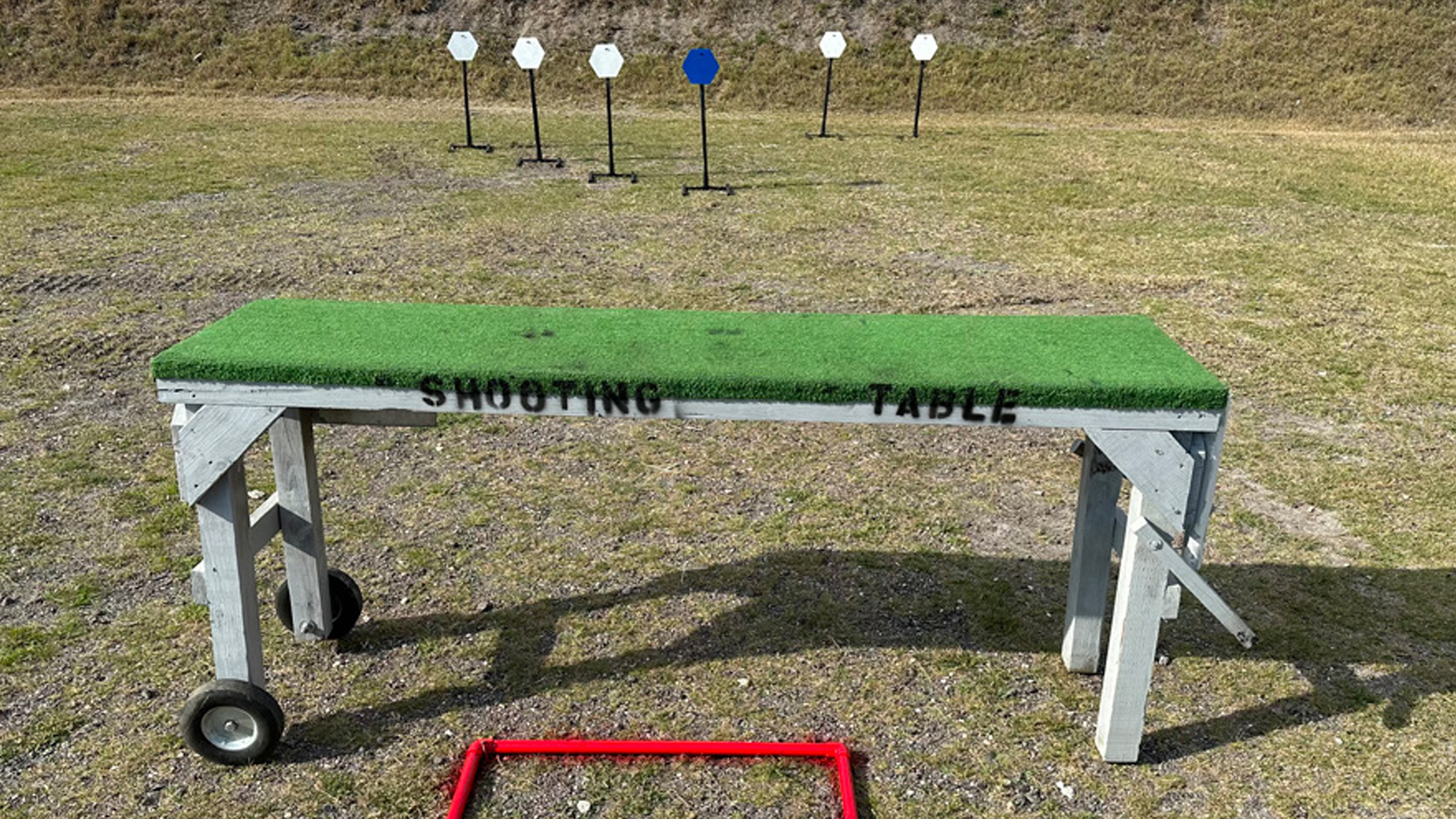 SHOOT SIG DIVISIONS, CATEGORIES AND SCORING
Divisions for the SHOOT SIG program are defined as the following: SIG Pistol Iron, any SIG Sauer manufactured pistol with factory or similar post and notch sights; SIG Pistol Optics, any SIG Sauer manufactured pistol with a slide mounted optic; P365 Iron, any model P365 with factory or similar post and notch sights; P365 Optic, any model P365 with a slide mounted optic; SIG PCC, MPX with iron sight or optic; P322, any sighting system; Other, any pistol or PCC not manufactured by SIG Sauer with any sighting system (scores will be posted but not eligible for prizes).
Categories (Junior, Senior, Super Senior, Lady and First Responder) will be recognized in SIG Pistol Iron and Optics divisions, provided there are five or more competitors in each of the two main divisions respectively.
As for scoring protocols, a competitor's final scores (raw time, plus any penalties) for each stage will be added together to determine final match score and posted by division. Scoring will be conducted on electronic tablets and pushed to Practiscore in real time.
SHOOT SIG FORMAT
Unlike most USPSA or IDPA matches where everyone shows up at the same time, divides up into squads, then starts on different stages to work their way through the entire match, SHOOT SIG participants will see a much different format. Again, you must be a current member with a valid SHOOT SIG membership ID number to participate. SHOOT SIG participants are then encouraged to register online via Practiscore and select an available time slot to start the match prior to arriving at a SHOOT SIG event; however, walkups are always welcome, and you may purchase a SHOOT SIG membership at the event. The time slot you select will also correspond to your squad number; for example, if you select a 10 o'clock start time, you will be on squad 10. Each start time slot will be limited to a maximum of four participants. It is recommended you arrive and check in with registration 15 minutes prior to your scheduled start time on the day of the match. When your scheduled start time opens, a SHOOT SIG representative or Range Officer will escort you and your fellow squad mates to Stage 1 and stay with you through the entire match.
Each squad is allotted a 45-minute block of time to complete the event. After completing Stage 3, your scores will be tallied and pushed to Practiscore and ranked against your fellow competitors, and your match will be complete. If you wish to shoot more than one gun, you may do so by registering to shoot in a second, third or even fourth division and getting in on the next available time slot by stopping by the registration area.
THE SHOOT SIG EXPERIENCE
Part of the idea behind this format is to accommodate those who for a variety of reasons might otherwise not be able to devote an entire Saturday or Sunday to shooting a match but would still like an opportunity to test their skills and have some fun. So SHOOT SIG allows you to sign up for a start time that fits your schedule, show up and shoot, and then get back to your weekend activities without having to stay around on the range all day. As mentioned previously, the allotted time for each squad from start to finish is 45 minutes. In essence, you can show up to a SHOOT SIG event and be in and out in roughly an hour! Horner notes that, "this is all meant to be very predictable and well planned out." Once more, for the newer shooters or first timers, there will be a dedicated SHOOT SIG representative or range officer with your squad from start to finish; they'll be there to assist you with any question you have, especially in understanding what is required at each course of fire, and ultimately be there to ensure you have a great time at the event.
Another goal that SIG has for each SHOOT SIG event is to have a demo bay set up with a SIG Academy instructor available on-site to assist new shooters with understanding their SIG firearms, getting comfortable with the proper loading and unloading techniques, fundamentals of marksmanship, as well as understanding the range commands that will be used by the range officers at each stage. Participants will also be able to try out a variety of SIG's most popular firearms at the demo bay with a SIG Academy instructor. Horner also teased that they are working on a SIG kiosk to incorporate at the demo bay tent where participants can take advantage of their SHOOT SIG membership discount and have any product-related questions answered by a SIG representative.
SHOOT SIG PRIZES AND AWARDS
Is a shooting match even a match without prizes and awards? SIG does not think so, and so they are going all in on the prizes for each SHOOT SIG event. Main division (SIG Pistol Iron and Optics) winners will receive a SIG Sauer firearm for first place, a SIG Sauer optic for second place, and a free entry fee to a future SHOOT SIG event for third place. Other division first place winners will have an option for a SIG Sauer firearm or optic. Of course, there will be several random draw winners from the pool of paid participants at each event for SIG Sauer firearms, optics and other SIG Sauer products. Winners will be notified within 48 hours of the event and provided instructions for how to claim their prize. Oh, and don't forget about the swag tent—there will be a variety of SHOOT SIG-branded merchandise for purchase and random giveaways at every event as well.
THE INAUGURAL SHOOT SIG EVENT
The first SHOOT SIG event took place March 10-12 in Florida at the Volusia County Gun and Hunt Club, near New Smyrna. Staff for this event came from the qualified range officer roster from the hosting range and were provided with a short training opportunity on Friday afternoon by shooting legend and official SHOOT SIG Competition Manager, Shannon Smith. Smith then covered the SHOOT SIG match specifics, and the staff members were off to test their own skills against the stages. The main match began the next morning at 9:00 a.m.
More than 100 unique participants came in from all over Florida and reflected a good crosssection of skill levels from novice to expert. A fair number elected to run the course more than once, switching to a different firearm and category for their follow-on attempts, bringing the total number of scores logged to 172. This exceeded all expectations of the SHOOT SIG staff and certainly validated the overall concept. The top honors for the first event go to Lee Nuguit for SIG Pistol Optics and P365 Irons, with Gorka Ibanez for SIG Pistol Irons, Danny Clifton for SIG P365 Optics, Raegan Heam for SIG P322 and Jeremy Leightner for SIG PCC. Congratulations to all the inaugural SHOOT SIG event division winners.
Overall, looking at the match from the standpoint of evaluating whether SHOOT SIG lived up to their goal of eliminating barriers to entry into the shooting sports, it was evident that those who were new to shooting sports were having a great time and enjoying all aspects of the SHOOT SIG experience. It is hard to ask for much more when you get to show up and compete in a competition that is so accommodating. Forget about pasting targets, resetting props, painting steel, or standing around waiting for long periods of time before it's your turn to shoot—you won't find any of that at a SHOOT SIG event. Every aspect of the total shooter experience was well thought out and planned for, so that the participants would walk away feeling good about their time on the range. The Volusia County Gun and Hunt Club was an excellent host and provided a safe, fun and clean atmosphere for the first SHOOT SIG event.
Ultimately, Piatt and Horner want to ensure that SHOOT SIG will be a solid entry point for new shooters to get involved in the shooting sports and have some fun along the way. With more SHOOT SIG events already scheduled for later in the year, Smith is actively working to bring SHOOT SIG to a range near you. Check out shootsig.com.
Article from the May/June 2023 issue of USPSA's magazine.