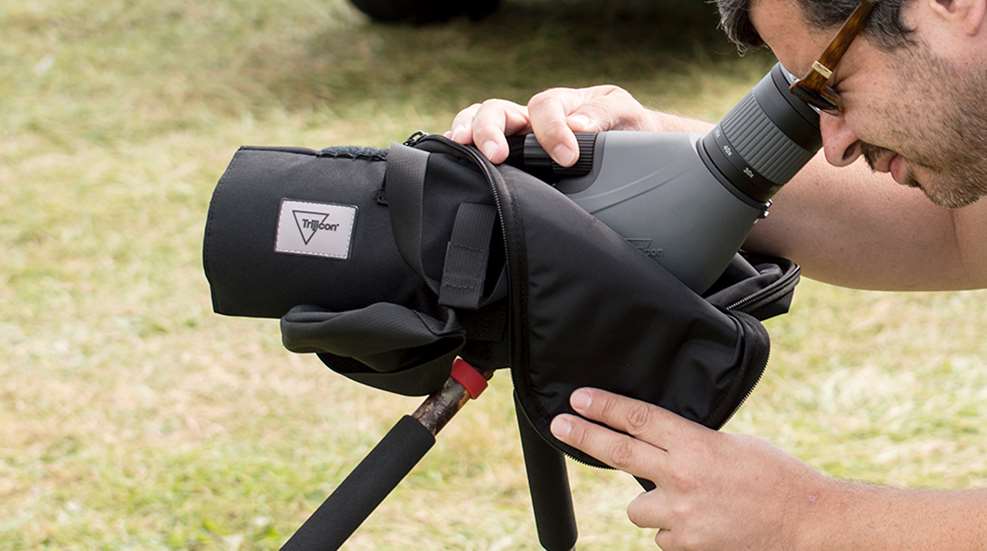 Whether testing loads, spotting for a fellow shooter or reading the mirage, spotting scopes are a serious investment. The five tips outlined below will help you select a spotting scope that is ideal for your specific needs. 
Power: Beyond 200-300 yards, you are not looking for the bullet holes. At longer distances, the scope simply needs to identify mirage, your target number and your scores as well as the scores of adjacent competitors to compare wind-doping data.
Objective Lens: The size of the objective lens determines the light-gathering capacity and field of view. More light provides increased clarity and detail, particularly early and late in the day.
Lens Coatings: Image quality can be improved with lens coatings that filter out UV and certain blue wavelengths. The more expensive coatings (fluorite and ED) are more appropriate for scopes used in photography.
Depth of Field: Not all scopes will focus as close as 33 feet (10 meters). Check the scope specifications for minimum focus if you'll be scoring targets at close range.
Exit Pupil: Exit pupil is computed by dividing the objective lens size by the power: The more magnification, the smaller the exit pupil. Because the exit pupil passes all of the image required by your eye, bigger is generally better, up to a point. A healthy pupil operates in a range of 2-7mm, narrowing in bright light and dilating with less. As we age, this range drops to about 5mm. So if the scope's exit pupil is much less than 3-5mm, the target becomes fuzzy. If it is much higher―it's wasted capability.
Field Performance: A scope that works well in the parking lot may not do as well in the rain or in extreme temperatures. Do your homework. There is a vast amount of good information available online, we suggest starting with the very active optics forum at AccurateShooter.com.
---
Ready to pick out a spotting scope? Here are a few choices you might like.