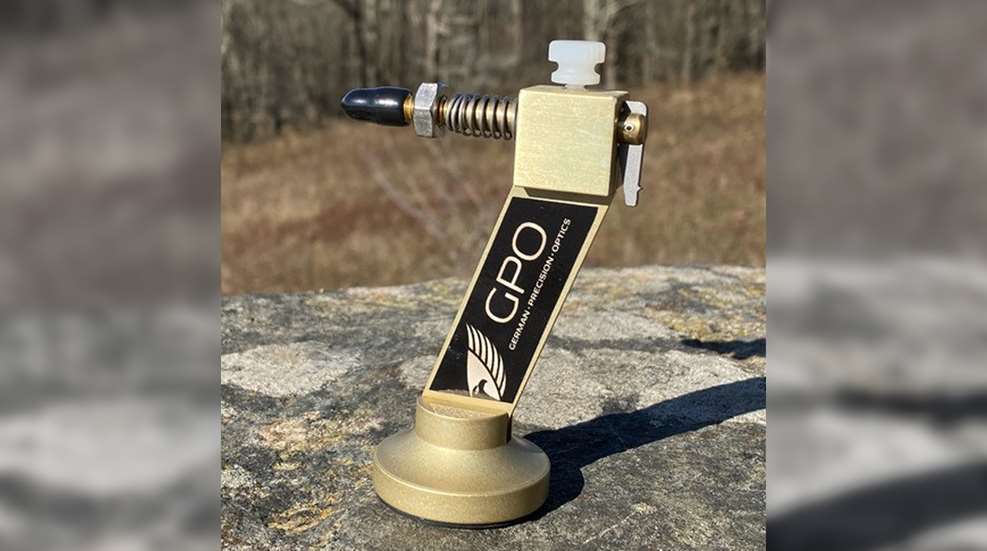 New from German Precision Optics is the Optic-Fit binocular and spotting scope tripod adapter system. Designed by outdoor enthusiasts, GPO says this quick-connect system will "get your optic on and off a tripod with an inventive, durable and one of the fastest quick detach systems in the industry."
Offerings include the base Optic-Fit model ($79.99), along with the Optic-Fit Pro ($99.99). The Pro is smaller and lighter than the base model, also adding a nylon screw on top that holds the center pin tight in place to eliminate rocking. In addition, take photos by using the camera/spotting scope accessory mount ($129.99).
The multi-part Optic-Fit system is compatible with virtually all binocular and spotting scopes. The machined aluminum base is assembled with steel Allen screws, and attaches to any tripod by using the ¼x20-inch tripod base plate. The binocular post, which attaches to and remains on the binoculars, threads into the hole on the front center hinge located between the two binocular barrels. Machined from stainless steel, it locks into place on the binocular with a stainless-steel hex bolt. After the quick-detach post is connected to the binoculars, it attaches to the Optic-Fit base by sliding it through a machined hole in the base and locking it in place.
Made in the USA, the Optic-Fit tripod adapter system is available at retailers around the country. Something else to note—GPO says if you break the product, the company will replace it at no charge. Learn more at gpo-usa.com.
---
Read more:
Inside Look at the Beretta Factory in Italy