by
at
USA Shooting
posted on November 20, 2023
Support NRA Shooting Sports USA
DONATE
YanXiao Gong earned the title of 2023 Parapan American Games Champion in the Mixed P3 25m Sport Pistol SH1 event in Santiago, Chile, on Saturday, November 18.
Gong, a Malibu, California, native, walked away from the final with a score of 24. He was joined on the podium by Team USA Parapan Pistol teammates Marco De La Rosa, who claimed silver with 16 points and Mike Tagliapietra earning the bronze medal with 13 points. The latter two U.S. shooters earned their medals in the final after a shoot-off.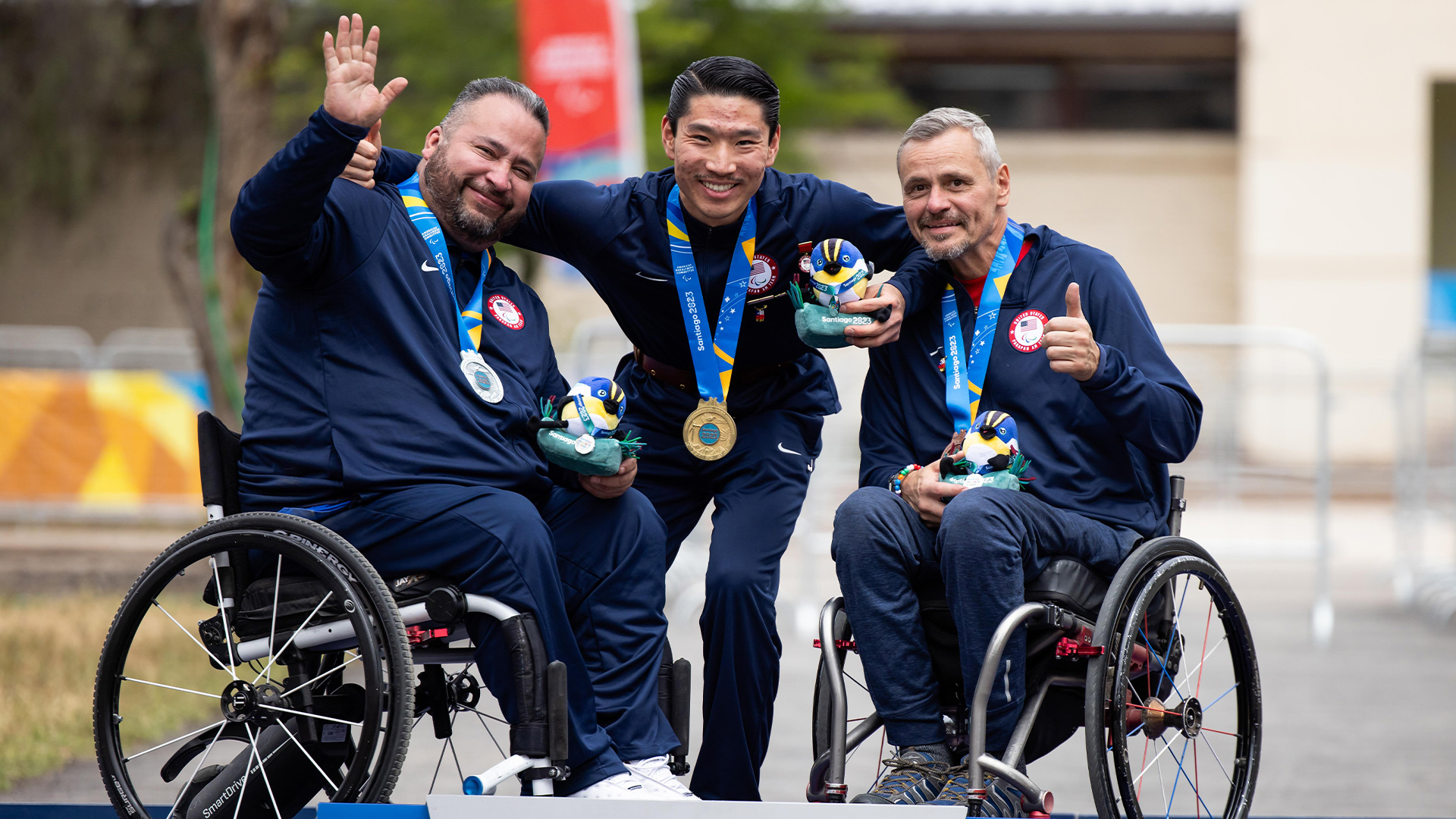 "I feel content and accomplished," Gong, a 2023 Paralympic World Champion said. "I am especially grateful that I am surrounded by the teammates I have. Nothing beats having the stars and stripes on all three flag poles."
Gong, who made his Parapan American Games debut this month in Santiago, earned his spot in the final after finishing first overall in the qualification rounds and set a new Parapan American Games qualification record with his score of 587.
He spoke about his mindset before going into the finals. "Even if this is a somewhat regional competition, I definitely felt the adrenaline and the excitement battling along with my teammates," Gong said.
All three athletes mentioned that their Team USA podium sweep at the 2023 Parapan American Games was a great experience. During the final, athletes were knocked out one by one based on who held the lowest scores after elimination shots.
"Once I knew we got first, second and third, I wasn't worried anymore," De La Rosa said. "I just smiled and thought, 'Man, this is awesome.' It was a good time and fun at the end."
Gong is adding Parapan American Games Champion to his long list of titles. He was most recently crowned 2023 World Shooting Para Sport (WSPS) Champion in P3. He earned a total of three medals at the WSPS World Championship in Lima, Peru, this past September to include a team bronze in P3. Gong earned the team bronze alongside De La Rosa and Tagliapietra, and another bronze in P1 Men's 10 Air Pistol.
Gong also competed in P1 Men's 10 Air Pistol at the 2023 Pan American Games on Sunday, November 19. He captured the bronze medal in the event with a score of 204.7, and Marco De La Rosa earned the championship title with 227.6. Next, Gong will compete in the P4 Mixed 50m Free Pistol SH1 event on Monday, November 20.
For official results and scores from the 2023 Parapan American Games, go to this link.
USA Shooting would like to thank platinum-level sponsor The NRA Foundation for its support to the team, which is helping United States athletes garner podium finishes at the 2023 Parapan American Games.
Learn more about USA Shooting at usashooting.org.