Your M1 Garand used to throw empties forward and to the right as it should, but today it's been ejecting to the right rear. What does it mean? Or you've reassembled your Garand and now the action is locked up—what happened? And do you really need a gas cylinder lock screw wrench and gas cylinder wrench to disassemble the Garand?
Information, Please
The proper workings and care of the rifle, however, are not exactly intuitive for the average shooter unfamiliar with the M1. Happily, reliable information is easy to come by—and plenty of it is free—and so are tools, accessories and the necessary en bloc clips. Number one on your priority list should be an illustrated parts breakdown—an IPB or "exploded view" drawing—of the disassembled rifle showing the relationship and ID of the parts, accompanied by disassembly/reassembly instructions. Second are instructions on operating the rifle. Third, you'll certainly want to know the M1's critical lubrication points and some tips on troubleshooting common problems. And then, of course, come the necessary accessories like slings and clips, as well as the stuff of historical interest such as manuals, bayonets, grenade launchers and the like, if you are so inclined. Let's see where to get it.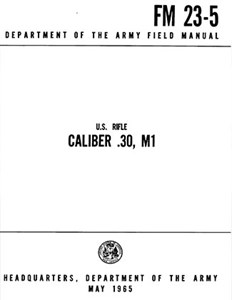 Hi-Pri Info
Beginning with our highest priority, there are maintenance information sources available both modern and contemporary to the Garand. Perhaps the most authoritative and yet concise "need-to-know" information is within the Department of the Army Field Manual FM 23-5 "U.S. Rifle, Caliber .30, M1" of May 1965 and reprinted by the government as late as 1987. The FM lacks a full IPB and parts list, and the photos, reproduced on 1980's photocopiers and scanned as-is, are not very clear but it is useable.
Gun-Guides publishes a 16-page booklet on Garand disassembly and reassembly. Bright white paper and high contrast makes the photo and print quality far superior to original government publications, and spiral binding allows the booklet to lie flat for easy reference while breaking the Garand down or reassembling it. It has an IPB and parts list, but does not include info on lubrication points. Price is $7; visit Gun-Guides.com for more information.
If you prefer to see it done, try the On-Target M1 Garand video. The disassembly/reassembly procedure is brightly lit and in-focus, hands are out of the way for good viewing and the speaker communicates clearly. A clean & lube tutorial takes up a good portion of the video's 72 minutes. Priced around $20 and available at OnTargetVideos.com.
"Know Your M1 Garand Rifles" by E. J. Hoffschmidt and published by Blacksmith Corp appears to be out of print, but it is included here because used copies are available online and it is a valuable, though abbreviated resource. Includes field stripping, troubleshooting, operation, serial number table and an armorer's how-to on modifying pre-war Garands to wartime configuration. The first 45 pages touch on the developmental models of the Garand, including the "E" series and into the "T" series that became the M-14 rifle, the BM-59 and more. A book to arm you with info and factoids for your next Garand conversation.
For more in-depth information, there are specific "go-to" authors who have written excellent books on the M1 Garand; an online search of their names will show titles of interest to you. They are Bruce N. Canfield, Scott Duff and Joe Poyer.
Now That We're Online…
The Civilian Marksmanship Program is the leading national authority on the M1 Garand, having inherited the responsibilities—as well as the remaining government surplus Garands—of the former U.S. Army Director of Civilian Marksmanship. In addition to sales of surplus M1s, their parts and ammo, CMP offers live webinars on proper M1 maintenance, marksmanship clinics, Garand clinics, sanctioned competitions and a whole lot more.
Nicolaus Associates is a veritable treasure trove of esoteric technical information on the M1 Garand, from the "gas trap" to the M1D and National Match versions. In addition to reprints of dozens of different U.S. Government M1 Garand Technical Manuals, Maintenance Manuals, Field Manuals and Bulletins, Eric Nicolaus offers his own work he's written on M1 Garand rear sights, the M81, M82 and M84 telescopes and the M1D sniper rifle, all with blueprints and detailed component parts ID and illustrations. His books and reprinted manuals are spiral bound to lie flat on your workbench, though Bulletin reprints I've ordered from Nicolaus, with lesser page counts, come stapled instead. Just about everything is printed on quality 24-pound or heavier "bright white" paper so that the illustrations and text stand sharp and clear, and the spiral bound books are protected by 19 mil polypropylene covers. Nicolaus also offers fun Garand goodies such as color reprints of WWII posters and technical diagrams for your wall, and Garand coffee mugs for your kitchen. Nearly all products are under $25, many are under $10, and there's a surprising amount of free, downloadable information. As an aside, Nicolaus gives similar treatment to the Springfield and M-14 rifles.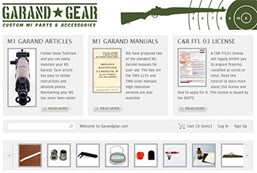 Definitely a website to bookmark is Garand Gear.  There you'll find USGI spec parts, tools, gauges, clips and a few Garand accessories. They also have some interesting freebies, most notably a direct analysis of M1 gas port pressures produced by different brands of commercial .30-06 ammunition, showing which ones exceed M2 Ball pressure, as well as the pressures produced by ammo manufactured specifically for the M1 Garand, such as Hornady's M1 Garand Match and Federal's American Eagle M1 Garand. Here you'll also find free, downloadable and printable PDF copies of War Department M1 Garand maintenance manuals TM9-1275 and TM9-1005. To the latter they've added some history of the Garand as well as some photos not found in the original.
Two Kinds Of Parts
Finding Garand parts is as simple as typing, "M1 Garand parts" in your browser bar. Most who sell parts also sell accessories and the en bloc clips; new-made clips are now available, bringing the per-clip price down into the $1.40-$1.75 range when you buy 12-20. Do be aware that Garand parts are segregated into "collector" and "non-collector" (a.k.a. new manufacture) categories, though both may be promoted as "USGI." And remember that adding any "NM" parts to your Garand disqualifies it for CMP "As-issued" competition. 
Tools?
There are a number of armorer's tools and gauges specific to the M1 Garand, but none are necessary for a shooter to perform routine maintenance on the rifle. If you've got the spare coin as well as the historical interest, then certainly "the proper tool for the proper job" is always preferable. For routine maintenance disassembly and reassembly, a gas cylinder screw wrench, gas cylinder lock wrench and combination tool are really all you need.
But in answer to the opening questions, you can use a large flat bladed screwdriver to remove the gas cylinder screw and padding, an adjustable crescent wrench jaws with leather (or using extra care) will work to remove and tighten the gas cylinder lock without marring it. If the action is frozen in position on reassembly, then check that you correctly oriented the accelerator before you reinstalled the op rod catch assembly pin—an example of why an IPB is handy.
And those rearward ejections? The M1's ejected empties flying rearward rather than forward is an indication of excessive friction and forewarns of eventual failure to chamber and eject. The cure is to grease the seven op rod/bolt/receiver contact points shown in Figure 33 in that free PDF download of FM 23-5.