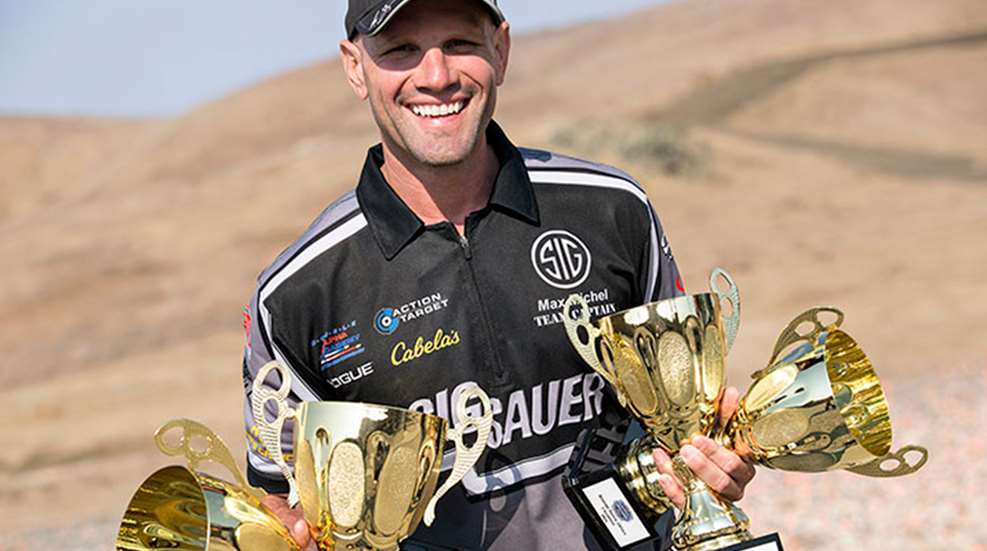 Max Michel was named the overall winner of the Steel Master division during the 2016 Steel Challenge World Speed Shooting Championships, held at the Hogue Ranch in San Luis Obispo, CA. With his recent victory, the Team SIG Captain became the only shooter in the history of the sport to hold seven World Speed Shooting titles—as well as the only shooter to win the title four consecutive years in a row (2013-2016).

"It is truly an amazing yet humbling feeling to be named the 2016 World Speed Shooting Champion," said Michel. "Looking back over my career, it is still hard for me to believe that I have been able to accomplish so much … truthfully, this is exactly where I hoped that I would be at some point."

During the course of the three day match, Michel relied upon a variety of SIG Sauer firearms—in what turned out to be one of the most historic matches of his career. On the first day of competition, Michel competed in the Rimfire Optics division using a SIG Sauer 1911 pistol that was retrofitted with a Tactical Solutions 22LR upper. Michel's final score of 60.85 seconds earned him first place out of 60 divisional competitors.

Competing in the Limited division on day two of the match, Michel finished in second place with a total time of 88.85 seconds using a SIG Sauer 1911 Traditional Match Elite in 9mm. On the third and final day of the match, Michel competed in the Open division using a customized SIG Sauer 1911 in .38 Super. His total time of 74.84 seconds set a new overall course world record, earning him a first place finish in the division.

Michel's combined time of 224.54 seconds for the three divisions also earned him the prestigious "Steel Master" title. His total time surpassed his score from the previous year, setting a new overall world record. Michel's history making performance didn't end there—he also set a new world record on the last stage of the match, Outer Limits, which established him as the overall course world record holder for seven of the eight total stages of fire.

"Throughout his career, Max has served as a great ambassador for the shooting sports and as valuable member to the SIG Sauer team. Everyone at the company wishes him continued success as we all wait with anticipation to see which record he will break next," said Sean Salter, vice president of sales and marketing for SIG Sauer.

The Steel Challenge World Speed Shooting Championships were founded in 1981 with 70 shooters competing for $20,000 in cash and prizes. Since then, the match has grown—attracting more than 200 of the world's fastest shooters competing for over $390,000 in cash and prizes. Governed by the Steel Challenge Shooting Association (SCSA), the sport uses steel targets arranged in five-target arrays, along with an electronic timer to record a competitor's time.

Photo by Jae Gillentine.