This article originally appeared in the October 2010 issue of Shooting Sports USA.

NIH Study: Supported by grants from the National Institutes of Health, David M. Nondahl and colleagues conducted a 1999 study on recreational firearm use and hearing loss. As one of the most focused research projects on this topic, 3,753 participants in Beaver Dam, WI, aged 48 to 92 years, responded to interviews and participated in hearing exams to assess the relation between recreational firearm use and hearing loss in a population of older adults.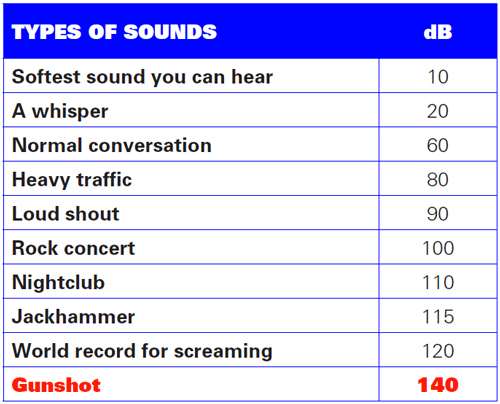 After adjusting for age and other factors, high frequency (4, 6 and 8 kHz) hearing thresholds tended to worsen as years of shooting exposure increased. This was true for both target shooters and hunters. The risk of having a marked high-frequency hearing loss increased 7 percent for every five years the men had hunted. Thirty-eight percent of the target shooters and 95 percent of the hunters reported never wearing hearing protection while shooting in the past year.

Dr. Thelen Interview: The website 4hearingloss.com published a 2006 interview with Dr. Michael Thelen (Doctor of Audiology) titled: Gunshots—Hearing's not-so-silent enemy.

[Extract] "To understand hearing loss, we first must understand the dynamics of hearing. Noises result in airborne sound waves that create pressure as they enter the ear," Thelen explained. "The eardrum and ossicles (tiny bones called the hammer, anvil and stirrup) turn this pressure into mechanical energy, which in turn creates hydraulic energy in the fluid of the cochlea, a snail-shaped organ in the inner ear. Rows of hair cells are then stimulated and the vibrating hairs create sensorineural signals that transfer sounds to the brain via the auditory nerve. Continued exposure to loud noises damages the rows of microscopic hair cells. Once we lose hair cells, hearing is lost.

"As we gradually lose our hearing, we don't notice it because we still hear the sound of a human voice, for example. Vowels are generally spoken as low-frequency sounds (for example, the 'aw' sound in thaw) and can be spoken louder, but the consonant sounds (like the 'th' in thaw) are high frequency sounds that can't be spoken louder. Thus a person with a high frequency hearing loss can't tell the difference between thaw, raw and law. This is why many people who begin to lose their hearing believe other people are simply mumbling," Thelen said.

"Preventing hearing loss is easy and convenient for target shooters. Those who shoot trap, for example, wear earmuffs or earplugs while shooting. But hunting calls for specialized devices that allow normal sounds to be heard while clipping or otherwise dampening the high-decibel sounds of gunfire. The Walker's Game Ear muffs, for example, can be adjusted electronically to allow normal sounds to enter and can even be set to amplify the sounds of approaching game. When a loud noise such as a gunshot enters the speakers outside the muffs, it is temporarily silenced with the electronic clip."

"In-the-ear plugs that mold to the outer contours of the ear generally do not seal as well as rollup-style plugs that fit tightly in the ear canal, or as well as muff-style protection. Ear plugs with a mechanical valve or filter that are supposed to allow normal sounds to pass while filtering loud noises generally are ineffective."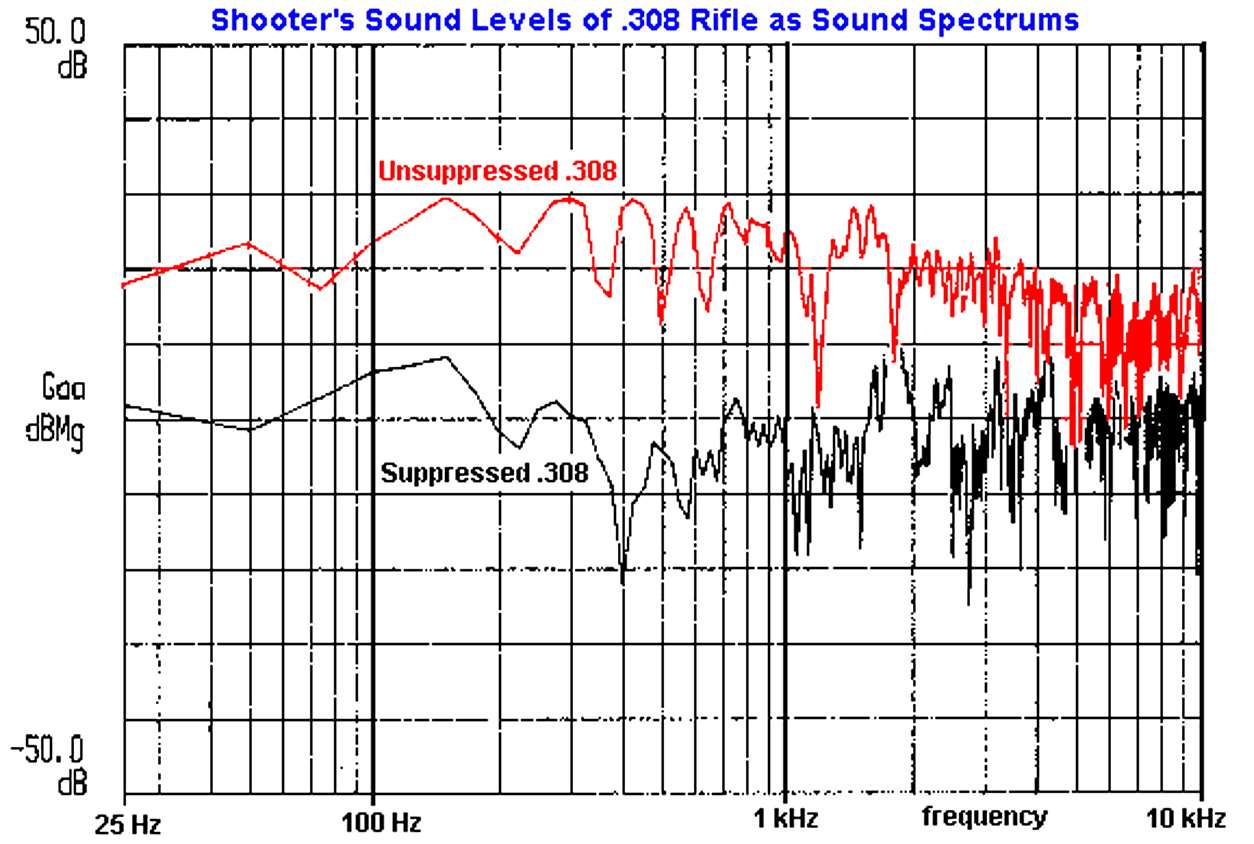 Finnish Study: A 1992 study in Finland tested the use of firearm suppressors to assess the adverse effects of shooting ranges on nearby settled areas and to investigate possible solutions for hearing injuries among army officers, sport shooters and hunters. The chart above depicts the reduction of noise from a .308 cal. rifle with and without the use of a suppressor. The complete study can be found at guns.connect.fi/rs/measure.html.