The West Virginia University rifle team (WVU) kept their No. 1 spot in the first College Rifle Coaches Association (CRCA) rankings of 2018. After two months of no competition, WVU's first match after the holiday break was against the University of Akron on January 14 at the WVU rifle range in Morgantown, WV. Living up to their reputation, the defending NCAA rifle champions dominated the match―WVU finished with a score of 4711 to Akron's 4651. WVU had the high scores in both smallbore (2334-2296) and air rifle (2377-2355). With this win, WVU is 16-0 all-time against Akron, and is undefeated this season with a 9-0 record (6-0 in Great America Rifle Conference competition).

"I think [the match] was a solid start to the semester. This was the first match back from the break, and there was an adjustment period, but the things we wanted to accomplish, we did," said WVU rifle coach Jon Hammond. He added, "We wanted to get back into match mode and test what we've worked on in practice. We saw where we're at, and we have a lot to work on in the coming week. Overall, we're where I expected us to be. The whole team has been working hard."

WVU took the top three spots in air rifle. Junior Ginny Thrasher finished first with a score of 598. Senior Elizabeth Gratz shot 594 and placed second, while sophomore Milica Babic tied Akron's sophomore hotshot Cierra Terizzi for third place with a 593. Leading Akron in air rifle was Terrizzi. She earned a personal best score―an impressive 593 out of 600 possible points. Freshman Rebecca Spencer also posted a new personal best of 589.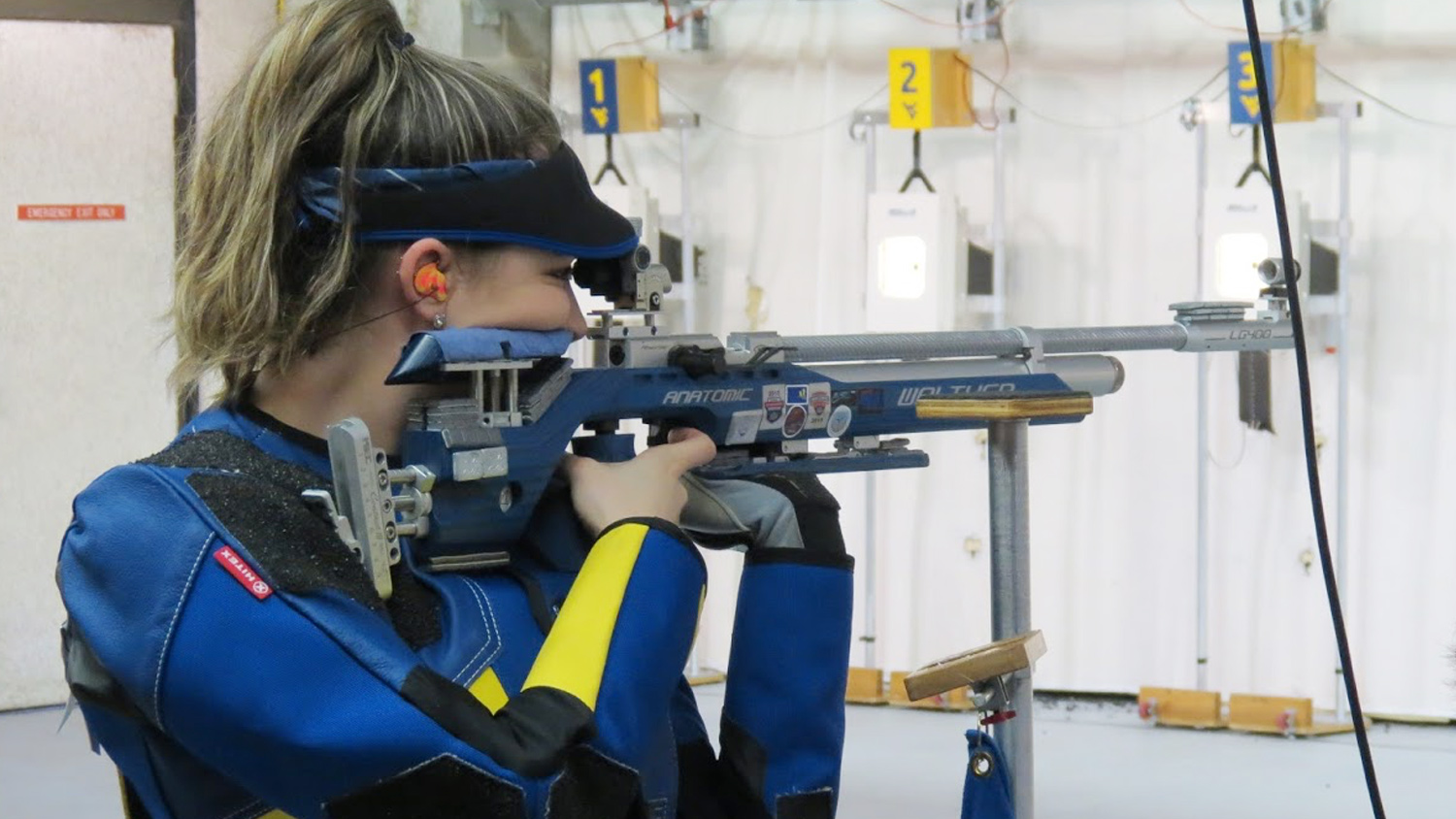 Akron rifle coach Newt Engle said, "The single most impressive contribution to [our] performance was the level of expertise the Zips showed in the air rifle division. Out of the possible 2400 points, the Zips tied the school record of 2355―which was just set last November!"

WVU also took the top three spots in smallbore, with redshirt-freshman David Koenders shooting a winning score of 586. Thrasher finished in second place with 585, with Babic shooting 583 for third place. Akron senior Julia Hatch led her team in smallbore with a score of 582.

CRCA Rankings―as of January 16, 2018

The rankings are based on season averages. The undefeated WVU rifle team boasts the nation's best average of 4725.778. No. 1 WVU has a total of 19 NCAA national championships, and is showing no signs of fading so far this season―maintaining the No. 1 spot by a significant margin.

Texas Christian University ranks No. 2, and the University of Kentucky follows at No. 3.

Murray State University and the University of Alaska-Fairbanks are No. 4 and No. 5, respectively.

The Ohio State University sits at No. 6, followed by the University of Nevada at No. 7, and the U.S. Air Force Academy at No. 8.

Mississippi and Nebraska round out the top 10 schools in the rankings.

Lead image courtesy of University of Akron Athletics