If you have been to a major Steel Challenge or USPSA Area match over the last two years, you have probably seen the
Hunters HD Gold
tent on display. Brian Conley attended 28 Steel Challenge and USPSA matches last year, introducing competitors to the Hunters HD Gold eyewear. He has also sponsored 35 events in 2018.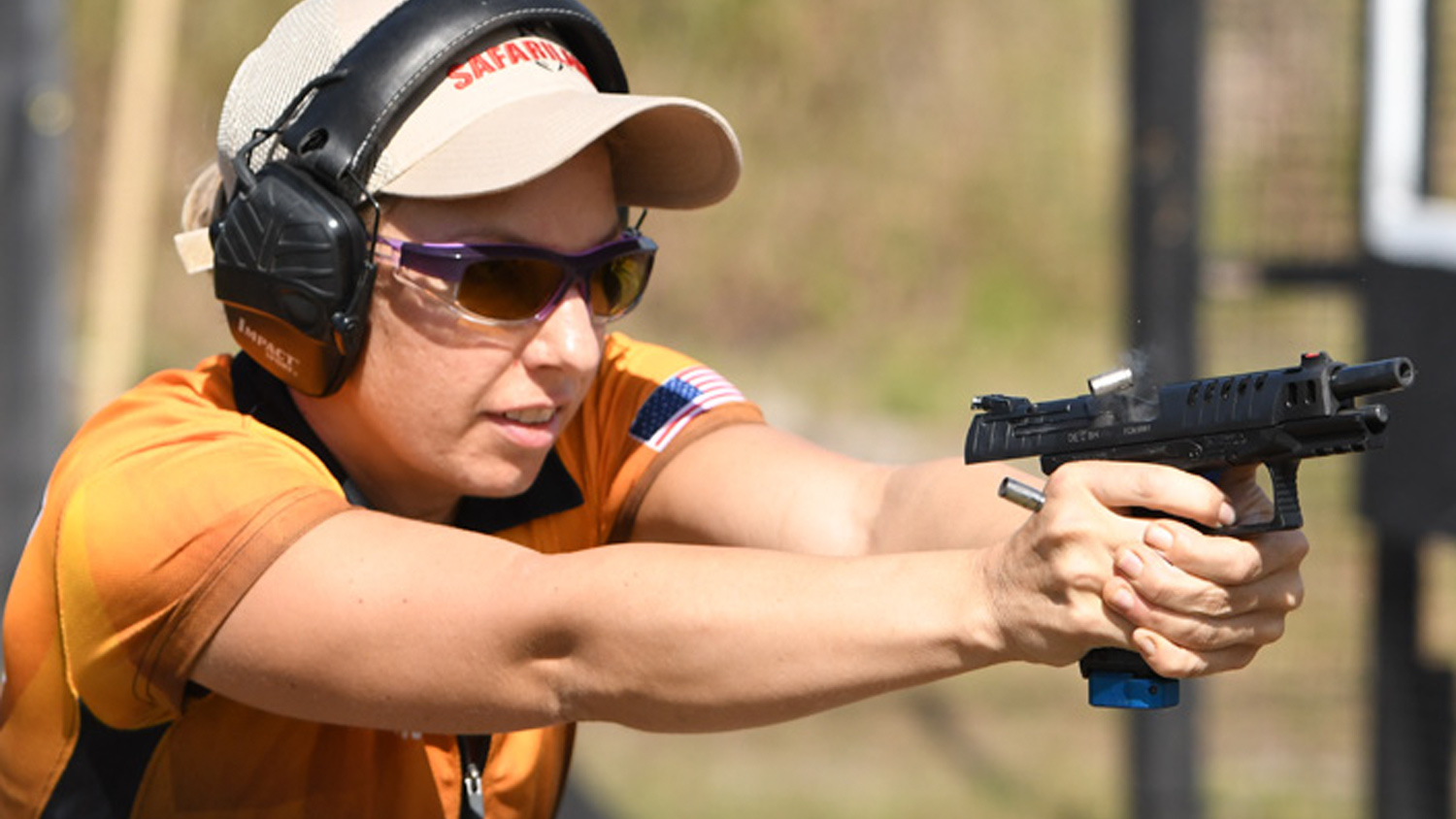 Brian and I had met a few times at matches and he sent me a couple of different styles to test, but at the time I was wearing
prescription shooting glasses
. I had been struggling to get the right prescription that I could shoot in and still wear daily. I finally gave up, admitted my age, and got progressive bifocals for glasses and contacts that I can function in daily. The contacts I have now are great for shooting guns with red dots on them, not so much with irons. At the 2018 World Speed Shooting Championship, Brian had me try a pair of the Hunters HD Gold, which was the only thing I changed, and I went on to put down some of my personal best scores in
Carry Optics
,
PCC
and
Rimfire Rifle Optics
. That red dot was crystal clear. The next month I won my class at Area 3 in Carry Optics and finished second overall at the Illinois Section match.
Hunters HD Gold eyewear use Trivex Lenses. Performance properties include crisp, clear vision and lightweight comfort with strength and protection. Trivex, originally developed for the military as visual armor, is thin and more impact-resistant than regular plastic or polycarbonate with 43 percent more light transmission.
The Hunters HD Gold slogan is "They Change So You Don't Have To." While most of the other eyewear on the market for shooters require switching lenses, Hunters HD Gold uses a photochromic lens
—
light-knowledgeable optical lenses that darken on exposure to specific types of light of sufficient intensity, most commonly ultraviolet (UV) radiation. An added benefit of photochromic lenses is they shield your eyes from 100 percent of the sun's harmful UVA and UVB rays. They take around 30 seconds to fully darken and return to a golden state in approximately two to five minutes.
Why Gold?
The warm transparency of Hunters HD Gold was designed to offer contrast and clarity to the viewer by bringing all colors into the eye's most comfortable range of light. This gives the shooter 30 minutes more visible light in the morning and the evening. The golden color helps with night blindness, macular degeneration and SAD (Seasonal Affective Disorder). Hunters HD Gold blocks 100 percent of UVA, UVB and blue light, so Hunters HD Gold is healthy for your eyes.
Anti-reflective coating (also called
"
AR coating" or
"
anti-glare coating") improves vision and reduces eyestrain, due to the ability of AR coating to virtually eliminate reflections from the front and back surfaces of your eyeglass lenses. With reflections gone, more light passes through your lenses to optimize visual acuity with fewer distractions. This, combined with the hard coat, allows the lens to be more scratch and dust resistant than uncoated lenses.
All OSHA-approved prescription and non-prescription safety glasses must have markings specified by the ANSI Z87+1-2015 standard on both the lenses and the frame of the eyewear. Hunters HD Gold is rated and tested at
ANSI Z87+1-2015
, which gives you the equivalent of protection against a quarter-inch steel ball traveling at 150 fps. Hunters HD Gold Rx use Z87+2 Safety Frames as well.
Hunters HD Gold Rx Program is simple
—
to offer the best hunting and shooting advantage available on the market. They have solutions for competitive shooters, hunters and outdoorsmen who want to have the best vision possible indoors and outdoors. There is no additional cost for Rx lenses. You can also use your Health Savings Account when purchasing a pair.
Hunters HD Gold TriVueLens Progressive Lens Design
Progressive addition lenses avoid the discontinuities (image-jumps) in the visual field created by the majority of lined bifocal and trifocal lenses, and are more cosmetically attractive. We have tested hundreds of designs to find the perfect progressive design for shooting and hunting. The TriVueLens progressive lens design has proven to be perfect for head tilt and visual acuity while using a firearm.
Single Vision
The entire lens is the same power throughout it, and may correct either myopia (nearsightedness) or hyperopia (farsightedness).
Bifocals and Trifocals
Bifocal and trifocal lenses contain two lens powers (bifocals) or three (trifocals) to help restore a fuller range of vision and, in particular, to restore reading vision lost to presbyopia. This will cause image jumps and can slow you down in speed shooting. If you have never tried progressive lenses, try them first with the newer technology that Hunters HD Gold has to offer.
Hunters HD Gold is made in Alabama and supports veterans and families. I had the chance to tour the production facility and see how the lenses are made. Each Hunters HD Gold lens is made one at a time with exceptionally accurate and error-free surface quality with a proprietary optical lens generator. This process with four-point quality inspection ensures that each lens is made with precise optical detail. Hunters HD Gold eyewear is available in several safety frame models and there are more styles on the way. Check out the Hunters HD Gold display at one of the many matches they will be attending this year. Brian will gladly provide you with a loaner pair to use during the match.
Article from the January/February 2019 issue of USPSA's FrontSight

 

magazine.

---
Additional reading on vision: