When Brian Conley developed the famous recipe for Hunters HD Gold lenses, he never imagined where it would lead. Fast forward to today and Brian is traveling to matches all over the country. Let's start at the beginning.
Similar to many entrepreneurs, Brian had identified a problem and wanted to create a solution. If you've ever hunted, you know that early light and last light are some of the best times of day to see the movement of animals. But those lighting conditions are some of the hardest to see in, and visibility is everything in making a clean shot. Yellow, amber, orange, copper and brown tints all are helpful in low-light conditions, as they can make the environment appear brighter.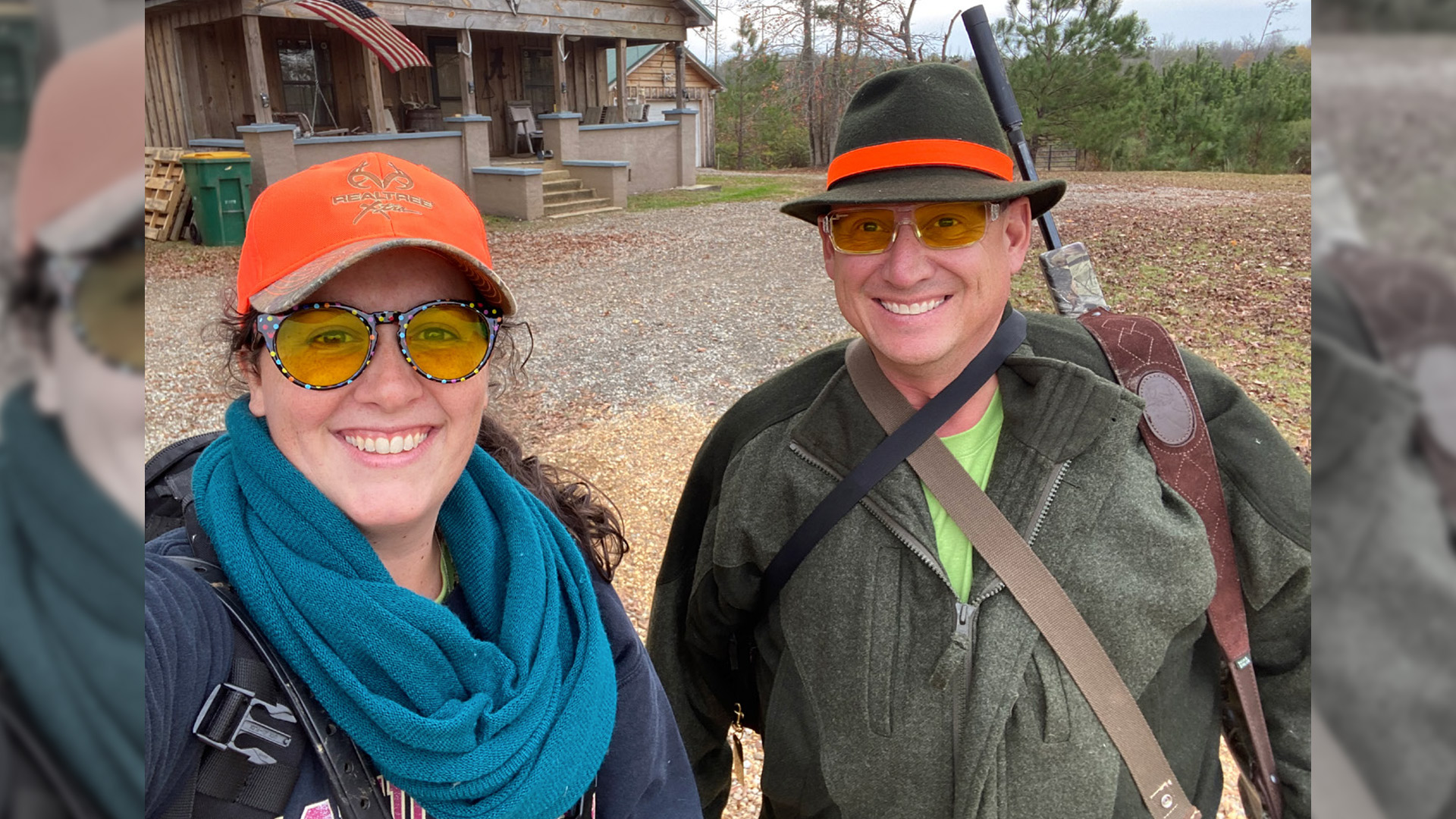 Brian's wife, Sherry, is the owner of Optical Prescription Lab in Pelham, Alabama. Since 1977, this lab has produced the best lenses for optometrists and ophthalmologists around the United States. For years, the lab has produced polarized lenses, photochromic lenses, and of course, has mastered the art of digital prescription lenses. OPL has won many nationwide awards that set them apart in the optical industry. It was at the Optical Prescription Lab that Hunters HD Gold was born.
Brian tinkered with the lens coating, color and depth until finally landing on the gold lenses. In 2015, Brian set out to make his own personal lenses to see animals at dawn and dusk during prime hunting season. He went through more than 70 different variations of color until discovering the right medical dye that checked every box. Immediately, the gold lenses were tested out by game wardens in North Alabama to confirm they could bring in the right amount of light. They confirmed that the lenses were legal to hunt with, and they continue to use them to this day.
Plenty of folks go into business thinking that their market is for one specific group, and are often caught by surprise when they find out there's a much larger market. The hunting community adopted Hunters HD Gold quickly, as they already knew the value of yellow-tinted lenses, but what Brian wasn't prepared for was the competitive shooting market.
In 2017, Brian experienced his first taste of the competitive shooting world. The World Rimfire Competition took place in North Alabama that year, which was close to home. It was Bryan Haaker from Tandemkross who gave him a list of six events he had to attend. Fast forward to 2021, and Brian now attends over 40 shooting-related events each year.
Alabama is home to some well-known brands in the firearms industry, many not far from the Optical Prescription Lab. Rainbow Technology was one of the first partnerships of Hunters HD Gold and is also located in Pelham. Rainbow Technology owns RangeStore.net and Steel Target Paint. For a long time and still today, Brian has supported his local gun shop, The Armory Guns and Ammo, in Pelham. They were one of the first authorized retailers of Hunters HD Gold glasses and have cerakoted just about every gun Brian has. In Bessemer, you can find the home of Steyr Arms USA. Hunters HD Gold and Steyr Arms was a natural connection as they make some of the best hunting rifles. Also located in Bessemer is Jays Hydrographics, who are the wizards behind the Sprinter van design. All of these connections have helped grow Hunters HD Gold into what it is today.
In the early days, Brian would drive to matches and set up a table with Hunters HD Gold glasses for people to try out. Supporting and sponsoring the shooting sports however he could is still important to Brian.
Brian asked shooters what they were looking for in their protective eyewear and built the product around their needs. Many shooters he saw would switch out lenses or glasses as lighting conditions changed throughout the day. While some shooters wore contacts, many others would put on their prescription glasses when it was their turn to shoot a stage in order to see their sights and targets. All of this time spent at matches and on ranges is what led to the development of transition lenses, custom glasses and adding prescriptions to the lenses.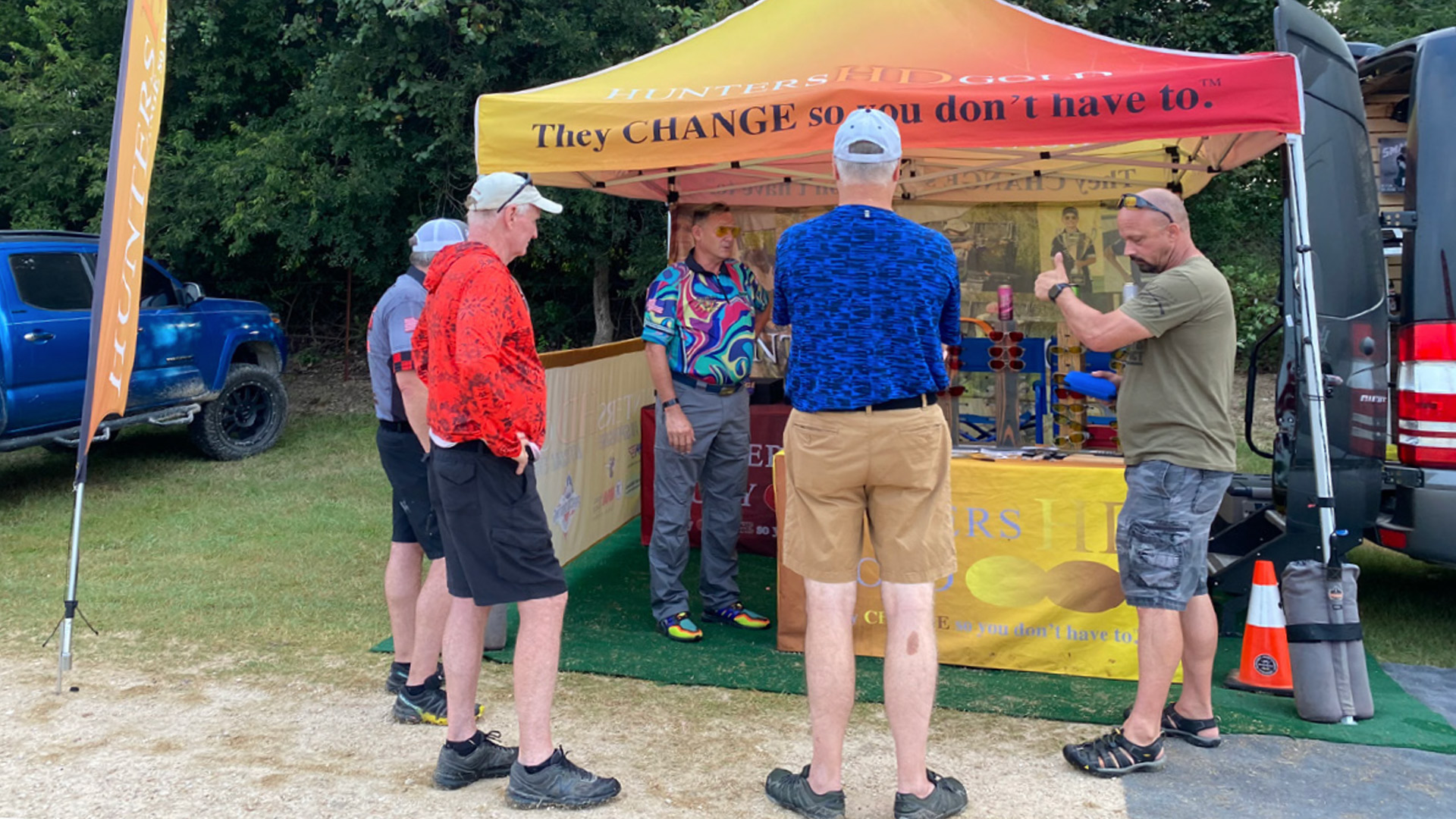 As Brian traveled to state after state, people began seeing the difference between their shooting glasses compared to the quality of the gold lenses. This one pair of glasses could replace the need for three interchangeable lenses and carrying around prescription glasses, without sacrificing the ANSI 2020 Z87 high impact ratings on the lenses themselves.
As Hunters HD Gold grew and Brian began attending more matches, he saw how often shooter's guns would break or malfunction. Yet again, Brian found a solution to this problem. He started bringing his personal guns, magazines and even belt setups for shooters to borrow so they could finish a match. Partnering with brands such as JP Enterprises, Vortex Optics and Springer Precision, Brian is now able to supply shooters with different caliber guns set up for every division there is to complete a match without being bumped to Open or having to change divisions.
The Rock and Roll Roadshow started out at SHOT Show 2020, when Hunters HD Gold released the custom shop. The custom shop allowed shooters to send in any pair of frames that had two separate lenses to be swapped out for Hunters HD Gold lenses. The custom shop also gave shooters the option to add their prescription into the lenses from single vision to progressive lenses. With so many styles, favorite colors, different head sizes and different needs, the custom shop really opened more doors for shooters wanting to wear Hunters HD Gold without sacrificing the frames they love and are comfortable in.
As Brian put more and more miles on his truck in 2020, he realized there had to be a more comfortable way to travel 35 to 45 weekends out of the year. Enter the Mercedes-Benz Sprinter van. As Brian began designing and building out the future of travel for Hunters HD Gold, he was also in the works of introducing a new product line.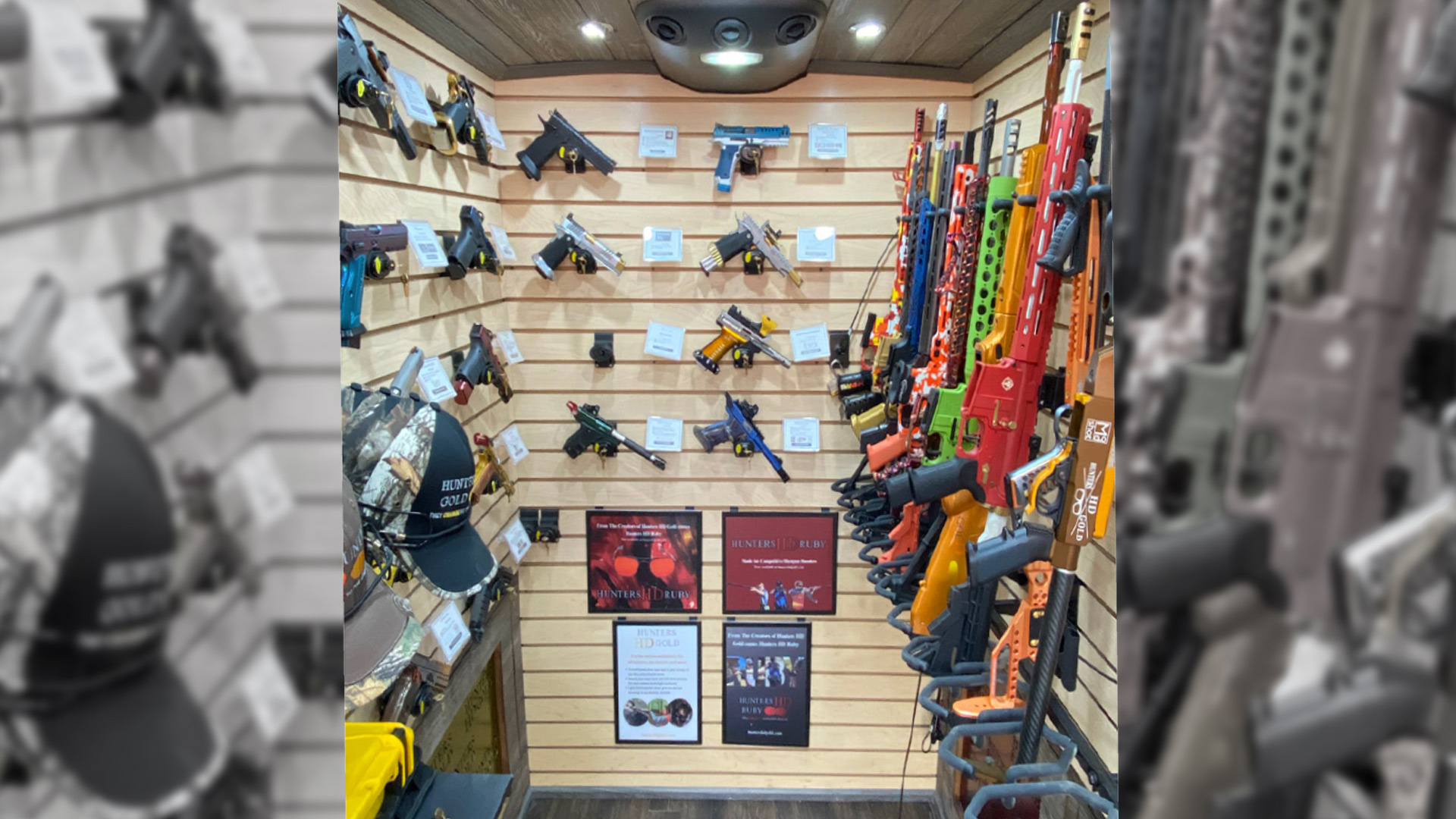 At the beginning of 2021, the all-new Hunters HD Ruby lenses were released. Once again, these lenses weren't born overnight. Prototyping began almost a year-and-a-half in advance with testing done by trap and skeet shooters, competitive shooters using red fiber optics and red dots, and by shooters with red and green color blindness. The Ruby tint was engineered with shotgunners in mind. If you've never shot clays before, one of the biggest struggles is shooting into a bright sky without squinting and trying to see the aerial clay at the same time. Shotgunners have long used rose-tinted lenses, and Hunters HD Ruby lenses are made with all the same great features of Hunters HD Gold, in an all-new ruby tint.
One thing Brian has always talked about doing and finally made time for this year was the Hunters HD Gold Behind the Lens podcast. As Brian travels across the country, he stops and chats with top shooters, industry leaders and match directors to seek answers to questions everyone wants to know but is too afraid to ask.
What's next for Hunters HD Gold? Only time will tell, but if we can take anything away from watching the past four years of Hunters HD Gold's growth, we know there's a lot more to come.
Article from the September/October 2021 issue of USPSA's magazine.
---
Read more:
Brian Conley: 'Steel Challenge Will Always Have A Place Close To My Heart'