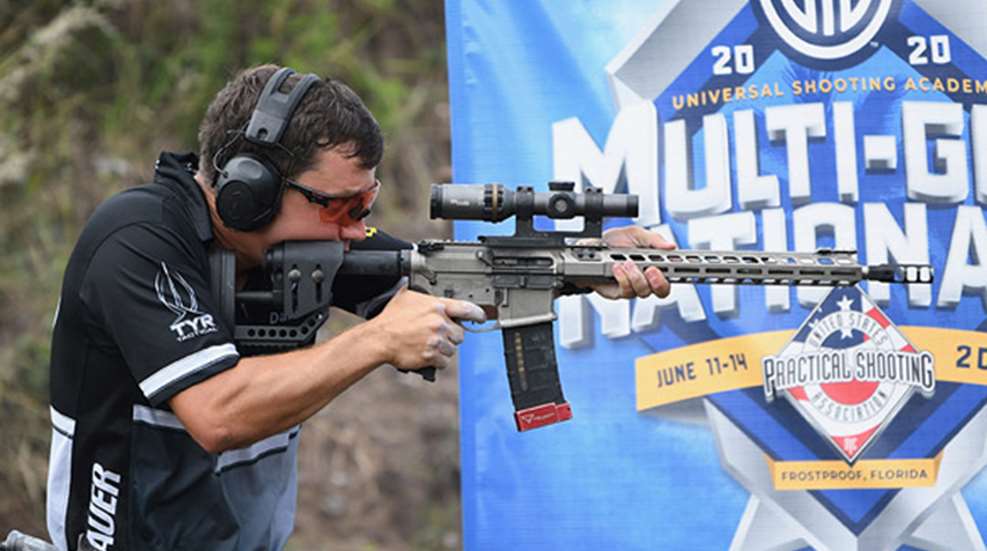 Team SIG's Daniel Horner took first place in the Tactical division at the 2020 SIG Sauer USPSA Multi-Gun Nationals at the Universal Shooting Academy in Frostproof, FL. He also finished third overall with a final score of 532.42. The match was held June 11-13. The win marked the 12th victory at the USPSA Multi-Gun Nationals for Horner, a former member of the U.S. Army Marksmanship Unit.
He noted that shooters had spent the last few months in quarantine sharpening their skills. "The competition at this year's Multi-Gun Nationals was the best I've seen. Everyone that competed had obviously spent extra time training and practicing while they were at home over the past few months," said Horner. 
Gear and Match Breakdown
For pistol competition, Horner used his SIG P320 X-Five Legion semi-automatic pistol with iron sights and SIG 147-grain Match Elite 9mm Competition ammunition. For the long-range portions of the match, Horner used the SIG Sauer M400 Competition rifle with a TANGO6T riflescope, SIG 40-grain .223 Rem. Varmint and Predator ammunition and a SIG KILO3000BDX Rangefinder.
The 2020 USPSA Multi-Gun Nationals was a 12-stage match. Horner's best performances came at four of the stages—Stage 1: "Reachin Out," Stage 7: "Not on the Ground Beaches," Stage 9: "Hazard Area" and Stage 12: "Decisions"—garnering perfect scores and winning each of them. 
"With this being the first major nationals match since quarantine, the training showed and the competition was elevated," said Horner. "The accuracy and reliability of my SIG equipment, combined with my training routine, gave me the edge I needed to pull off the victory for Team SIG."
Learn more about Horner and SIG Sauer at sigsauer.com. Visit the USPSA website here.
---
See more
: 
Horner Repeats As Ft. Benning Multi-Gun Tactical Optics Champion