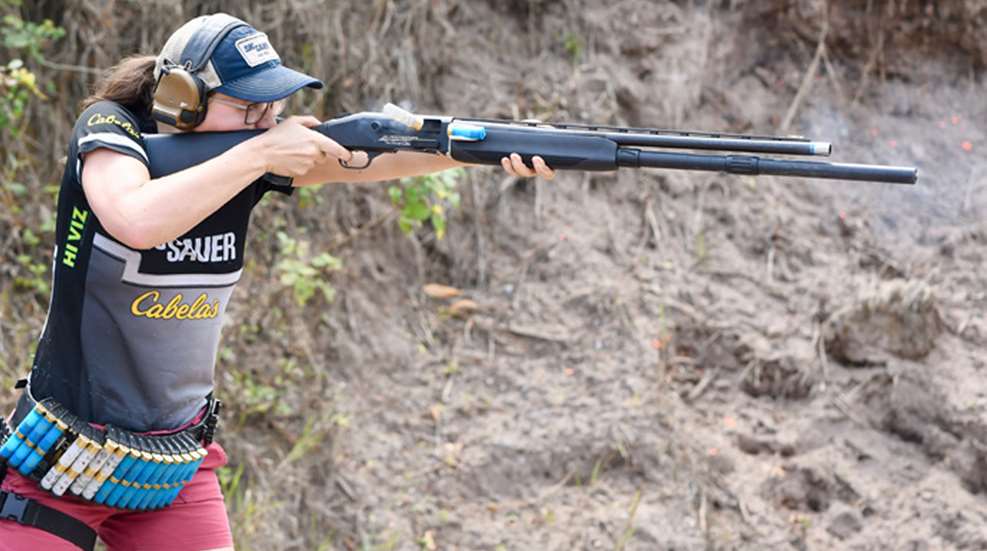 The 2019 SIG Sauer USPSA Multi-Gun National Championship was held at the Universal Shooting Academy in Frostproof, FL, on April 3-7. This year marked the first Multi-Gun National Championship to be held at Universal Shooting Academy and the first time that the match has been held in the Eastern United States in more than 10 years.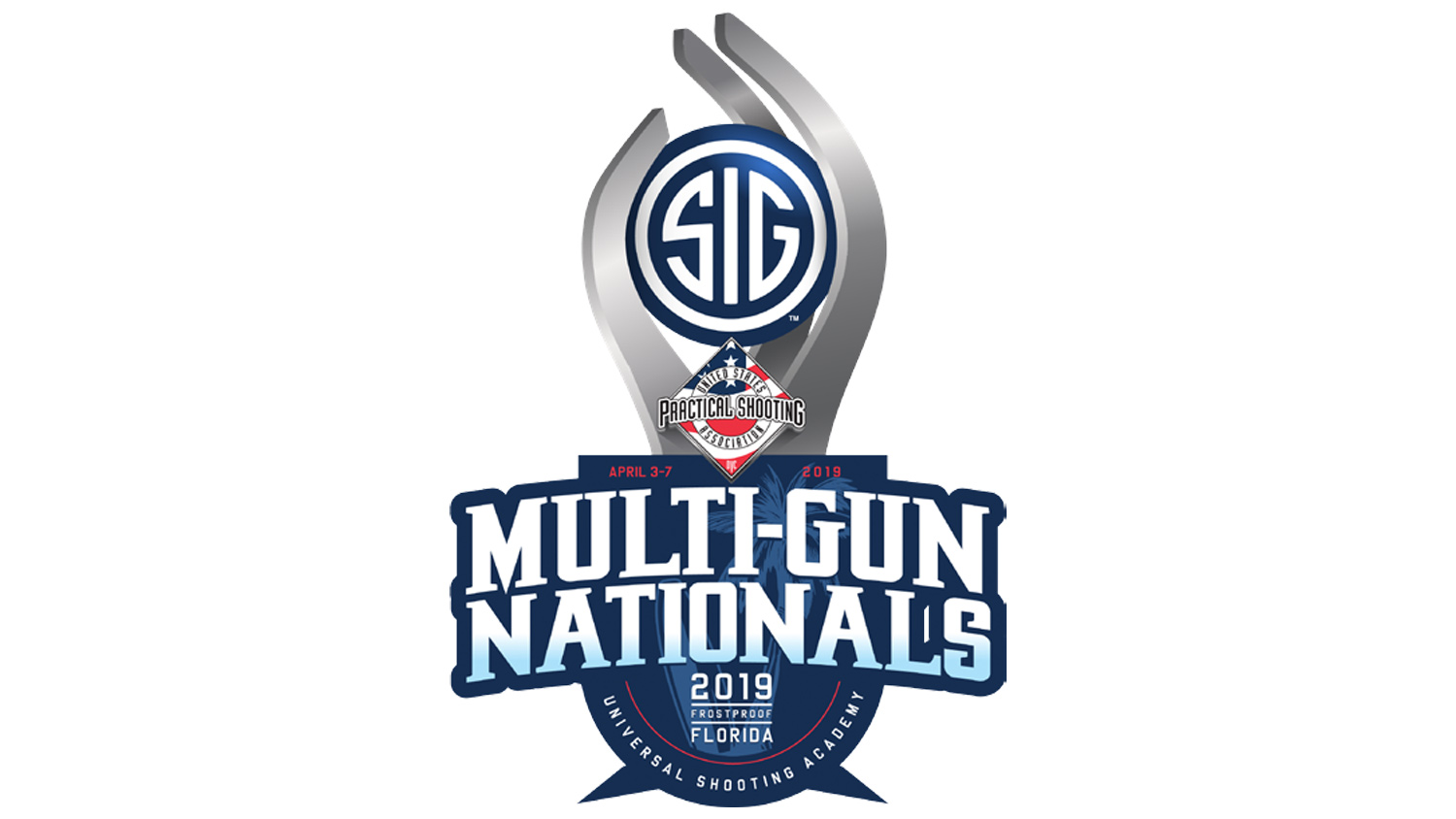 Match Director Shannon Smith delivered 12 challenging courses of fire, testing competitors' skills with pistol, rifle, and shotgun against a variety of terrain and mental challenges. The match featured long-range targets out to over 415 yards, multiple bays on stages with options, and three stages that were a tribute to classic 3-Gun.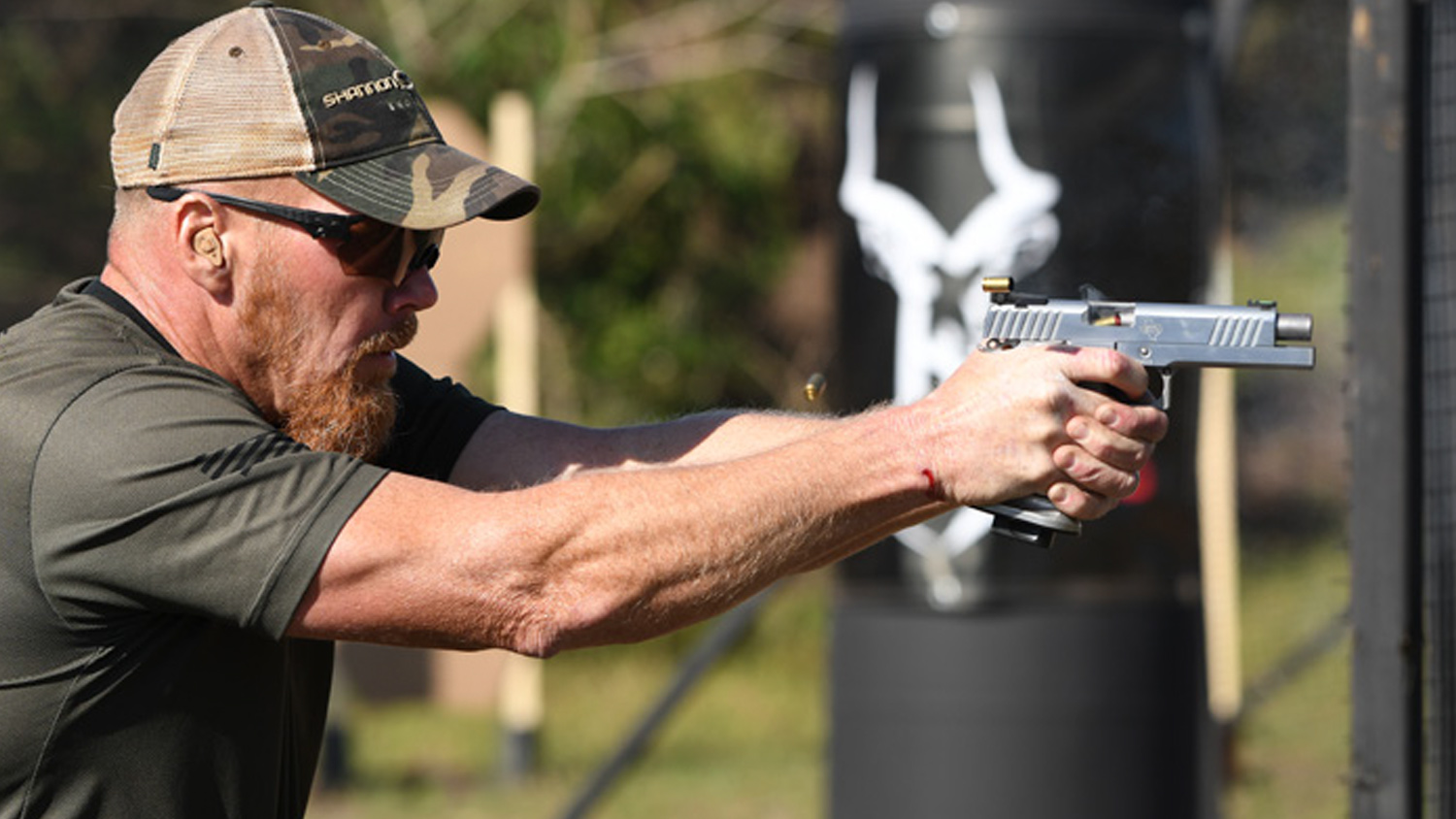 Why Universal Shooting Academy, and why Frostproof? The answer is easy—Shannon Smith. In the summer of 2018, USPSA had a contract out for a new host range for the Multi-Gun Nationals; however, the chosen venue was not going to be in a situation that would allow them to host the event. With less than nine months left for the traditional spring match dates, we needed a range and a match director. With a text message and follow-up phone call to Shannon stating that we wanted to meet about the 2019 calendar, he was already onboard—he just didn't know what for yet. Having a range with all the necessary walls, props, bays, and everything else that you need on the ground is one thing, but having an experienced Match Director with a dedicated crew to put on a Nationals is something different.

Universal and Shannon are no strangers to Multi-Gun, having hosted 3-Gun Nation regionals and the annual Area 6 MG match as well as being a 3-Gun competitor himself, he took advantage of the opportunity. After the 2018 IPSC Nationals we met with Shannon, discussed some things about the Multi-Gun Match, and the wheels in his head started to turn as the discussion moved to stages. Over the next seven months, Shannon worked on developing stage ideas, and reached out to his fellow competitors on what they were looking for in this match at a new location. Part of this planning also involved Universal clearing an area the size of four football fields to add additional long-range shooting for the match and to build additional props that would be used.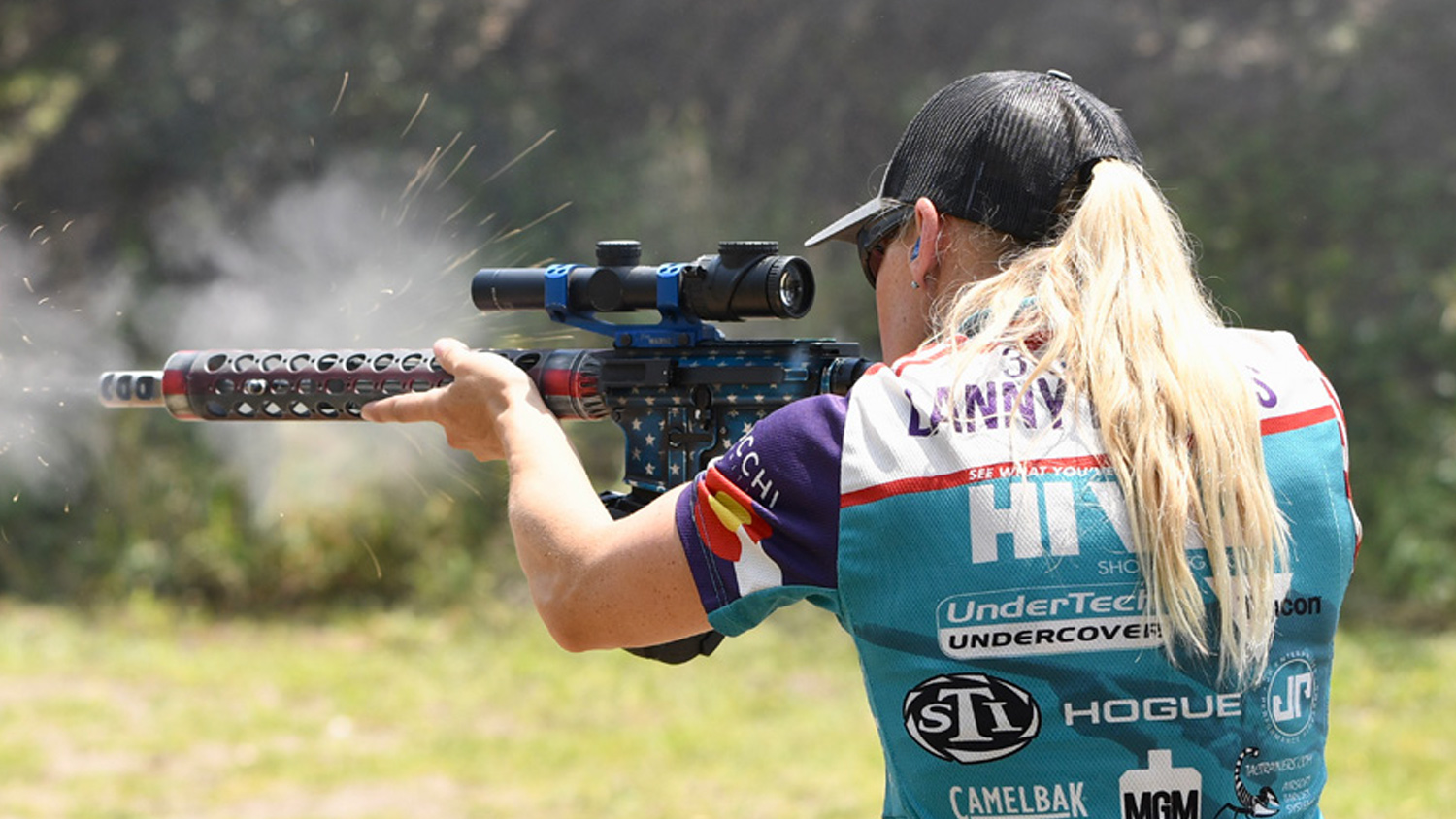 Shannon wanted to create a multi-gun match that would test the competitors' use of all three guns, but push the options with regard to stage planning while also paying tribute to the traditional 3-Gun format on stages. In the mix would be a stage that required all shotgun, one all rifle and one all pistol. The all-shotgun stage had a rather unusual start where competitors would throw their own clay bird at the buzzer. Standing off to the side with camera in hand, I was able to witness several competitors' awkward attempts at holding their shotgun while trying to figure out the best way to toss the bird in order to mount the gun and get off the shot. The best was the competitor who managed to inadvertently throw the orange disc behind him in a failed effort of just when to let go, but it got better when he held his hand out to get another, then realize it wasn't coming.

The stage named "I Hate the Gauge," sponsored by Safariland, had 20 steel targets, seven clays, and four USPSA targets. The steel could be shot with bird or buckshot, the USPSA paper targets required buckshot, and the clays required bird shot. There was a mix of steel poppers, steel swingers, low clays that required competitors to get into a kneeling position, and a stomp pad that activated clays on a swinger. There was a lot going on here, not to mention that the entire center section of the shooting area was on a raised platform with ramps on either side that required you to stop at the right locations to engage the steel poppers. Mike Whitesides in Open division took a stage win here with 32.57 seconds and no penalties, Tactical had Jeremy Lightner edge out Garret Dietrich for a stage win with a 47.61 second run, and in Limited, Florida native Joe Easter finished ahead of Bennie Cooley with a 47.91 second run.

One of the long-range stages that was presented for competitors to navigate was "May I Be Accurate." This was a shotgun and rifle stage on the original long-range bay at Universal. Many people come and go from the range and maybe like me never knew that this bay existed. This stage would push a competitor's ability to maneuver through the "jungle" area, shooting shotgun as they worked their way to one of two shooting positions for long range. There were small steel plates and clays that needed to be shot while you worked your way up to a forward shooting position to engage two steel ⅓-size IPSC steel targets with slugs. The start was "in the weeds" and required competitors to travel up through the sandy surface along the bank of the creek bed where they ended up taking the 50-yard slug shots. If they made it through the sand and avoided the Florida native critters (alligators, anyone?), they would need to dump the shotgun and head over to the first of two long-range positions.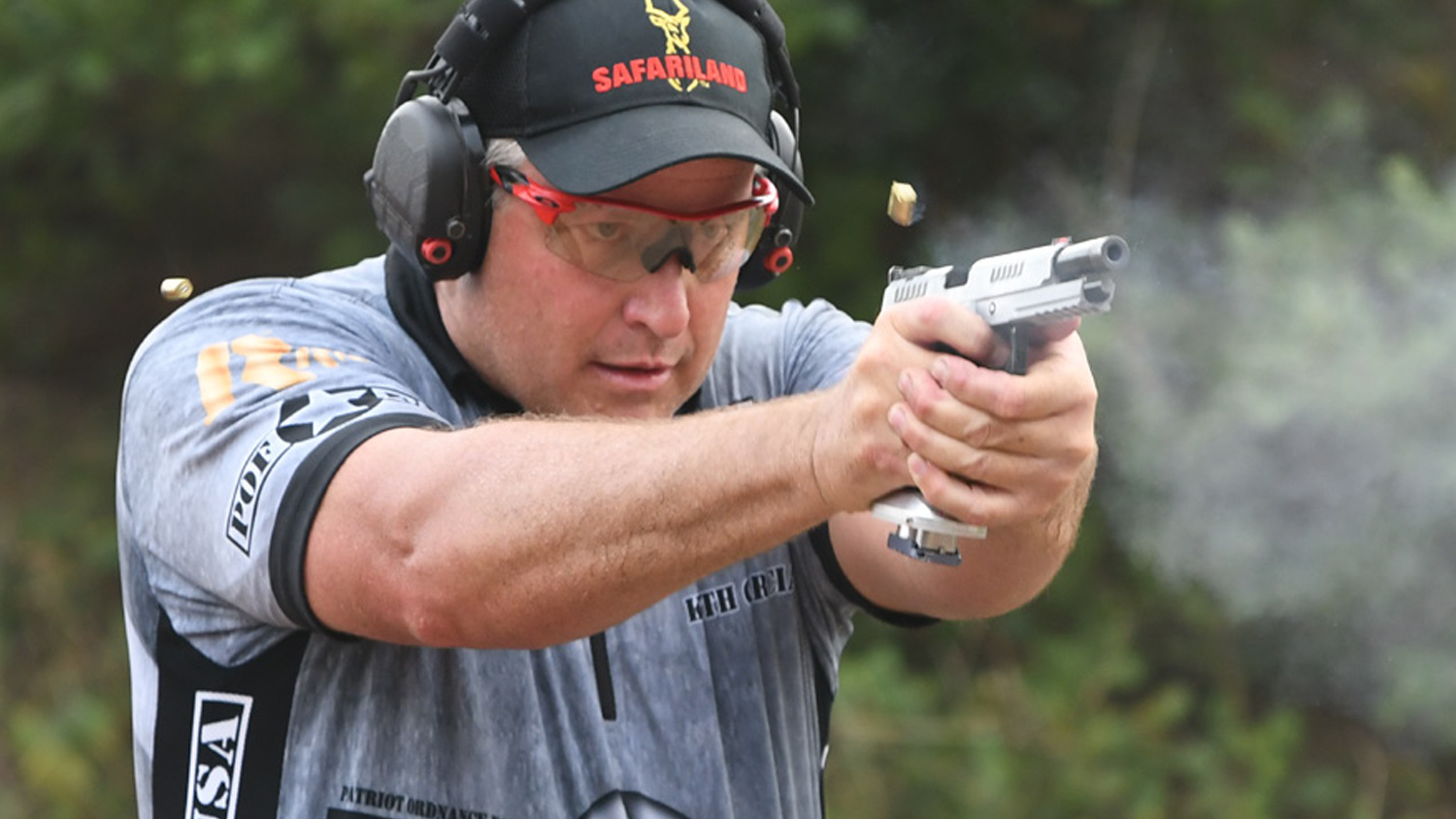 The first was the "tank barricade," something that is usually seen at PRS matches. The asterisk-looking wooden prop required competitors to set up on and engage six targets from 100 to over 415 yards. These same targets would need to be engaged 25 yards closer from the shooting area that had the swinging rope. This created some unique shooting positions, sitting or somehow bracing on the rope. It was obvious that some competitors were more comfortable than others working this rope-and-shooting position. Long range always comes down to who knows their dope and who doesn't, and this stage added the element of unique shooting positions as well. Keith Garcia took a stage win here with a flat 77 seconds in Tactical. Josh Froelich and Gabe Dietrich battled it out in Open with Gabe coming in at 60.08 over Josh's 63.75 for a stage win. Magnetospeed was a stage sponsor and their hit indicators were in use on this stage, giving off that beautiful bright red LED showing your hits when you got them.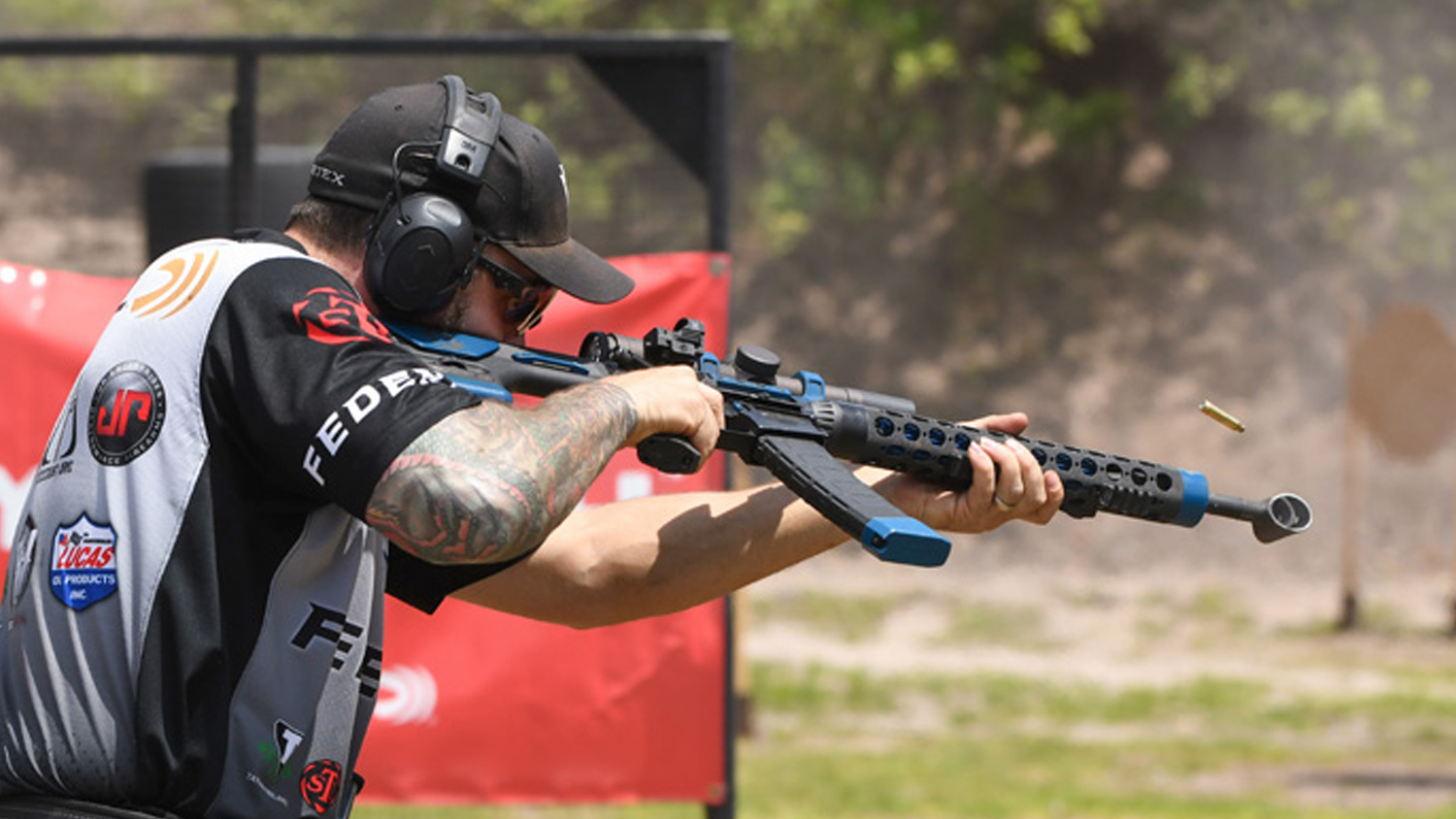 Shannon left it up to competitors to decide what gun to use on many stages, and the stage "Undecided" was a perfect example. The shoot house utilized in the double bay stage had 21 IPSC targets and 16 poppers. Competitors were allowed to engage the cardboard targets with either rifle, pistol or slugs. The steel could be shot with pistol or birdshot. One other caveat to this multiple bay stage was that you could not leave one bay and enter the other with a firearm, so you were going to have to dump something in one bay to get to work in the other bay. Competitors could start in any shooting area as well. It came down to a competitor's strength on what gun they felt the best with and what was the best option for them.

There were at least a 100 different ways this stage was shot over the course of the match, and several competitors could be heard saying, "I should have done it differently." In Limited, Riley Kropff's stage plan and execution got him a stage win, Gabe Dietrich snagged another stage win, this time over Jerry Miculek, 51.40 to Jerry's 52.62 total time in Open. It was another tight race in Tactical with Daniel Horner's former AMU teammate Nate Staskeiwicz finishing .76 seconds ahead of Horner, 49.46 to 50.22 total time.

Multi-Gun has a very dedicated fan base of competitors who travel all over the country every year shooting 3-gun matches from several different disciplines; 3-Gun Nation, UML, USPSA and the other annual outlaw matches all have great support. The upside is that there are several big matches to shoot, the downside is that there are multiple rulesets to know and understand. USPSA Multi-gun is no different; there is a specific set of rules that govern the Nationals, and ensuring that you are current with them before the first start buzzer is paramount to one's match performance, sometimes just making sure you are going to be able to finish without an unplanned trip for your favorite frozen treat.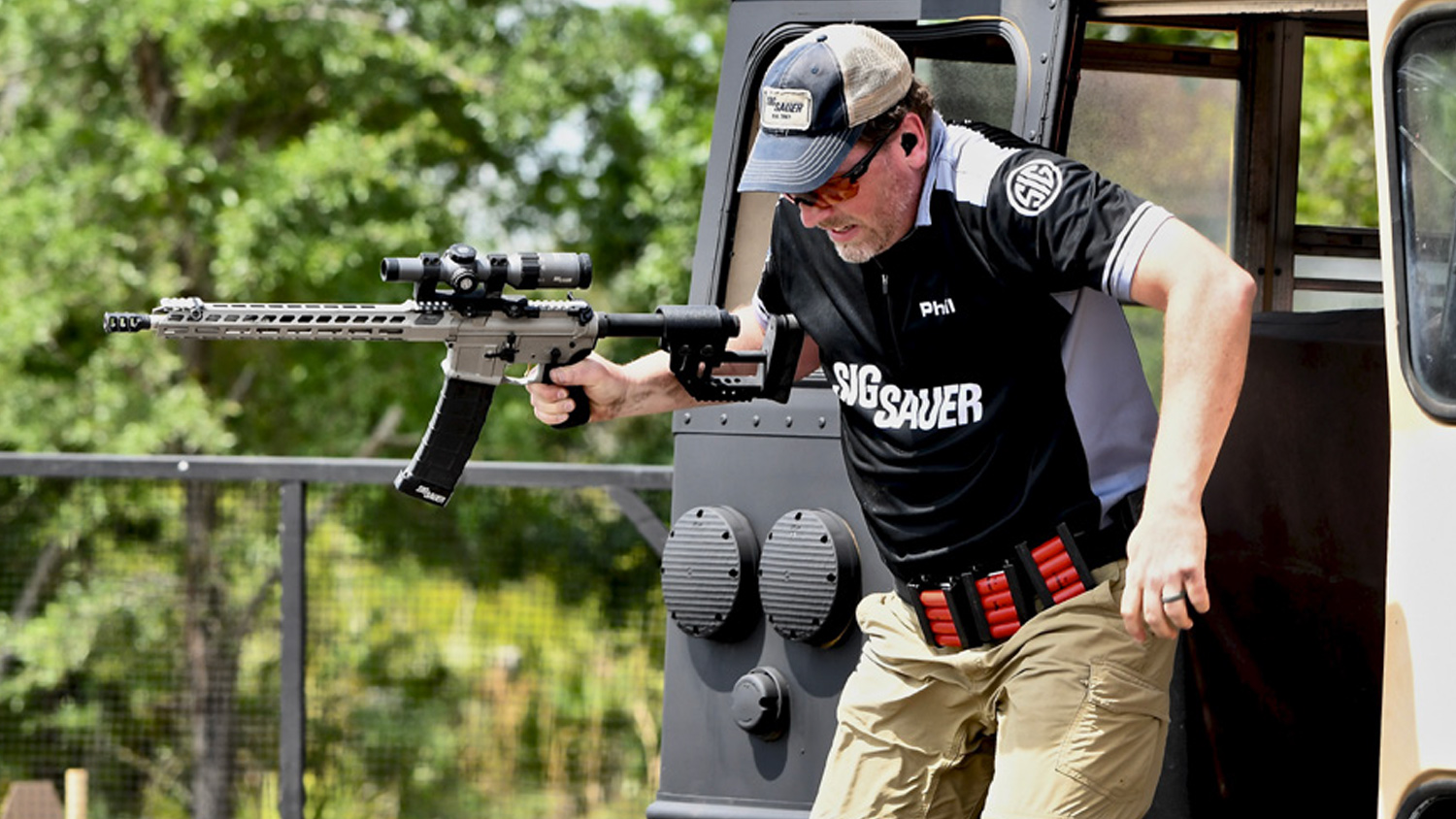 The stage where a thorough knowledge of the USPSA rules was a plus was named "Unrealistic," and in this case, there are several people who would agree that this was a fitting name. Set up in one bay, but divided into two shooting areas, competitors were going to need to use all three firearms from the shooting areas on this stage. How to do it with the least amount of running back and forth is where someone figured out how to use rule 10.5.3.1/10.5.3.2 to their advantage.

The stage consisted of 12 USPSA targets, four poppers, 14 IPSC targets and nine clay birds. Pistol or birdshot could be used on the steel poppers, but you were still going to have to use all three guns from each shooting area, with the dump bins located in the downrange shooting area. If you started in the uprange shooting area with your shotgun, taking out the clays, then moved forward to finish the remaining clays and/or poppers in the downrange shooting area, you could draw your pistol after dumping your shotgun and engage the USPSA cardboard, holster, grab your rifle and start shooting the IPSC cardboard—then retreat to the rear shooting area, finish up the remaining IPSC targets, set your rifle down, stay within one yard of it and draw your handgun to finish shooting the remaining eight USPSA cardboard targets. There was still a risk to this, because the rear shooting area was in a tight triangle shape and the USPSA paper targets were laid out in such a way that required you to move in order to see all of them. Moving more than the one yard away from the rifle would have a young freckle-faced cashier handing you a spoon and your frozen treat upside down.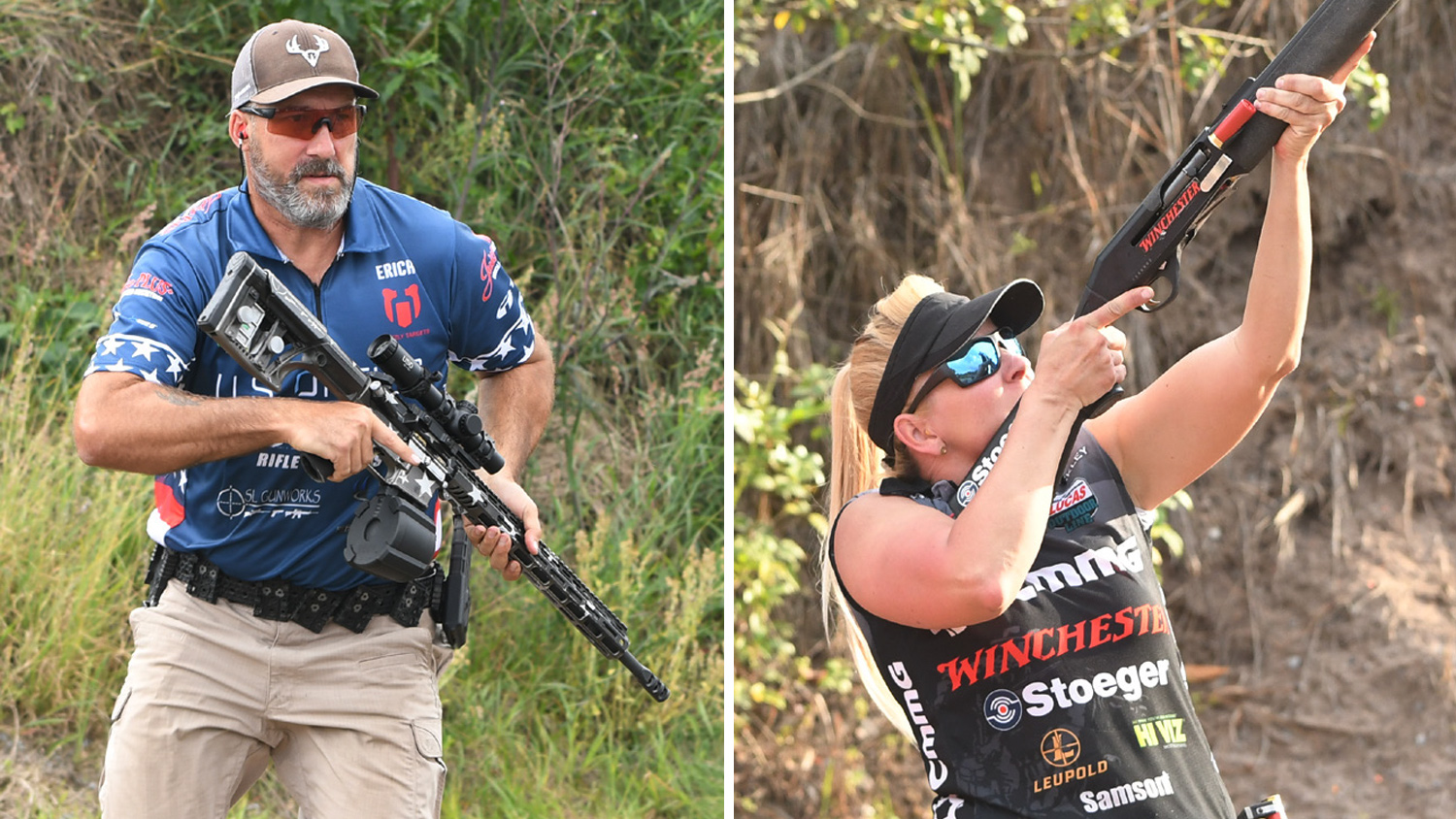 The match was well into its third day before word got out that someone had "gamed" it and figured out "The Way." As usual, anyone who had shot it before "The Way" was discovered wanted to know "who, what, where, why and how" this was done. Some felt like it shouldn't have been allowed, others felt like they should have been told it was legal, and some realized that they should have been more familiar with the rules. When Shannon got word that his stage had been "played," he said, "Damn, I wish I would have figured that out."

I asked him if he meant before the start of the match and he said, "No, when I was shooting it, that (would) save a bunch of time." Josh Froelich took an Open stage win here over his squadmate Scott Greene, and Keith Garcia slid past Joe Farewell in Tactical for the stage win. Farewell, a local Florida 3-gunner, was staff for the match and shot this before "The Way" was figured out.

As you worked your way through the other stages that had low ports, tight shots, running from multiple bays, and more stage plans with several options, you would eventually end up at a new long-range rifle bay where you would be waiting to get on the bus. Yes, the bus. "School Bus Rocks" would require rifle and shotgun, where competitors would be engaging the steel targets from three different shooting positions, two from the bus and the third through a car. After engaging the steel that varied in distances from 200 to 225 to 300 to 325 yards, competitors would finish up on the 16 steel plates and two clay birds with their shotguns.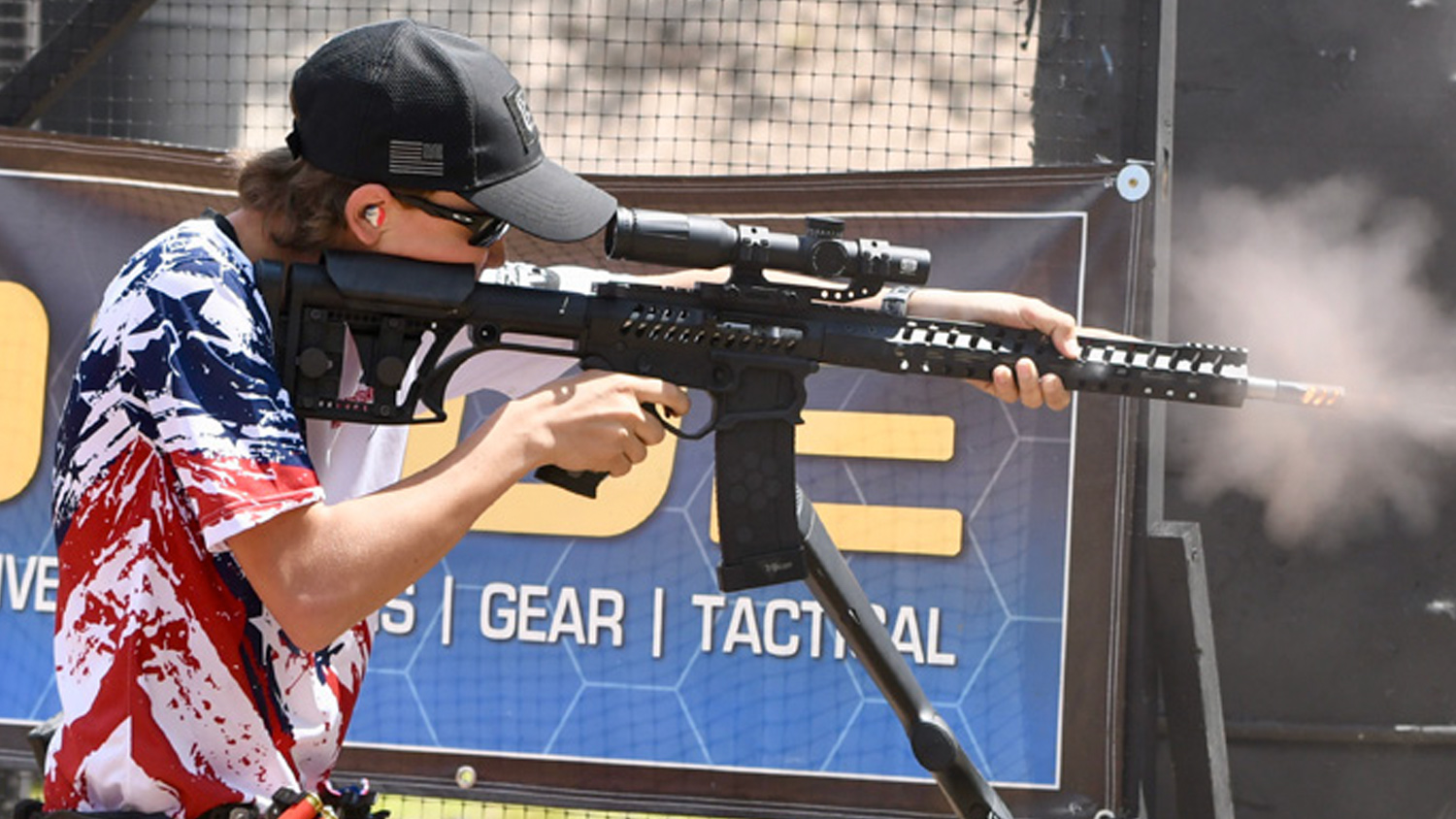 The start position had competitors standing outside the school bus where at the signal they would take their first position behind the driver's seat, shooting out of the open bus window. Magnetospeed hit indicators would show your hits, but before getting out of the first seat, you needed to shoot some close cardboard. Getting out of the first spot and into the second near the rear of the bus, you again shot out an open window. If you were on and the wind was in your favor, you could move quickly out the rear open door, dropping down and heading over to the abandoned car where you would need to take the long-range steel through the rear passenger windows. Since the targets were distance targets, the time limit was 200; if you didn't time out on the rifle, then you got to work with your shotgun, finishing up in the fourth shooting position. Jerry Miculek took a stage win in Open here over Scott Greene; Scott's raw time was faster at 81.39 but had a five-second penalty. Riley Kropff would win the stage in Limited with a 94.24 and Daniel Horner blasted through with a 74.90 total time for the Tactical stage win.

The competitors and hard-working staff made their way to the awards ceremony and dinner that was sponsored by "Visit Central Florida" Polk County at the Nora Mayo Hall in Winter Haven. The tunes of Wes Dearth greeted everyone as they entered the banquet hall, as did the sweet smell of grilled pork chops. Shannon took to the stage for awards presentations before the competitors headed upstairs to walk the prize tables. You could hear them talking "great stages," "tough match," "loved the options," "cool props," "loved the challenges," as they gave handshakes and pats on the back for Shannon and his crew.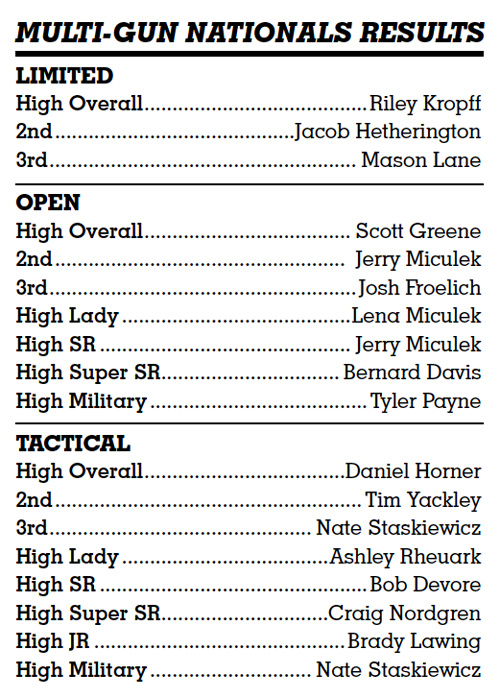 With a few Yuenglings and maybe a Jamesons in him, Shannon was already thinking about what changes could be made, so, never one to miss an opportunity to strike while iron was hot, well, he took the bait, I mean the opportunity to host the 2020 Multi-Gun Nationals next April at Universal Shooting Academy. You will need to ask Shannon Smith if there is a practice match beforehand—trust me, he will find it funny.

Article from the May/June 2019 issue of USPSA's FrontSight magazine. Photos by Jake Martens.