Regarding the USPSA Multi-Gun Nationals at Universal Shooting Academy in Frostproof, June in Florida was never the plan, but sometimes you have to make the best of the hand you are dealt, and USPSA and Universal Shooting Academy did just that. Here is our recap of the event and the action that made it unique.
Stage Breakdown
Stage 1, Reachin' Out, combined the longest rifle shots ever included in a USPSA Multi-Gun Nationals with a shotgun jungle run, ending on a slug W target. The rifle engagements (as I ranged them and engaged them from right to left) were 225 yards, 420 yards, 500 yards, 625 yards, 440 yards, 440 yards and 350 yards. The 440-yard targets were paper targets, and the rest were steel targets with MagnetoSpeed indicators attached to them, with an RO calling hits through a spotting scope provided by match sponsor Vortex Optics. Not only were these the longest shots, but also the first use of paper targets at that distance. The challenges here were obvious—knowing one's rifle, ammunition, and optic, and engaging the paper targets with no feedback as to the hits. The shotgun part of this stage was one that required meticulous footwork, proper choke selection, and getting at least one slug on a 50-yard steel target.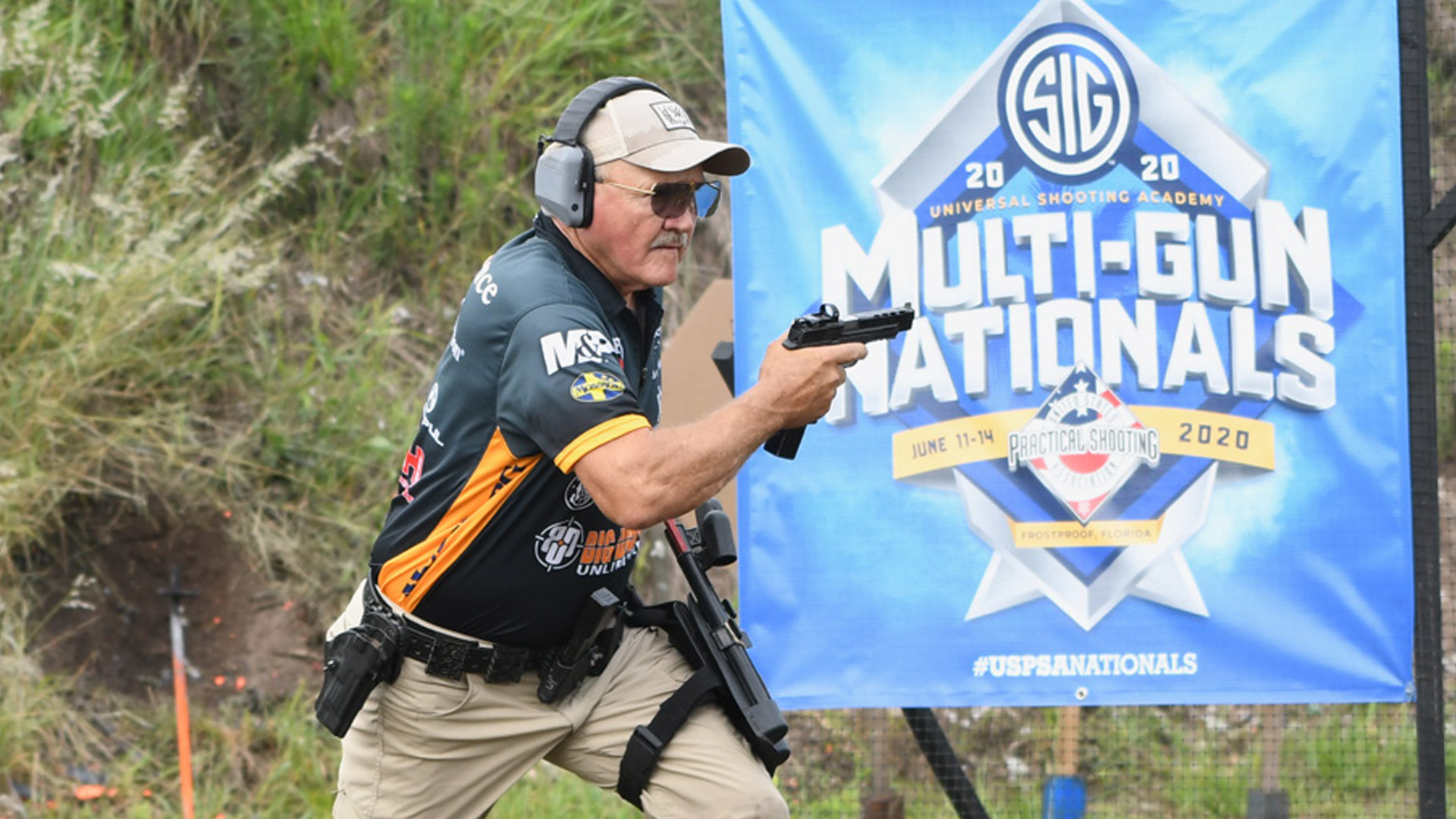 I shot the rifle targets on 6x magnification and went one for one on the steel, firing three rounds at each paper and easily getting the hits. My shotgun work was not as impressive, leaving a plate lost to shadows, old eyes and poor choke selection, and completely missing a clay by missing a step at the last position revealing it. The point of including my performance on this stage is that there was a lot going on, and being solid with a variety of skills was essential. As usual, the most experienced and skilled competitors prevailed, but they had to be well rounded to do so.
Stage 2, Double with the House, combined Universal Shooting Academy's shoot house with a bay-to-bay run for another set of challenges. In this particular pairing, the house was all shot from outside with targets placed cleverly inside and outside the house, with a rectangular shooting area at the front of the bay. This stage required all three guns, and the obvious plan was to shoot rifle on the house bay, and shotgun and pistol on the adjacent bay. Competitors offered a variety of stage plans as to where they started, and which firearm they started with—and it wasn't obvious which combination was the best, even toward the end of the match.
Stage 3, Snake Bay Attack, utilized Universal's most jungle-like bay, a downed tree, and a good mix of plates, poppers and clays, engaged with shotgun (and pistol if you were so inclined); coupled with a run through the jungle to an adjacent bay to compete the stage with a rifle on targets set on angles at what some may call memory positions, though the MD and I agreed this wasn't a memory stage.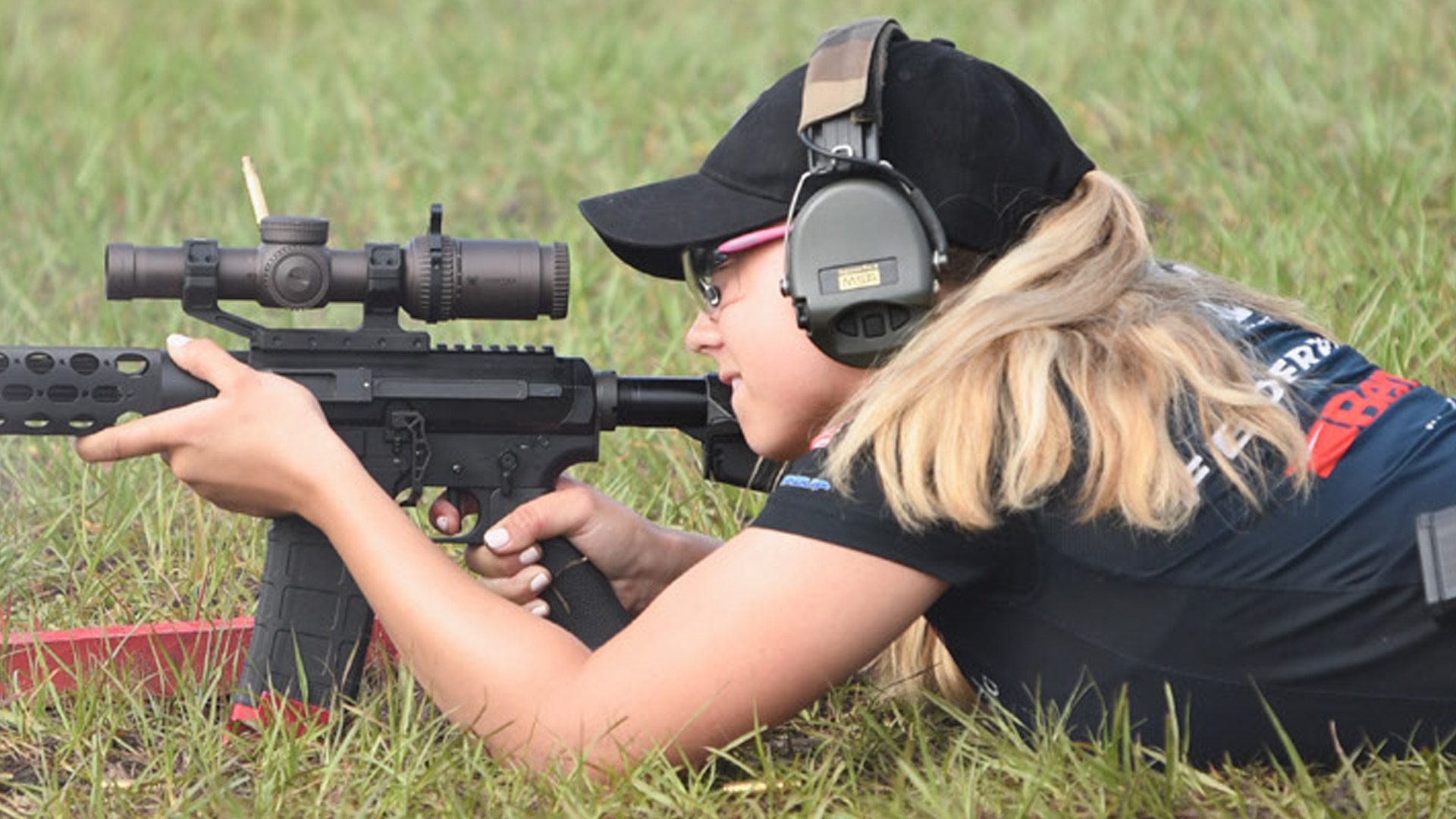 Stage 4, Double Wit Da Hole, was a third stage utilizing two bays with shotgun slugs and bird shot on one side, and pistol and rifle targets on the other. Most competitors started in front of two stomp-pad activators that opened two clam shells and two swingers presenting four slug targets, then moved to a shooting area with several steel poppers in three tandem arrays, with the center array through an eight-inch hole in hardcover. The rifle and pistol part of this stage was another one with multiple plans of attack that allowed competitors to creatively eliminate wasted movement and shoot a variety of steel and paper targets.
Stage 5, Crossing Guard, was another Nationals first (but not a Universal first), with competitors shooting a field of clays, flying clays and steel, all starting with a clay thrown into the air by each competitor with their strong hand, then running across the road central to the east and west side of the bays to finish with a pistol on a high volume of paper targets. The road was blocked for each run, but this did not affect the flow of the match.
Stage 6, Stick it in the Hole, was one of the fastest stages of the match. Featuring only the rifle, targets were engaged from ports in walls that were vertical, horizontal, diagonal and square, presented from a variety of heights from kneeling to standing straight. Many competitors realized their deficiency in navigating the mechanical offset between their rifle and optic on this stage. I enjoyed this stage, given the skill and adrenaline it required.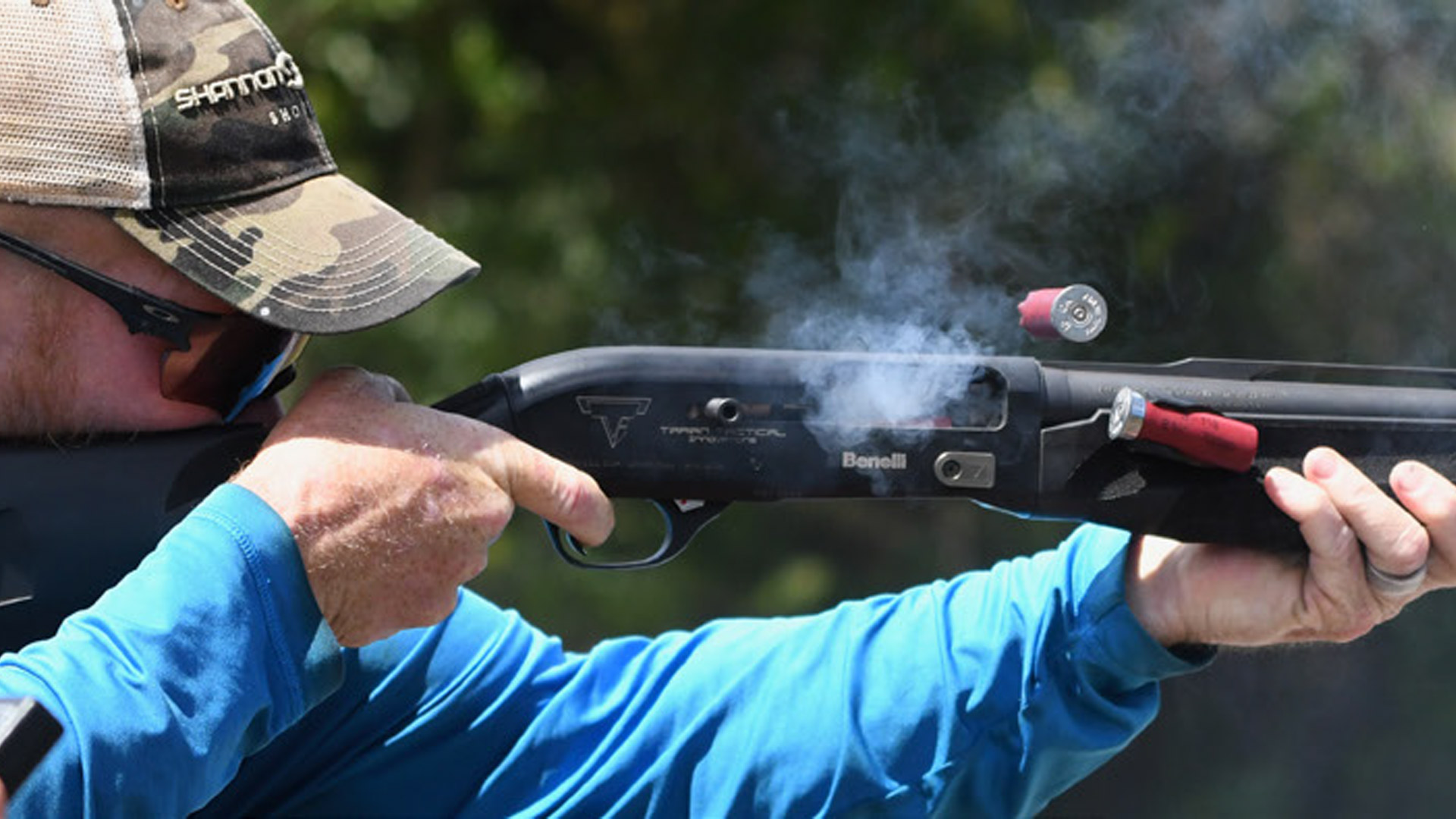 Stage 7, Not on the Ground Beaches, was another stage that had so many options, it wasn't easy to come up with the right plan. There were four potential shooting positions, and each one required the use of multiple firearms. This was where planning, dumping and potentially retrieving firearms was paramount. I started with the shotgun, as did many others, shooting only nine rounds in the first two positions and dumping, to draw the pistol and shoot targets in two positions, with a quick and safe re-holster of the pistol to shoot one target with a rifle and run to the other side of the stage to finish with the rifle in two more positions before dumping it and finishing with the pistol in the same two positions. Confused? So were many other shooters.
Stage 8, Hope you Fare Well…Not!, was an all-shotgun stage with two slugs and at least a million rounds of bird shot fired from at least 10,000 positions on the stage. Okay, that may be an exaggeration, but it was a shooting and reloading festival with a lot of engagement angles that made it uncomfortable for even the most confident shotgunner. I laid up on this stage and simply shot, loaded, shot, loaded, shot, loaded, shot, loaded—you get the idea and my score showed it. It was impressive watching the Open shotguns on this stage.
Stage 9, Hazard Area, was another stage requiring all three guns with a myriad of options that made watching this stage a joy. Everyone seemed to have a slightly different plan. Again, the option of dumping and retrieving and re-holstering made this stage another mind-melting, adrenaline-fueled thrill ride. It was uncommon to see competitors start in the center of the stage but I found that option the most direct for me, to get rid of the shotgun after six clay targets and get to work with the pistol and rifle, taking them both to the end to finish.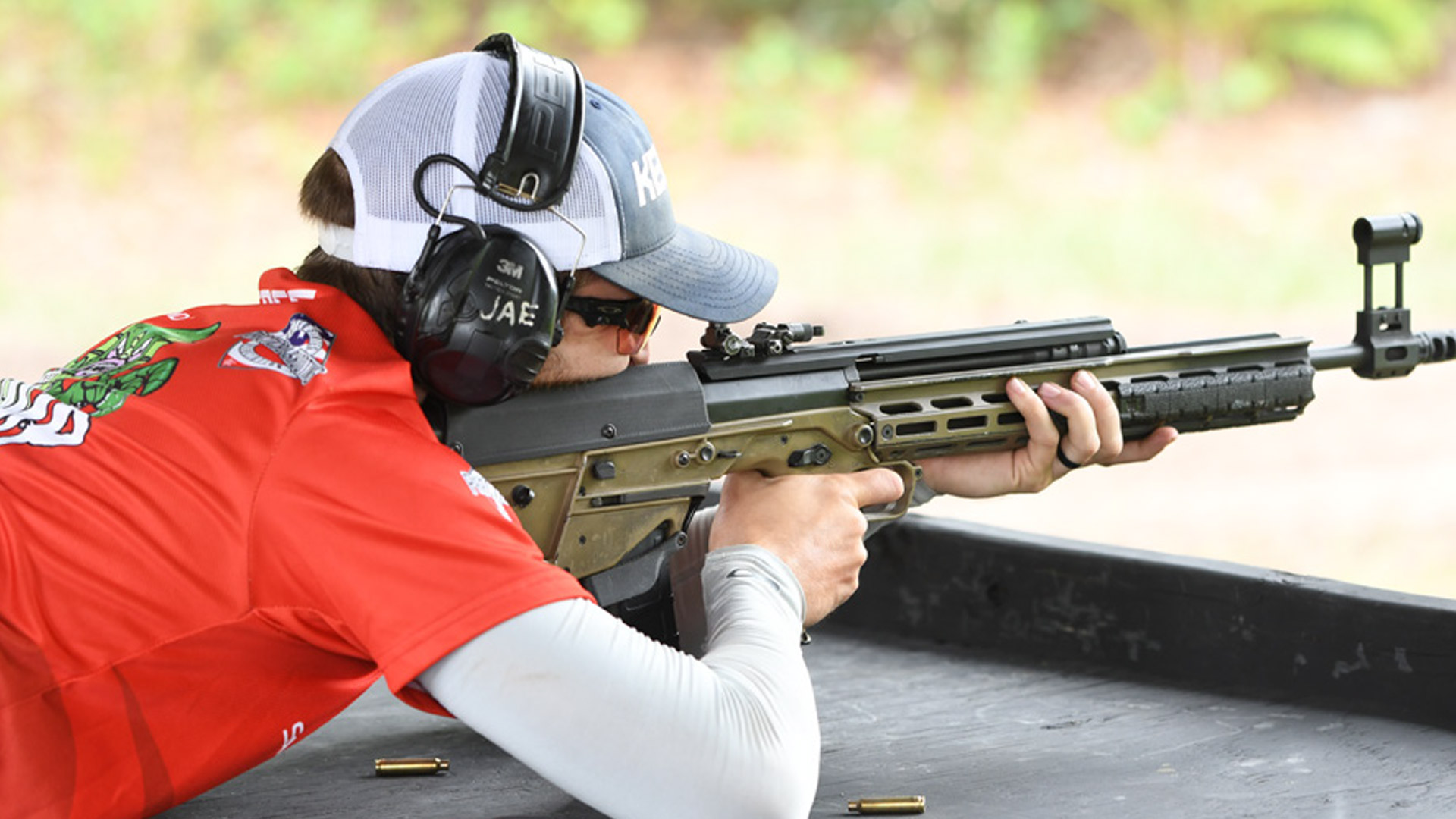 Stage 10, Garciaesq, was a standards stage featuring all three firearms shot from three positions, requiring a reload with the rifle and pistol. While it looked very simple, it was a "stand and deliver" stage and a deep test of shooting skill.
Stage 11, Multi-Gun or Bus, utilized a pistol bay, a shotgun run along a pond, and a school bus with engagement of both near and far rifle targets from a few yards to just over 300 yards. It required the longest distance of competitor movement in the match and raised your heart rate before the most required precision rifle shots of the stage. The scenery and props added to the challenge of this stage, making it memorable and the sheer size made it difficult for all.
Stage 12, Decisions, required the use of all three guns again, with options between rifle and slugs on certain targets, and pistol and slugs on others. There were several variations of plans on this one, but at a minimum everyone engaged a plate rack with a rifle at about 80 yards, with some opting to shoot prone before returning to another position. It was the most freestyle stage you could imagine with all the options it offered, and was truly one of the most talked-about stages of the match.
Match Results and Final Thoughts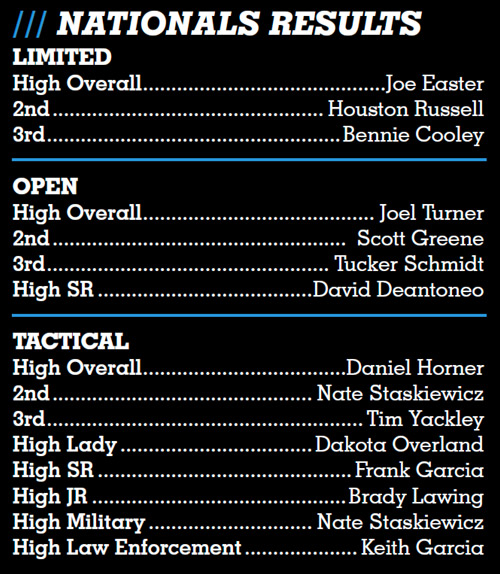 The common theme throughout the match was that this was both a physical and mental exercise that tested the extremes of all three platforms and competitors' familiarity with them. There was nothing here that couldn't be easily completed by competitors of all skill levels within the maximum time, but there was a lot of room for errors in every stage.
At the end of the day, Daniel Horner (pictured at the top of this article) prevailed as the Champion in Tactical division, Joel Turner won the Open division and Joe Easter took top honors in Limited. There were 157 other competitors who left with memories that will last a lifetime, as well as a few things to work on.
Match Director Shannon Smith said about the match, "With the condensed schedule, due to date change and Covid-19 restrictions, the decision to shoot twelve stages in two days versus three days made the match more physical than I had intended. The stages were plenty tough and tested everything as I had planned, but the longer days added an element of physical and mental stamina I hadn't thought about. The better shooter won, as always, and I think it was a unique test. I think it's cool to have had the longest rifle shots on steel and paper of any USPSA Nationals while keeping the targets at 4 MOA, making it doable for most competitors."
Smith added, "Stage 12, Decisions, was a pleasant afterthought, sometimes they work out that way. I had a super-rough idea that I had drawn up for the match book, but the bay is so unique that it didn't work out like I had originally thought. So I winged it a bit, threw some stuff here and some stuff there, and it ended up being the coolest stage of the match in my opinion. There were so many options, ways to lay up and play safe, ways to go for it and save big movements, ways to play to your division and strengths."
View the full results of the match on the Practiscore website.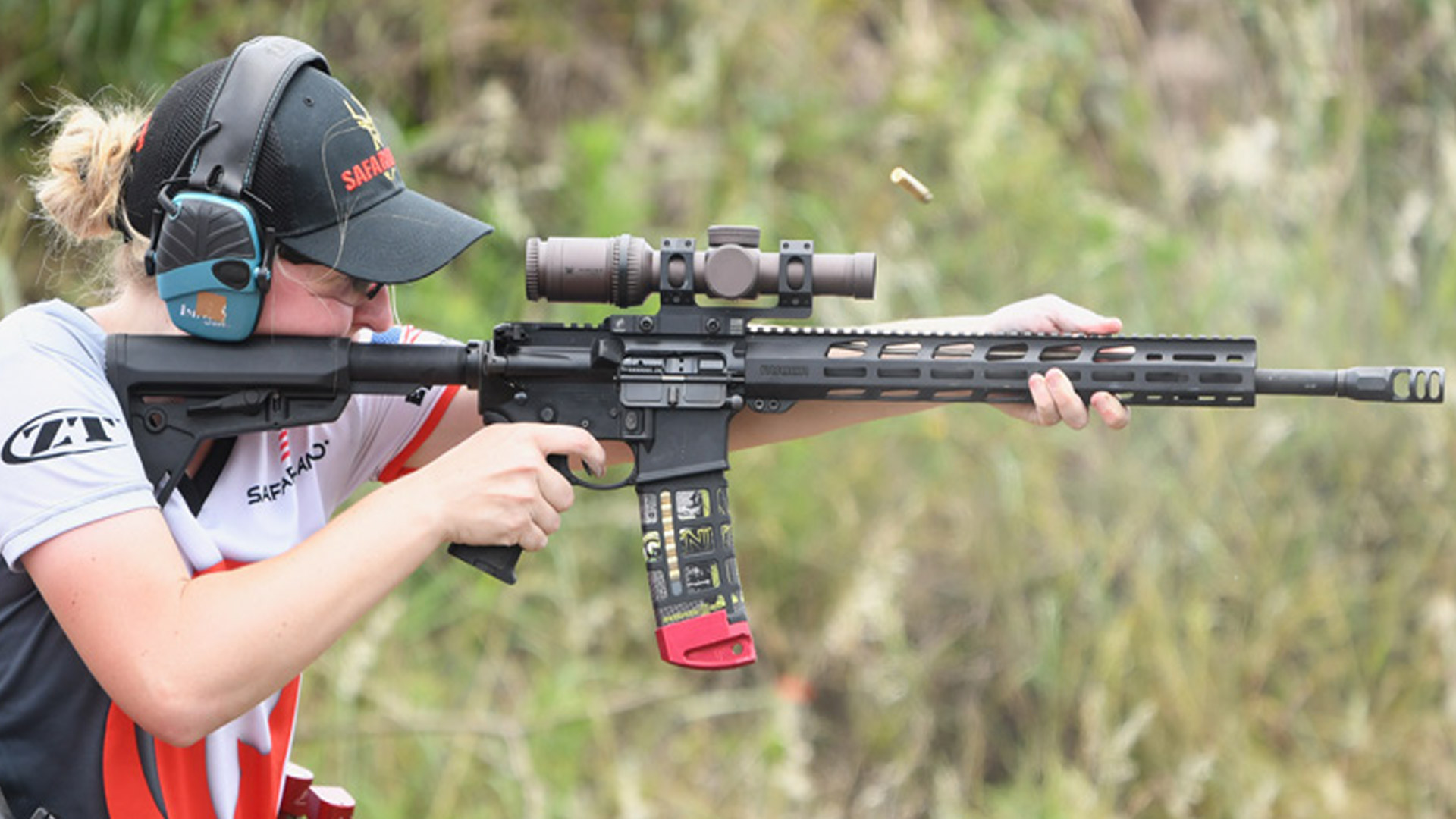 Article from the July/August 2020 issue of USPSA's FrontSight magazine. Photos by Jake Martens.
---
See more:
Visual Speed: Key To Success In Practical Shooting