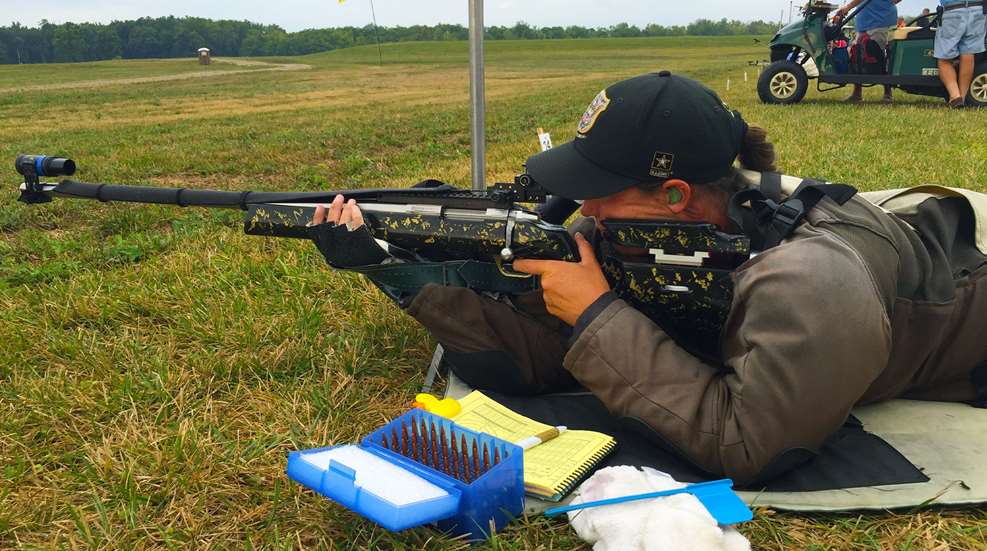 Amanda, a.k.a. "The Boss"
SSgt. Amanda Elsenboss hails from Woodbury, CT, began shooting when she was 13 and eventually got hooked into rifle competition. Learning rifle fundamentals as a smallbore competitor, after a high-power clinic she moved up in caliber. A 2007 graduate of Nonnewaug High School, she was a member of the All-State Connecticut Rifle Team.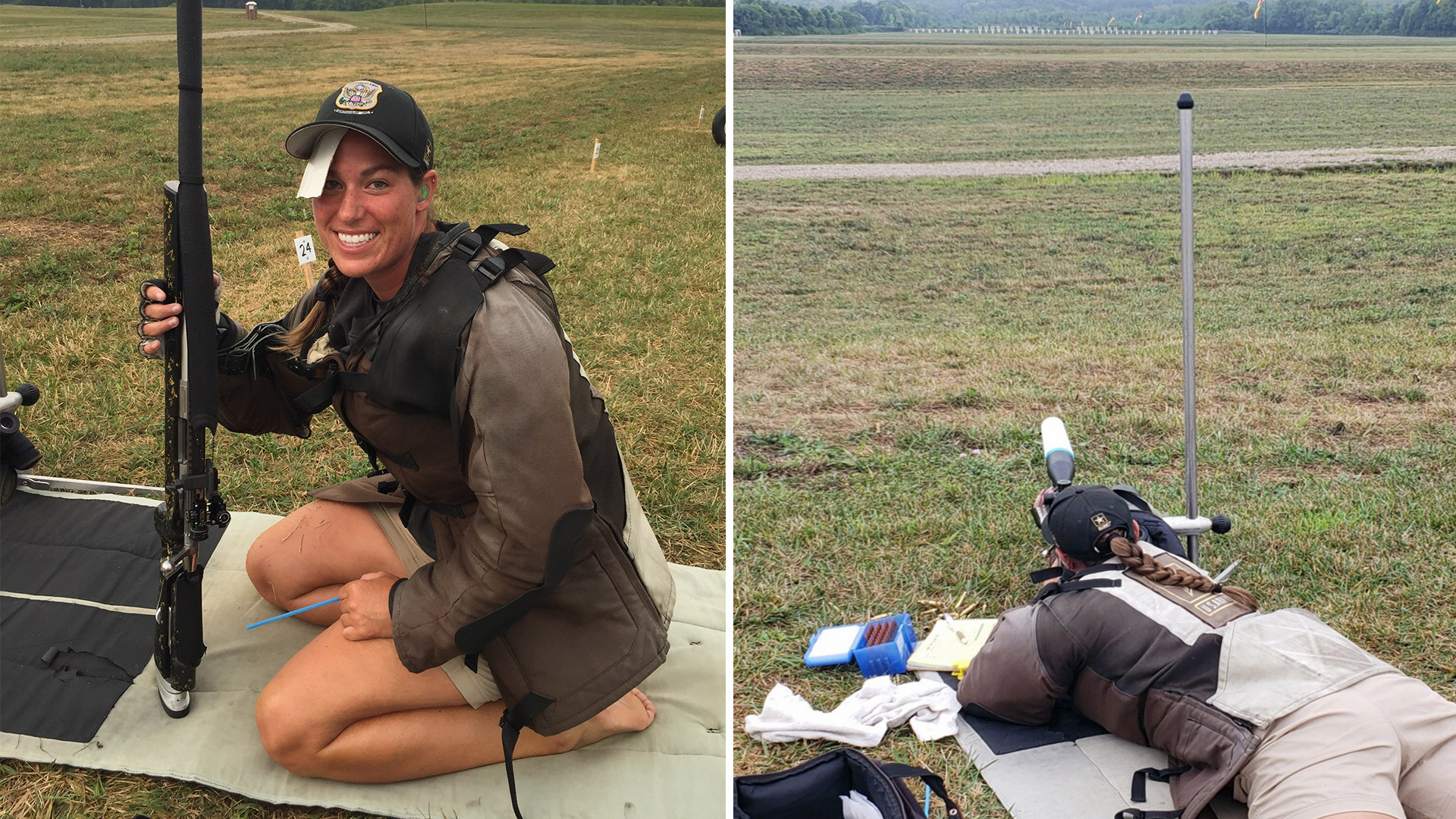 In 2009, Elsenboss joined the Army and shipped to basic training at Fort Leonard Wood. After earning an MOS in armament repair at Aberdeen Proving Ground in Maryland, she was assigned to the U.S. Army Marksmanship Unit upon graduation, joining the Service Rifle team as a shooter and instructor. "My job includes shooting national competitions and also instructing civilians and soldiers in marksmanship skills."
She recognizes her father for being supportive of her dreams. "My father was a large influence in my life. He was a competitive shooter, not with a service rifle, but with a shotgun. He helped me to pursue my love of the sport and encouraged me to follow my dreams and join the Army Marksmanship Unit."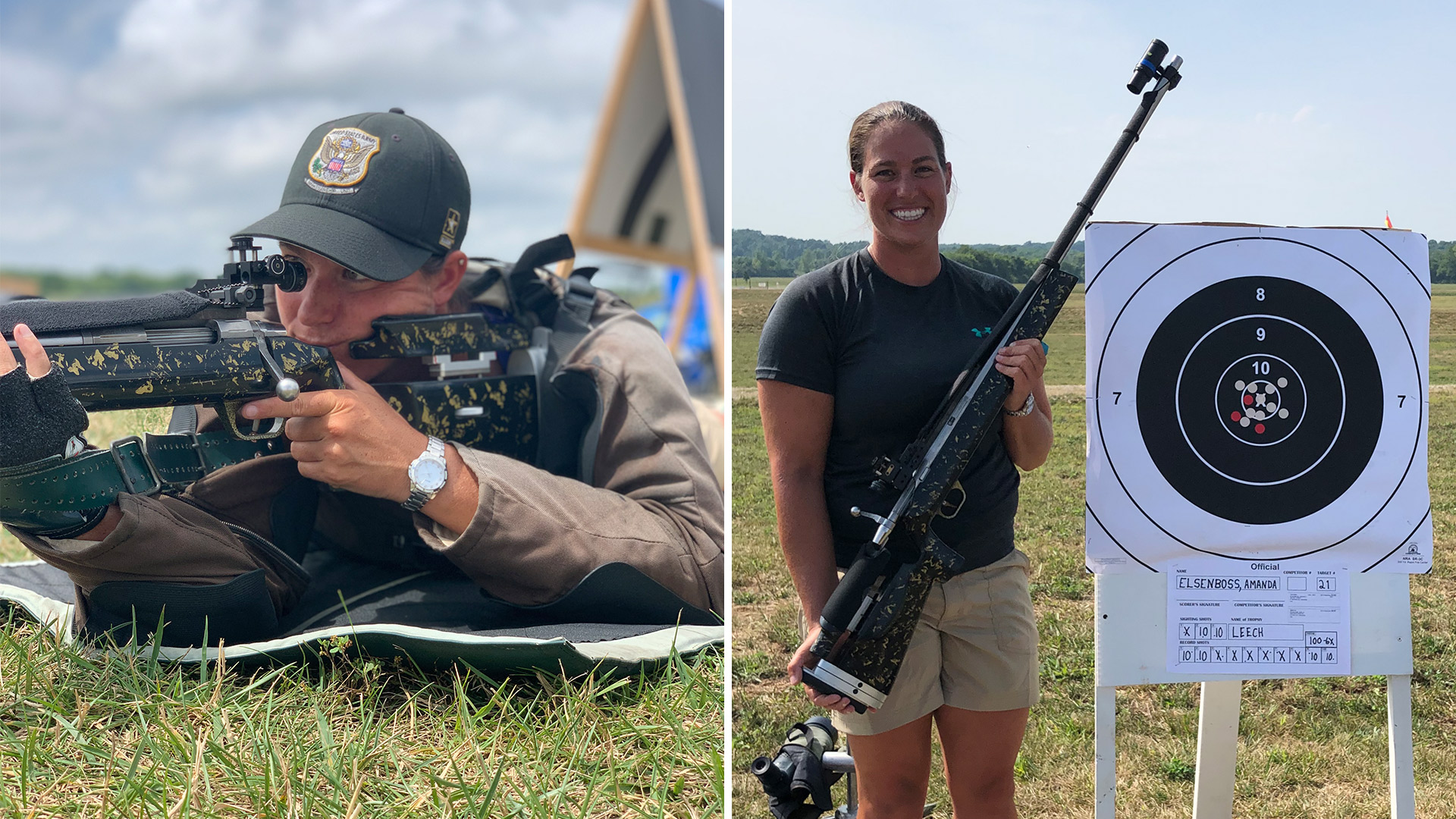 Before his retirement from the U.S. Army, long-range expert Emil Praslick coached Elsenboss as a shooter with the U.S. Army Marksmanship team. Praslick was impressed with her skill and dedication. From an interview from AccurateShooter.com: "Amanda is by far the easiest shooter to coach I've ever worked with. A machine."
Elsenboss holds Praslick in high regard. As her coach for six years, he encouraged her to put all that she had into competitive shooting—the hallmark of a true role model. "[Emil] took me under his wing. He constantly tried to make me a better shooter, so I could instruct others better."
2019 Long Range
Last summer at Camp Atterbury capped an outstanding year of shooting for Elsenboss in 2019.
Hot off the heels of big long-range victories at the Interservice and CMP matches at Camp Perry, SSgt. Elsenboss came to Camp Atterbury on fire. She won the NRA National Long-Range Championships with a score of 1242-74X—just two Xs ahead of legendary High Power Rifle shooter David Tubb.
What's more is she also won the Mustin Trophy match with a score of 199-10X after winning the shoot-off with 100-9X, as well as the Leech Cup with a 200-15X and 100-6X shoot-off score.
Combined with the victories at the Interservice and CMP nationals, Elsenboss made history. While her performance last year was nothing short of remarkable, it didn't really sink in for her until later. "It didn't hit me until John [Coggshall] told me. I had not realized the importance of it."
When asked, two events stood out to Elsenboss as the most memorable. "[At the end of CMP Long-Range], I was nervous, but knew I had the match in my pocket. But it didn't change how I approached the day. I remember finishing, I had the thoughts in my head. 'Oh my god, I won.' That was the moment of 'Yes, that was me!'"
Winning the Leech Cup at Camp Atterbury was also a big deal for her. The Leech Cup and the Wimbledon are the oldest trophies in the shooting sports. "Walking off the line and seeing the other shooters in the Leech Cup shoot-off, we were joking around and it was like 'Come on, bring it on.'"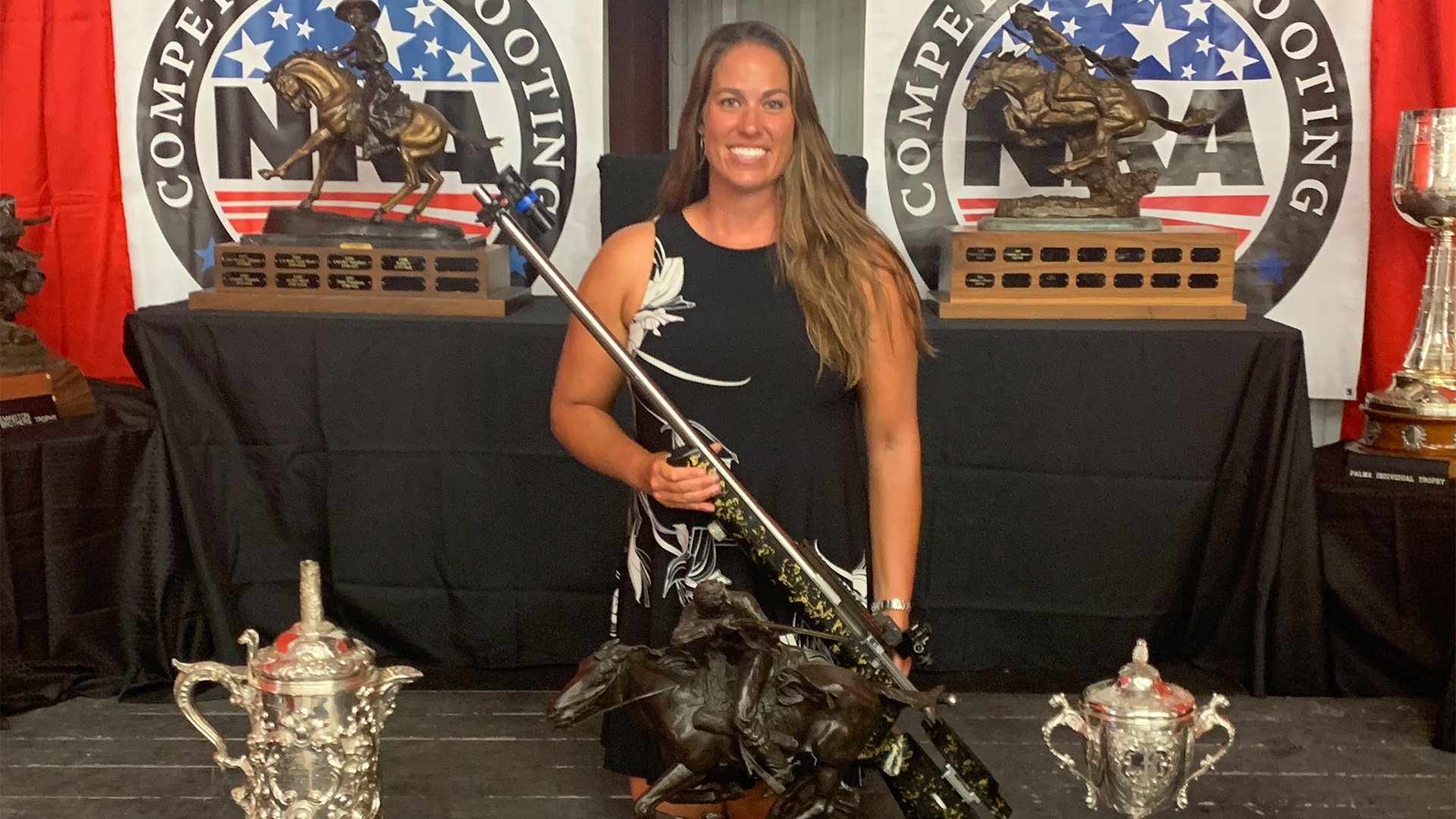 Her group size wasn't up to her usual snuff in the Leech Cup shoot-off, but Elsenboss still found it more than satisfactory. "I couldn't have been happier with how I shot in that shoot-off. It wasn't my best group— but it was the best group for that condition in that moment."
Regarding gear, for all her 1,000-yard matches last year Elsenboss was shooting an AMU in-house made 7mm Remington Short Action Ultra Mag. Mr. Shawn Waller built the rifle, included turning the barrels. For Palma matches and for Mid-Range, she was shooting her Palma rifle. Elsenboss also has identical 7mm guns, save one includes an optic and the other has irons.
Characteristic for Elsenboss, she was quick to give credit to AMU coaches and teammates for aiding with her winning performances in 2019.
"Thank you to everyone who supported me during 2019. [All the] support and encouragement helped me along the way, fan club included," said Elsenboss, adding, "[A] huge shout out to past and present AMU members for pointing me in the right direction. When the moment of confusion happened, I always knew who I could count on to get me back on track. Thank you to everyone on and off the range who was cheering me along."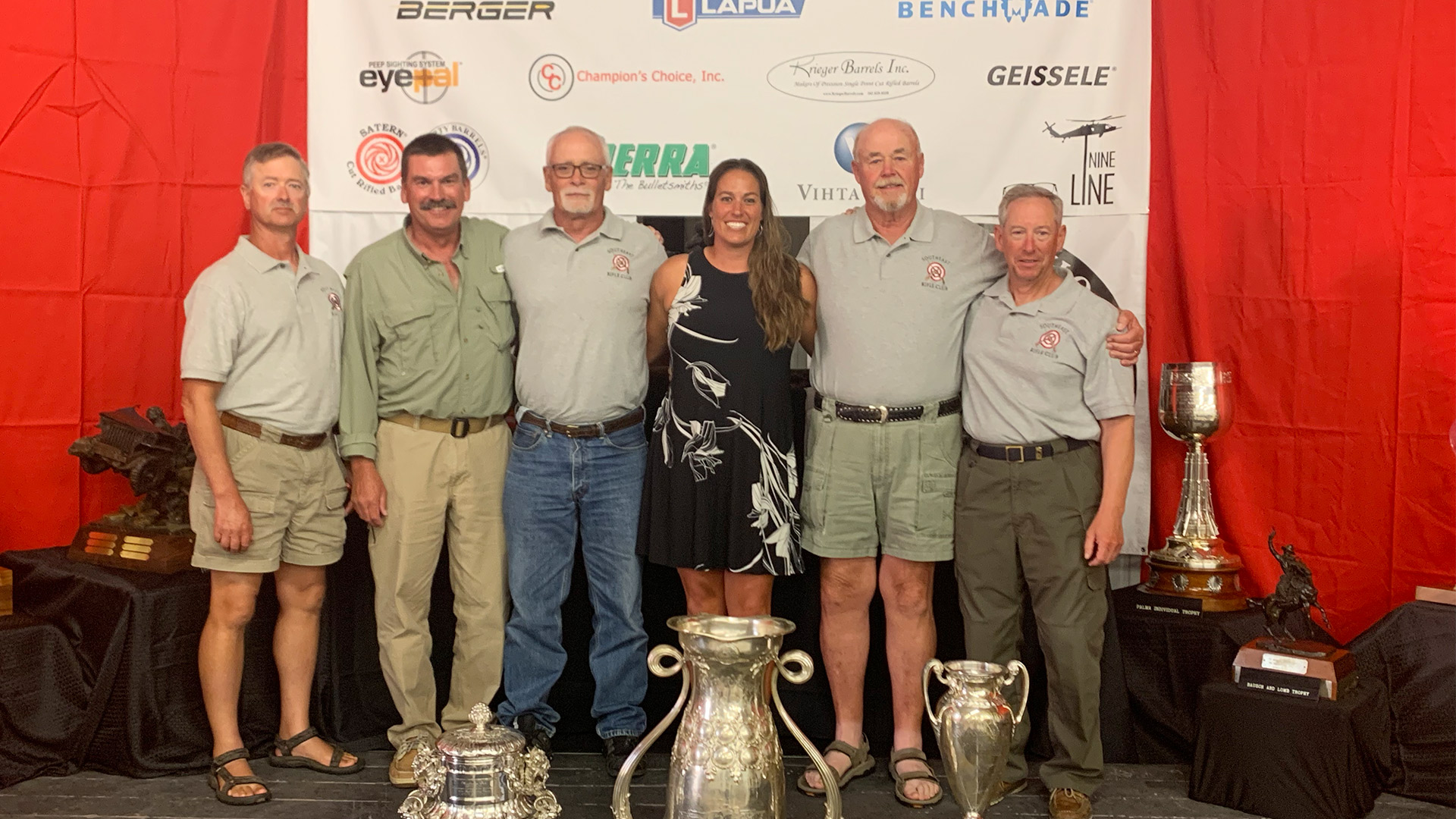 Her former AMU coach, Emil Praslick, weighed in on Elsenboss and her 2019 championship trifecta.
"Congratulations to Amanda Elsenboss … this completes her season of dominance, winning the Interservice, CMP and NRA Long- Range Championships. Amanda finished off her campaign with a win in the NRA Mustin Match and a shoot-off score of 100-9X."
Another role model for Elsenboss is SFC Lance Dement, a retired AMU shooter. "He was a stepping stone that was there all along the way for me. He let me borrow his equipment when I wasn't happy with some of mine. Lance was always in my corner."
Like most great shooters, she developed a mental management game, working in conjunction with Bob Palmer. "It's been three years of hard work—seeing myself winning and seeing things going the way I wanted them too. Also, not losing focus and concentration when it matters most. It's so easy to get distracted or shoot one bad shot and think 'This is all over.'"

Even a top-tier competitive shooter like Elsenboss can have bad moments that demand additional focus. Having a plan for tackling mental management helps on the firing line. "At CMP Long-Range, for my first shot for record in the Palma match I put the wrong wind on and shot an eight. But I didn't let that one momentary mental lapse affect the rest of my strings."
High Performance
Elsenboss has a passion for competitive shooting that's quite remarkable. While a common theme with championship shooters is a fierce competitive spirit, Elsenboss puts in a lot of hours not just at the range, but also at the gym, often until long after others have gone home. She credits her drive to win from starting in competition early on in life. And her parents provided opportunities to try out different sports. "I had to learn at a young age what I was good at and what I needed to get better at. Competition calls to me—if it's not competitive, I probably don't want to do it."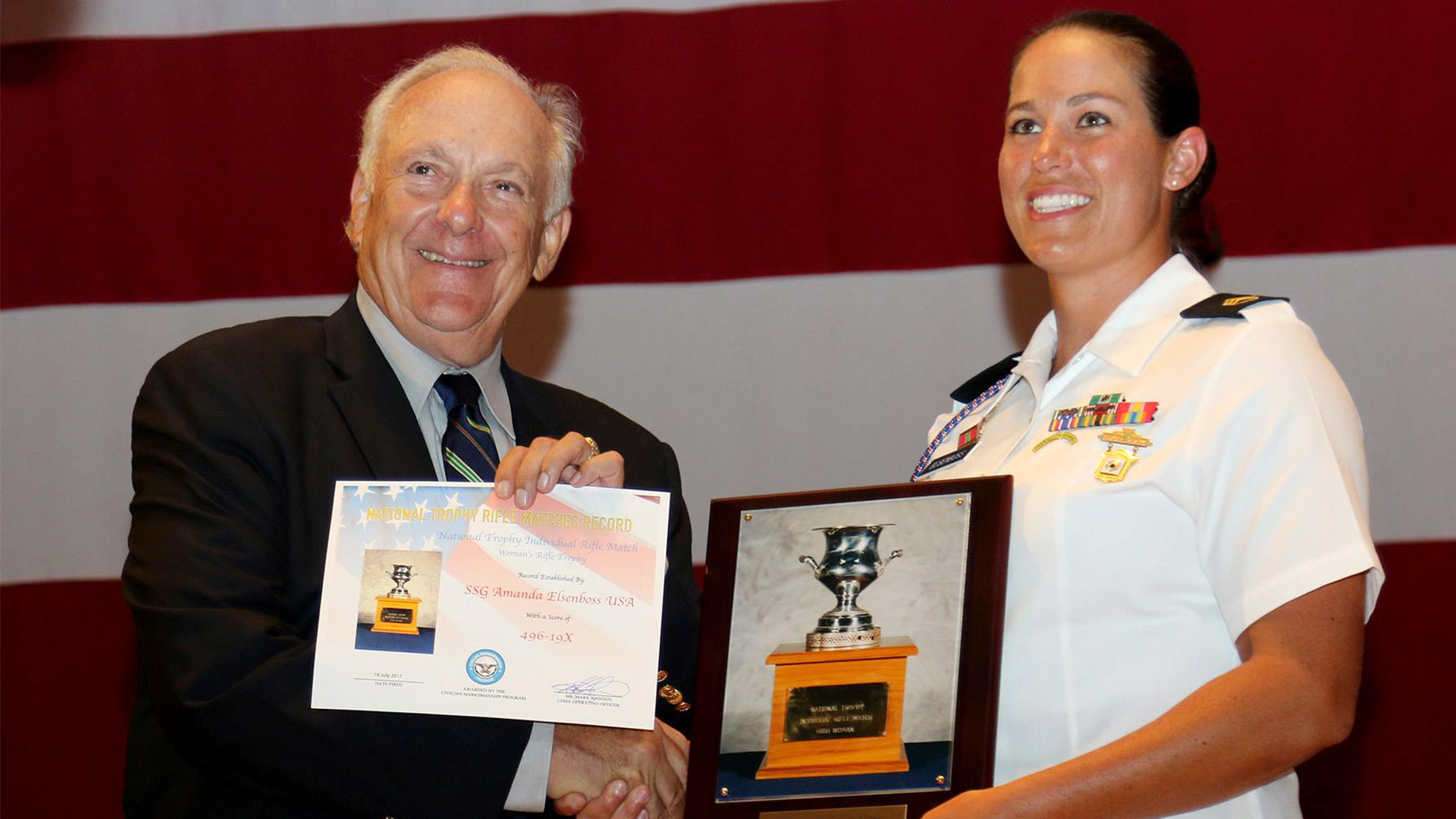 As for avoiding obstacles or pitfalls, both in competitive shooting and in life, Elsenboss says that you are your own worst enemy. "Keep moving forward. You have to realize what is important and what is not important. You have to get over that."
Elsenboss shared her advice for women interested in the shooting sports. "Remember that we all have our ups and downs. Don't let other people distract you or tell you that you aren't good enough to be doing that. You are completely capable of doing anything that you put your heart, soul and mind completely into. Keep going, you can do it!"
After we interviewed her, SSgt. Elsenboss left the AMU and active duty. Now she shoots for the Pennsylvania National Guard Team and works in the private sector at a test facility.
---
See more:
Why Build A Palma Rifle?