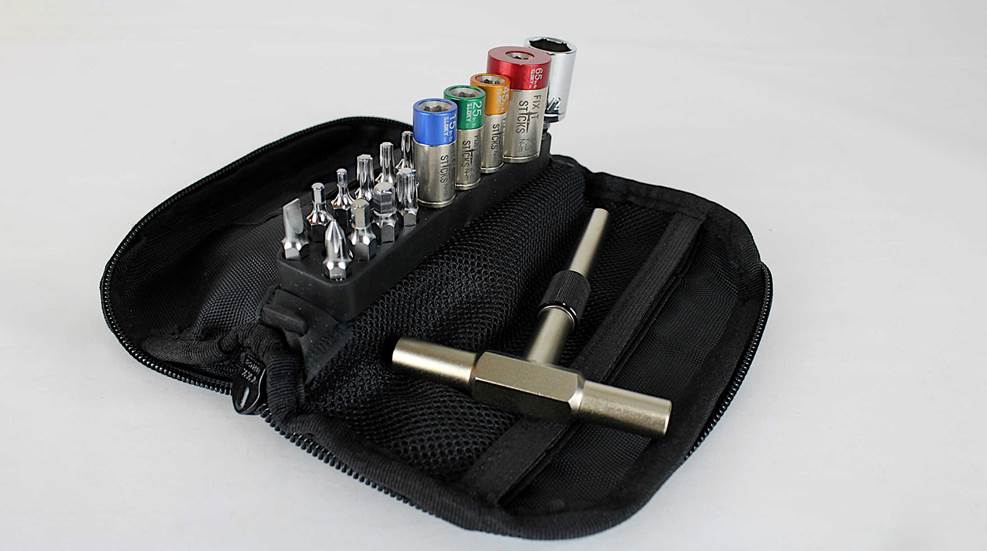 Tightening screws to proper tension on rifles is important to precision shooting, and overtightened screws on any firearm can cause as many frustrations as too-loose screws. Fix It Sticks' get-it-right-every-time preset torque limiters are quality tools that are as handy in the field as they are useful at the bench.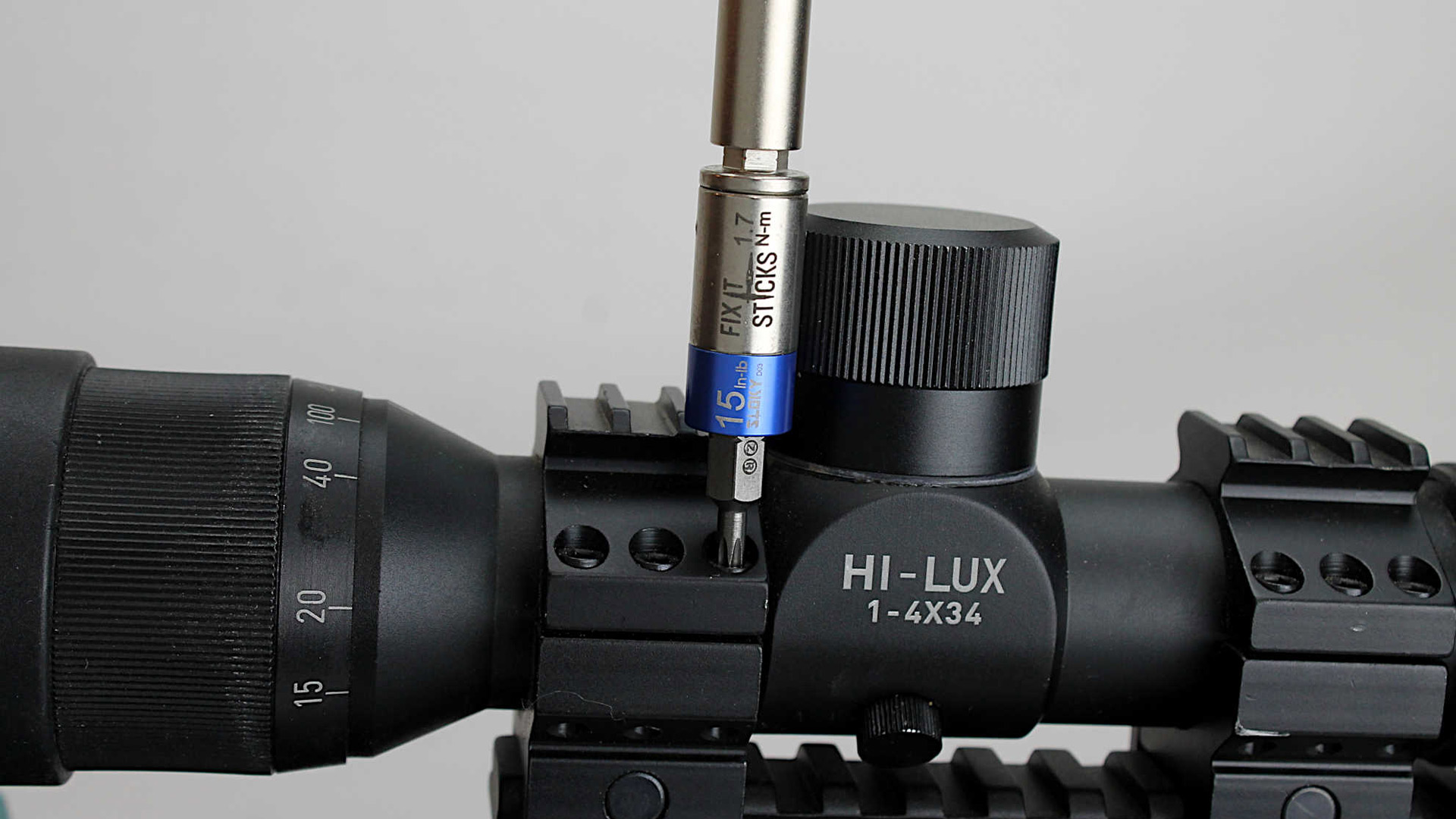 Too tight
In my experience mounting scopes for a gunsmithing shop, I find most shooters tighten scope mount screws and ring screws far too tightly. They can be forgiven, as scope mounting systems differ from manufacturer to manufacturer, and very few of them include specific torque recommendations with their bases (mounts) and rings.
Aluminum scope rings exacerbate the problem. Overtightening steel screws in an aluminum ring sometimes results in stripped ring threads. These can be drilled and re-tapped for a larger screw, but the labor cost for the gun owner lacking proper tools for the job typically exceeds the cost of replacement aluminum rings. Machine work to carefully drill out overtightened, broken-off screws and tap new threads runs about $15 to $50 per screw hole. I am not a big fan of aluminum rings, though I do use them. If mounted correctly, aluminum scope rings can provide satisfactory performance at a cost savings. "Mounted correctly" includes torqueing ring screws (and bases) to manufacturer recommendations, or lacking such direction, to reasonable and equitable tension, whether rings are aluminum or steel.
Receiver screws, too, need proper tensioning, especially for competition shooters. Attached too-loosely to the stock, the barreled action will, of course, move under recoil, delivering subsequent shots to a different place away from the preceding shot. Additionally, removing and reinstalling a barreled action and then torqueing the receiver screws to a value different than previously set could change the rifle's original zero, particularly for long-range rifles.
Loose screws can cause damage, too. I've repaired several wooden stocks that suffered minor splitting under recoil caused by a loose receiver screw. Torqueing receiver screws too tightly to wooden stocks crushes the wood fibers and can split or crack the wood, and tightening front and rear receiver screws to unequal or uncomplimentary values in synthetic stocks may affect group sizes.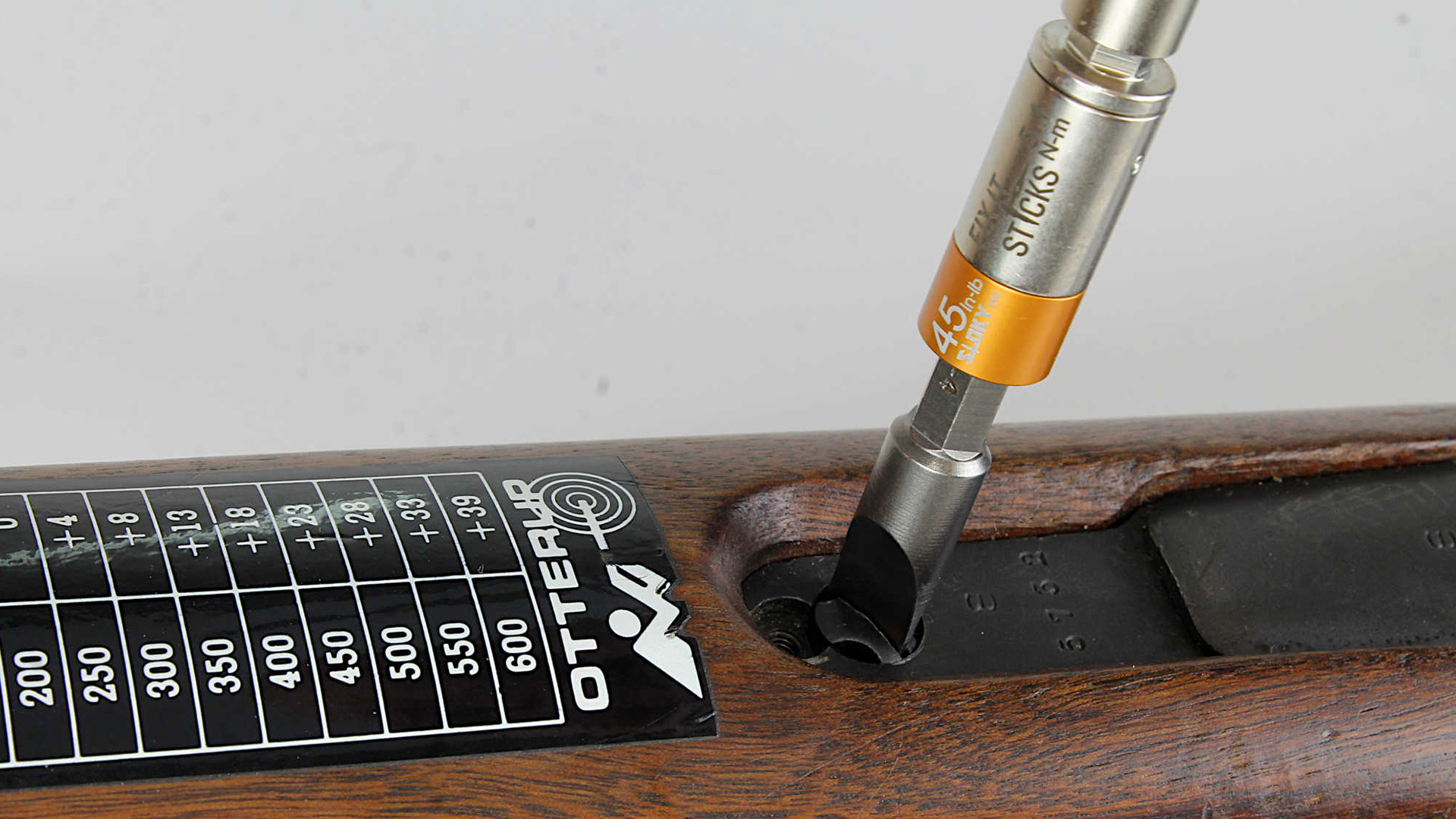 Know your torque
Obviously then, we need a quality torque wrench. While many are available, the Fix It Sticks torque tool kit in particular stands out for being firearms-friendly and eminently portable, bringing scope mounting and minor repairs to the range and field. The heart of the Fix It Sticks kit are the four torque limiters preset to the most common torque values for firearms. Scope manufacturer Leupold recommends tightening scope ring screws to 14 to 16 inch-pounds; the Fix It Sticks 15-inch-pound torque limiter hits the center. Shooters of heavy recoiling rifles may feel more confident in tightening scope base screws—and Ruger's proprietary ring/base system—to 25 inch-pounds (note these are steel-screws/steel-receivers matings); the kit includes a torque limiter preset to that value, which is also about right for torqueing the receiver screws of many common rifles, too. The 45-inch-pound torque limiter is as high as I'd want to go for receiver screws in most bedded centerfire competition bolt guns. The 65-inch-pound limiter is reserved for the receiver screws of the heaviest big bore rifles with synthetic stocks and steel beds or pillars used in precision shooting competition or sniping. Of course, others have their own opinions on appropriate torque values for their firearms, and the Fix It Sticks torque limiter selection appears to cover the territory.
Comparison torqueing
Fix It Sticks' torque limiters look rather like ordinary ¼-inch socket wrench sockets with color-coding bands for quick torque value ID, and are mounted to ¼-inch drive shafts. (For the metrically inclined, they are marked in Newton-meters as well as inch-pounds.) An included T-handle accepts these ¼-inch drive shafts at all three ends of the T, though they will fit any ¼-inch driver. The kit also includes 16 bits with Allen, Torx, Phillips head and straight-slot screw heads—again, all in sizes common to firearms. The single straight-slot screw head provided is hollow ground, the only type that should be used on firearms screws. 
In practice, an appropriate tool bit is inserted into the torque limiter's ¼-inch drive receptacle, and the assembly mounted to the T-handle for tightening. The torque limiters do not "break" when reaching the preset loading, rather they "slip" with an audible clicking and simply cease tightening if the user continues to turn the handle. It's important to note that the Fix It Sticks torque limiters work only in the clockwise (tightening) direction and must not be used to loosen fasteners.
To test the torque limiters, I used them to tighten receiver and scope mounting screws, and then employed a Wheeler Engineering adjustable torque wrench set to the same values to see whether the Wheeler agreed with them. I also reversed the procedure, tightening first with the Wheeler wrench and then the torque limiters. While not a calibration lab quality test, the Wheeler and the Fix It Sticks appeared to be in agreement, certainly within about a pound of each other.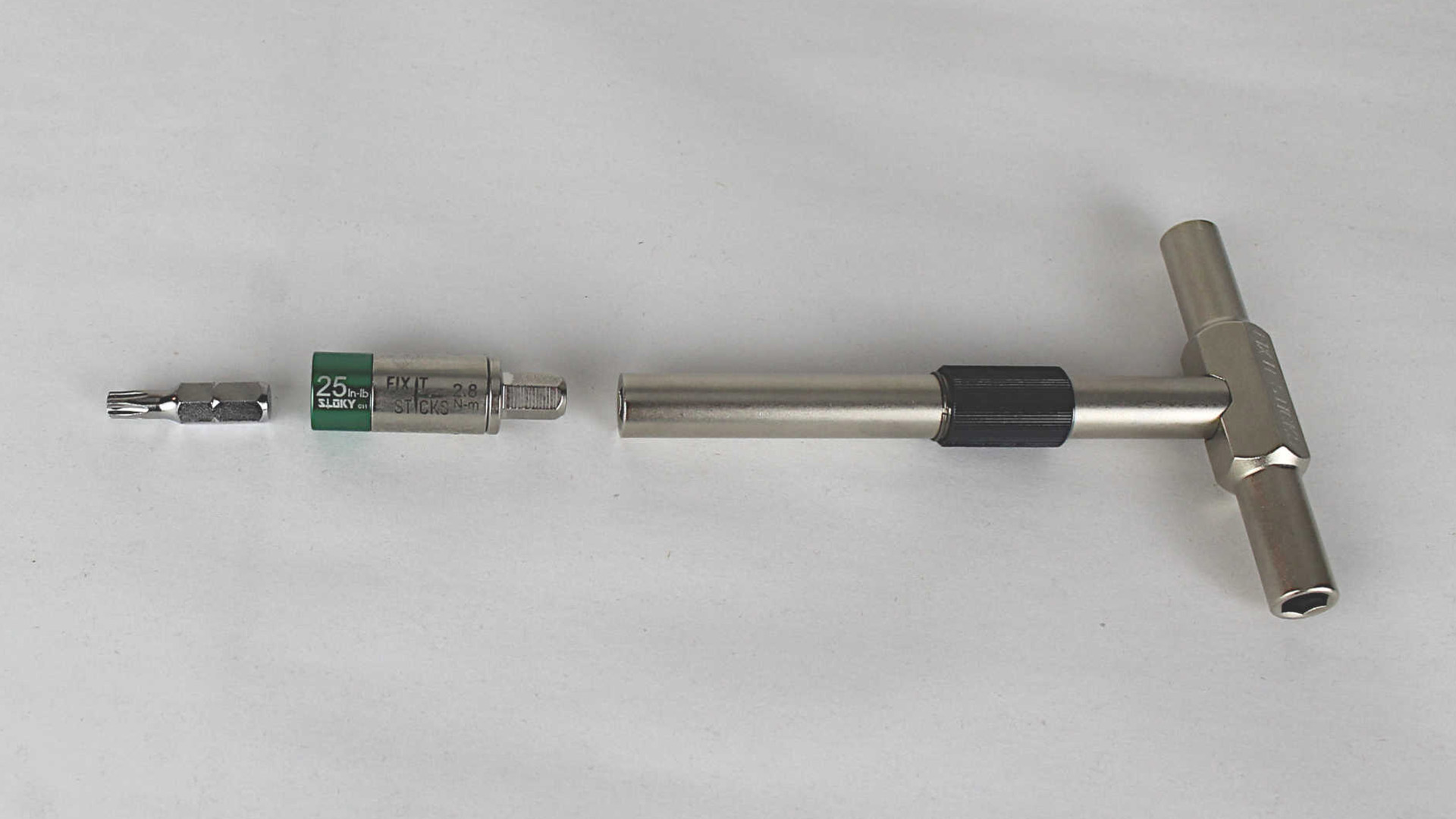 Specialty kits
Fix It Sticks says their torque limiters are accurate to within +/- 6 percent, and retain that accuracy for 20,000 cycles. For occasional use that's pretty much two or three lifetimes, so you can will yours to your grateful heirs. The kit tested here has a retail price of $280. Fix It Sticks also offers Long Range, 3-Gun, AR-15 and Glock kits with tools appropriate to those shooting specialties. In addition to kits of pre-selected tools, 18 different torque limiters are available individually, from four inch-pounds up to 80 inch-pounds, for $40 each, as well as the All-In-One Torque Driver, an adjustable torque limiter with a range from 15 to 65 inch-pounds for $60. If you already have a pocket tool kit with a ¼-inch driver, these torque limiters essentially offer the addition of a torque wrench the size of your thumb. And if you want to build up your own kit, pouches, tool bit brackets and tools can be purchased separately.
Just because a tool kit is portable doesn't mean it can't have a place on the workbench, too. And speaking of portable, Fix It Sticks also has torque limiter kits and other compact tools for mountain bikers and cyclists. Visit the company website to see the complete line of kits and tools.
---
See more: Endosnake: An Inexpensive, Unusual Tool For The DIY Minded