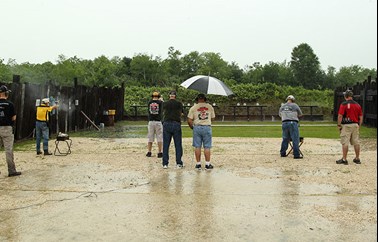 Seventy-five competitors from 16 states made their way to Southwest Louisiana for the 2015 Crawfish Cup. This was a major increase from the 51 competitors at the match in 2014. Weather played a big part in this year's match when a huge line of thunderstorms started rolling through the area shortly after firing commenced. When the rain stopped and competition finally resumed, the range was soaked with standing water everywhere.
In the Open Division, four shooters were clean going into the final event, the Moving Target. James Avenell was one of the first to shoot the mover and dropped four points, losing his lead to finish with a 1916-168X. Steve Weathersby also shot a 476 on the mover which gave him a 1916 as well. Next up was Bruce Piatt, who fired an impressive 480 with 40 X's to set the score to beat. Doug Koenig would need at least 41 X's on the mover to win the match. Unfortunately, Doug could only muster 37 X's. Five-time Bianchi Cup Champion Bruce Piatt, was this year's Crawfish Cup Overall Champion, with a score of 1920-176X. Doug Koenig, won 2nd place by only three X's. James Avenell finished 3rd with a score of 1916-168X.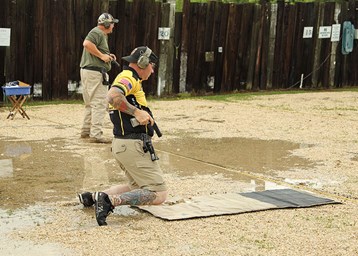 In the Metallic Division, it was a close match-up between U.S Border Patrol Agent Robert Vadasz and the AMU's SFC Patrick Franks. After the first two events, Franks led Vadasz by two points, 938-62X to 936-59X, with AMU team member SSG Lawrence Cleveland not far behind with 927-48X. On the Olin (Oli) C. Barjenbruch Falling Plate Event, Franks turned in a stellar perfect score of 480-48X to open up a lead over Vadasz and Cleveland, who both shot 46 plates. After three events, with only the mover remaining, SFC Franks lead with 1418 points to Vadasz's 1396 and Cleveland's 1387. Rob Vadasz made a gallant effort on the mover, shooting a 473-34X, but it was not enough to overcome SFC Frank's 22 point lead. SFC Franks finished the tournament with a 468-26X for an aggregate score of 1886-136X, winning the Metallic Division. Robert Vadasz, of the U.S. Border Patrol was 2nd with an 1869, and AMU shooter SSG Lawrence Cleveland finished 3rd in Metallic with an 1855.
In the Production Division, Jack Ragsdale and the AMU's SFC Adam Sokolowski posted the top score in the Practical Event of 465-23X. Next up was the Barricade Event, where Sokolowski took the lead for good with a 467-28X. SFC Adam Sokolowski won the Production Division with a score of 1869-119X. Bruce Gray was 2nd with an 1829, followed by Jack Ragsdale with an 1811.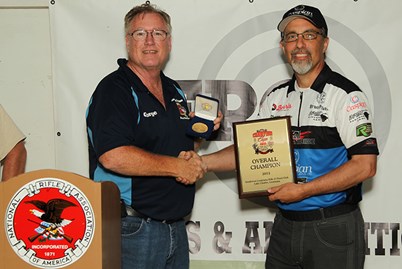 Vera Koo won the High Woman and High Senior Awards. High Grand Senior honors went to 80-year-old Louis Tomme. Tre Dixon won the High Junior Award, and Robert Vadasz won the Law Enforcement Award.
This year's Crawfish Cup was well supported by Briley Custom, Graf & Sons, Midsouth Shooters Supply, Sierra Bullets, and Zero Ammunition among others donating $11,000 in merchandise for the prize table. In addition, $2,800 was also distributed as prize money based on the number of competitors in each class, category and gun type.
Next year's Crawfish Cup regional will be a two-day match on April 22nd and 23rd. Come have some fun prior to your preparations for the 2016 NRA & Midway USA Bianchi Cup with some Cajun hospitality. Contact George Mowbray at [email protected] for details.