This year's Midsouth Shooters Crawfish Cup had the top action pistol competitors in the country once again making the trip to Louisiana. The 2016 Open Gun Super Squad was comprised of last year's champion Bruce Piatt, 2014 winner Kevin Angstadt, 2013 winner Doug Koenig and challengers Mark Itzstein, Kim Beckwith, Troy Mattheyer, Jeremy Newell and first-time Crawfish Cup competitor Tony Holmes.

Kevin Angstadt jumped out to an early lead in the TK Custom Practical Event posting an impressive 480 points with 45 tie-breaking X-ring shots. Bruce Piatt also had a 480 on the Practical Event, but with 39 X's. Troy Mattheyer was in third place with a clean score and 37 X's. Mark Itzstein and Tony Holmes followed with 36 and 32 X-ring hits respectively. The 2013 champion Doug Koenig had a high X-count of 44 on the Practical—but let one shot slip out of the 10-point ring, finishing with 478 points.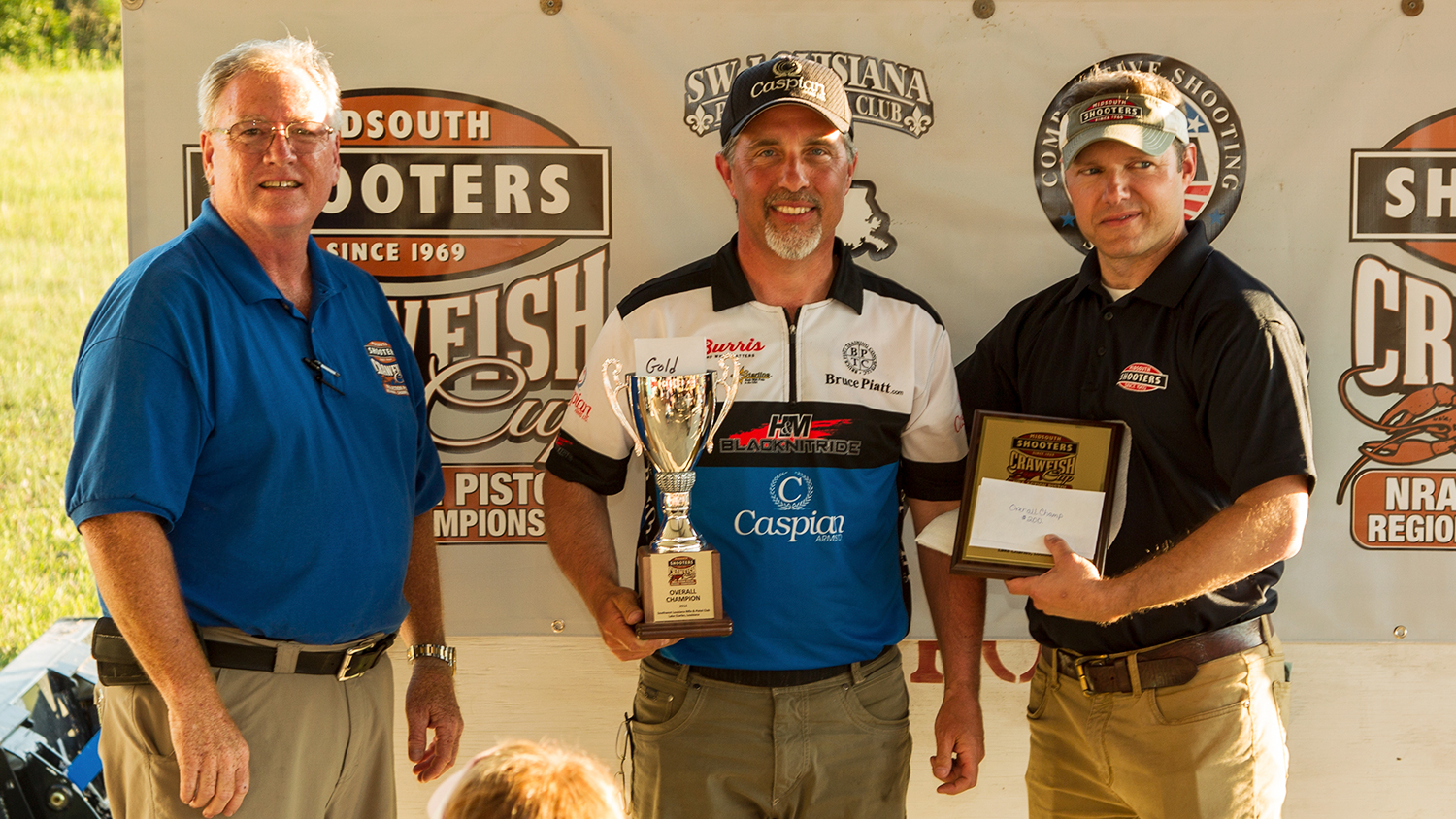 The Barricade Event, sponsored by Briley Custom was next for the top squad. Typically, it is a high X-count event for the Open competitors, and today was no different. Caspian's Bruce Piatt and Mark Itzstein, sponsored by Secure Firearm Products, posted perfect scores of 480 points with a perfect 48 X's on the event. This was a personal best for Itzstein and his first 48X Barricade Event in competition and propelled him past Troy Mattheyer and into third place behind Angstadt, who still led with 91 X's and Piatt with 87.

Next up for the squad was the Lucas Oil Outdoor Line sponsored Falling Plates Event. The squad easily cleaned the event with all shooting 480-48X scores. Going into the final event, it was a tight race with Midsouth's Kevin Angstadt clinging to the lead he established at the outset with a total score of 1440-139X to Piatt's 1440-135X. Itzstein, Mattheyer and Holmes rounded out the top five with X-counts of 132, 129, and 123 respectively. As is usually the case at the Bianchi Cup National Action Pistol Championship, the championship came down to the Moving Target Event.

The Moving Target, sponsored by Secure Firearm Products is always a tough event because instead of shooting on a line with three other competitors, each competitor fires this event one at a time—following the other competitors in the squad. It is a huge mental challenge to focus on your own shooting and ignore the scores of those who shot before you. When the final shot rang out, Bruce Piatt repeated as the 2016 Crawfish Cup Champion with a score of 1920-176X. Tony Holmes jumped into second place by shooting a 478 on the Mover, finishing with a 1918-153X. Team Smith & Wesson's Doug Koenig also had 176 X's, but dropped 4 points overall to finish with a score of 1916-176X. Kevin Angstadt was close on his heels firing a 1916-173X. Mark Itzstein also shot a 1916, but could only muster 158 X's to finish in fifth place. Troy Mattheyer shot an eight point shot and a five point shot on the Mover to finish with a very respectable 1913-157X performance. The top three competitors—Piatt, Holmes and Koenig, are all sponsored by H & M Black Nitride—giving the company a clean sweep at the Crawfish Cup.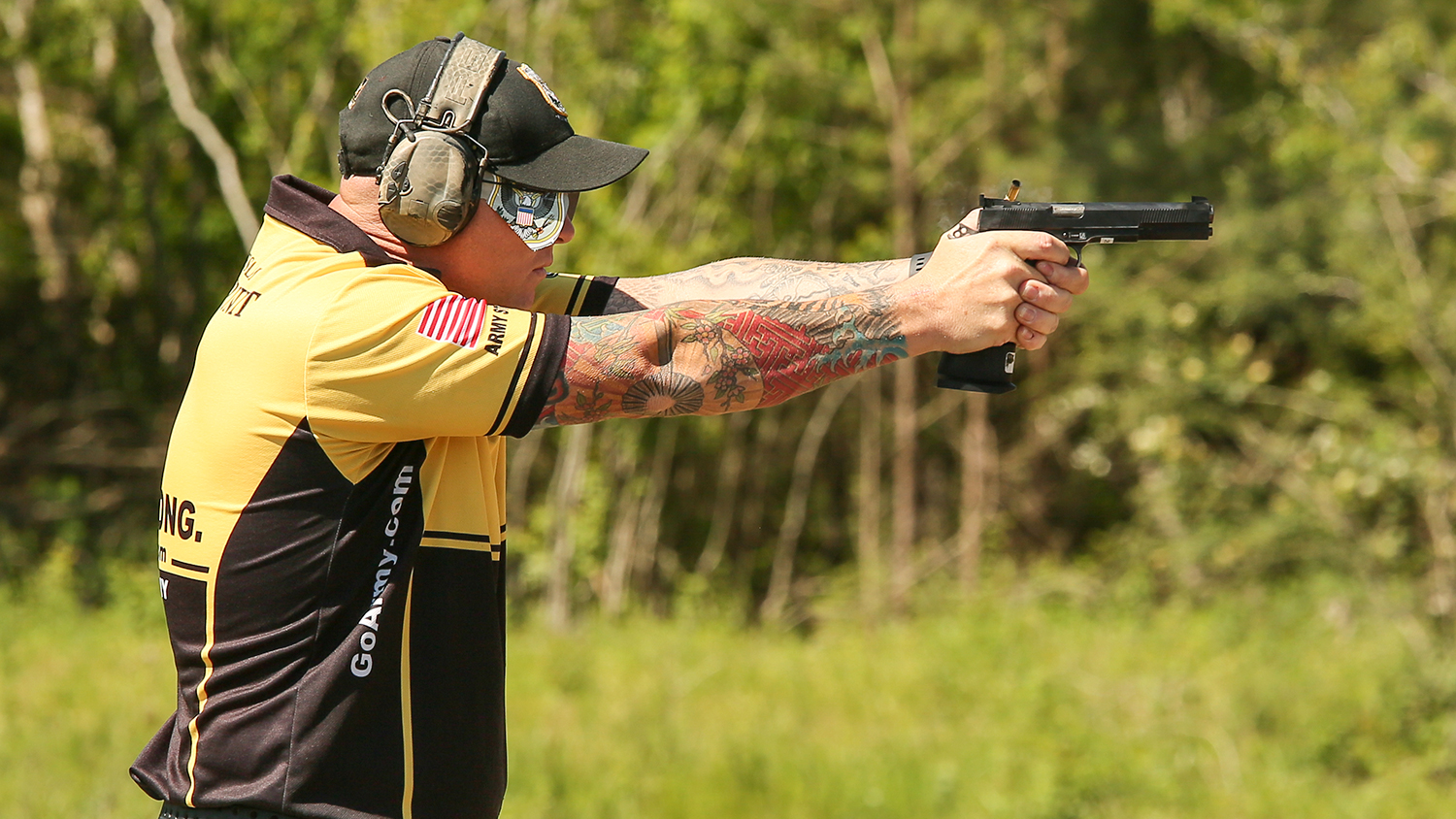 In Metallic, Patrick Franks of the U.S. Army Marksmanship Unit (AMU) jumped to an early lead on the Falling Plates Event hitting 47 of the 48 plates, posting a twenty-point lead over Daniel Hauserman, who fired a 450-45X. Kyle Wolfe, who shot a 449 on the Moving Target Event was third, 21 points down. The Tampa Police Department's Chris Liming was not far behind with a 440 on the Falling Plates. Franks, with a 472 on the Mover, extended his lead to 33 and 34 points over his two closest challengers. Franks continued his blistering pace with a 476 on the Practical Event, making it evident the race in Metallic was pretty much for second and third. After three events, Kyle Wolfe was sitting in second with a 1377-89X. Daniel Hauserman followed in third behind Wolfe with 1365 points and 85 X's. Chris Liming was fourth, only five points behind Hauserman with a score of 1360.

The final event for the Metallic competitors was the Barricade Event. Patrick Franks fired a solid score of 466 and locked up the Metallic win with an impressive aggregate score of 1884-127X. Chris Liming posted the best score of the event, a 469-25X, but could not overcome Kyle Wolfe's 17-point advantage going into the event. Wolfe finished second in Metallic with a score of 1834-113X followed by Liming in third place, only eight points back with an 1826. Daniel Hauserman shot his best score ever the tournament, a 458, but finished in fourth place scoring 1809-104X.

In the Production Division, it was a three-man race with Vance Schmid jumping out to an early lead with a 480 on the Falling Plates. The AMU's Michael Gasser fired a 471 on the Moving Target followed closely by AMU teammate Adam Sokolowski with a 466. Next up for the AMU shooters was the Falling Plates and both Gasser and Sokolowski cleaned them, while Vance Schmid shot a 466 on the Mover. After the first two events, it was Michael Gasser leading with a score of 951-79X. Adam Sokolowski and Vance Schmid both had a score of 946 points, but Adam led 72 X's to Vance's 69X performance. The AMU guys pulled away from Vance Schmid on their third event, posting scores of 474 and 471 on the Barricade Event while Schmid had a 455 on the Practical Event. Going into the final event, Gasser held onto a slim lead 1422 points to Sokolowski's 1420. Vance was in third place with a score of 1401.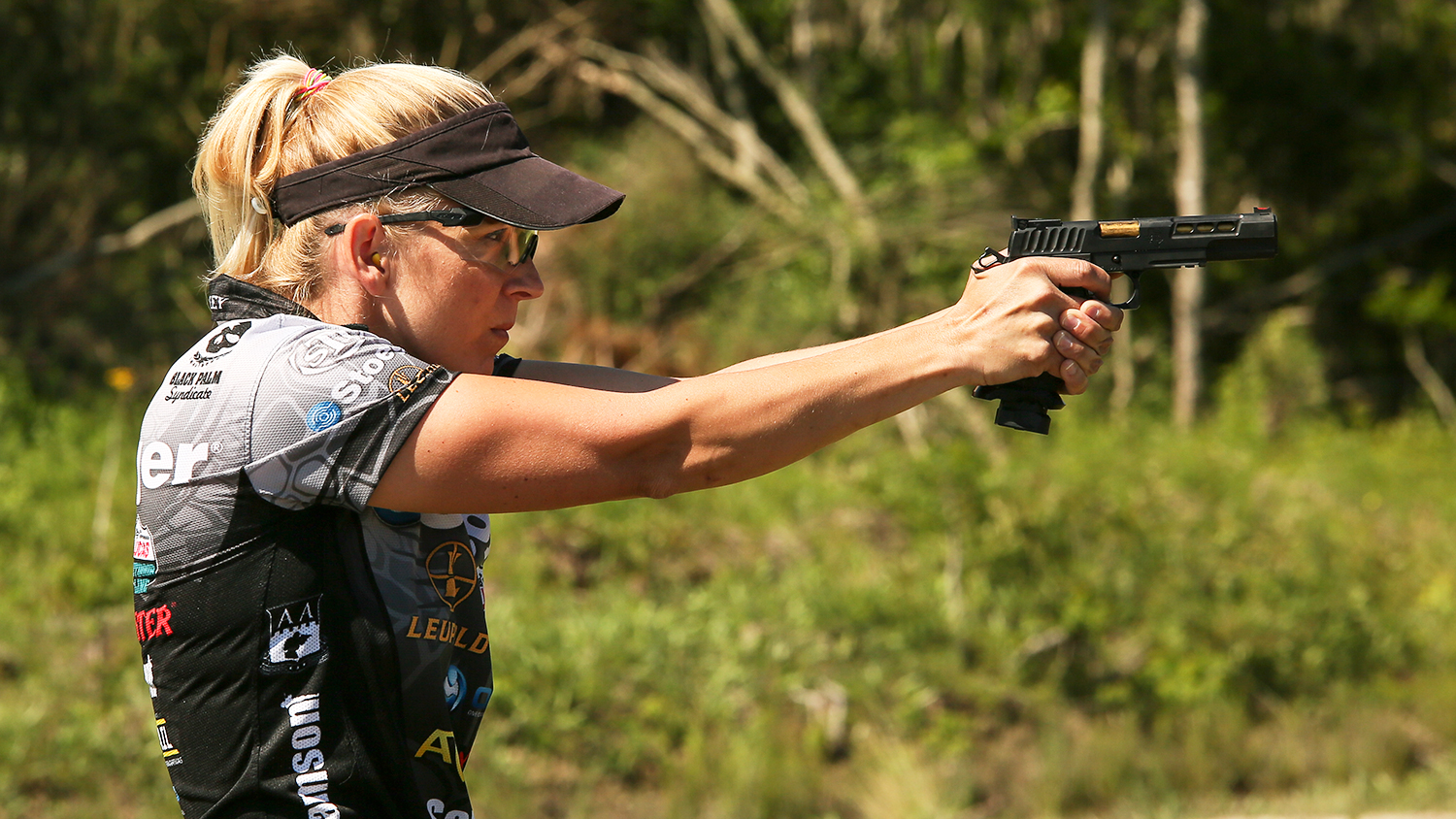 The Practical was the final event for Gasser and Sokolowski, while Schmid shot the Barricade Event. Adam Sokolowski fired an impressive 476-30X on the Practical Event, overtaking Gasser, who shot a 467-23X, by seven points to take home the Production Championship Cup with an aggregate score of 1896-138 X. Michael Gasser was in second place with 1889-126X and Vance Schmid was third with an 1874-119X.

In the Ladies Category, sponsored by Cathy Ergovich at "What-Ya-Say" Hearing Protection, Vera Koo and Katie Bahten of the AMU battled it out for top honors. They all tied on the Falling Plates and the Barricade Event. Vera took a slight six-point lead on the Mover, but put it away on the Practical Event, firing a 480-32X to Katie's 454. Although there was no Ladies Award for Metallic Sights, Becky Yackley edged Amanda Brown with a 1643-77X to Amanda's 1639-70X.

The number of junior competitors was up in 2016, with six juniors competing this year. Louis Surgi and Tim Yackley fought for the Junior title. Louis took an early lead on the Falling Plates with a 480 to Tim's 470. Tim gained some ground on the Moving Target with a preliminary national record of 478-32X to Surgi's 472. Yackley took the lead for good on the Practical Event with another 480, this time with 31 X's, and finishing with a 480 on the Barricade Event. Congratulations to Tim Yackley for some excellent shooting to win the Junior Championship.

In the Senior Category, Kim Beckwith edged out Warren Moore with a 1900-156X performance. Warren was 13 points back with a score of 1883. Vance Schmid posted an impressive 1874 shooting a Production gun, also setting a potential new Senior National Record in the Barricade Event.

Additionally, at the Crawfish Cup there is a Rimfire Gun Award. Four competitors fired in this category this year with the host club's President, Jim Ely taking home the top honors.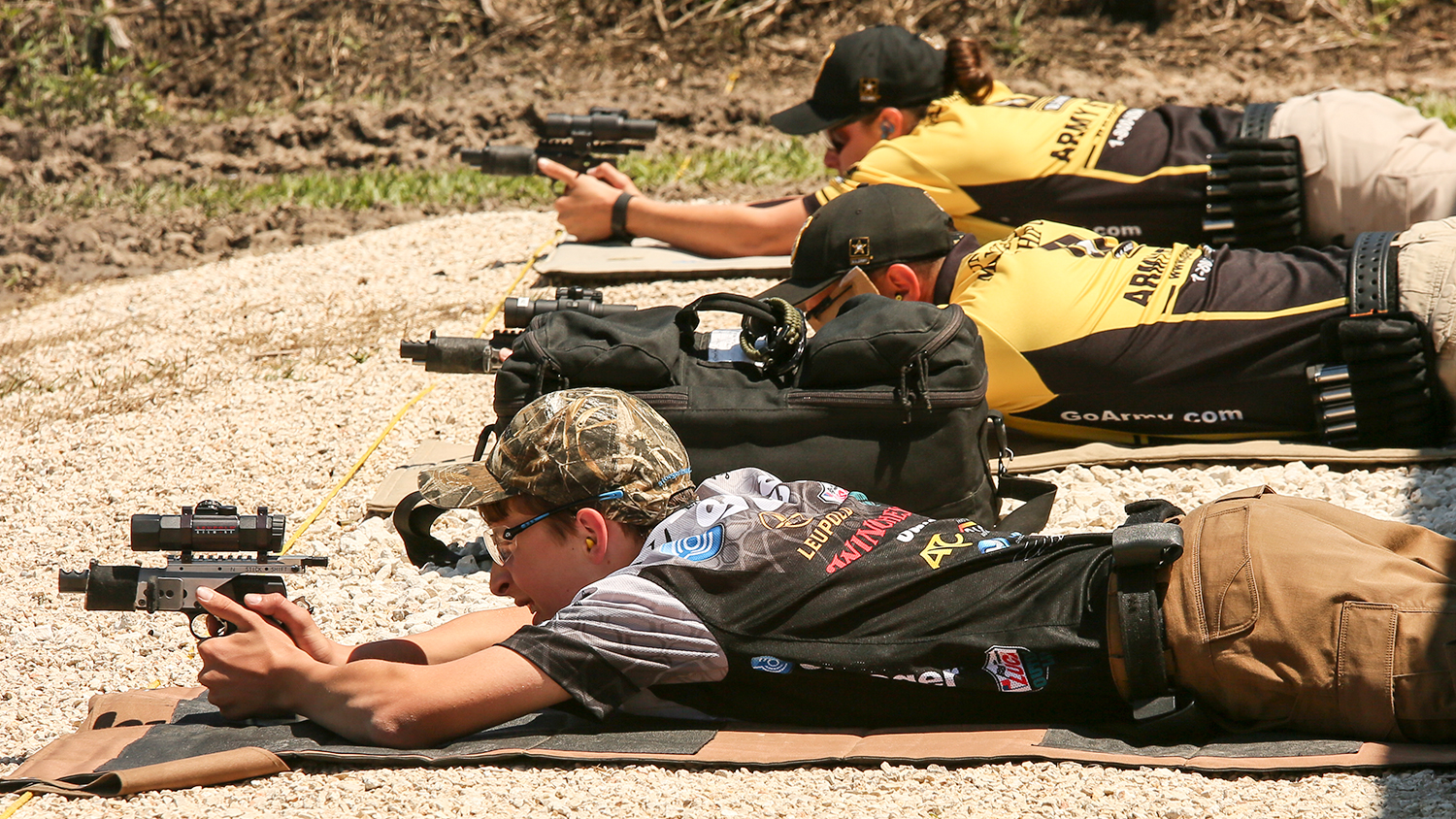 Back by popular demand in 2016was the Two-Gun Aggregate—dubbed the Iron Man Award. This event, which is for centerfire pistols only, consists of the aggregate scores of two separate gun types. While most will combine an Open gun with either a Metallic or Production one, a few competitors fired Production and Metallic guns in the aggregate. Bruce Piatt combined his Open and Metallic scores, winning this year's Iron Man Award with an aggregate score of 3814. AMU shooter Adam Sokolowski fired Production and Metallic guns, posting an impressive score of 3799 to finish in second place. Troy Mattheyer finished not too far behind in third place with a score of 3787.

There were thirteen potential national records set at the 2016 Midsouth Shooters Crawfish Cup, with eight of them coming in the newly recognized Grand Senior Category. Vera Koo set new Grand Senior Optical Sight Firearm records in all four events, while Gary Yantis set Grand Senior Open Rimfire Firearm records in all four events. Tim Yackley fired a new Junior record in the Optical Sight Moving Target Event (Modified), besting the previous record by one point. In the Production Firearm category, Vance Schmid broke a Senior record in the Barricade Event. The AMU's Adam Sokolowski and Michael Gasser, along with Vance Schmid, potentially tied the existing Production Open national record of 480-48X in the Falling Plate Event.

For more information on the Crawfish Cup please visit www.thecrawfishcup.com.

All photos by Dennis Creech.