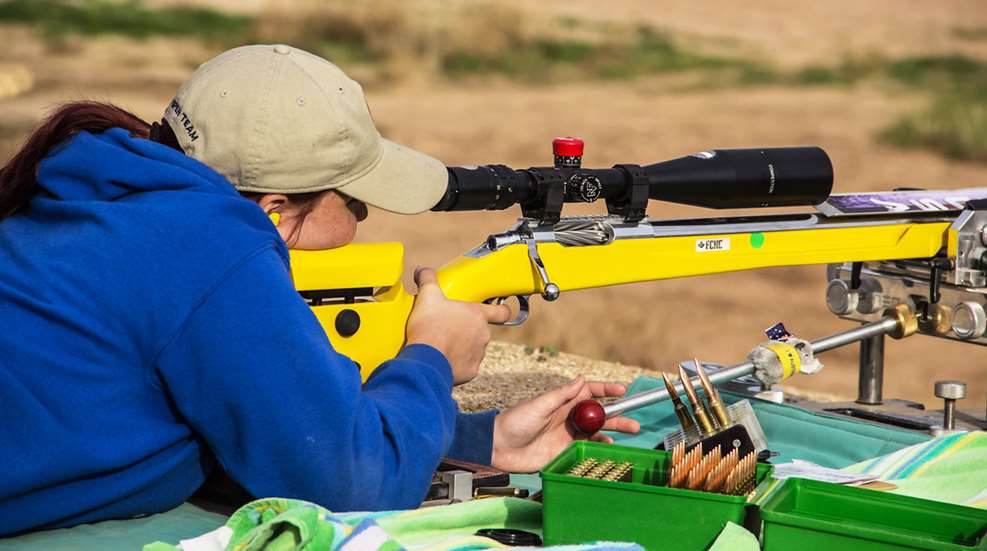 Every year when I come home from the Berger Southwest Nationals thinking they can't run a match any better, I am proven wrong. This year was no exception.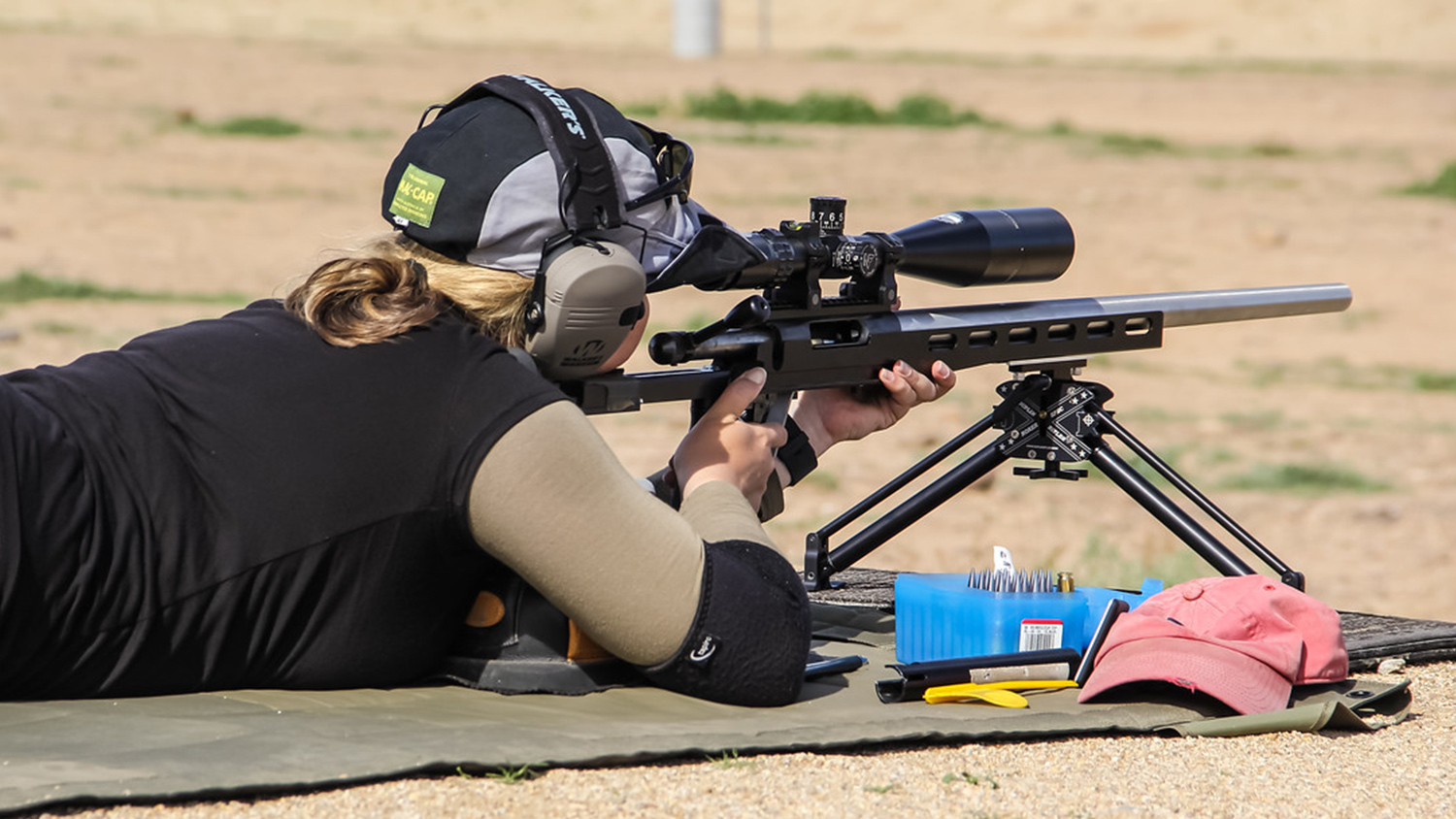 This year, the shooting clinic increased in duration to two days. The three types of shooters; Sling, F-Open and F-T/R were each treated to separate classes on reloading for long-range, team shooting, wind reading and equipment/position building. Instructors included Mid Tompkins, Nancy Tompkins, Emil Praslick and Bryan Litz—plus many National Champion helpers.

There were 125 Sling, 121 F-Open and 90 F-T/R shooters for a total of 336 competitors. This was a day for near perfect scores, and in one case for a more than perfect score—Phoenix's own Lester Bruno set a new F-Open 600-yard record of 200-23X using a rifle chambered in 6BRX. That is 20 record Xs followed by three more Xs before he shot a 10.

The below chart shows the number of clean scores shot each for relay. Keep in mind the Sling shooters have a bigger target, but must hold the rifle themselves.




At the end of the day Dwayne Draggoo lead F-Open with a 600-44X score. Grand Senior Dan Biggs was one X behind him. The top Sling shooter was Allen Thomas in Any Rifle scoring 600-40X and Ben Lucchesi in Palma rifle scoring 600-37X. Ian Klemm was top F-T/R with 599-38X with Philip Kelly Jr. many Xs back.

Thursday was Palma 4-man team day. The skies were mostly sunny with very light winds. The temperature rose from the 60s in the morning to the 80s by the afternoon. First place in Sling went to the "Scotland Thistle" team captained by Angus McLeod with himself shooting along with team members Michael Barlow, Ian Shaw and Sandy Walker—scoring 1786-100X. The "Hayes Rays of Sunshine" coached by Phil Hayes was second with a 1780-987X. Third place, with a 1774-109X, went to the "WSRPA Wranglers" coached by Emil Praslick.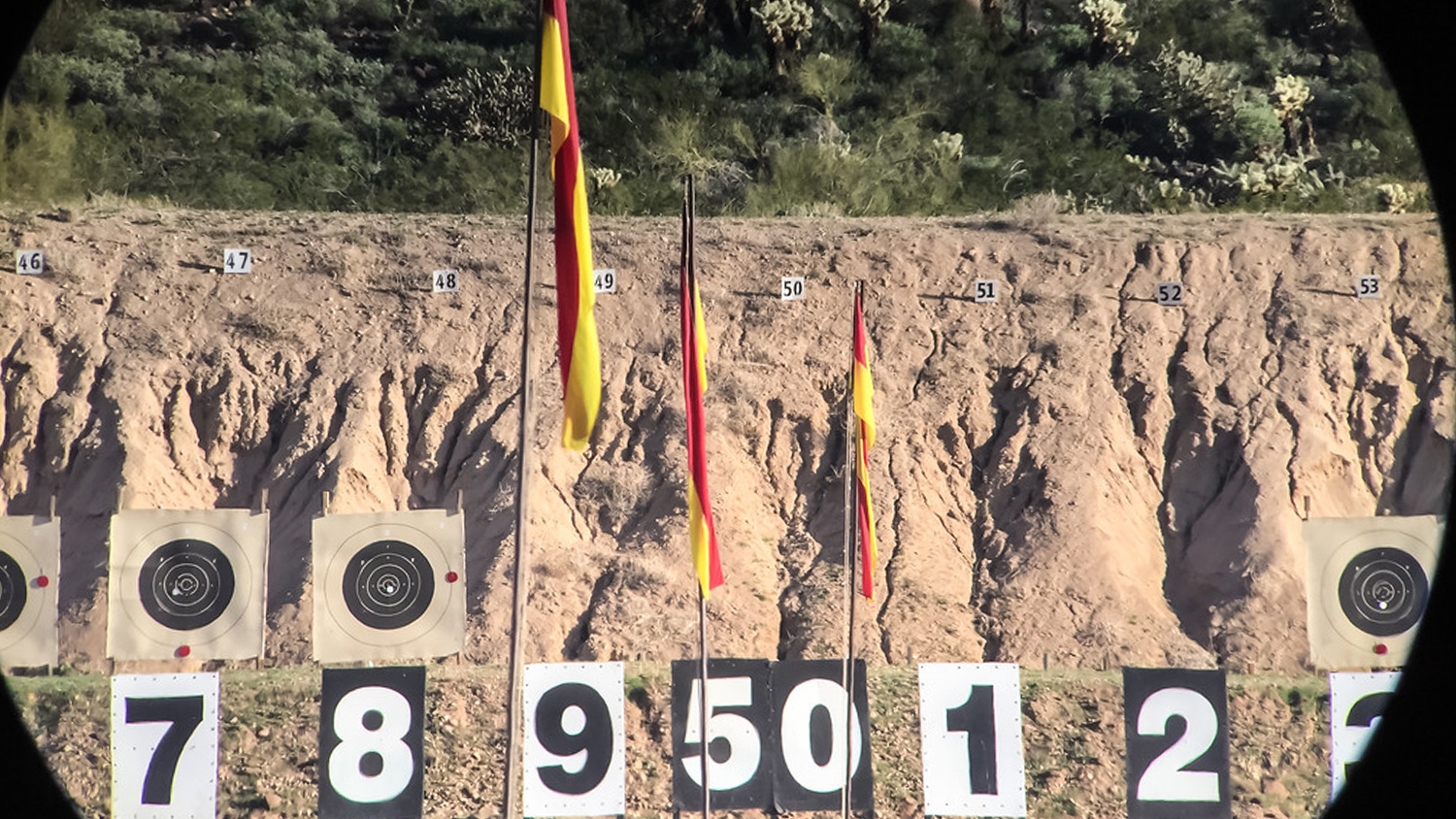 In F-Open the top spot went to the newbie team "The Cluster Ducks" coached by Keith Glasscock with James Laney, Norman Harrold, Kevin Shepherd, and Joe Myer shooting posted a 1789-100X. Second went to "The Longshots" with a 1788-103X score. Their coach was Berger's own Michelle Gallagher with David Gosnell. Keith Weil, Ken Dickerman and Dan Bramley shooting. Third place went to "Lapua/Brux" with a 1780-101X.  They were coached by Bob Sebold with Jay Christopherson, Pat Scully, Steve Harp and Erik Cortina pulling triggers.

F-T/R's first place score was fired by the "North by Southwest" team coached by Matt Schwartzkopf with Daniel Lentz, Ian Klemm, Ken Klemm and Dan Pohlabel shooting. Their score was 1773-74X. Second went to the "Da Bulls" 1770-81X coached by James Crofts with James Hittle, Ellis Berry, Thomas Hittle and Stephen Ireland shooting and Phil Kelly captain. In third place was "Michigan F-T/R Team" with 1764-85X. They were coached by Bryan Litz. Shooters were Bryan, John Roethlisberger, Doug Boyer and Alan Barnhart.

Friday saw the start of the Individual Grand Aggregate. There were 134 F-Open, 97 F-T/R and 129 Sling competitors—a total of 360, which is the maximum capacity of the range while still allowing for flag poles and hospital targets. There were eighty people on the wait list that couldn't shoot.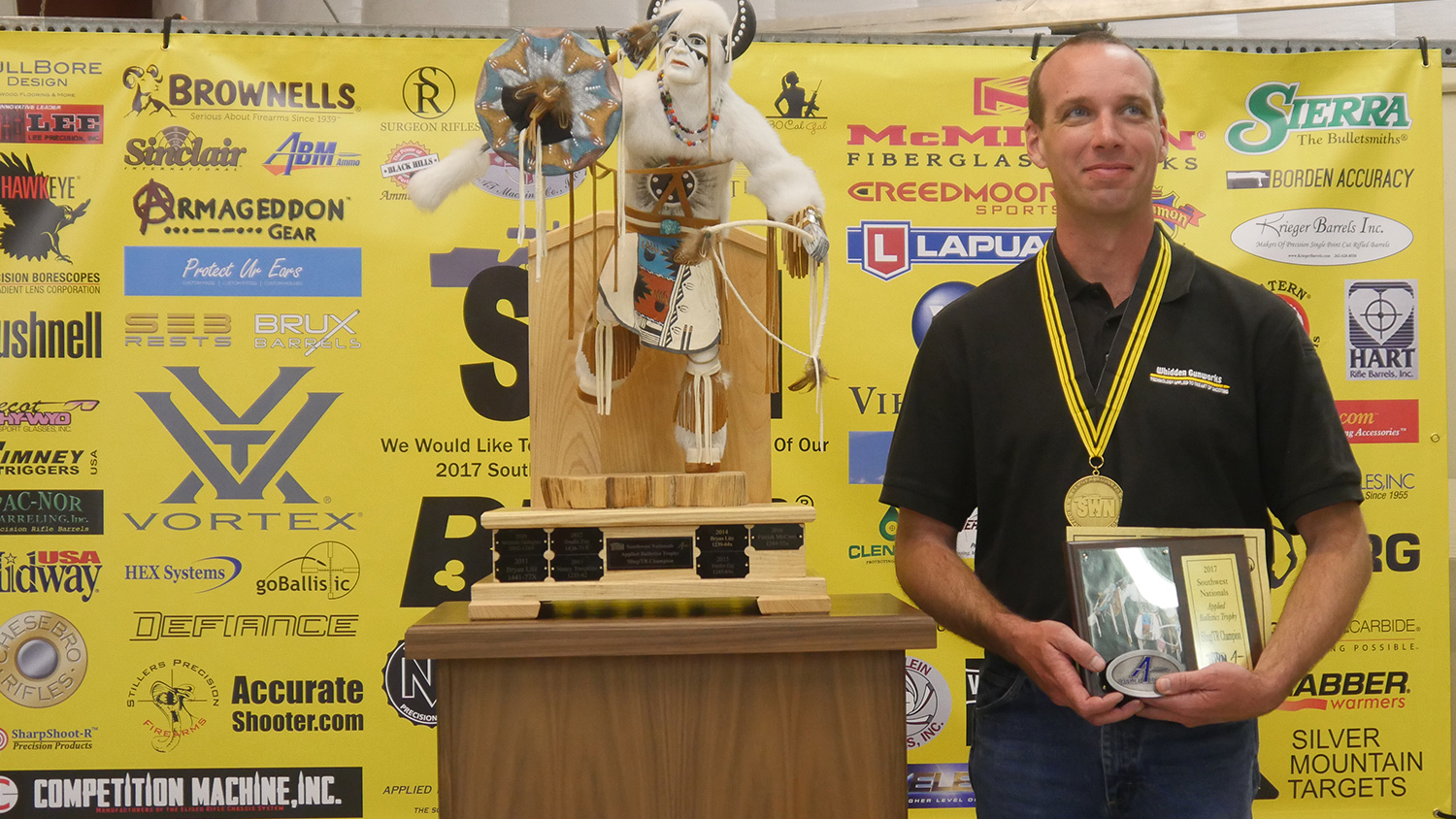 The first match was the Palma Individual (15 shots at 800, 900 and 1000 yards) and it turned out to be another record setting day. No records were set by the sling shooters but John Whidden shot a very fine 449-31X to win Sling Any Rifle and Annette Wachter's 448-26X took Sling Palma Rifle. In F-T/R the match winner was Philip Kelley with 447-23X. Donald Erpenbach was second with 446-21X. F-Open was a dog fight with four 450s being shot. Past National and BSWN Champion David Gosnell was the winner with a record 450-38X breaking his own record by 10 Xs.

Saturday was the first of two 1000-yard days. Winds were light and twitchy. During the first string the sling shooters shot there were six cleans shot. The winner with 200-12X was John Whidden. The second string had seven cleans and Peter Church's 200-12X was high score. The daily aggregate had two cleans and they belonged to Kevan Hoffarth's 400-19X and Jerry Iliff with a 400-18X. Hoffarth won the daily aggregate.

F-Open shooters had 11 cleans during the first string the best being Keith Glasscock's 200-17X—which tied David Gosnell's 2014 record. During the second string there were only two cleans with Pat Scully's 200-10X the best. There were no daily cleans but Dan Bramley's 399-28X came out the top of six 399 scores.

In the F-T/R side of the house Bryan Litz won the first string with a 198-10X. The second string went to Donald Erpenbach's 198-10X. The Daily aggregate belongs to Ian Klemm's 394-16X.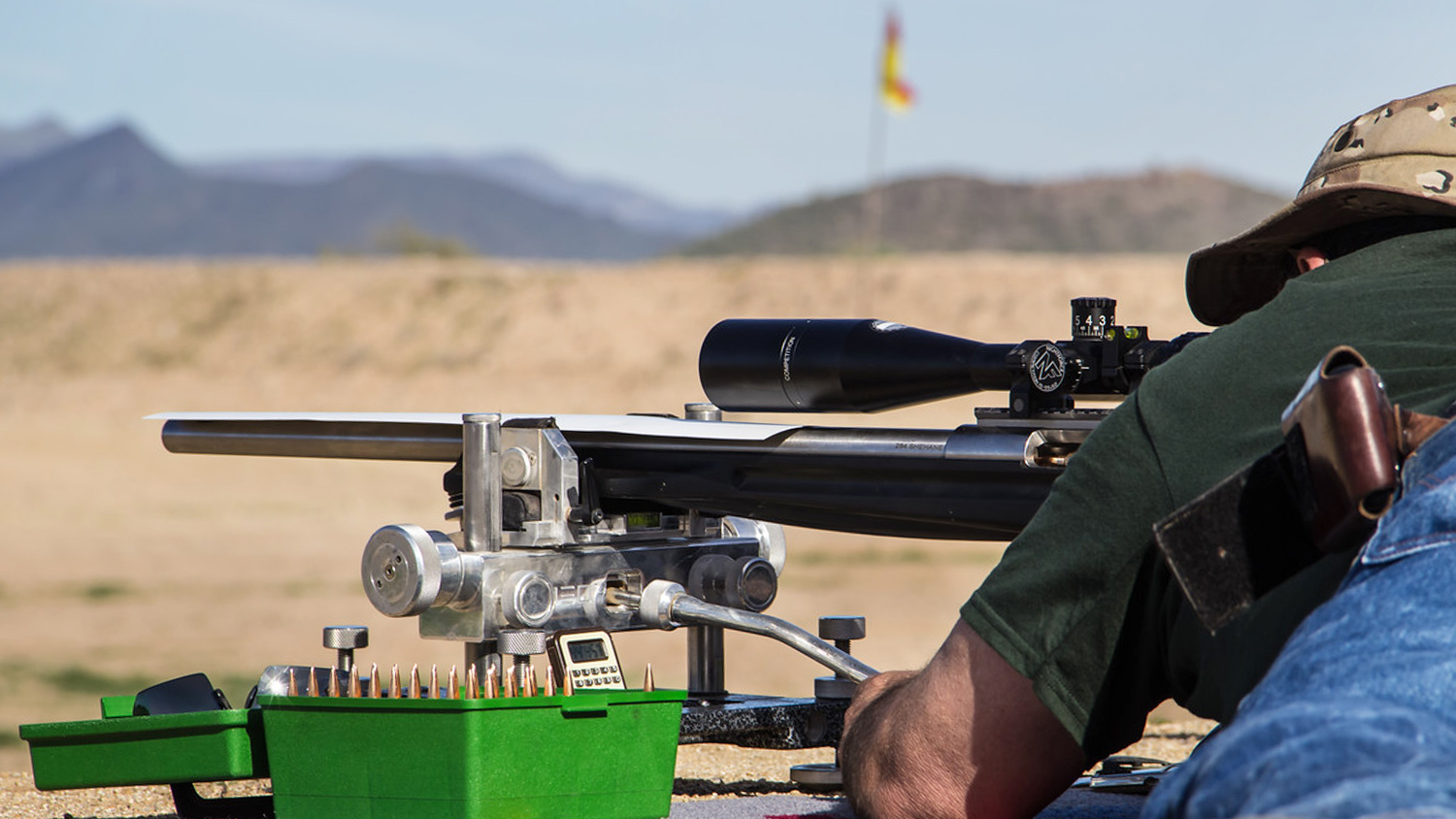 After the 1000-yard individual matches were over the teams once again returned to the line and fired last of the team aggregate matches at 1000 yards. This was 20 shots for each of the four men. In F-T/R—the "North by Southwest" team fired a 780-25X for first place at 1000 yards. Da Bulls was second with 779-25X and third was "Michigan F-T/R Team" with 775-23X.

The F-Open teams were pretty close in the 1000-yard match. Lapua/Brux carded a 793-38X for first place, followed by "Team Grizzly" who scored a 791-37X. Third place went to "The Longshots" 791-30X.

Last, but not least the Sling 1000-yard Team match—first place goes to the "US Vets" coached by Eddie Newman with a score of 793-35X. Close behind was the "WSRPA Wranglers" who carded a 791-35X. Third place goes to the "Hayes Rays of Sunshine" with 790-40X. These 1000-yard scores were then added to the Palma score to form the Team Grand Aggregate.

Team Grand Aggregate—The "North by Southwest" team comprised of Daniel Lentz, Ian Klemm, Ken Klemm and Dan Pohlabel won first place with a 2553-99X. The Da Bulls coached by James Crofts was second posting a 2549-106X. Michigan F-T/R Team's 2539-108X placed third.

In F-Open things were a bit tighter. "The Longshots" are always hard to beat and they did it again with a 2579-133X score. Second went to "Lapua/Brux" with a 2573-139X. Third place was filled by "The Cluster Ducks" with a 2573-126X.

While the F-Class shooters were duking it out, the Sling teams were also at it. The "Scotland Thistle" team came out on top posting a winning 2574-135X. The "Hayes Rays of Sunshine" was second with a 2570-137X. Third with a 2565-144X went to the "WSRPA Wranglers".

Sunday the last day of the Grand saw nine 200s shot with a sling, six during the first string. Two of those were by John Whidden, which enabled him to win the Sling Grand Aggregate with a total of 1248-84X. Second went to Adrian Harris, only five points back. In third place with a 1242-65X was Allen Thomas.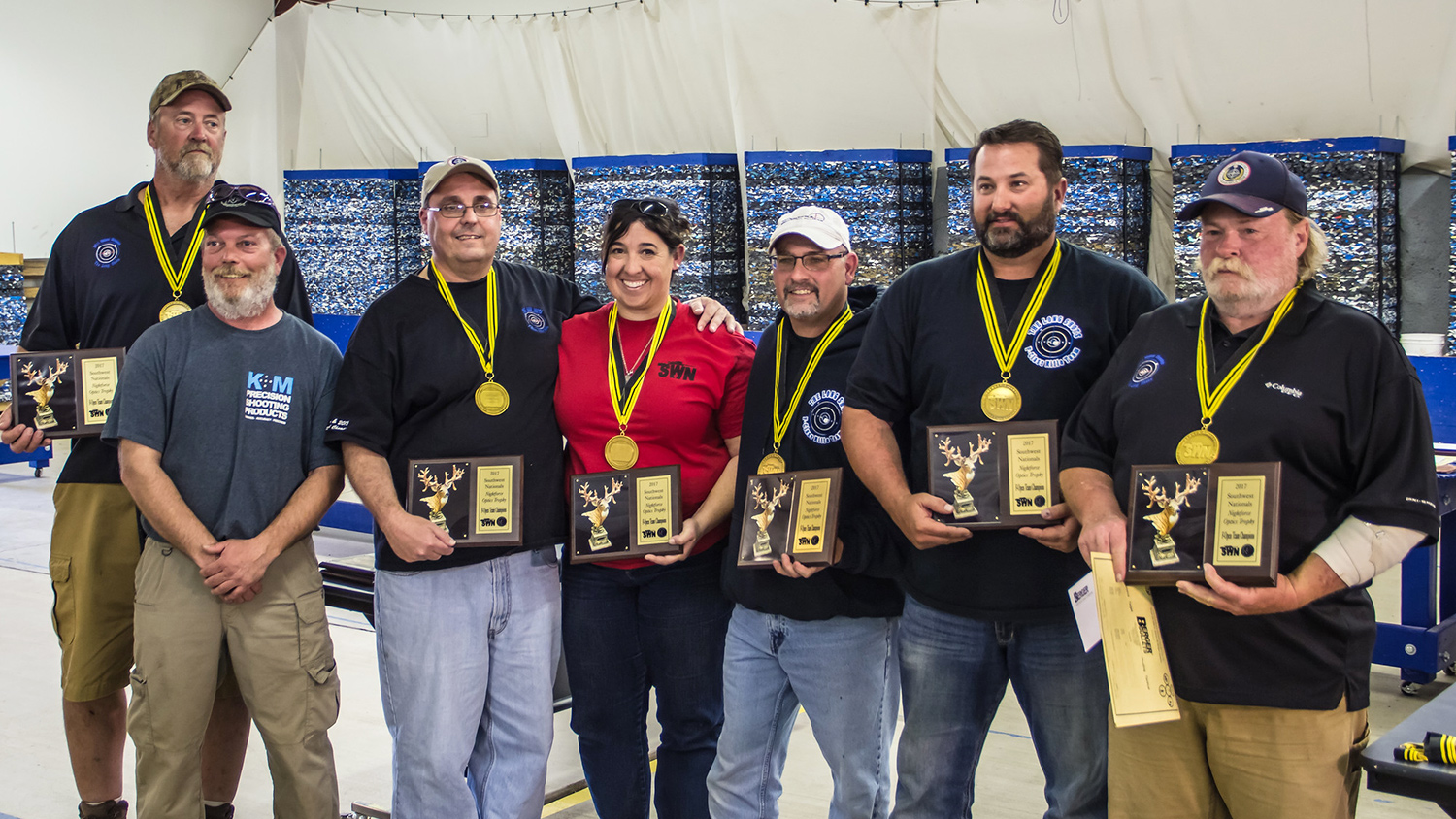 While John was doing his thing James Crofts shot a 200-6X over in F-T/R during the second string, the only one of the day in this discipline. With that string, the crowd huddled around the scoreboards to view the winners. Donald Erpenbach was at the top of the F-T/R board with a 1230-53X. Second went to James Crofts' 1225-43X with Alan Barnhart close behind with a 1224-32X.

Over in F-Open, six 200 cleans were fired, four of those in the first string. When the range went silent the F-Open board showed the Grand went to the quick hard holding David Gosnell, who shot a 1247-84X to win by one point over Jay Christopherson's 1246-74X and third placed Keith Glasscock's 1245-79X. Everything was over except the trophy and cash/bullet awards. The trophies are one of a kind—and the cash and Berger Bullets flowed in protrusion. I look forward to next year ... 

Complete results including equipment lists can be found on the Berger Bullets web site at this link:  www.bergerbullets.com/swn/past-matches.