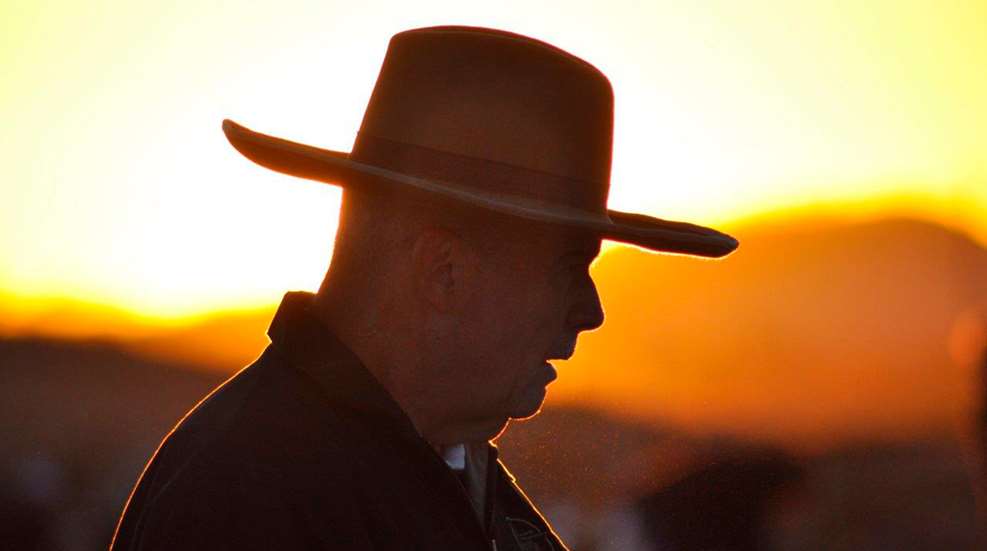 I admit it … I am prejudiced! The Berger Southwest Nationals (SWN) is my favorite annual match.

This year the match drew more than 400 long-range competitors from the F-Open, F-T/R and prone sling communities to the Ben Avery Range just north of Phoenix, AZ. These folks came from all over the U.S., Canada, Australia, the United Kingdom, and Ireland. This championship is run by Berger Bullets and the Desert Sharpshooters Rifle Club. I think it is the best run rifle match in the country and the prize list was well over $100,000. Free prizes were given out every day, free coffee and donuts every morning and free cold drinks supplied by the many sponsors outside their tents behind the firing line.

The festivities started on Tuesday with a long-range shooting clinic the likes of which are not seen elsewhere. Clinic instructors included Bryan Litz and Mid and Nancy Tompkins. This clinic needs to be on your bucket list.

The big winds held off all week but the light extremely tricky winds could cause a nine ring hit in the blink of an eye. The temperatures ran up into the mid 80s every day and mirage was there for all to see. I stopped by the range the day after the match ended and in the few minutes I was there, the weather changed from a beautiful morning into a full blown short term sand storm.

A warmup match was held on Wednesday consisting of three 600 yard 20-shot strings. This was not a part of the Grand Aggregate. Even so, 297 competitors attended. Larry Tait's clean 600-39X won the F-Open segment with Kenny Padilla's 599-43X taking second and David Gosnell's 599-29X third. In F-T/R Daniel Lentz won with a 594-25X and John Moreali's 592-26X was second with Devon Harris' 589-26X third overall. On the sling side of the house, Randy Teissedre shot a clean 600-40X for the win while Ian Shaw from Scotland fired a 600-37X for second place over Allen Thomas.

Thursday was the first of two 4-man team matches. This was a Palma course-of-fire with 15 shots each at 800, 900 and 1000 yards for a possible score of 1800-180X. Seventeen sling teams entered and the Ethnic Fringe from Scotland, captained by Angus McLeod won by six points with a 1777-91X.

The F-T/R division saw 13 teams fire with Michigan F-T/R coached by Bryan Litz coming out ahead by five points with a 1765-67X total. Shooters were Doug Boyer, John Pierce, William Litz and Bryan Litz.

Nineteen F-Open teams lined up for big gun honors and when the dust had settled Team Berger was ahead by five points shooting a 1786-104X. This score tied the existing SWN and U.S. National F-Open records held by Team Grizzly and broke their own senior team record. The outstanding coaching was done by Jim Murphy. The trigger pullers were Larry Bartholome, Don Nagel, Bob Bock and Danny Biggs. Four of these five guys are well into their 70s and the average team age was 74. The "old geezers" strike again!

Friday was the first day of the individual aggregate and we saw for the first time ever all 100 targets in the air. A Palma course was fired and Kenny Padilla was the top man again in F-Open with a lone 448-25X while John Myers was second with a 447-32X.

Over in F-T/R, Daniel Lentz carded a 447-24X and runner up was Justin Bertino's 445-23X. He Creedmoor'd Derek Rodgers score of 445-23X.

On the sling side of the house, there were a number of 449's scored. John Whidden's 449-33X showed up at the top of the leader board. Oliver Milanovic's 449-31X was close behind, with Bill Vaugh's 449-25X in third.

Saturday's events were two individual 20-shot 1000-yard matches and the final team match at 1000 yards. John Myers dropped two points out of 40 shots to win F-Open. Derek Rodgers lost six points for the F-T/R win. The lady with the winning smile, Nancy Tompkins, shot the only 400 with 28 X's to defeat the other 124 prone slingers to carry the day.

After a very short break the team match started with very twitchy conditions. Scotland's Ethnic Fringe again prevailed dropping only five points and finishing the aggregate with a 2572-120X. The Southeast Rifle Club finished second six points back by out X'ing the AZCAN team who finished third.

The F-T/R team aggregate was won by Michigan F-T/R by six points and finishing the aggregate with a 2539-93X. USA F-T/R was second with the X-Men third. In F-Open the teams switched places completely with Lapua Brux dropping only eight points at 1000 yards to finish with a 2571-141X aggregate score. Team Grizzly was second with Team Berger third.

When firing was over everyone adjourned to the indoor air rifle/archery ranges for a BBQ dinner. After the food was devoured the cash money awards for sponsored matches were given out. And then the suspense started … will my name be drawn for the prize table? If your name was drawn you got to pick your own item. Prizes such as a Sierra Mountain electronic target system worth $3000 or a NightForce or March Scope. The prize table was huge and everything on it was valued at least $100. When all the prizes were gone everyone left to get themselves ready for the final two 1000-yard matches.

Sunday dawned just like the other days; clear, a bit cool, a little breezy and sunny. When the last round was fired Nancy Tompkins had won the daily sling aggregate but that was not enough to win overall. That went to Patrick McCann (1244-55X) with Oliver Milanovic second with a 1243-68X. 2015 F-T/R Long Range National Champion Derek Rodgers won the F-T/R grand aggregate with a score of 1226-56X with James Crofts two points back. 2015 F-Open Mid-Range National Champion John Myers topped the F-Open field with a 1240-65X score with 2013 Long Range Champion Larry Bartholome a single X back. Jim Murphy finished third only one point back. It was a close match.

When shooting ended we adjourned to the indoor range again for the medal and trophy presentation and the handing out of prize money and Berger Bullets by the thousands and so ended another superb match run by Berger and the Desert Sharpshooters. I guarantee I'll be there next year—will I see you?

Complete match results can be found here.

Photos by Berger Bullets.