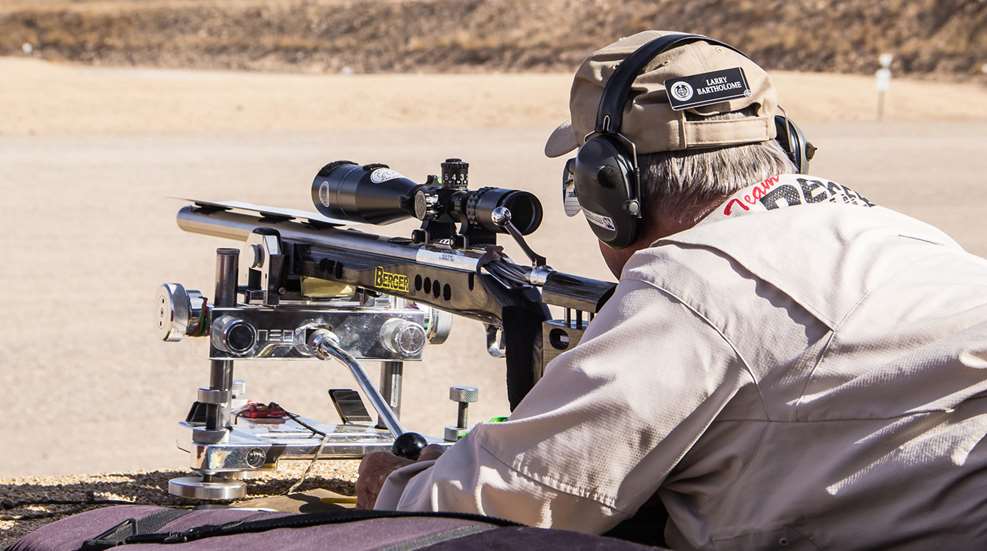 The ninth annual Southwest Nationals, sponsored by Capstone Precision Group (Berger/Lapua/Vihtavuori /SK), was held on the Ben Avery 1000-yard range in Phoenix, AZ, this past February. All three NRA high power long range disciplines were shot, with a total of 362 competitors participating: 120 in Sling, 90 in F-T/R and 152 in F-Open.

The Sling competitors were divided into three sub-classes for awards: Palma rifle (iron sights/.308 Win.), any rifle (any caliber/iron sights) and optic (any rifle/scope). To simplify this report I listed the highest scores from any class as the winner. To see all the scores and equipment lists, go to: www.bergerbullets.com/swn/past-matches.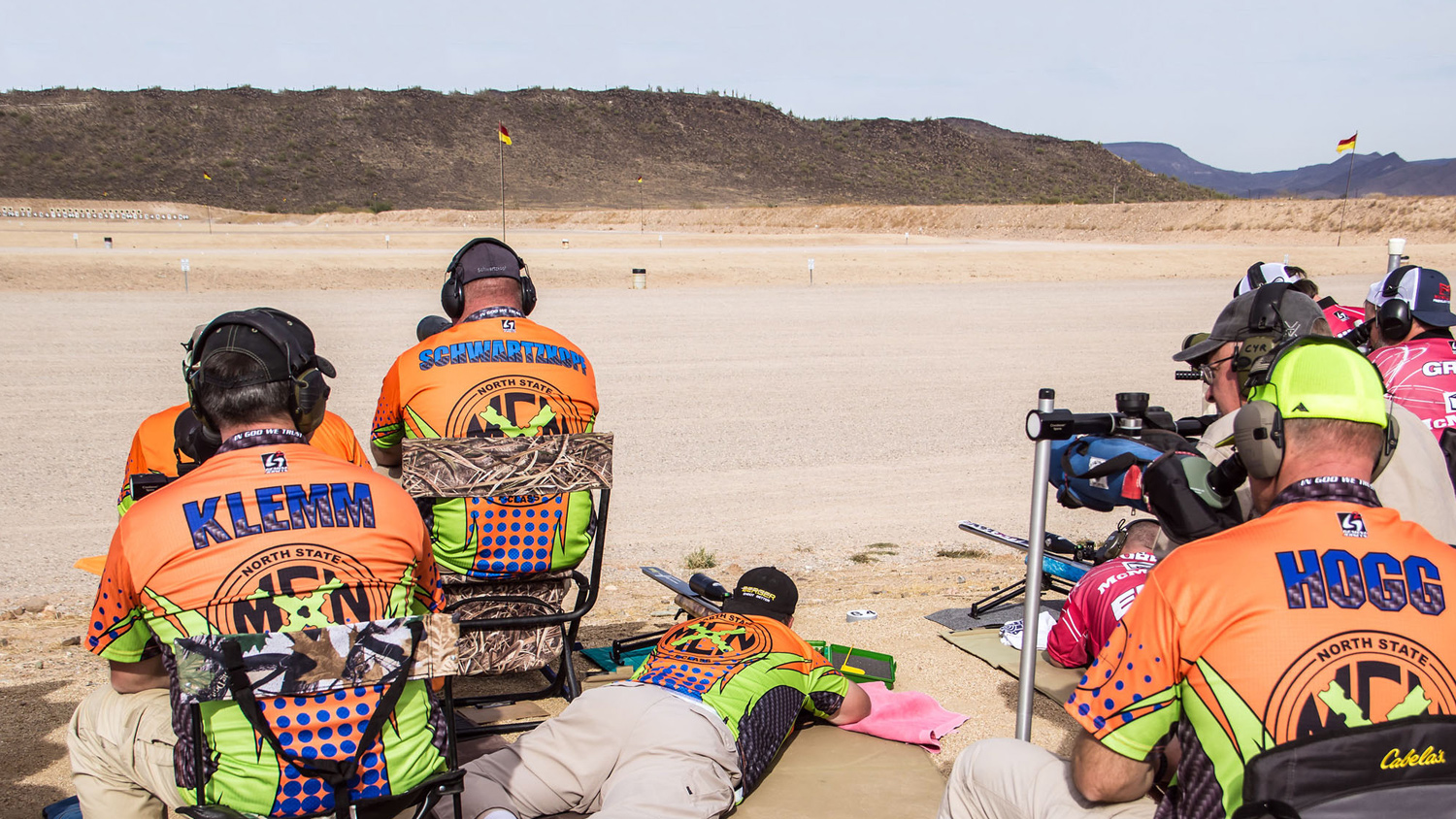 The event started on Monday with the first of two clinic days. If you want to learn to shoot long range, read the wind and load for LR, this is the event to go to. The clinics were headed by Mid Tompkins, Nancy Tompkins, Emil Praslick and Dan Bramley. Both included live fire and classroom work. I've shot long range for 48 years and still learned a good bit.

The weather for the clinic was beautiful, but at the range on Wednesday the wind was howling at 20-25 mph and temps varied down into the teens. To make things worse, this was a standalone 600-yard day, not part of the grand aggregate with three 20-shot record strings.

Through all the wind changes, Phoenix's own Christine Harris (Team Defiance) managed to fire a 199-7X in F-Open. Her X-count was not that high, but thanks to magnificent wind doping, she only dropped a point. Jim Murphy (Team Berger) was second with a 197-11X. The Sling shooters were also having problems keeping up with the changes, but Robert Stekette fired a great 200-10X to win, with Sandy Walker and Trudie Fay shooting clean for second and third. In F-T/R, Scott Fulmer shot a fine 197-6X to win, with Doug Boyer one point back. Scott Harris came in third.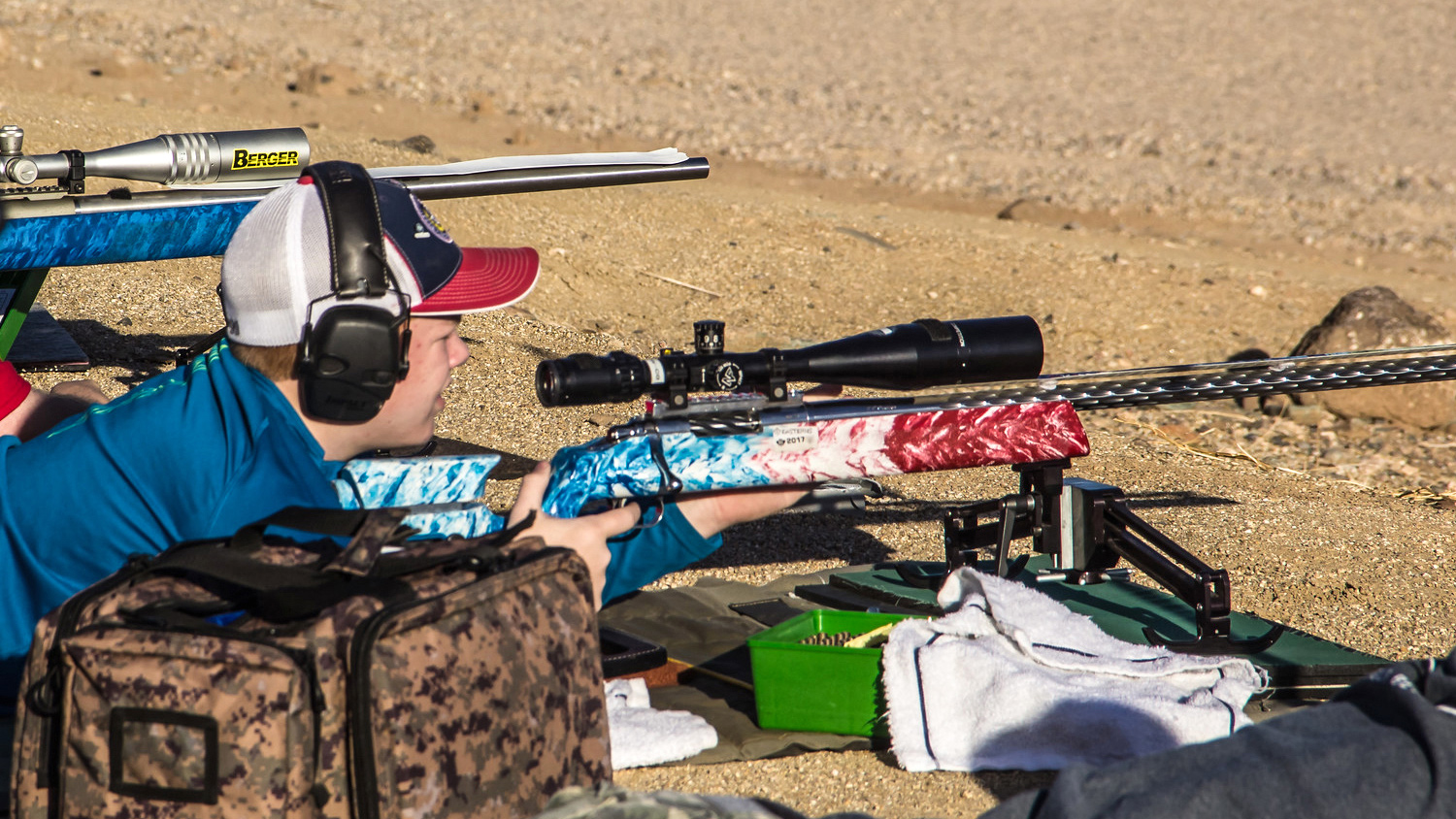 As the day wore on, the winds died down and the scores came up with a large number of cleans at 600 yards. Robert Stekette posted an aggregate score of 599-29X to take the Sling win. Raymond Weaver's 592-30 took F-T/R, and F-Open belonged to Christine Harris with a 598-31X.

Thursday saw the start of the 4-person team match, shooting the Palma course of fire. There were 22 Sling, 12 F-T/R and 25 F-Open teams competing. This was the first of two matches in the team aggregate, consisting of 15 shots for each shooter at 800, 900 and 1000 yards with a possible score of 450-45X.

The conditions were mild, sunny and hot. F-Open Team Berger, with Jim Murphy coaching, came out on top with a 1784-92X total. Two points back (1782-101X) was Team Lapua, under Bob Sebold. In third place was Team Defiance, coached by Scott Harris, scoring 1782-82X.

In F-T/R the top spot went to the DA Bulls, coached by Steven Ireland, based solely on X-count. Their 1762-66X beat Team McMillan's 1762-64X by two Xs. Third place went to the X-Men scoring 1751-55X.

While the F-Openers were dueling it out, the Sling shooters were having at it on the left end of the line. The gold went to Scottish HPS's 1779-92X. Second was US National MRNAK's 1779-85X, and third went to US National Hayes.

Friday was another Palma course of fire at 800, 900 and 1000 yards, but this was for individual shooters. The day was sunny and cloudless, with light winds that varied in direction.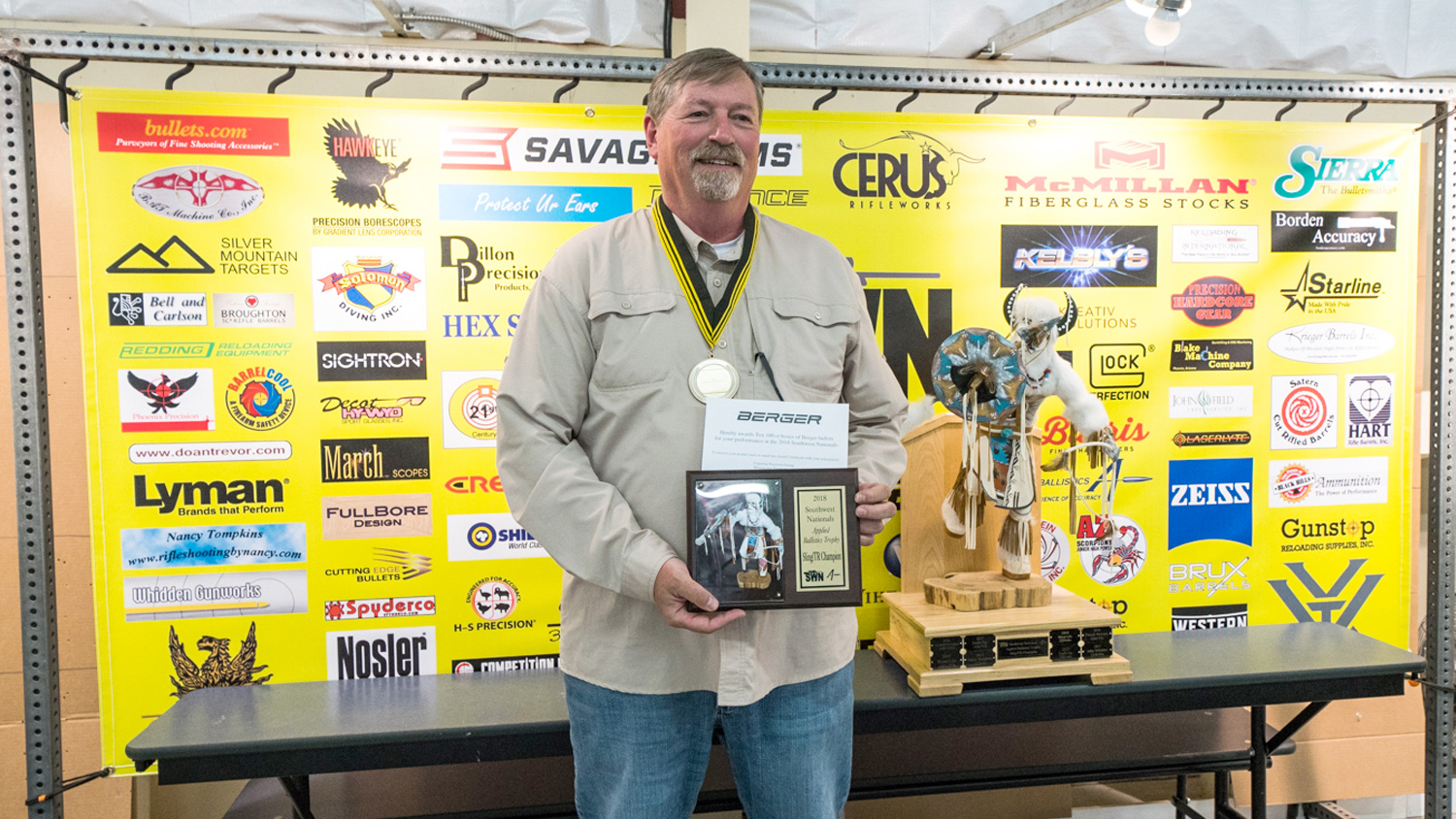 In the Sling division, the top spot was decided by Creedmoor countback, since two competitors had shot 449-23Xs. Believe it or not, both had 150-8X at 800, 150-7X at 900, and 149-8X at 1000 yards. Gary Eliseo was declared the winner since he had the highest value of hits in inverse order counting singly from last to first, compared to Stuart Mackey.

Ellis Berry was the top F-T/R shooter with a 448-26X score. The 448-25X by Peter Johns gave him second, and Philip Kelly's 448-21X secured him the third spot.




F-Open was won by Team Lapua's Bob Sebold, who scored 30 Xs and only dropped one point. Team Berger trigger puller Dan Biggs also had a 449, but hit only 26 Xs for a second place finish. In third place was Jay Christopherson, a member of Team Lapua, with a 448-28X. On a side note, Ubaldino Ramirez De Arellano (Nino) from Puerto Rico, the 2016 F-Open National champion, survived the hurricane to come in fourth with a 448-23X.

Saturday was both an individual and team day, with two individual 20 shot strings at 1000 yards and a 20-shot 4-person team match to finish the day. The morning started with temps in the low 60s and light winds from the west. Soon, the wind became wicked, veering in varying directions and swinging about with gusty changes.

In F-Open, the first match went to Team Lapua's Steve Harp, with a 200-13X, the only clean in all of F-Open. Larry Taite was second with a 199-15X and Bob Sebold came third with a 199-12X. During the second match the conditions got a bit trickier, and scores reduced a bit. Larry Bartholome, a Team Berger shooter, scored a 198-11X to take first place, with Larry Taite a lone X behind him. Dan Biggs also had a 198-10X, but lost the Creedmoor to Taite. The 2-match Saturday aggregate went to Larry Taite's 397-25X. Second was Keith Glasscock's 397-12X. Third went to Steve Harp's 396-19X.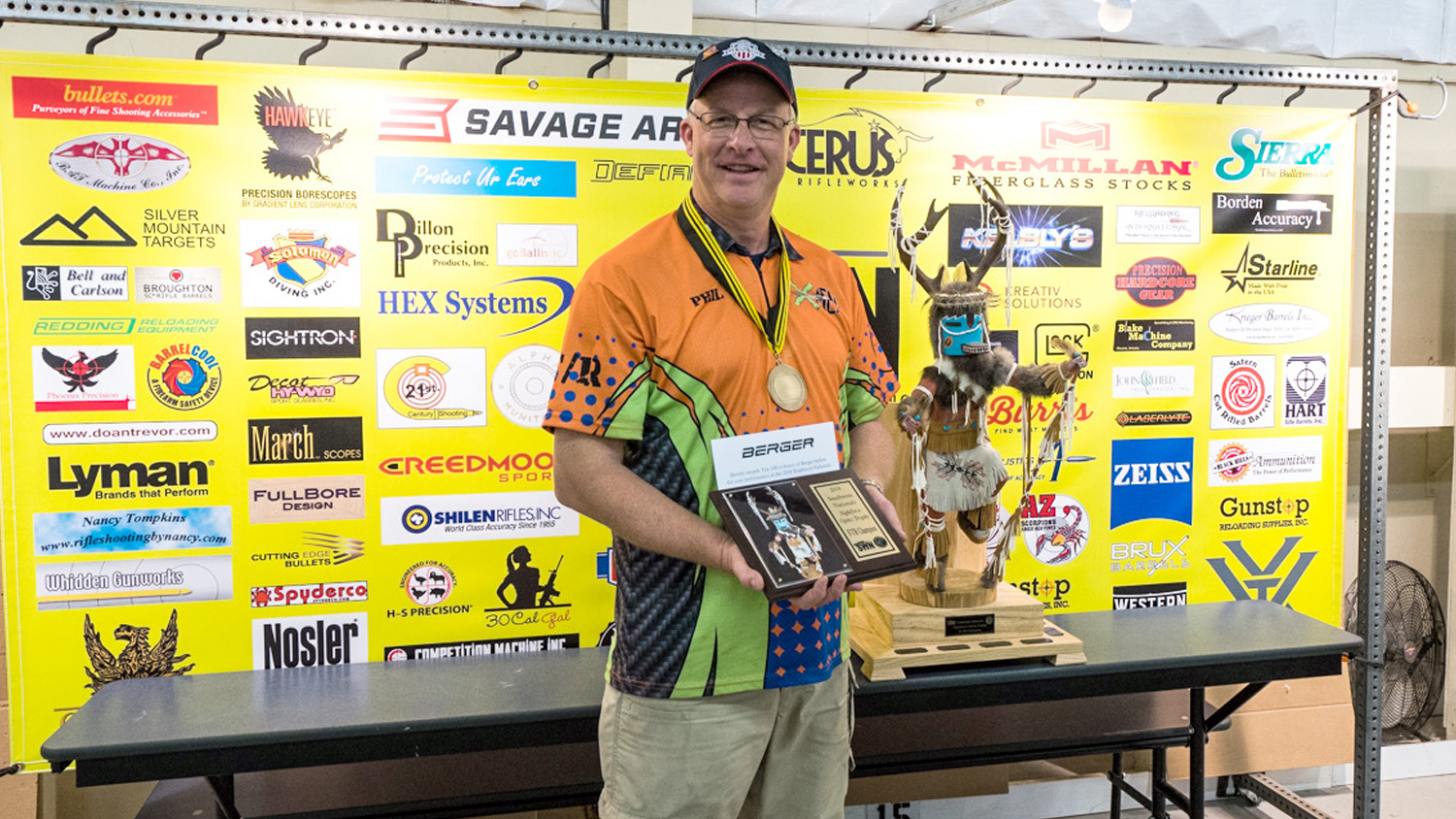 The first F-T/R match was won by Niklas Montin with a 200-9X clean. Second was a 198-9X by Edward Shelly and third went to Fritz Braun's 198-8X. In the second match, Armen Papazyzn shot a 196-8X to win, just ahead of Scott Harris' 196-1X. Phillip Kelly's 195-7X placed a close third. The 2-match aggregate went to Scott Harris' 392-4X. Armen Papazyzn took second in the Saturday aggregate with a 391-16X, and Phillip Kelly Jr. was third firing a 390-14X daily aggregate.

The first Sling 1000-yard individual match was won by Shawn Taylor with the only clean, a 200-13X. Second went to John Whidden's 199-14X and third to Ryan Hayes with a 199-13X. Drop a point in this crowd and you lose! The second Sling match was won by Allen Thomas with a fine 200-11X, with Oliver Milanovic's 199-7X in second place and "Queen of Raton" Trudie Fay in third with a 199-5X.

The Sling individual aggregate was won by Allen Thomas's 399-22X. Oliver Milanovic's 397-15X put him in second, and Forrest Greenwood finished third with a 397-14X.




The 1000-yard team match was next on the agenda. Here the coaches get 63 minutes to guide each pair of shooters. After pit change there's another 63 minutes for the second pair. Conditions were very tricky with large adjustments required to keep shots in the X- and 10-rings.

The F-T/R team 1000-yard match was won by the Team McMillan, with a 760-19X, and the DA Bulls' 758-18X close behind. The X Men finished in third with a 756-18X. These scores added to the team's Palma scores produced the aggregate winners. Third place went to Richard King's Texas F-T/R Rifle Team's 2505-86X. The DA Bulls, coached by Stephen Ireland, got the silver medals with a 2520-84X score. The gold medals were awarded to Team McMillan's 2522-83X, coached by Ray Gross.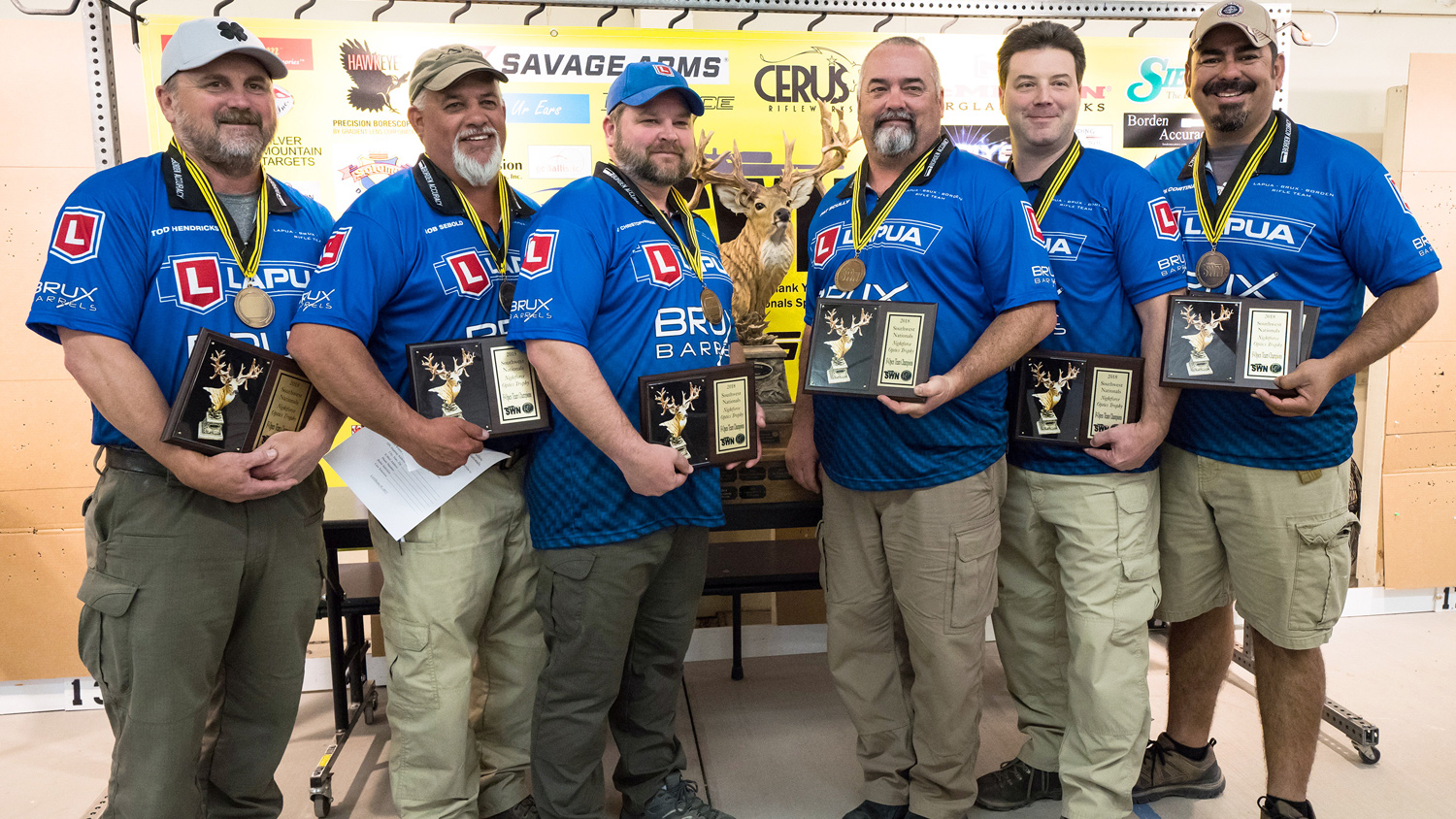 The F-Open team 1000-yard match saw the Long Shots shoot 786-30X in trying conditions to take first place. The Lapua Brux Borden team's 784-27X gave them second, while third went to the Defiance's 783-24X score. These scores, when added to the Team Palma scores, gave the following results. The bronze medals went to Team Berger's 2559-123X total. The silver was awarded to Team Defiance's 2565-106X, and the gold medal winners were Team Lapua Brux Borden's 2566-128X.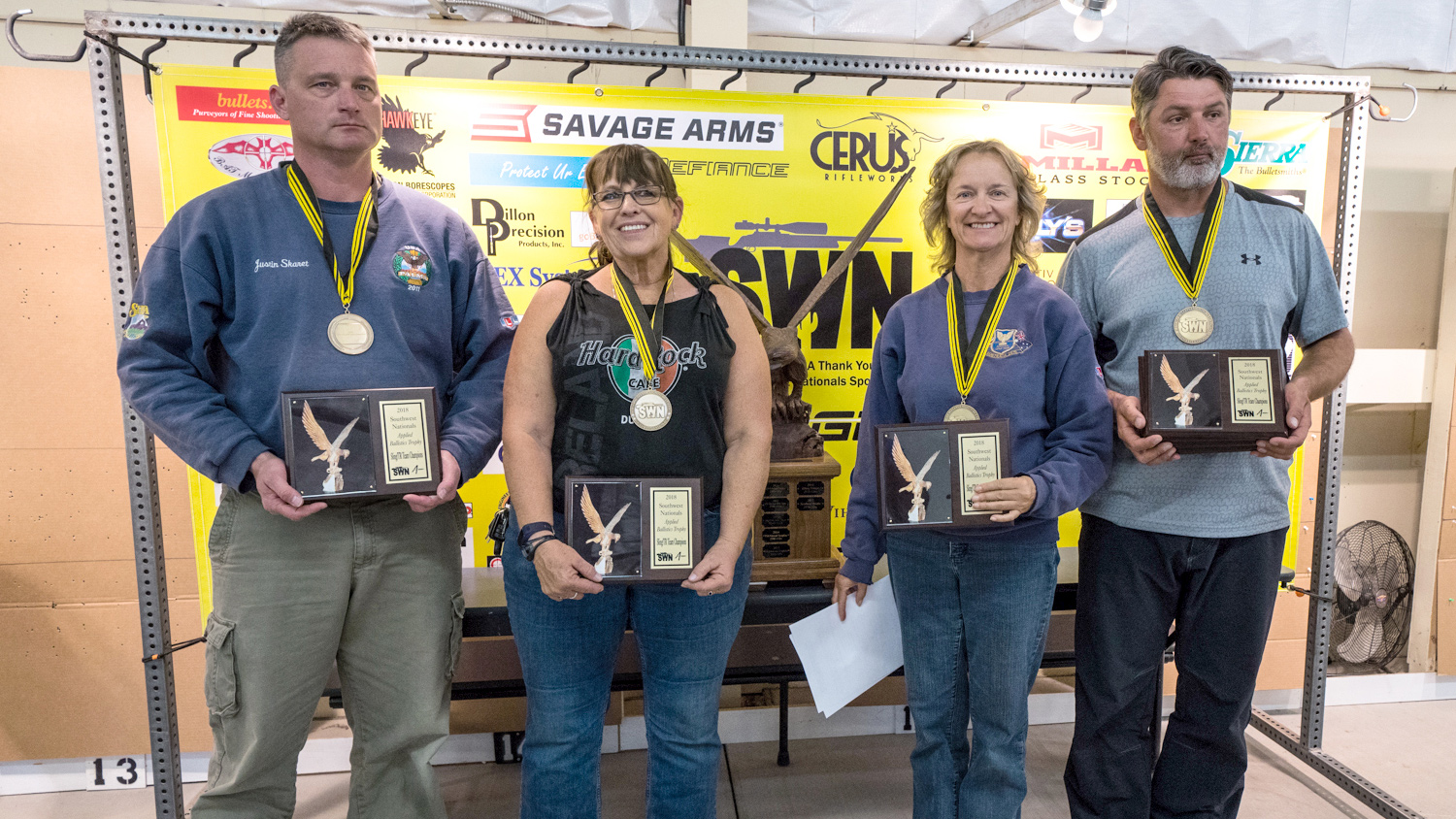 In the Sling 1000-yard team match, the USA Hayes team finished first with a 786-35X score. Second went to LMRA Brits Abroad's 782-21X, while Mix N Match rounded out the top three with a 774-31X. When added to the Palma team match scores, the bronze medals went to Mix N Match with a 2545-124X total, the silver to Scottish HPS's 2548-119X, and finally the gold medal was won by USA Hayes who scored 2562-149X.

A competitors' dinner was held Saturday night, and prize drawings were held with many thousands of dollars of scopes, bullets and other assorted prizes given away by random drawings. Thanks to all the sponsors for making this wonderful event possible. After all the prize tables were emptied, the shooters repaired to their rooms to clean rifles and drown their sorrows, or celebrate their winnings.




Sunday morning dawned to some winds so heavy you had to lean into them. It was decided that since the winds were not dropping, the day's matches would be canceled. The individual aggregate awards were then based on the Palma and two 1000-yard scores, for a possible final score of 850-85X.

I would personally like to thank the Desert Sharpshooters Rifle Club, volunteers and staff, and the sponsors, including Capstone Precision, for all their support of this event. It took a lot of planning and hard work, but the result was another top-notch championship.

Photos by Nightforce Optics