by
posted on October 24, 2023
Support NRA Shooting Sports USA
DONATE
The full schedule for the 2024 NRA National Matches at Camp Atterbury has been released.
Next summer, the NRA National Matches will kick off Monday, July 22, 2024, starting with the Opening Ceremony and the National Precision Pistol Championships, and finish Monday, August 19, 2024, with the conclusion of the National High Power Long-Range Championships.
For the fourth consecutive year, the NRA National Matches will be conducted at Camp Atterbury, an Indiana National Guard base near Edinburgh, Ind., which is located about 37 miles south of Indianapolis.
The new calendar for 2024 marks a return to the traditional National Matches schedule, beginning with the Precision Pistol Nationals, followed by the Smallbore Rifle Nationals and ending with the High Power Rifle Nationals, specifically the Long-Range and Palma Championships.
Here is a breakdown of the three phases for the 2024 NRA National Matches at Camp Atterbury.
Precision Pistol: July 22 to July 25 (early packet pick-up July 21)
Smallbore Prone: July 28 to August 1 (early packet pick-up July 27)
Smallbore 3-Position: August 2 to August 4
High Power OTC: August 5 to August 10
High Power Mid-Range: August 11 to August 14 (packet pick-up August 10)
High Power Long-Range: August 16 to August 19 (packet pick-up August 15)
You can view the full calendar below.
2024 NRA National Matches at Camp Atterbury Calendar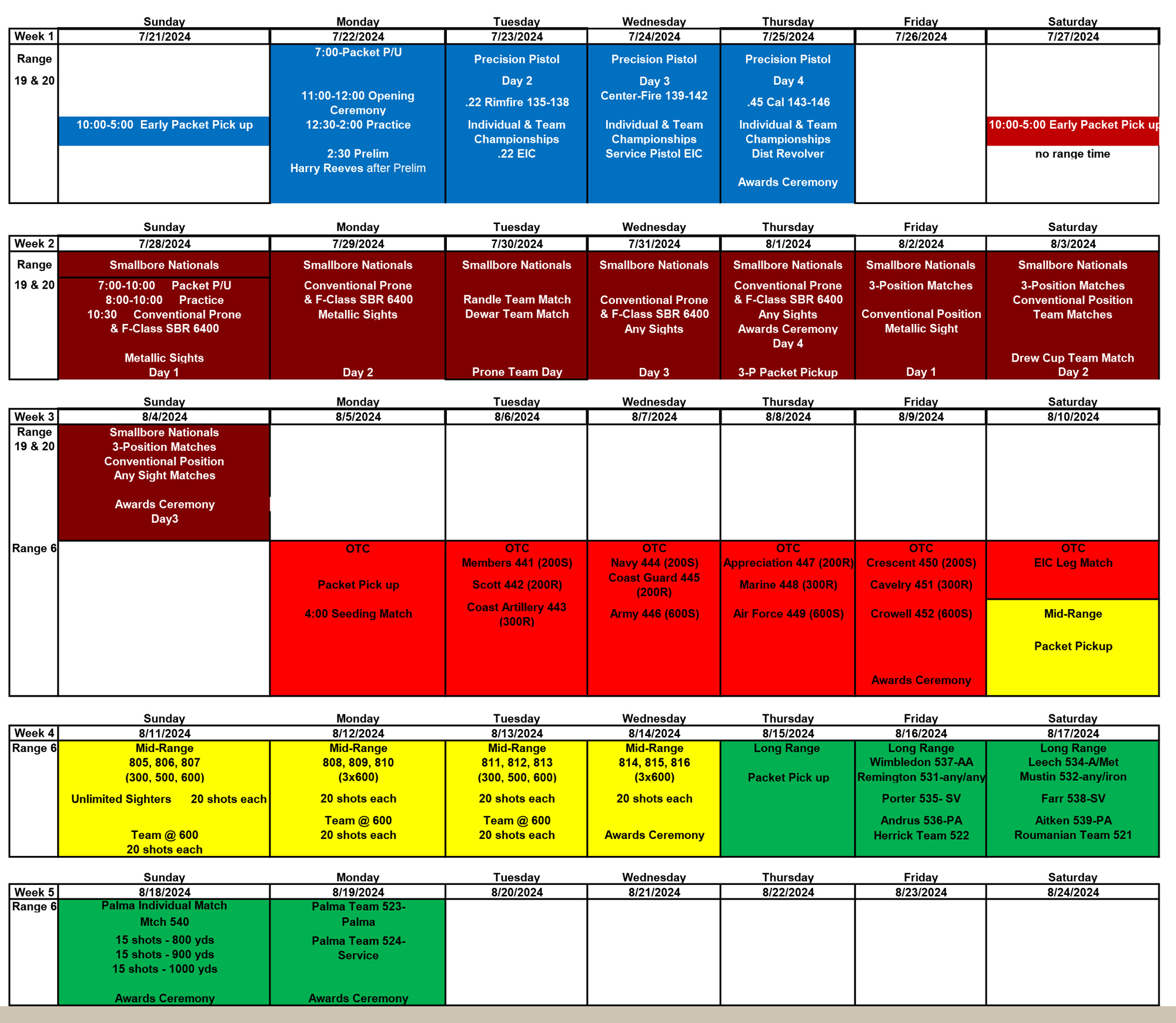 "After listening to competitors both on the range and at the competitor meetings, we took all of their suggestions for placement of dates, and shuffled them into place to better suit everyone as much as possible," NRA Competitive Shooting Division Deputy Director Aaron Farmer said.
There was also an effort made by NRA Competitive Shooting Division staff to consolidate some of the match days to make attending the NRA National Matches a bit easier for competitors.
"We have condensed some of the Nationals," Farmer said. "Now, you can take less time off from work and have a chance to travel. If you can stay out here with us even longer, that is wonderful, and we would love to have you compete in all the events."
Additionally, Farmer addressed competitor requests to separate some of the events, perhaps even moving the NRA High Power Nationals to later in the year.
"Some folks said they are looking to shoot in cooler temperatures and just have enough time to enjoy High Power," he said. "Due to timelines and operations around us, the NRA was unable to establish this for 2024. So, we have moved that suggestion into the 2025 National Matches calendar. We will be talking with Camp Atterbury base operations next March to discuss this push to have the High Power Championships moved into the fall."
NRA staff will continue to do its best to deliver quality service for competitive shooters attending the National Matches at Camp Atterbury, and to provide what you ask for and deserve. This is not just limited to the Nationals, but across the board for all NRA-sanctioned competitions.
For more information about the 2024 NRA National Matches at Camp Atterbury, go to competitions.nra.org. To receive the latest competitive shooting news and updates, subscribe to the free Shooting Sports USA Insider email newsletter.