by
Chris Christian, Field Editor
posted on August 9, 2021
Support NRA Shooting Sports USA
DONATE
Despite the current ammunition shortage, competitive shooting still sees significant participation. Some newer gun owners want to give it a try—whether for fun, competition or to realize the benefits competitive shooting can have on gun handling and shooting skills.
Gun clubs welcome new shooters. Before arriving at your first match, there are four key things a new shooter should do to insure their first match experience is a positive one.
Confirm Your Gear Is Legal
Regardless of how you learned about the match, be sure to visit that organization's website. Find the rules, and the equipment rules section.
Is your gun a legal firearm for that organization? Arriving at an ICORE match (International Confederation of Revolver Enthusiasts) with a 9 mm semi-automatic pistol, an IDPA match (International Defensive Pistol Association) with a .22 LR revolver, or a USPSA match (U.S. Practical Shooting Association) with any rimfire gun will guarantee a quick trip home. Make certain your gun is legal. Determine the ammunition Power Factor required because they can vary. That won't be an issue if you're shooting factory loads, but reloaders need to resist the impulse to load too lightly.
Handgunners need to check that their holster and reload carriers (magazines or speedloaders) are authorized. Some holsters (cross draw, shoulder, appendix and others) are prohibited for safety reasons. You'll need a strong-side hip holster, and there can be restrictions on those.
Do You Have Enough Gear?
Check that you have enough reloading devices. You can usually get through an IDPA course of fire with three magazines or speedloaders, although the BUG (back-up gun) division may require four. USPSA (Single Stack and Production) may need five or six magazines. Those guns in Steel Challenge need the same. ICORE may need as many as five speedloaders. It's also a good idea to have a couple extra in case of loader malfunctions.
All action matches require eye and ear protection to be worn at all times on the range, so you'll need those. Also, check the match for the minimum round count and add 25 percent to that to account for the inevitable "first match" misses.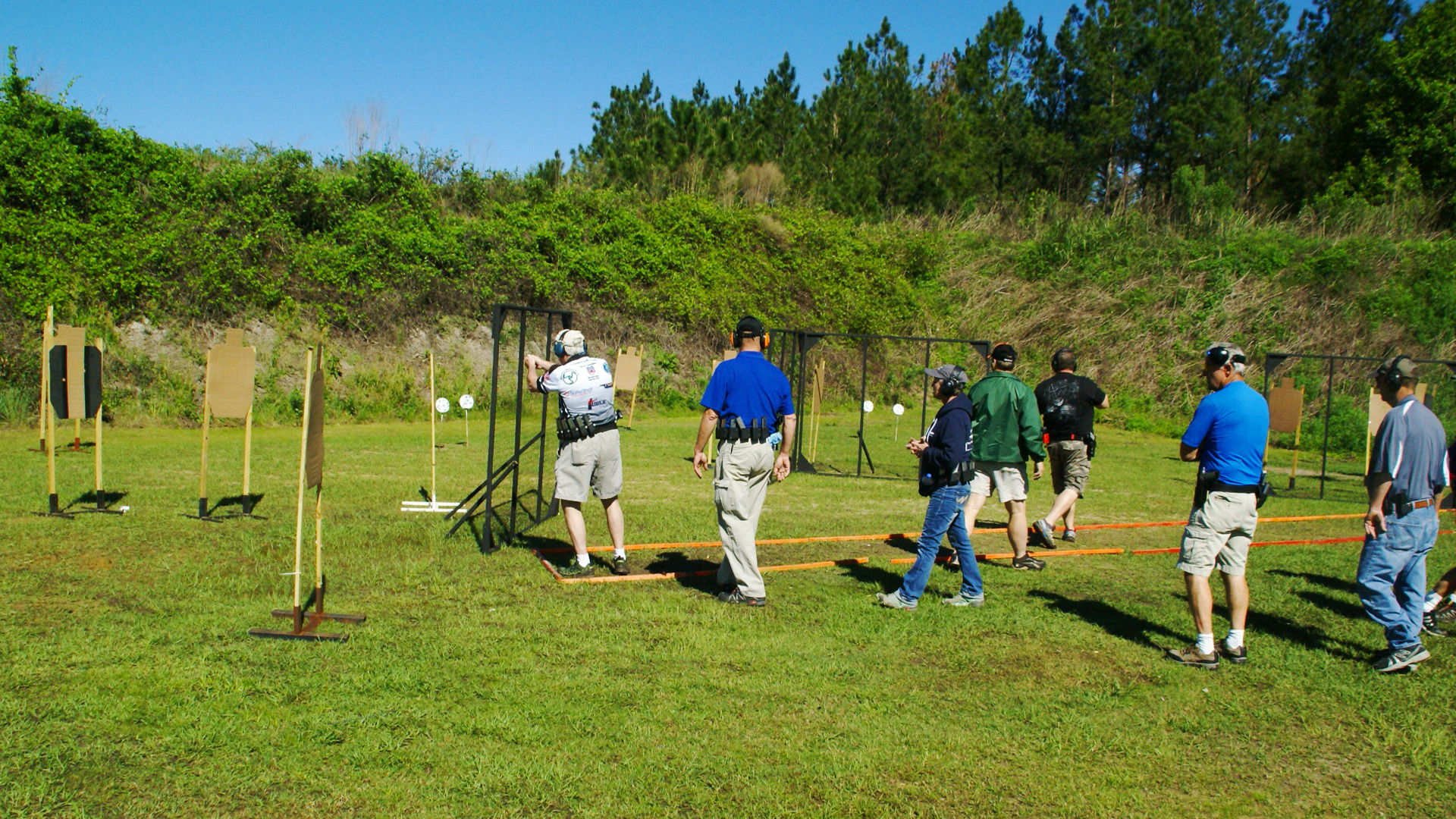 The Night Before
There's no need to alter your normal routine, although avoiding excess alcohol is a good idea. If the match is in hot weather, begin pre-hydrating by taking in some extra water. Then get your gun bag packed. Trying to do that in the morning rush doesn't always work. I remember one IDPA Match Director whose hurried morning packing resulted in him forgetting his ammunition. Lay everything out and double check that it's in your range bag. Loading magazines or speedloaders is also wise. It saves time at the match.
Plan on arising early enough to complete your normal morning routine, while leaving time to arrive at the range at the beginning of the sign in period. With the gun bag packed it won't take long to grab water and snacks and head out the door. The only thing to leave behind is your ego. The expectation at your first match should be to learn.
At The Match
Arriving at the start of sign-in allows you to meet the Match Director before things get busy. Explain that you're a new shooter at your first match. That's important, because most clubs have procedures to help first time shooters—often by placing them in squads with their most experienced range officers. By all means, listen to the ROs, but don't be afraid to ask questions of the other shooters. Competitive shooters are a friendly bunch and willing to help. They all know that they started right where you are. And they don't want your first match to be your last.
Proper planning can make your first match a positive experience, and one that can be built upon for future matches.
---
Read more:
Comp Cleaning Made Simple