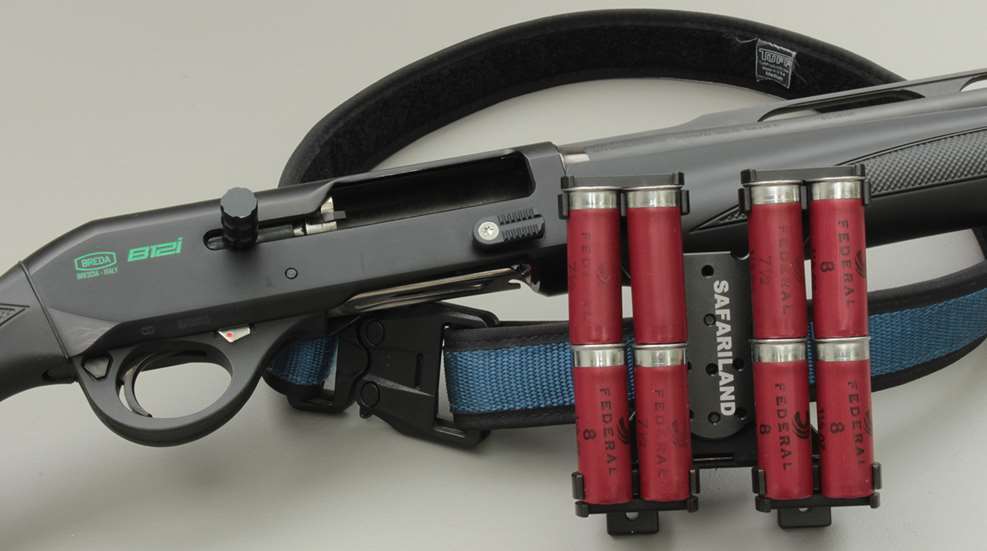 You shoot pistol well and you shoot rifle well, so who not try 3-Gun? The only thing that's different is adding a shotgun, that can't be hard … right? All too often shooters get into this sport and downplay the shotgun side when in reality, the cumbersome nature of this platform can add vital seconds, if not minutes onto your stage time if you don't build some basic fundamentals.

Read on for five time saving tips to get lead down range and on steel faster than ever!

Note: Safety, Safety, SAFETY is priority one! Muzzle awareness building is a must. It almost goes without saying, but you must always keep your muzzle in a safe direction. A slip up during a practice session might only result in an embarrassing correction, however breaking the 180 rule in a match will be an immediate disqualification, regardless if the gun was fired or not! New shooters or even experienced ones with a new platform often lose that muzzle awareness that they maintain instinctively with their native firearm. Check out these 3-Gun shotgun drills below.


---
Drill 1: It Starts at Home
Without ammo present, take your shotgun out of the safe. Identify a safe direction in the most cluttered room in your house and walk until your muzzle touches the furthest wall. Next, walk back with the muzzle pointed at that same designated location. Conduct this exercise in every room where it is safe, down hallways and especially through doorways. This will help you learn ways to move efficiently with the gun pointed where it needs to be.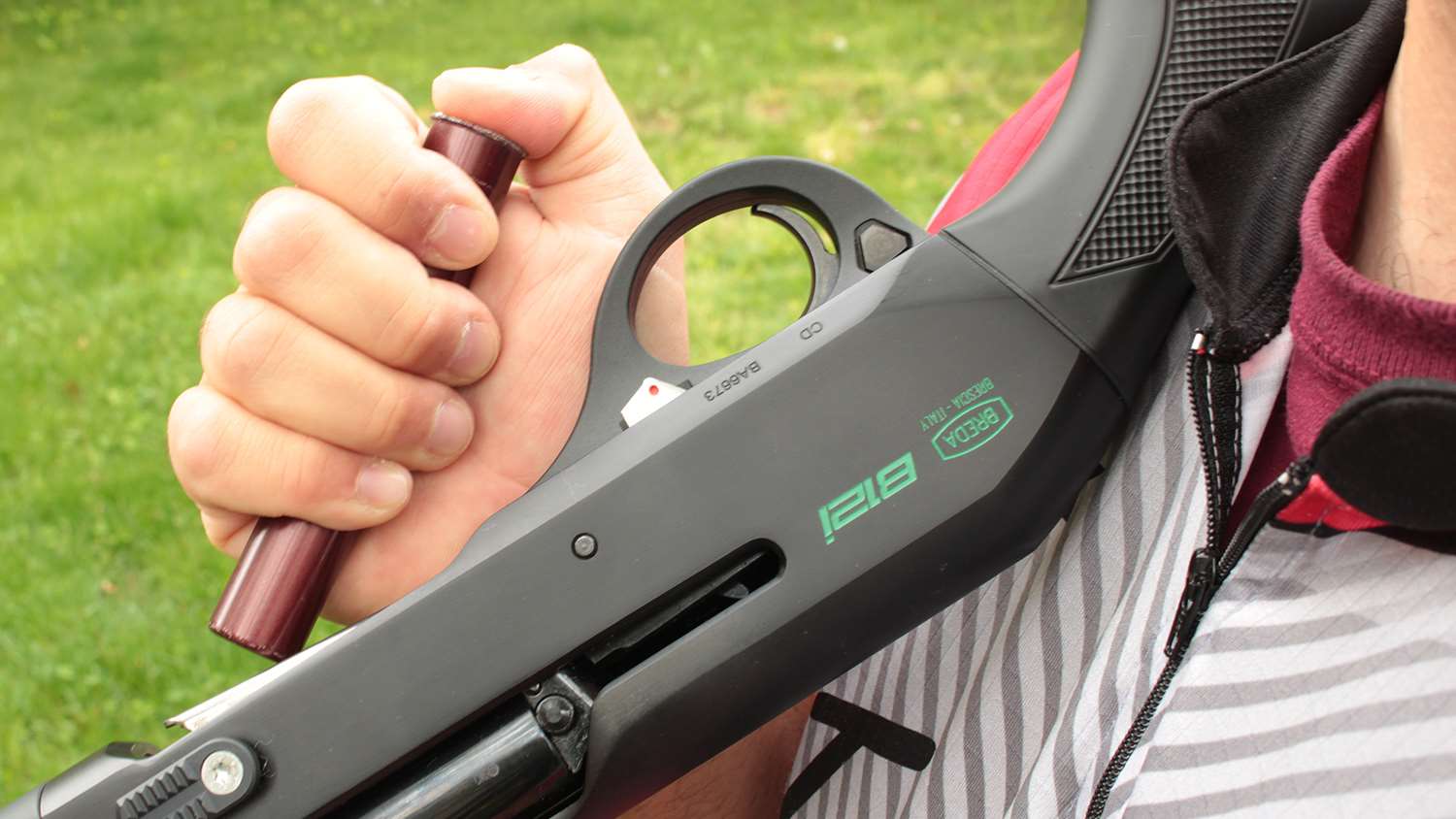 Feed her faster! One is no fun. Loading (and reloading) a shotgun is vastly different than the reloading of a pistol or rifle. Sure you have your Vepr rifles with detachable mags, but not everyone wants to compete in open division. Your standard tube-fed scattergun can be loaded twice as fast simply by stuffing two shells in at a time. A critical part of any three gunner's belt is their shell carriers, or caddies. Shell holders like the Safariland 086 stack eight shells together into two sets of four. Having the right shotgun for this technique is especially critical. The Breda B12i comes ready for 3-Gun loads right out of the box with its relieved loading port and sloped trigger guard.


---
Drill 2: Rip and Stuff
Using snap caps like those from AZOOM, rip a pair off with your thumb on the primer. Do so as if you were holding a pen and clicking it. Next place the snap caps over the loading port and use the palm of your hand to keep them in place as you insert them together as if they were one big shell. Practice this five times standing still, then five times moving forward, then five times moving backwards.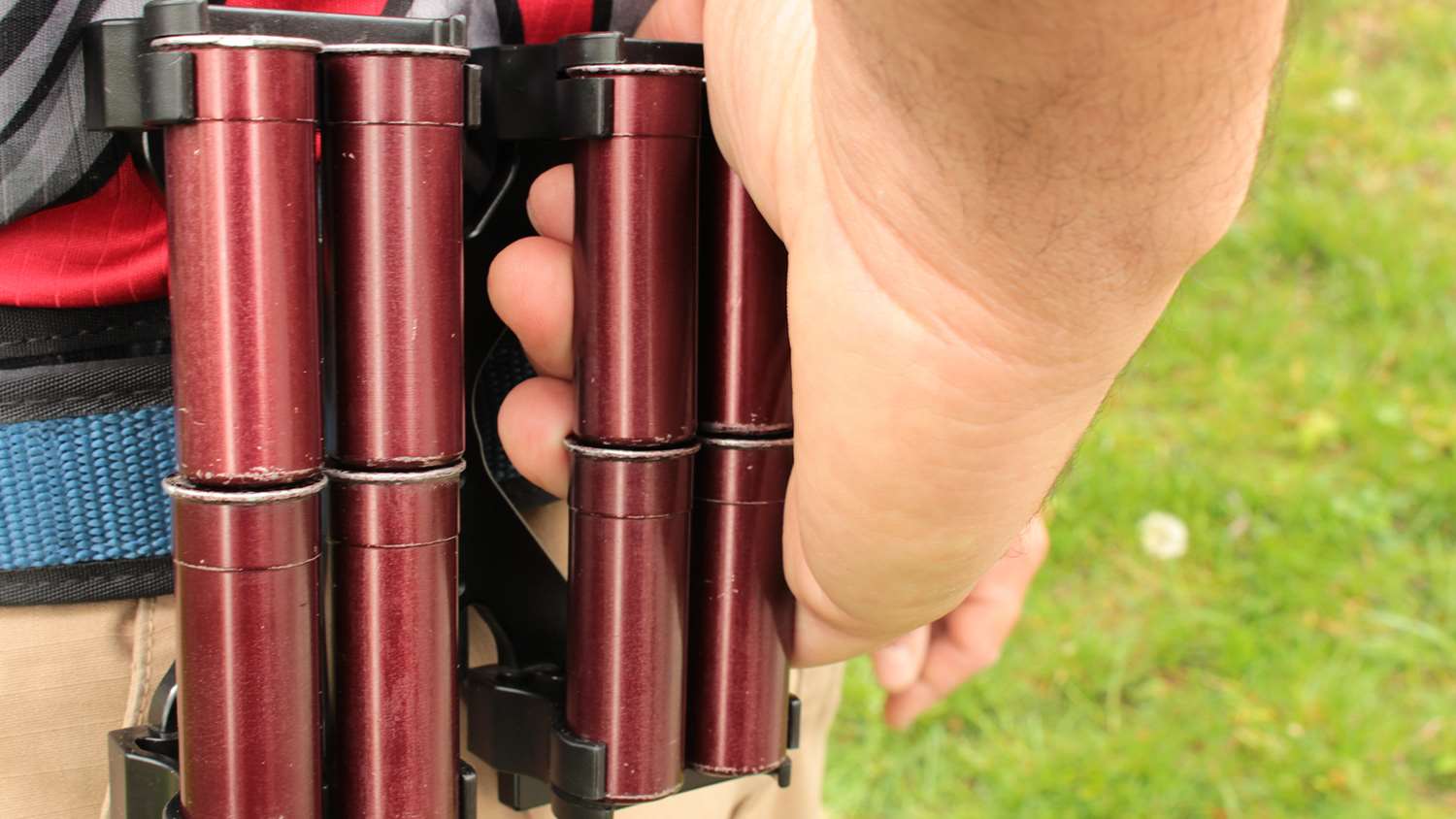 Why stop at two? Mastering the Quad Load. Once you have your dual load down a quad load isn't that far behind. This might be necessary if the stage is very heavy on shotgun, or if you have a lot of distance to close in between engagements. Of course quad loading while standing still has to come before you can manage a fistful of shells on the go.


---
Drill 3: Dig Deep!
A good quad loader comes from a great dual loader. As with most things in life your initial move will determine the outcome of the final product. The trick to quad loading is to "dig deep", meaning reach far behind your caddy when grabbing your four shells. Your first two shells should be secured in your palm, with shells three and four wrapped in your fingers. Press your first pair in the same as a dual load, except use the second pair of shells to steady them, then just put the last two in as a basic dual load.

Transitions, steel ... everywhere! The recoil of a shotgun, especially if it has a traditional grip, tends to move most shooters more than their rifle or pistol do. Loading fast alone won't win you a match, one must shoot fast as well. Transitional tests of skill like plate racks are customary in any good 3-Gun match, however they do cost many shooters more time than they should.


---
Drill 4: Loosen Up!
The absolute worst instruction that I've ever heard regarding taming 12-gauge recoil is: "drive it into your shoulder as hard as you can." The problem with this is as the gun is firing, those muscles relax (or react), and the gun finds itself off of the body when it recoils, requiring shooters to reestablish a cheek weld, grip, and point of aim. Relaxing that part of your body instead will go a lot further. Grip the shotgun as firm as possible and press it into your shoulder just about as hard as you can, now fire a shot; odds are the gun moved. Now, reduce grip and rearward pressure slightly, and fire again. Continue loosening grip and rearward pressure until the gun slips a second time. You have now just found your two limits, maintain a comfortable pressure between these limits and you can comfortably fire your gun with a repeatable and predictable point of aim after recoil. Take this newfound knowledge to a pair of steel targets like Birchwood Casey's 10-inch gongs and develop a slow and steady cadence to your trigger squeeze and time the rotation of your hips to put your muzzle on a target precisely when your trigger is being moved rearward. Imagine your trigger finger is beating a drum to a tempo and your hips have to move your finger to the next drum. Use a shot timer and gradually increase the speed of your hip movement and your trigger squeeze cadence.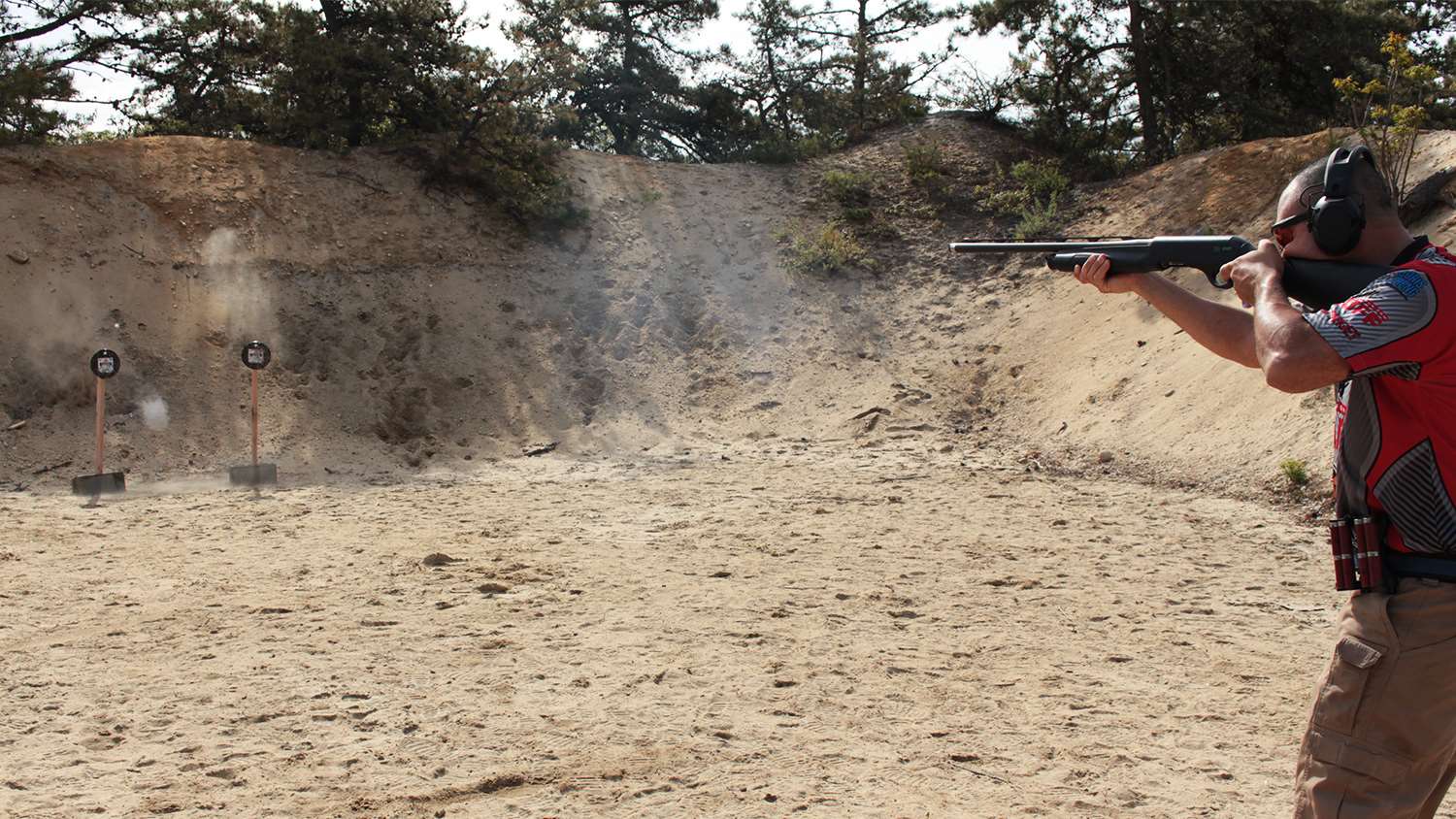 Am I supposed to bend this way? Push outside of your comfort zone. Every day we go to the range we practice stuff we're good at and stuff that's natural, but how many of us really push what we do? In addition, what's normally easy and comfortable with a pistol or carbine can sometimes become more challenging with a shotgun. Aside from marksmanship a good shooter should be creative, more creative than the match director to be blunt. Last summer, our match director had each shooter walk up one side of a see-saw, engage targets, reload and walk down the other side as it fell. I felt like a success just because I didn't break the 180 and get DQ'ed!


---
Drill 5: Get Uncomfortable
Set up your training area in ways that force you to do things differently. If you have plastic barrels, lay them down and shoot off of your side. Tables give you multiple different obstacle opportunities as well. Try shooting from under one, or put it on its end and use it as a barrier to shoot around. Use a combination of these objects to build narrow shooting ports and shoot through them in as many different positions that you can imagine. Try shooting from sitting on your butt with your feet in front of you. Now try that with your feet to the side. Twist in every position that you can imagine, just make sure it's safe and your shot strikes the berm! Identify which ones gave you the most trouble and practice them until they become comfortable.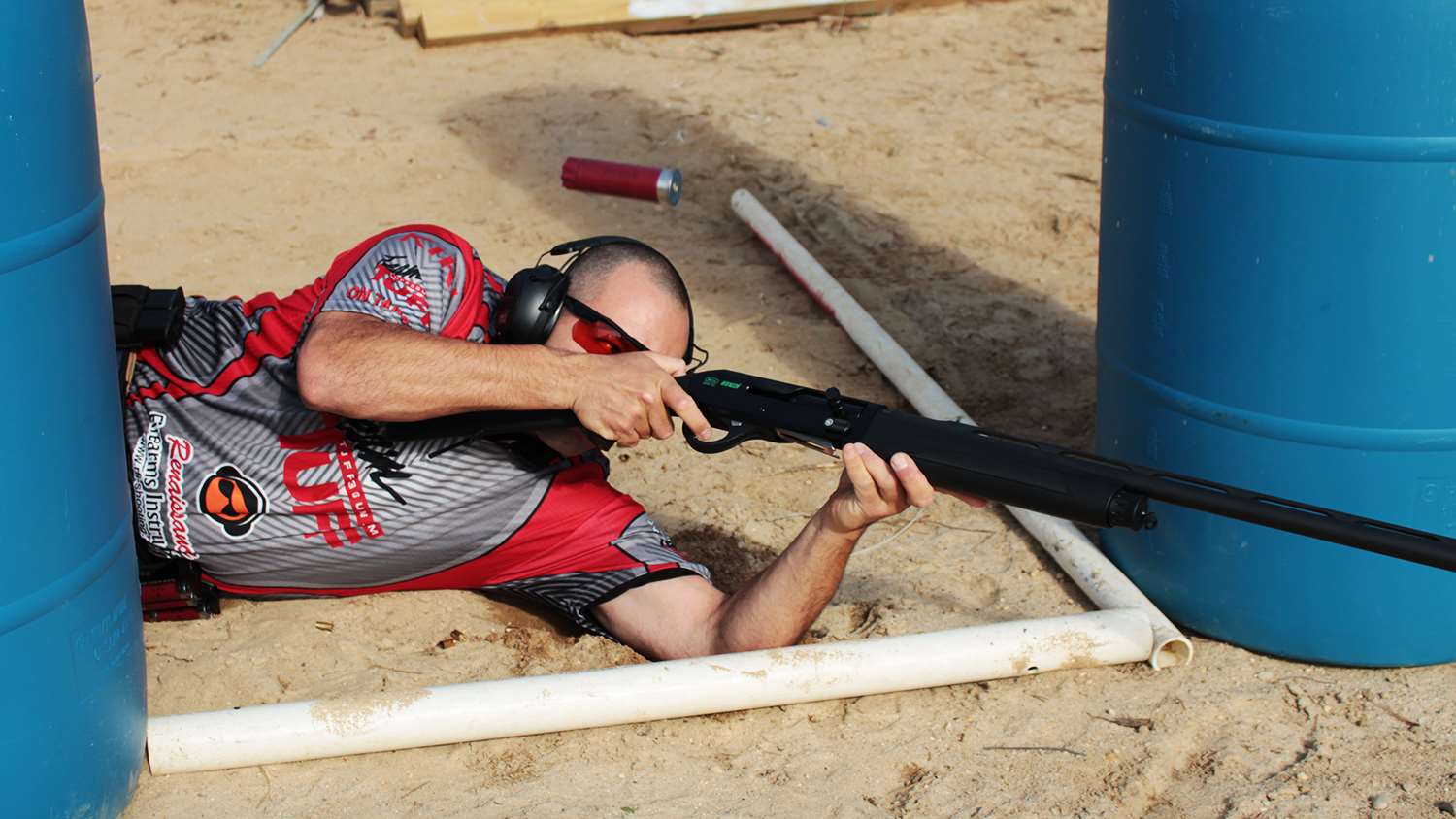 Adding It All Up
Quickly operating and firing a shotgun is something that is relatively challenging, but is tremendously rewarding. Once a shooter approaches it as a completely new discipline, they are ready to improve. These five drills will get you off the ground, however they are merely an outline of just a few of the fundamentals that comprise practical shotgun shooting. So grab your gear, grab some ammo and hit the range; it's a long journey!


---
About the Author
Frank Melloni was a competitor on History Channel's Top Shot as well as an avid competitor, hunter and reloader. Melloni operates Renaissance Firearms Instruction, alongside nine other instructors. The group trains thousands of students yearly in firearms skills.