It is difficult to succeed in competitive shooting without an accurate, reliable firearm. After the gun, when you add the cost of additional gear necessary for action shooting—spare magazines, holsters, etc.—it can get expensive. Luckily, there are companies such as EAA Corp. that make it easy to find a quality pistol for action pistol that won't break the bank. Here are five you may want to look at.
Tanfoglio Witness Elite Stock II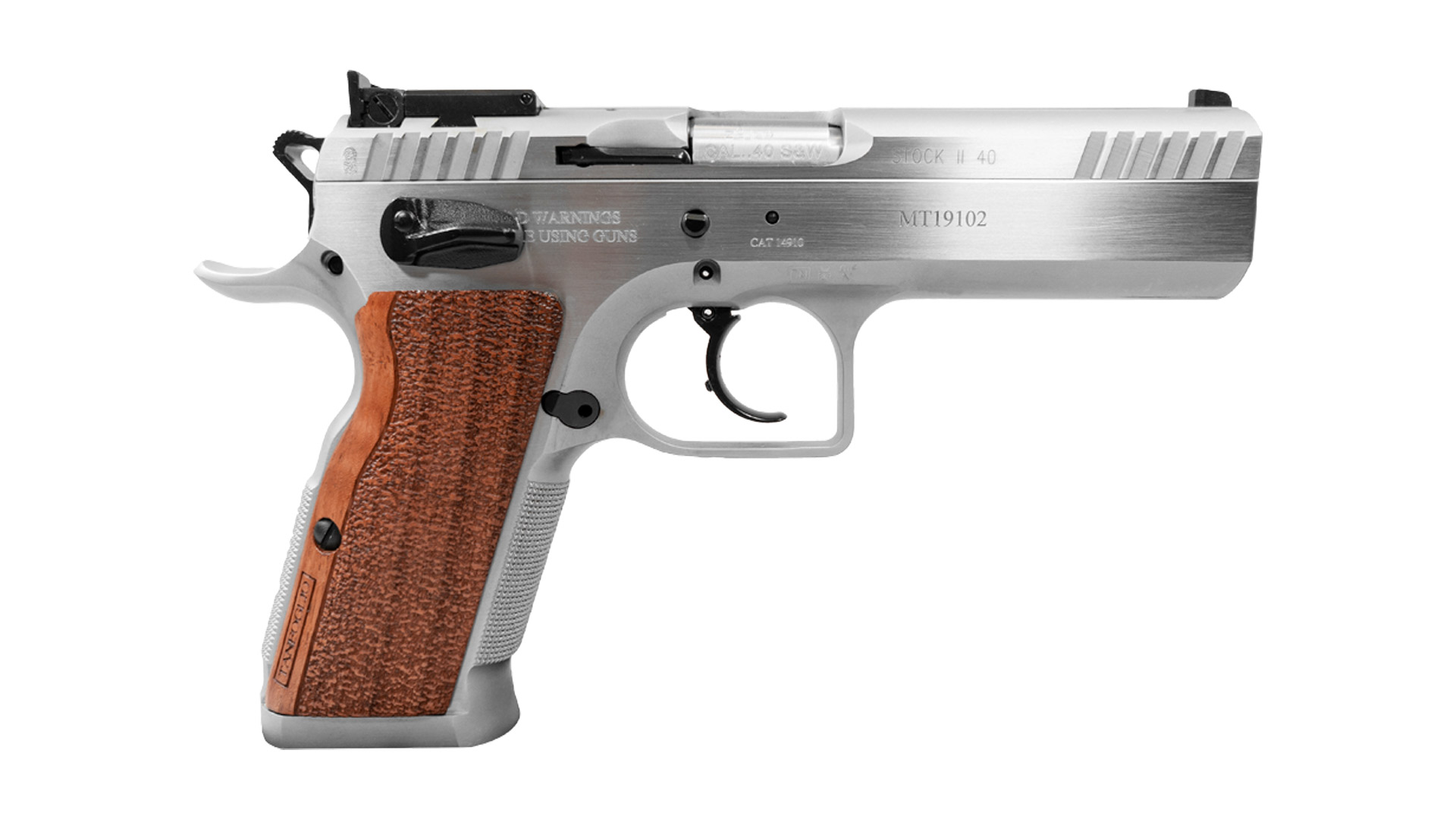 In 2020, the Tanfoglio Witness Stock II lineup repeated as the second most popular pistol used by shooters at the USPSA Production National Championships. Chrome-finished, the EAA Tanfoglio Witness Elite Stock 2 is a great choice for competitive shooters looking for an affordable pistol to get started in USPSA Production division. With an overall weight of 2.69 pounds and 8-inch overall length, this hefty 9 mm can manage recoil well. Plus, the Italian-built Tanfoglio guns are known for a fine fit and finish. SKU: 600615; $1,301 for the 9 mm.
Girsan MC1911 Match Elite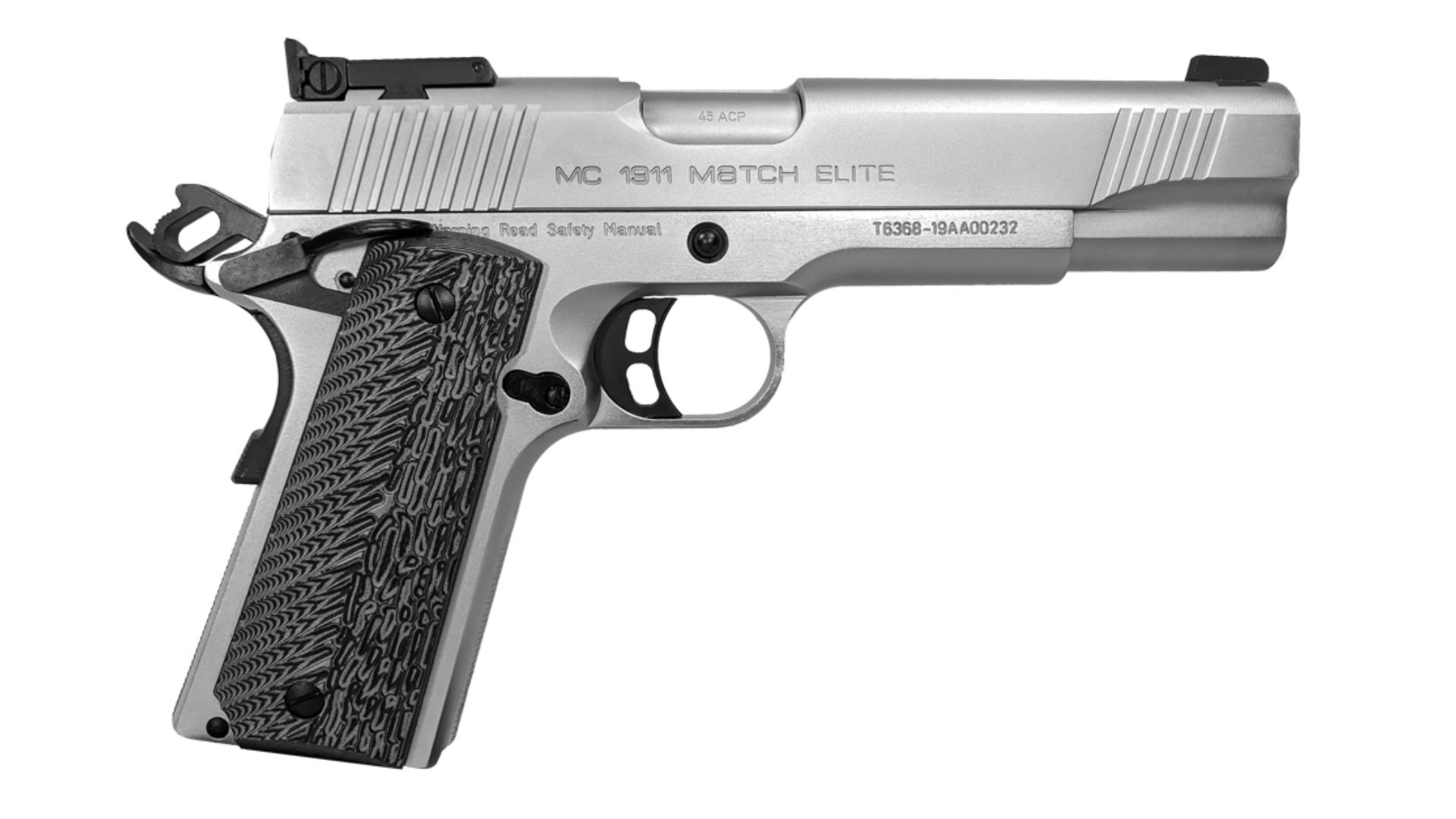 The EAA website describes the Girsan MC1911 Match Elite .45 ACP as "ready for everyday carry, competition, on the job carry or just going to the range for fun." A steel slide, along with G10 grips and a matte hard chrome finish, make this one great-looking firearm. Additionally, the competition trigger and rear sight will aid you on the firing line. SKU: 390095; $856 for the .45 ACP.
Tanfoglio Witness Elite Match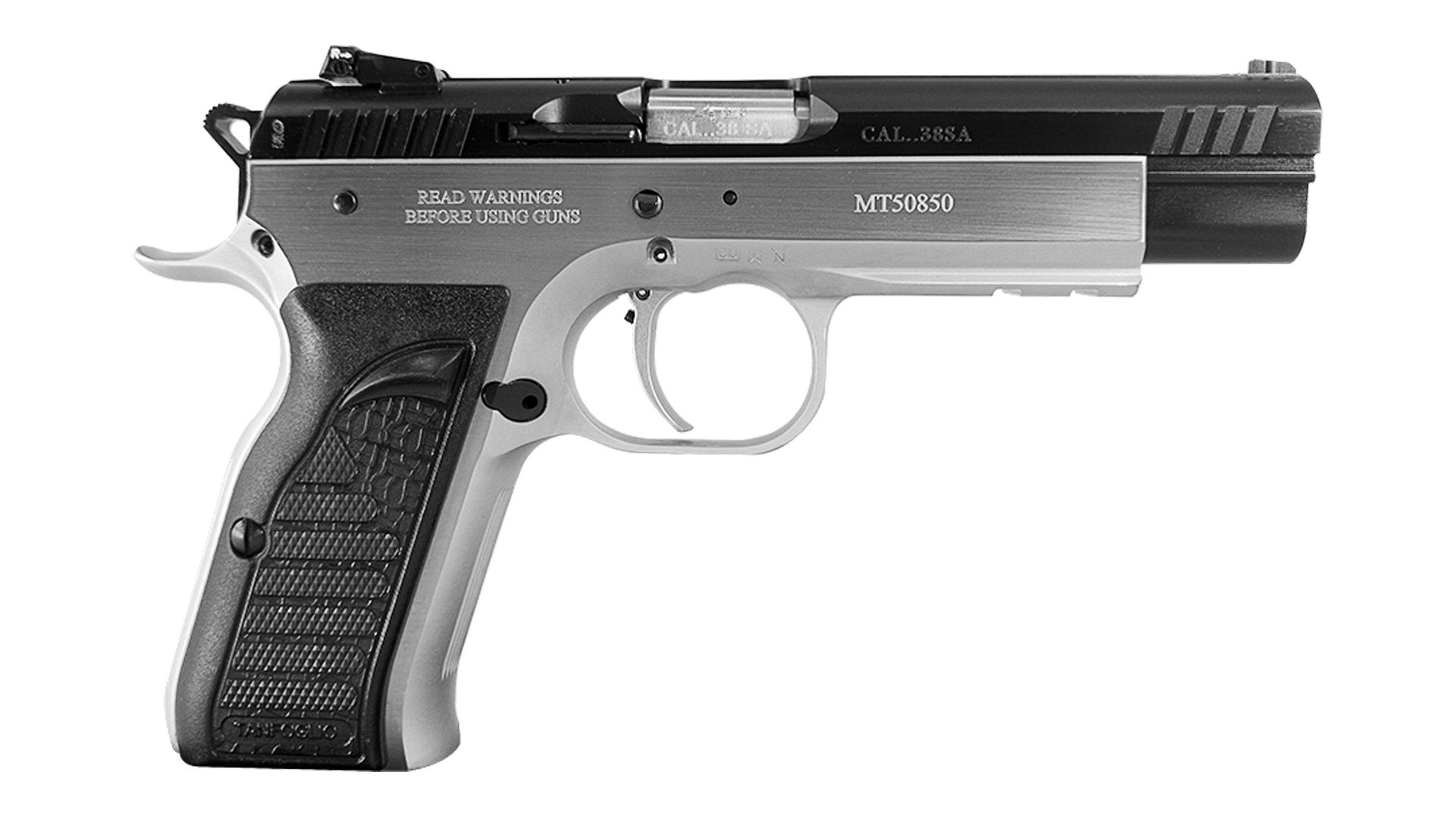 The most affordable Tanfoglio model represented here, the Witness Elite Match has been in the lineup for more than a decade and is one of the most popular Tanfoglio Witness pistols. Synthetic grips and a two-tone finish complete the package. One reviewer summed up this pistol best: "They have great ergonomics, just like a CZ, very accurate and super nice trigger—for a very good price point." SKU: 600650; $1,053 for all calibers; 10 mm model pictured.
Tanfoglio Witness Elite Gold Team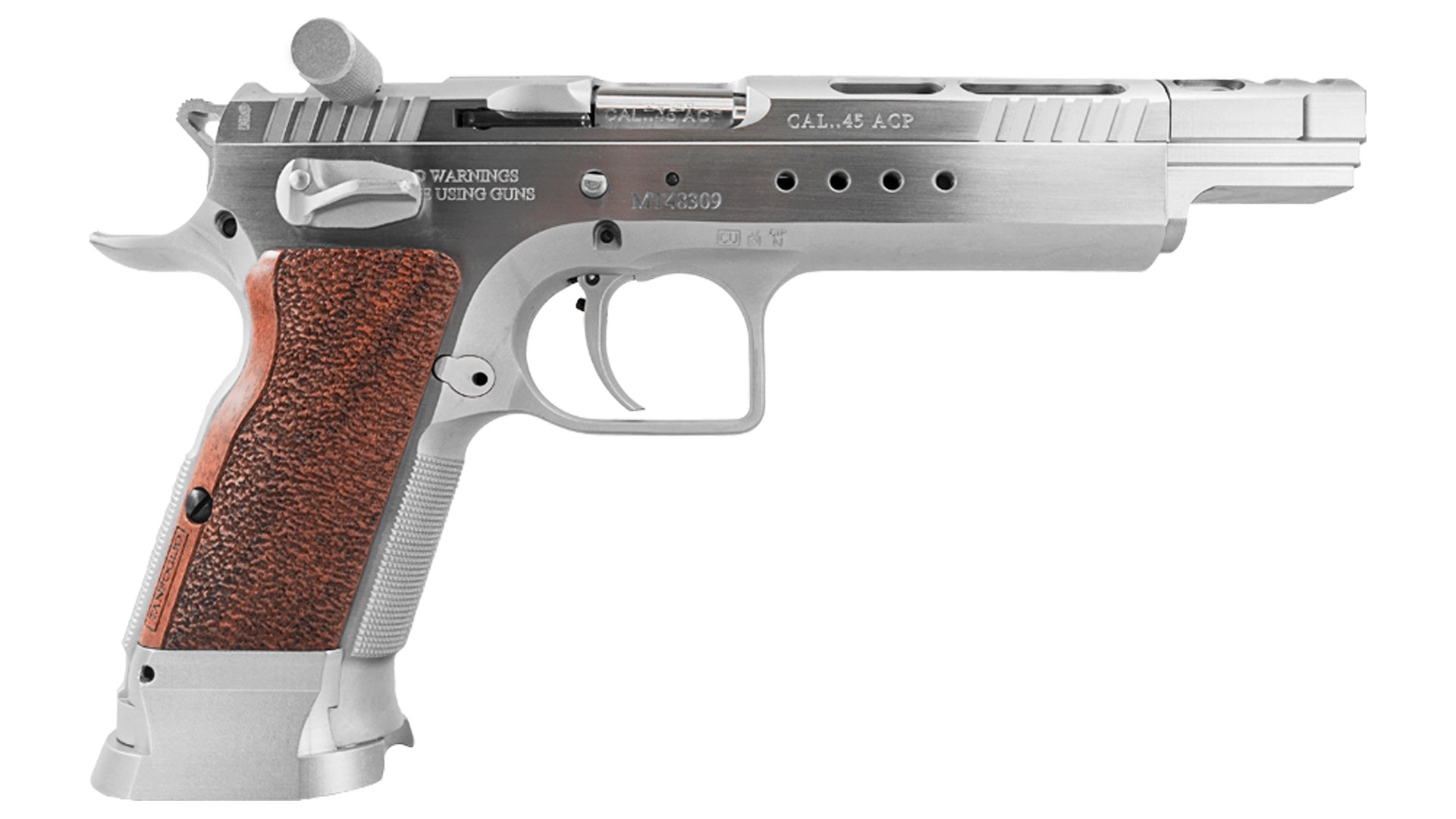 A distinctive option in the Tanfoglio Witness Elite series, the Gold Team is an Open division race gun ready to pair with an optic. Drilled and tapped for optics out of the box, this chrome-finished pistol includes a large cocking handle and a heart-shaped hammer. This is the same gun that JJ Racaza used to win a silver medal in the Men's Open division at the 2017 IPSC Handgun World Shoot in Chateauroux, France. Although that was a few years ago, keep in mind that Racaza was competing against more than 400 competitors at the match. SKU: 600095; $2,348 for the .45 ACP.
Tanfoglio Witness Stock III Xtreme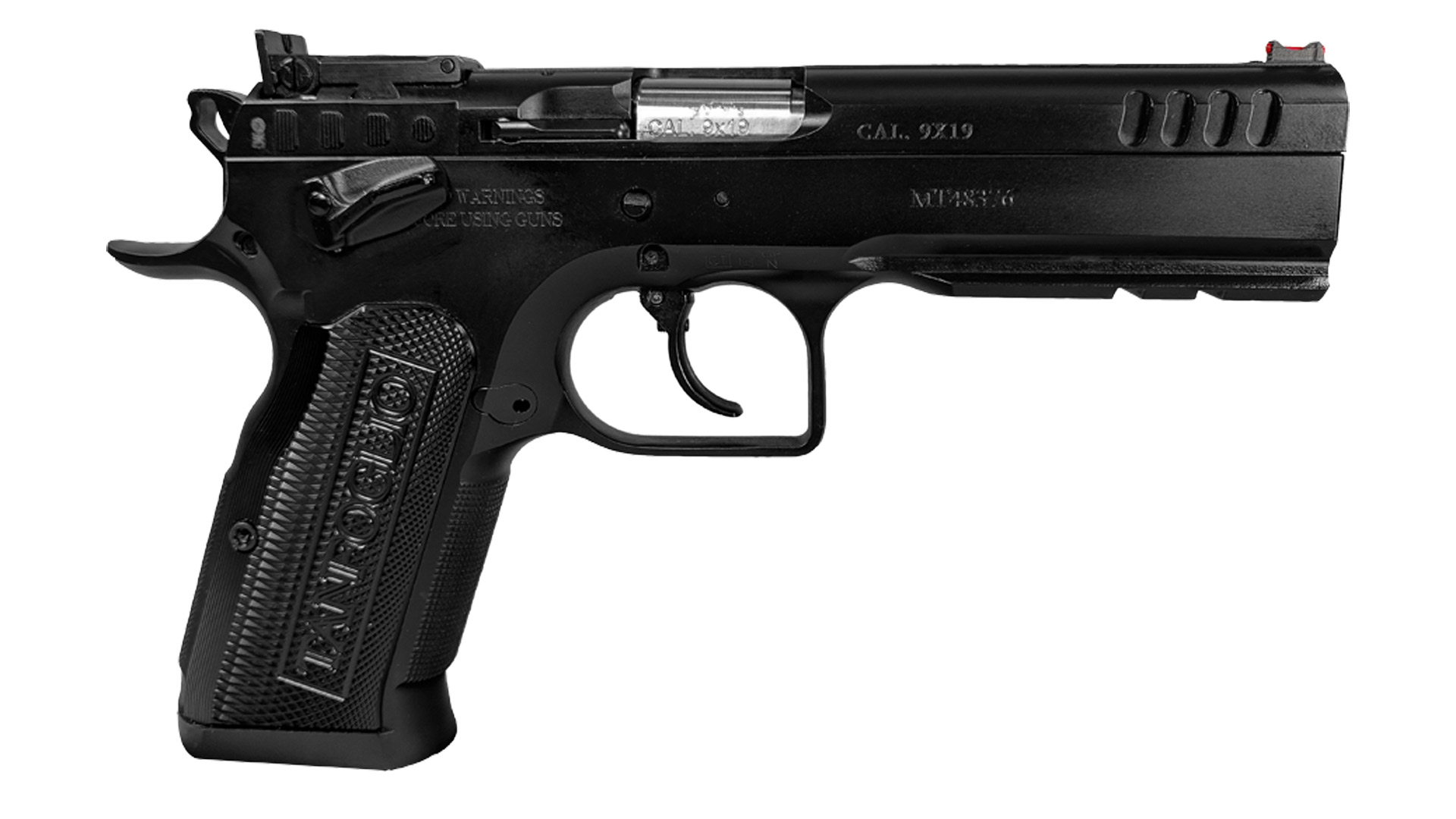 A dedicated Production division gun, the Witness Stock III Xtreme sports an industrial look, thanks to a two-tone ceramic coating. Aluminum grips that boast ergonomic checkering and the tuned trigger will certainly help action shooters while on the move. In addition, the front sight includes a red fiber-optic and the rear sight is fully adjustable. SKU: 640592; $2,319 for the .40 S&W.
Bonus: While the EAA Girsan Regard MC Deluxe 9 mm may not be a top competition gun, this Beretta 92-style handgun with a gold finish and hand engraving is definitely a looker.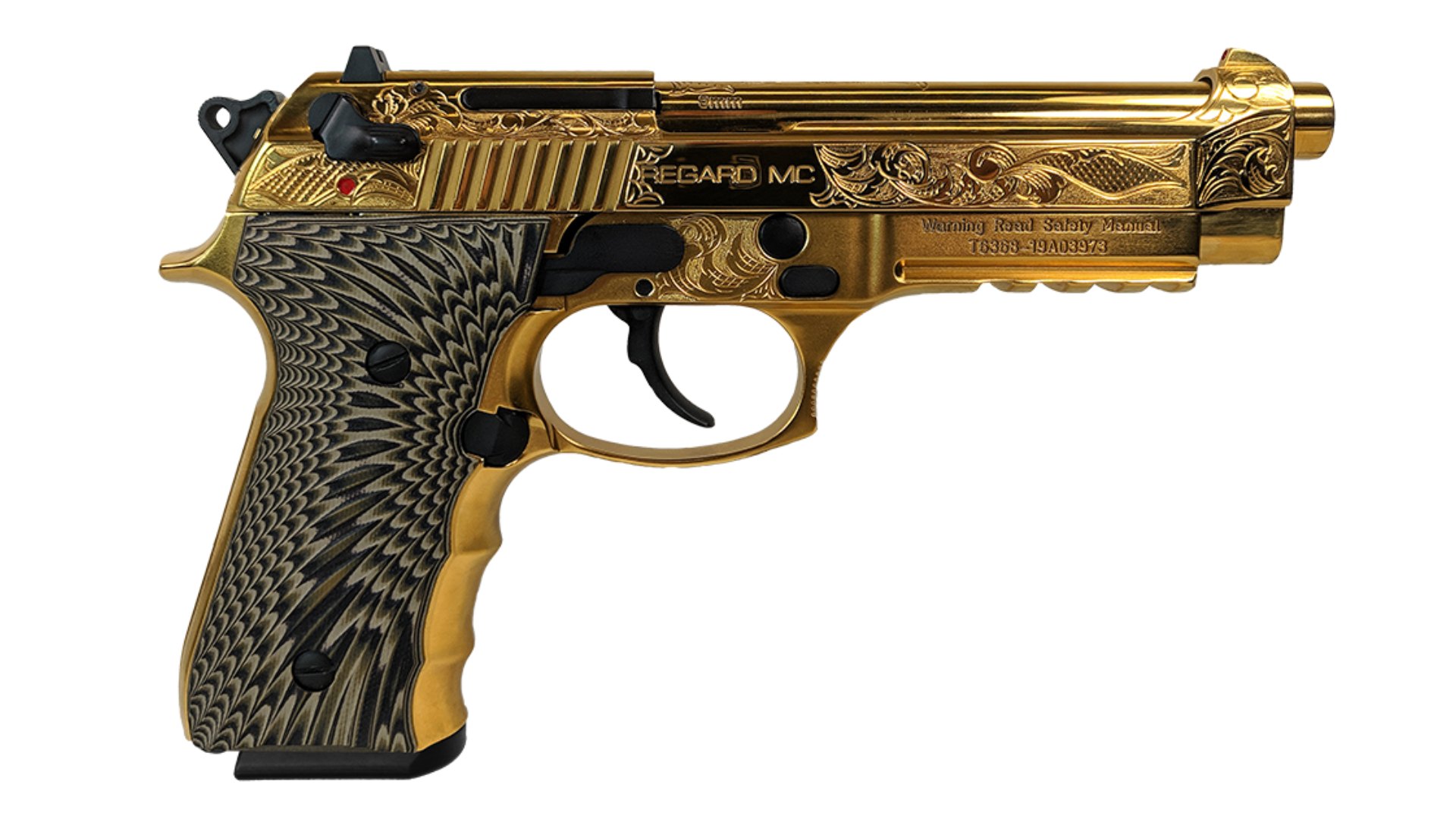 A performance pistol, the Regard MC Deluxe 9 mm is manufactured from forged aluminum and has the beefy internal parts that are customary of a Girsan firearm. Best of all, this elegant handgun is a great bargain with an MSRP of $724. A quick online search found prices that ranged from $610–$673. Check out the Girsan Regard MC Deluxe 9 mm at the EAA website.
---
Read more:
Top Open Class Handguns In 2020