Read an updated version of this article with 2020 shooter survey data here.
Ask 100 competitive shooters what's the best way to get started in USPSA, and 99 of them will tell you Production division is the way to go. It's a no-brainer, as the list of stock pistols deemed acceptable by the USPSA Production rules is long and includes some very familiar names. And, the number of shooters in the Production division continues to grow—which not only reflects an uptick in novices getting their feet wet in action shooting without spending big money on a tricked-out race gun, but also veteran competitors from other sports taking the guns they already have in their safes to try out a new discipline. Either way, the proliferation of Production class in the shooting sports has made it easier than ever for shooters to make the leap into competitive shooting.
Below are the top USPSA Production handguns last year at Nationals according to shooter survey data. They are listed in order of popularity as reported in the December 2019/January 2020 issue of FrontSight magazine. Note: the prices listed are not MSRPs, rather they reflect current popular online retailer pricing.
CZ-USA Shadow 2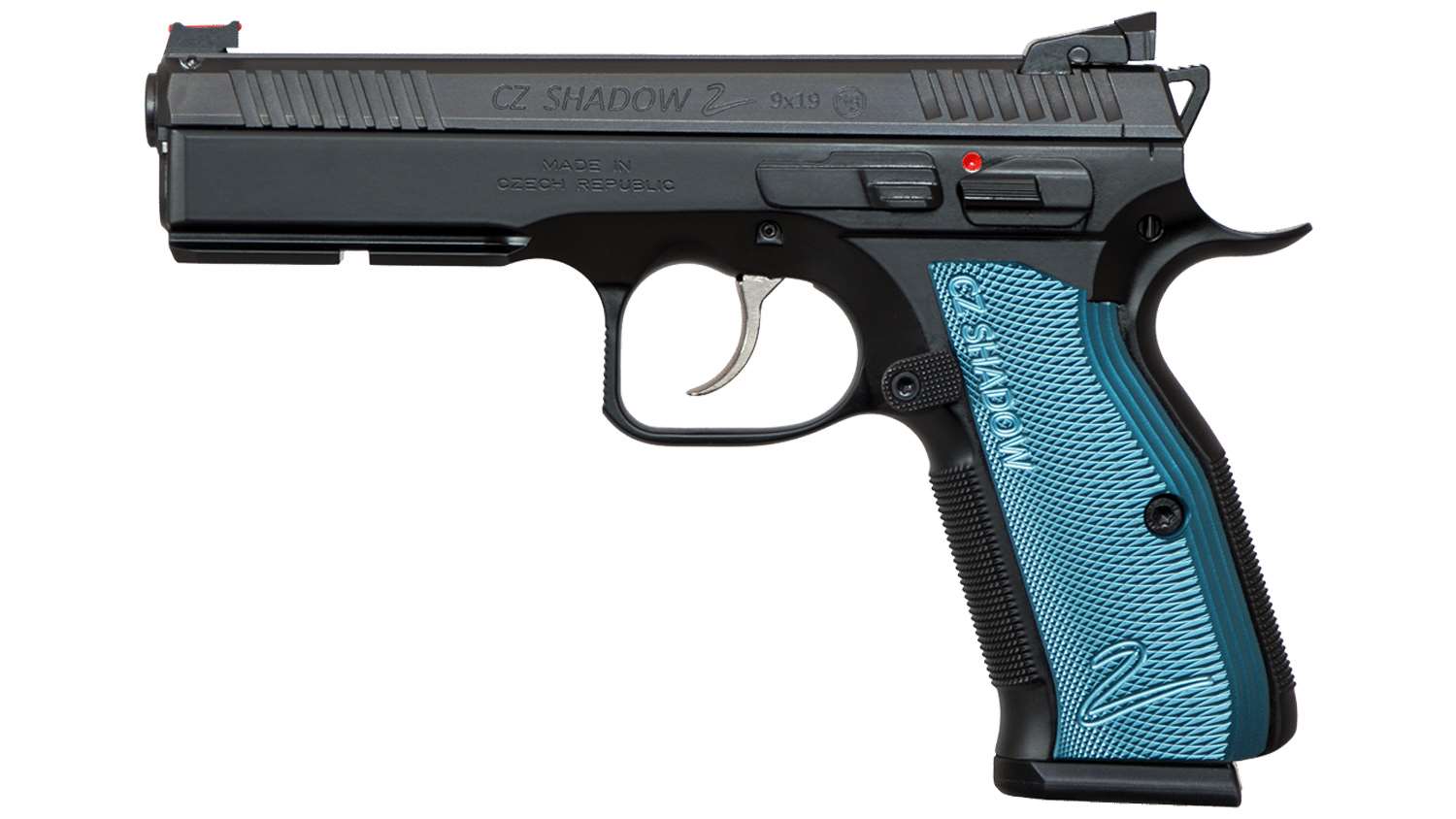 Favored by over a third of shooters at Nationals, the CZ-USA Shadow 2 ($1,349 as shown) remains the most popular production gun at 36 percent. With a larger frame than previous models; the Shadow 2 9mm is known to fit the hand well. High marks also go to the double-action trigger, which is smooth and light with little to no reset. The 4.89-inch cold-hammer forged barrel, ambidextrous safety, fiber-optic front/HAJO rear sights and a 17-round magazine are features that competitive shooters will appreciate. And, reciprocating mass is centered on the bore to reduce muzzle flip. A hefty pistol at 46.5 ounces, the weight of the Shadow 2 helps to mitigate recoil. In spite of the pistol's girth and overall generous proportions, it remains very user-friendly and a great candidate for your holster. Overall, the Shadow 2 is a masterpiece.
EAA Tangfolio Stock 2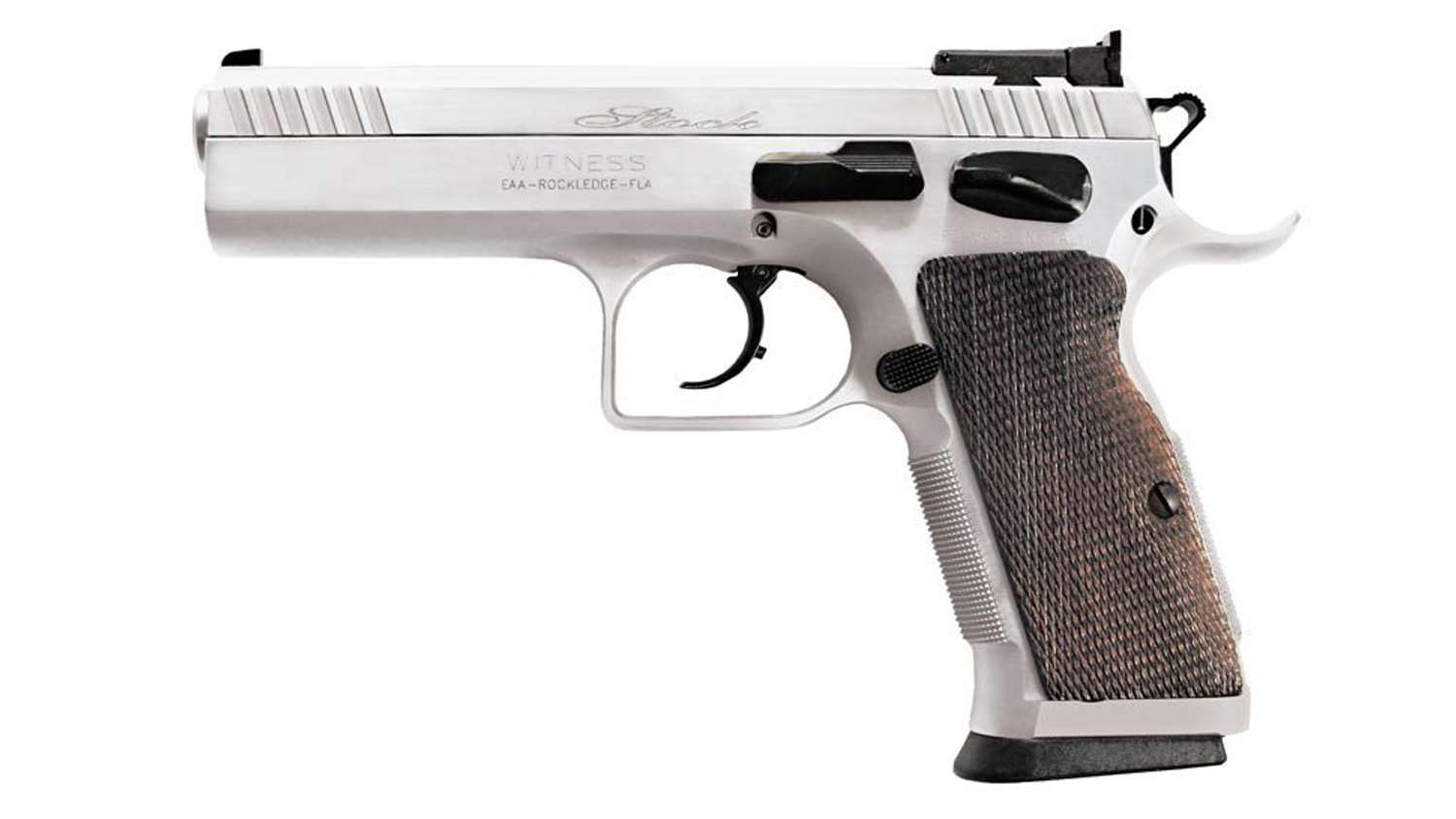 Favored by 14 percent of USPSA Production shooters at the 2019 Nationals, the Italian-made Tangfolio Witness Stock 2 ($1,326) imported by EAA is a top-tier gun that will not disappoint. For the price there are loads of match-grade features, including an extended ambidextrous safety, beavertail extension, a fat magazine release button and checkered walnut grips. A double-action/single-action pistol, the Stock 2 is available in 9mm, .40 S&W, .38 Super, 10mm and .45 ACP models. Common to all five of them are a 4.5 inch barrel with polygonal rifling, 8-inch overall length and weight of 43 ounces. The fully adjustable rear sight (SuperSight) and fiber-optic rear sight completes the package. Best of all, the Stock 2 ships with a tuned trigger job from the factory in Italy. Finally, like all the guns in the Tangfolio line, the Stock 2 is simply beautiful.
Tie: Glock G34 and Walther Q5 SF/Match
Capturing 12 percent each, the Glock G34 Walther Q5 SF and Q5 Match were tied for third. (It looks like Walther's Q5 Steel Frame and Match models were combined in the survey data.) This is no big surprise—these pistols represent an excellent value for competitive shooters that know what they want in a stock firearm for USPSA.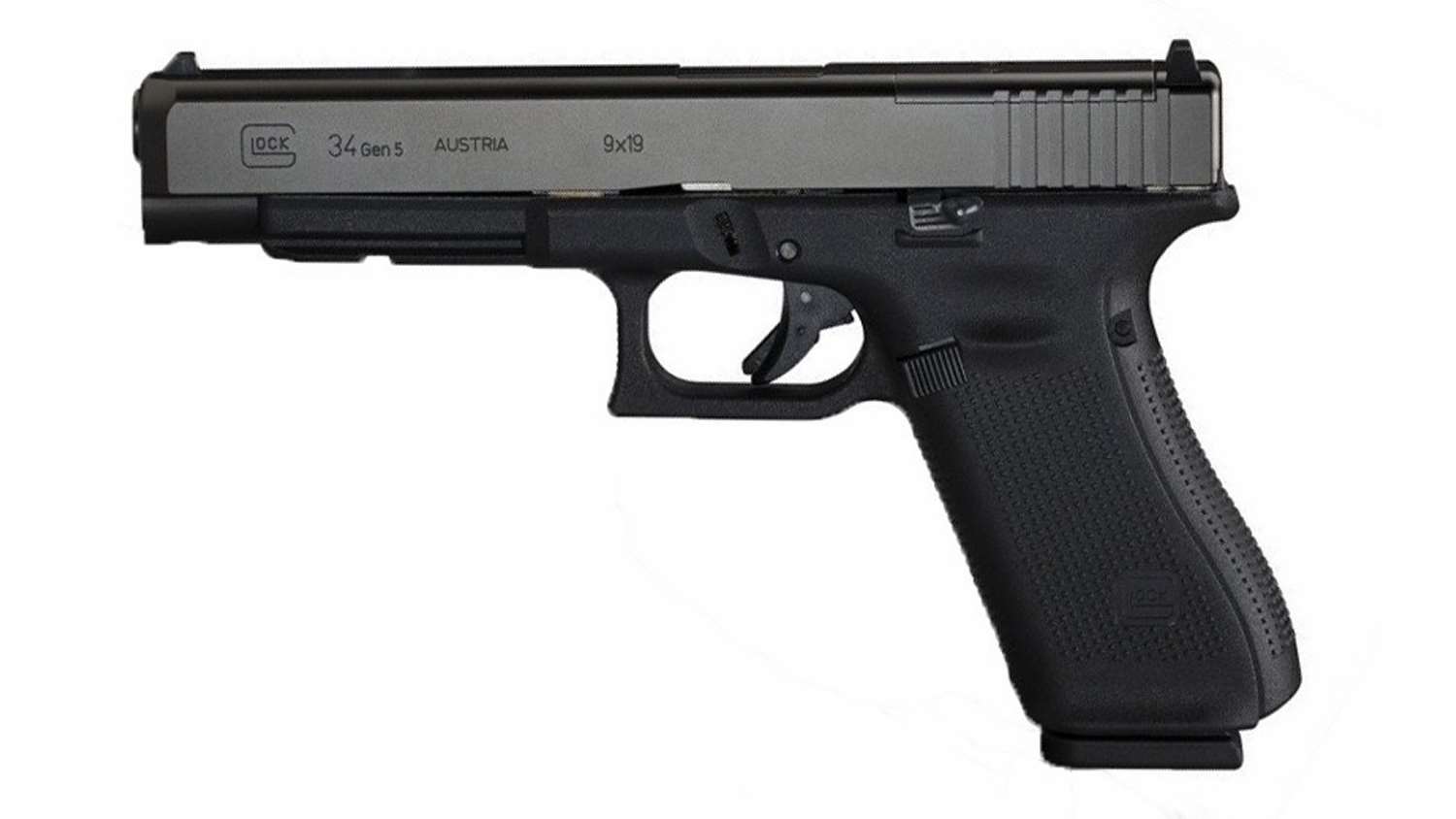 One of the most well-known and iconic pistol brands, the boxy Glock design has a cult following that gives the G34 ($719) a much different look than most of the pistols on this list. While the G17 model is the OG of striker-fired designs, the G34 has improvements such as an adjustable rear sight, a Glock marksman barrel and ambidextrous slide stop levers (Gen5). For these reasons, the G34 is perfect for not only USPSA, IPSC and GSSF competition, but it's also popular with SWAT teams across the country. The weight sans magazine is 23.1 ounces, and fully loaded the G34 comes in at 33.33 ounces. Overall length is 8.82 inches, and the standard 9mm magazine holds 17 rounds. Options to increase capacity included extended base pads, as well as larger magazines available from Glock ranging from 19 to a whopping 33 rounds. (Be sure to read the latest rules before buying high-capacity mags, as they may not be legal for the game you're playing.)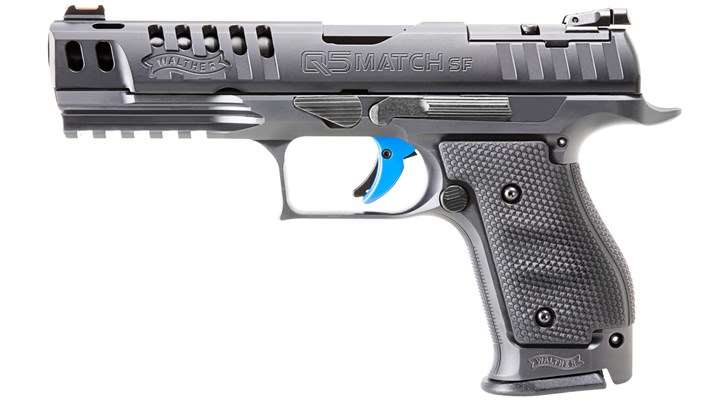 When Walther's Q5 Match first hit the scene, it resonated with action shooters. And with good reason, its unique design is a testament to the engineering skills of the folks at Walther. The Q5 Match ($799) is considered by many to be a flawless gun, which makes it all the more incredible that Walther took this pistol and upped the ante by changing the frame material from polymer to steel. About a year later, the Q5 Steel Frame ($1,479) joined the lineup and really turned heads with its bold steel styling and high performance straight out of the box. The Q5 SF has the same trigger used in Walther's polymer PPQ line, plus this well-balanced pistol has a removable magwell, which keeps it legal in USPSA Production rules. Jake Martens summed it up best in his review of the Q5 SF—"Walther has taken everything that is great with the PPQ pistol, the ergonomics and the amazing trigger, and built it into a steel frame competition gun." 
CZ-USA Shadow SP01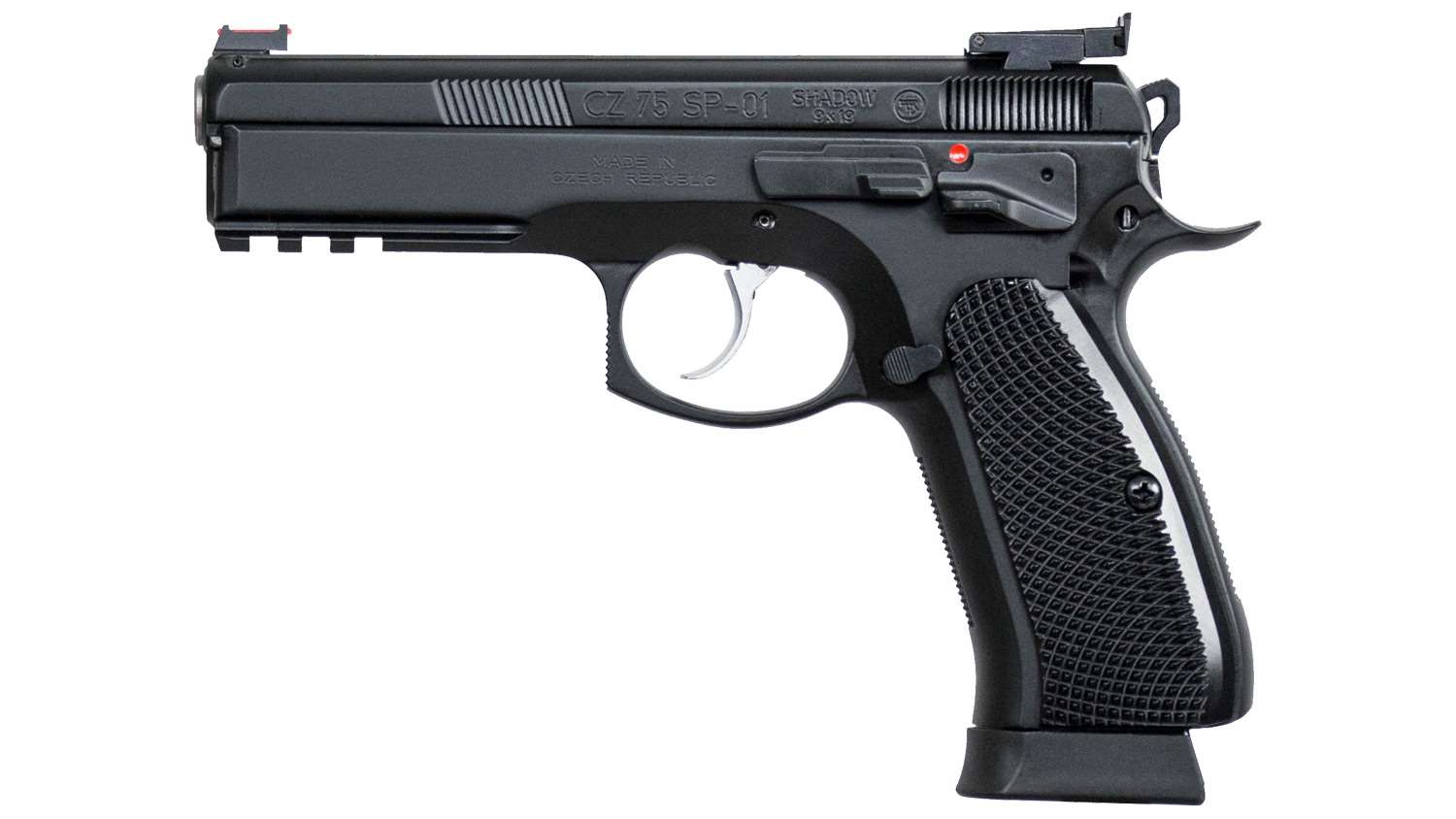 You have to give the Czechs credit—CZ is one of only three companies with multiple entries on this list. Over half of USPSA Production shooters at Nationals were shooting either the top-ranked Shadow 2 shown at the top of this article; or the Shadow SP01 ($1,687 as shown), which remains quite popular with an 11 percent share. The SP01 is a 9mm handgun with a 4.6-inch cold hammer-forged barrel, ambidextrous safety, as well as a safety stop on the hammer. The double-stack magazine has a capacity of 18 rounds, and competitors will be familiar with sights—the SP01 has an adjustable one in the rear and fiber optic in the front. At 41.1 ounces, the SP01 is among the heaviest models featured in this list. The model shown here also includes a few extra competition-specific features: a stainless steel guide rod, lighter springs for competition, extended magazine release, drop-free magazines and checkered aluminum grips.
SIG Sauer P320 X5/Legion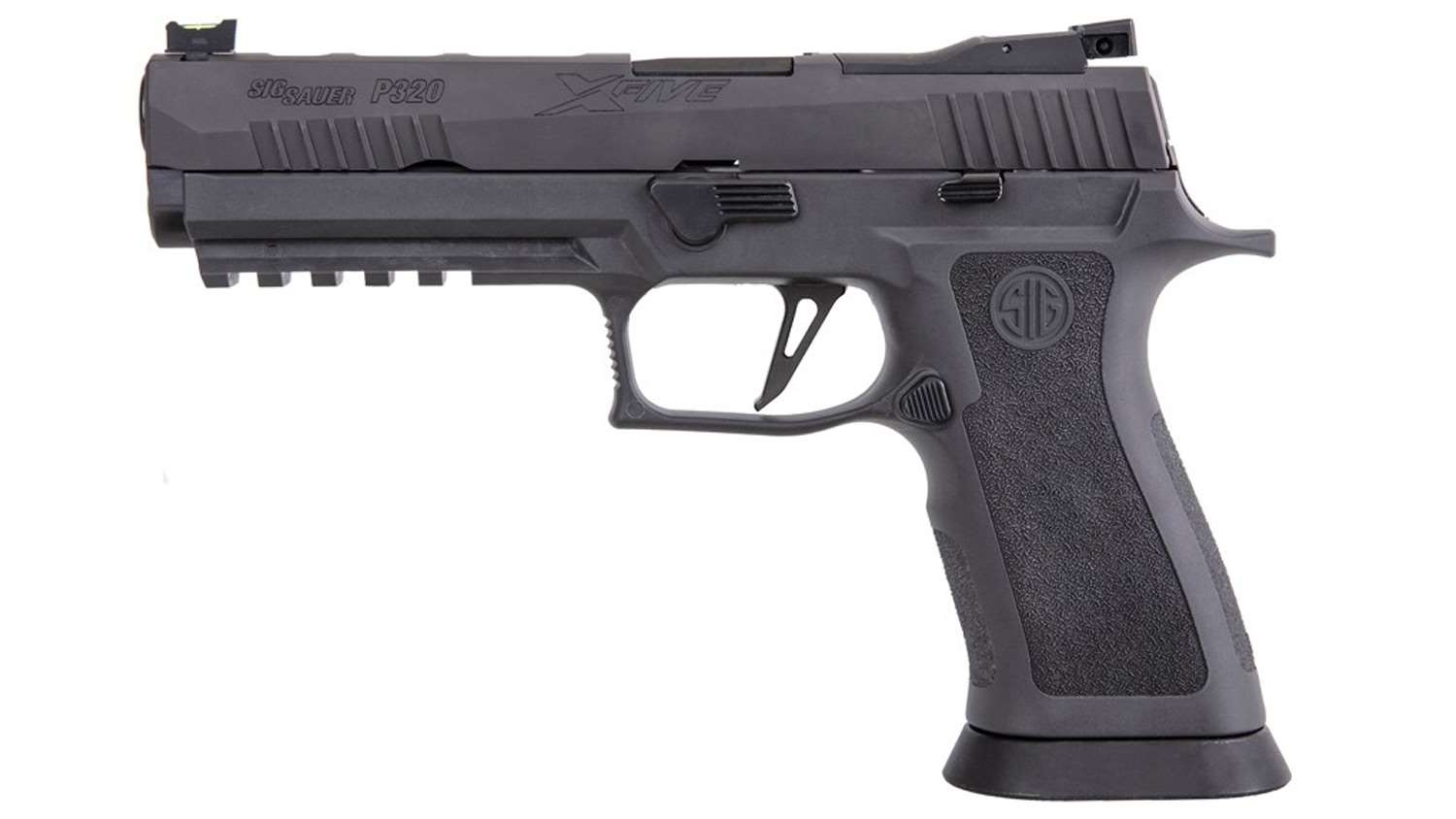 Two of SIG's premier production guns are the P320 X5 ($730) and the uprated X5 Legion ($900). Both models were chosen by 9 percent of shooters at the 2019 USPSA Production Nationals. The company has been on a roll as of late producing some great firearms (and optics), and these two are no exception. The Legion, introduced last year as the flagship model of SIG's P320 line has proven to be popular with action shooters, and we wouldn't be surprised to see it place higher on the list next year. (Read Jake Marten's review of the X5 Legion here.)
At 43.5 ounces (including magwell), the X5 Legion handles recoil well and has good balance thanks to a tungsten-infused grip module. This follows the current trend in competitive shooting-specific handguns increasing their weight. The recoil system is tunable with multiple springs included in the box. A 5-inch carbon steel bull barrel, ambidextrous slide and magazine releases, and Picatinny rail; in conjunction with the modularity of the P320 series, make the X5 Legion a top choice for Production action shooters.
---
See more: Our Top 5 Gun Reviews Of 2019