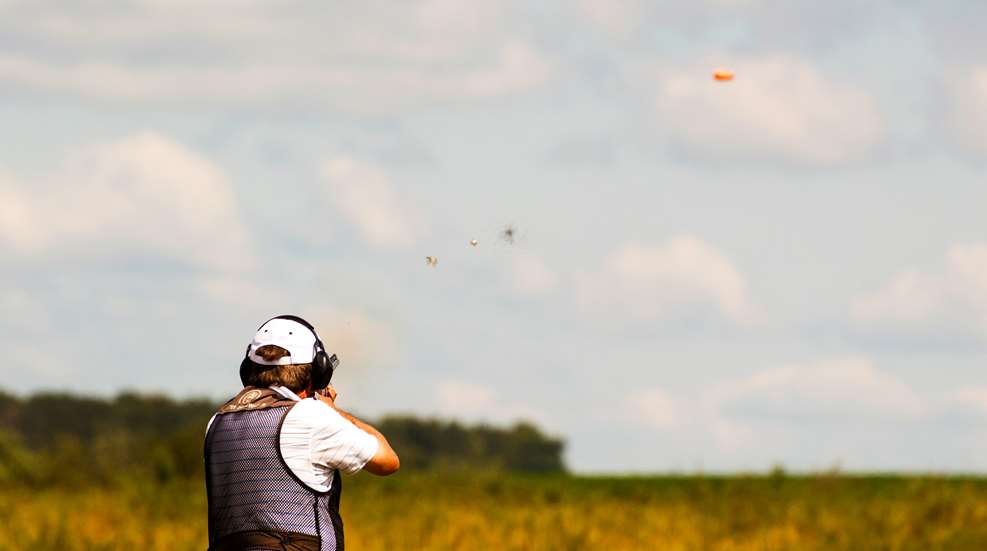 Trapshooting dates back to 18th century England. In the late 1700s, shooters shot at live pigeons released from cages called "traps." As the sport evolved in the U.S., it included a number of boxes set in a row that tipped or collapsed when a string or wire was pulled at the shooter's command. The shooter did not know which box the pigeon was coming from and had two shots to drop the bird within a fence surrounding the shooting area. Birds falling outside the fence were scored as a miss. To enhance competition, a "handicap" system was originated. Well-known expert shooters were required to stand farther back from the pigeon boxes than shooters of lesser skill.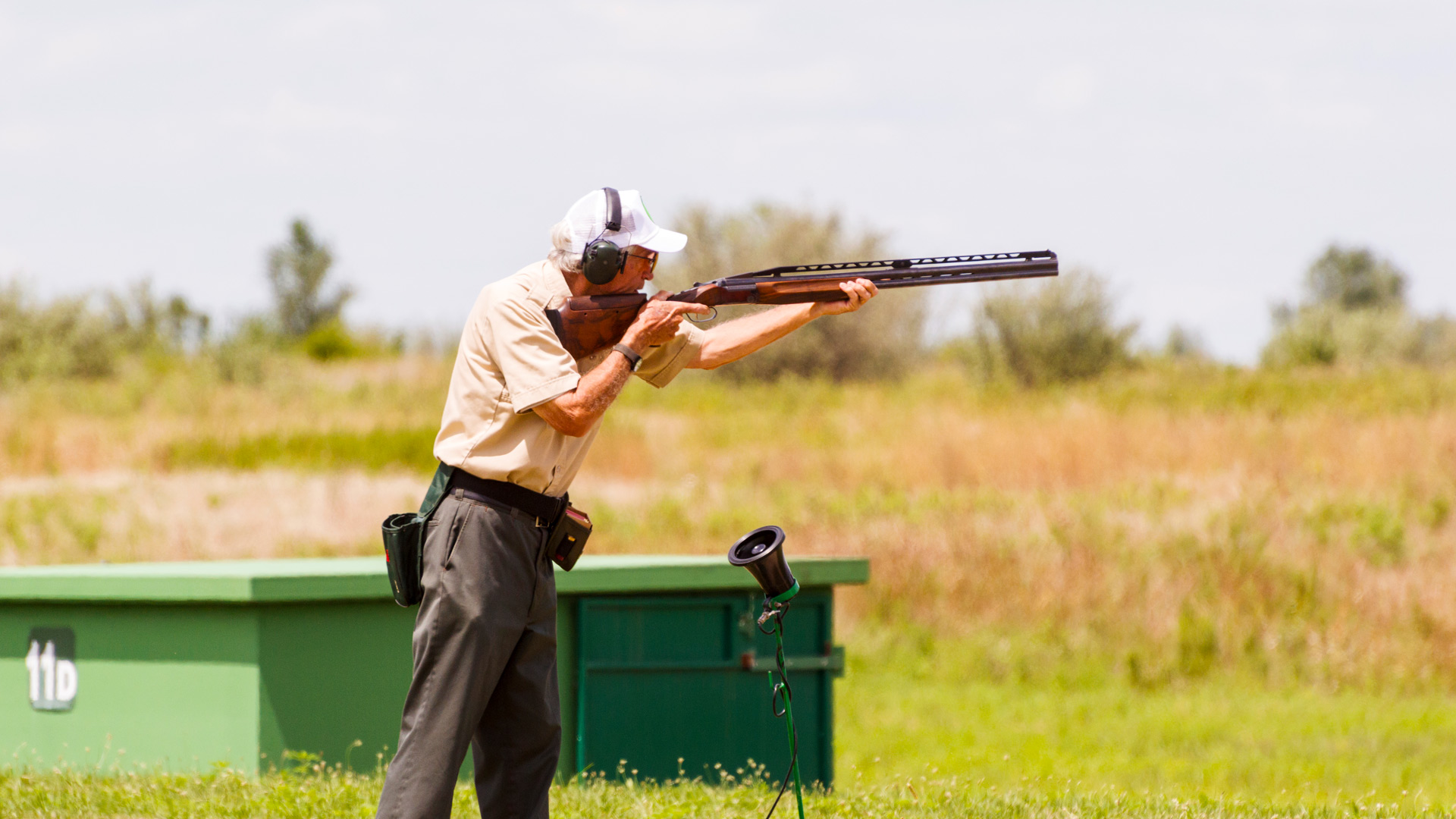 Modern trapshooting has retained many of these basic concepts. Today, an oscillating target-throwing machine rests in the traphouse, out of the shooter's view. Depending on its position at the moment of the shooter's call, it throws a clay target somewhere within a 22-degree arc. The shooter does not know the target's angle until it comes into view. The shooter only gets one shot and there is no fence.
Three basic trapshooting disciplines make up the program of a typical competition. In a Singles event, 100 to 200 targets are shot from 16 yards behind the traphouse. In a Handicap event, 100 targets are shot from 19 to 27 yards behind the traphouse. The distance each shooter stands is determined by that shooter's past competitive record registered with the Amateur Trapshooting Association (ATA). A Doubles event is shot from the 16-yard line at two targets thrown simultaneously. In both Singles and Doubles events, shooters compete in their own classes, from D up to AAA, based on their current competitive shooting percentages in each event as recorded with ATA.
The Grand American
The Grand American World Trap Championships have spanned over a century of competitive shotgunning. It has seen the greatest shooters from the 19th, 20th and 21st centuries compete. Annie Oakley, Buffalo Bill's "Little Miss Sure Shot," was a trapshooter. Her last public appearance in a shooting venue was at the Grand American in 1925. Annie, along with "Plinky" Topperwein, wife of exhibition shooter Ad Topperwein and an exhibition shooter herself, were major forces in the early years of trapshooting. Their examples brought many women into the sport. The Grand has drawn such celebrities as band leader John Philip Sousa and actors Roy Rogers and Robert Stack, who were all serious competitive shooters. Before various cities started sponsoring mass marathon jogging events, the Grand American was the largest participatory sporting event in the world.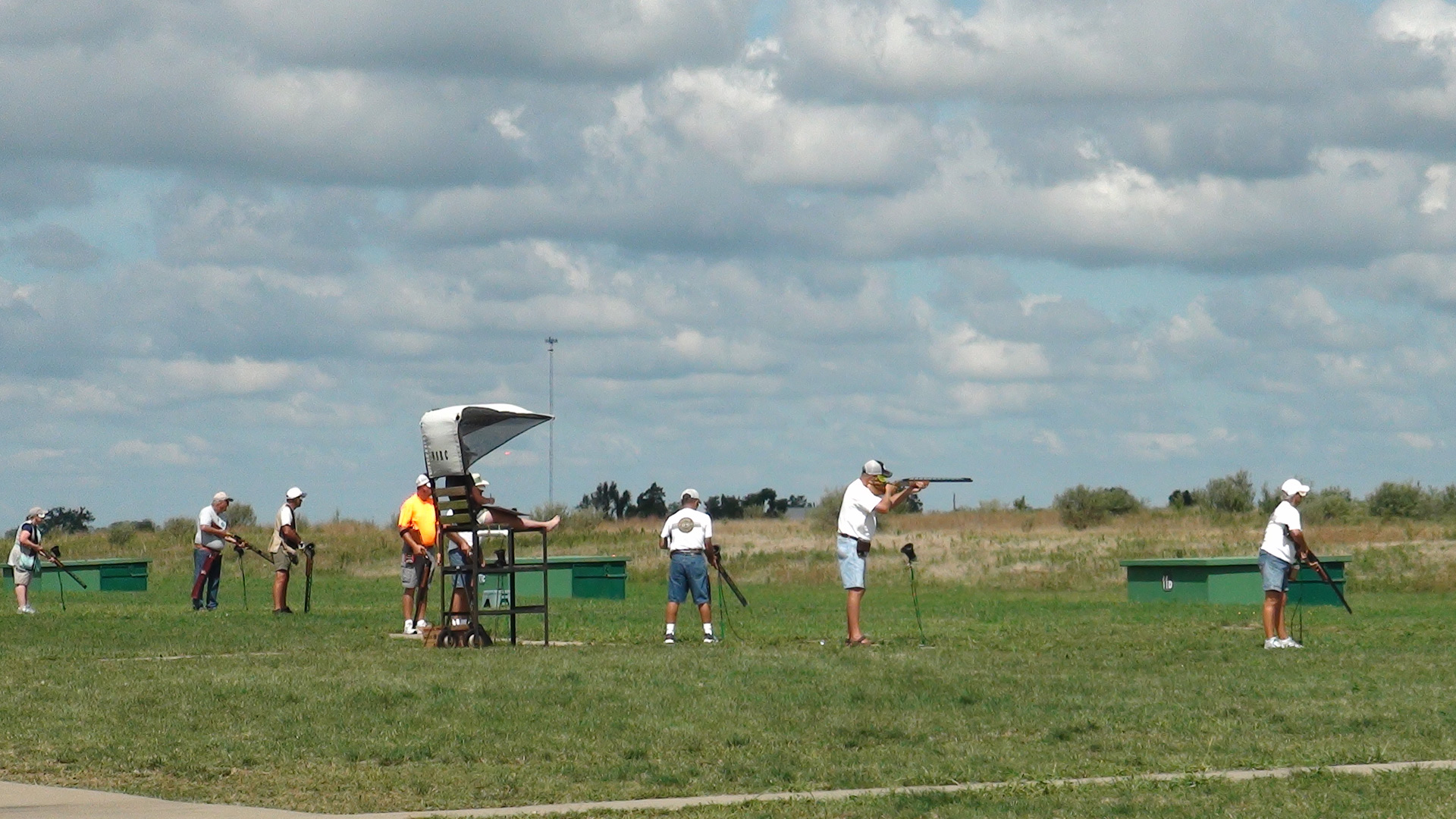 The first Grand American was held in 1900 in Queens, N.Y., and hosted 72 shooters. It was one of the first major tournaments to feature the relatively new clay targets, rather than live pigeons. It was won by the famous shooter Rolla "Pop" Heikes, who broke 91 out of 100 targets from the 22-yard handicap line.
Things have certainly changed over the years, and the Grand American has grown. In 1924, a 100-trap field in Vandalia, Ohio, became the Grand's home, where the tournament would remain for many decades. In 2006, the Grand American moved to its new home at the World Shooting and Recreational Complex in Sparta, Ill. A state-of-the-art facility, the World Shooting and Recreational Complex includes 120 trap fields that extend for 3.5 miles, which according to the ATA makes it "the worlds largest trap line."
Trapshooting Hardware
Since only one shot is allowed (except at Doubles), single-shot guns were and are common. The Grand American has seen the best in single-barreled, single-purpose competition shotguns. The Ithaca single trap guns, introduced in 1914 and improved into the famous "Knickerbocker" in 1922 were among the most popular. By 1935, six shooters had won the Grand American Handicap using Ithaca guns. Ithaca named its highest grade the Sousa Model, in honor of band leader John Phillip Sousa who was also an ardent trapshooter. (In 1985, Sousa was inducted into the ATA Trapshooting Hall of Fame.)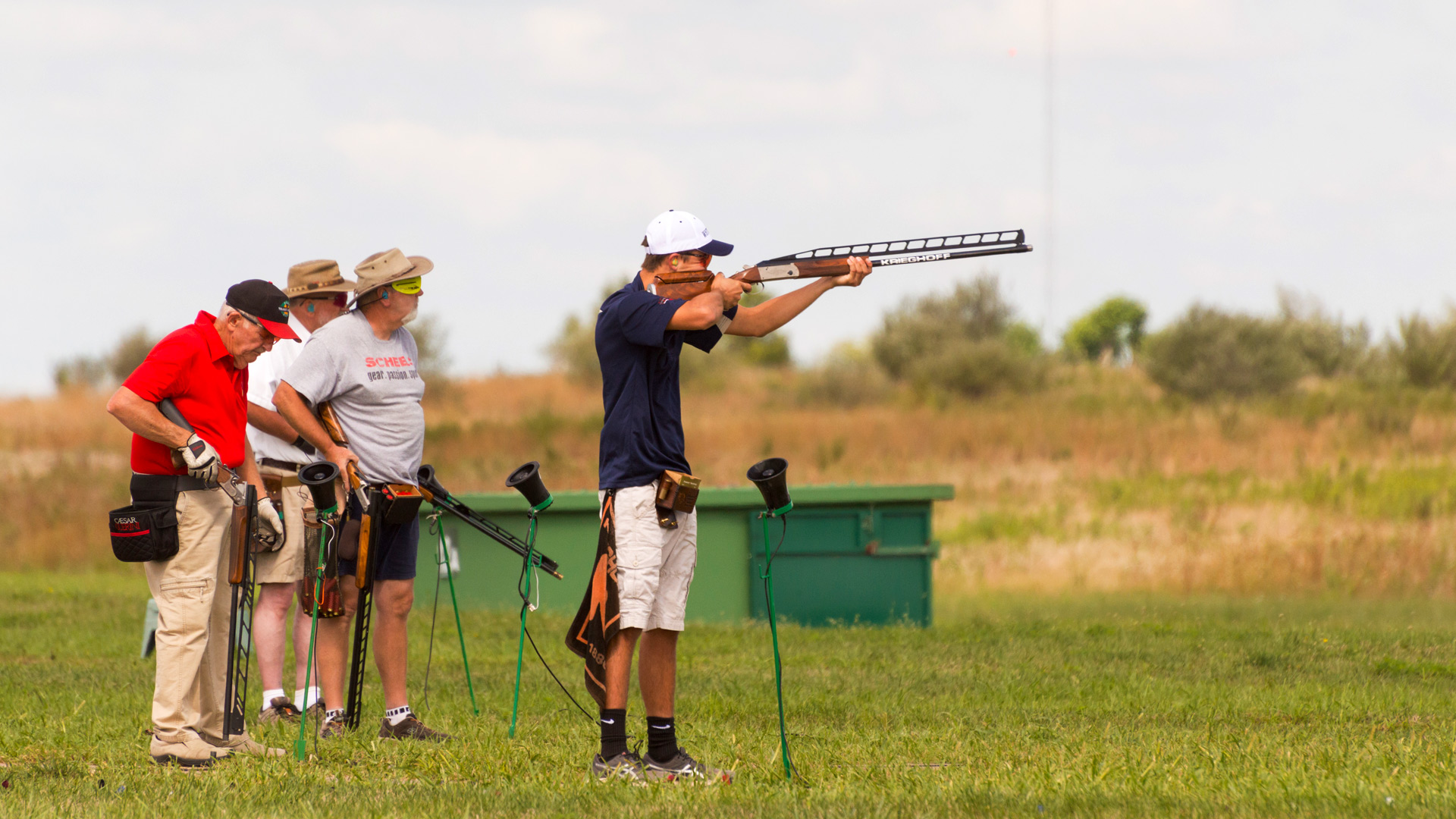 Today, trap models are available from most shotgun manufacturers. Trap guns are among the most refined and specialized of all shotguns. Virtually all trap guns are 12-gauge because there are no events for other gauges as in skeet. Most have long barrels choked improved-modified or full. Stocks have longer lengths of pull, less drop and higher combs than field stocks, causing the guns to shoot 8 to 12 inches high at 16 yards. This allows targets to be "floated" above the rib instead of being obscured by the barrel at some angles. Fully adjustable stocks have become common as shooters seek every possible bit of competitive edge.
Single-shot guns are still common for Singles and Handicap events. Some look rather odd compared to conventional field guns. Many are built on over/under frames with only a lower barrel and a big space up to a high rib. This "super-ventilated" rib provides excellent heat dissipation—a major issue in trap.
Recoil is another big concern for shooters who typically fire 200 to 300 12-gauge shotgun cartridges a day. Gas-operated auto-loaders are popular, because by diverting gas to operate the action they decrease perceived recoil. Light target loads are also popular, as are various recoil-reducers, including hydraulic "shock absorber" devices in the stock.
For more information on competitive trapshooting, visit the ATA website.
---
Read more:
6 Things You Didn't Know About Sporting Clays