Some people dream of great accomplishments, while others get the chance to realize their dreams. University of Akron senior Jeanne Haverhill is taking the next step towards her dream after accepting an offer to move to the Olympic Training Center in Colorado Springs, Colorado, to be a resident athlete and a member of the USA National Rifle Team.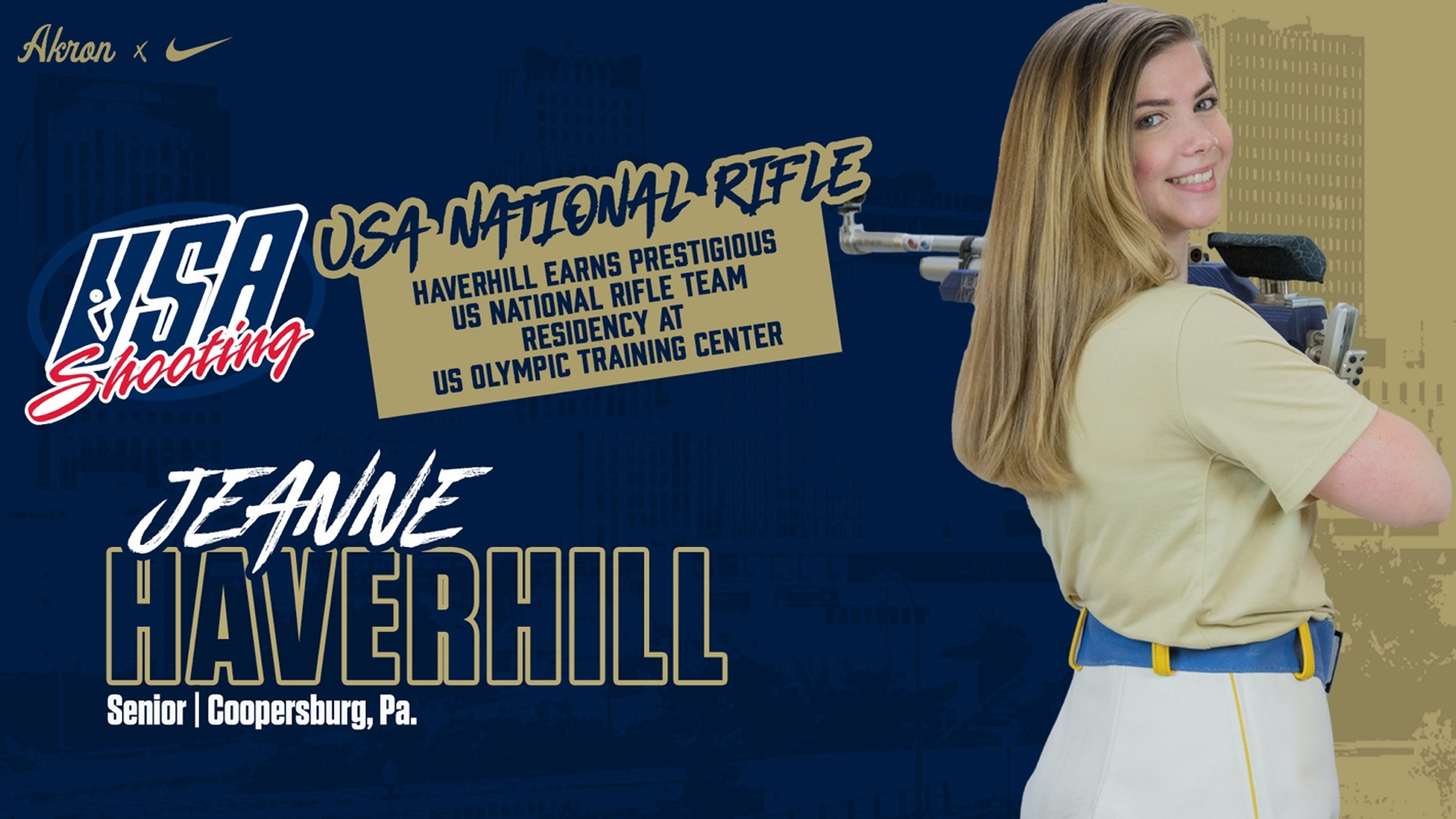 "I get asked all the time what it takes to be a member of the Akron rifle team," Akron Head Coach Newt Engle explains. "My answer always states scores are important, but most important is the commitment to success and the actions of the whole athlete. My staff and I can teach a person to shoot, but we can't teach them to want it!"
Over the past four years, Haverhill has demonstrated she can get the scores and has proven she wants it. Now at the conclusion of her senior year, and after her graduation from the University of Akron in May, Haverhill will make the move to the OTC. There, she will proudly train and represent the U.S. at international competitions with her sights set on the Olympic Games in Paris in 2024. If her track record at Akron is any indication, Haverhill will be a force to be reckoned with.
The USA National Rifle Coach has the daunting task of filtering all the prospects in the U.S. and selecting the best choice to be on Team USA. In this role, Coach Peter Durben kept his eye on Akron's Haverhill while consulting with Coach Engle. As the season progressed and Durben started learning more about the skill sets that Haverhill can bring to the table, his decision to make the offer of resident athlete became clear.
Says Durben: "I sought out Jeanne to join the USA Olympic Training Center Resident Athlete Program because of her strong character and potential to become a world-class athlete. She will make a great addition to the team and help make this program the best system in the world to develop elite athletes. The support of her team and the University of Akron is reflected in her dedication and commitment to excellence. I am excited to build on this and help her continued path to greatness."
With the end of the 2021-22 collegiate rifle season looming, Haverhill will attempt to keep her focus on the remaining matches. The next test Haverhill and the Zips will be Saturday, February 12 at 9:00 a.m. when Akron hosts the North Carolina State rifle team.
Learn more about Akron Rifle and USA Shooting.
Special thanks to Akron Head Coach Newt Engle for sharing this article with Shooting Sports USA.