The season home opener for the University of Akron rifle team took place in Akron, Ohio, on Saturday, October 28. The No. 12-ranked Akron Zips rifle team faced off against No. 11 Memphis. As the match progressed throughout the morning, Akron kept inching ahead of the Tigers. By the end of the match, Akron's score of 4695 had bested Memphis and its 4675 effort.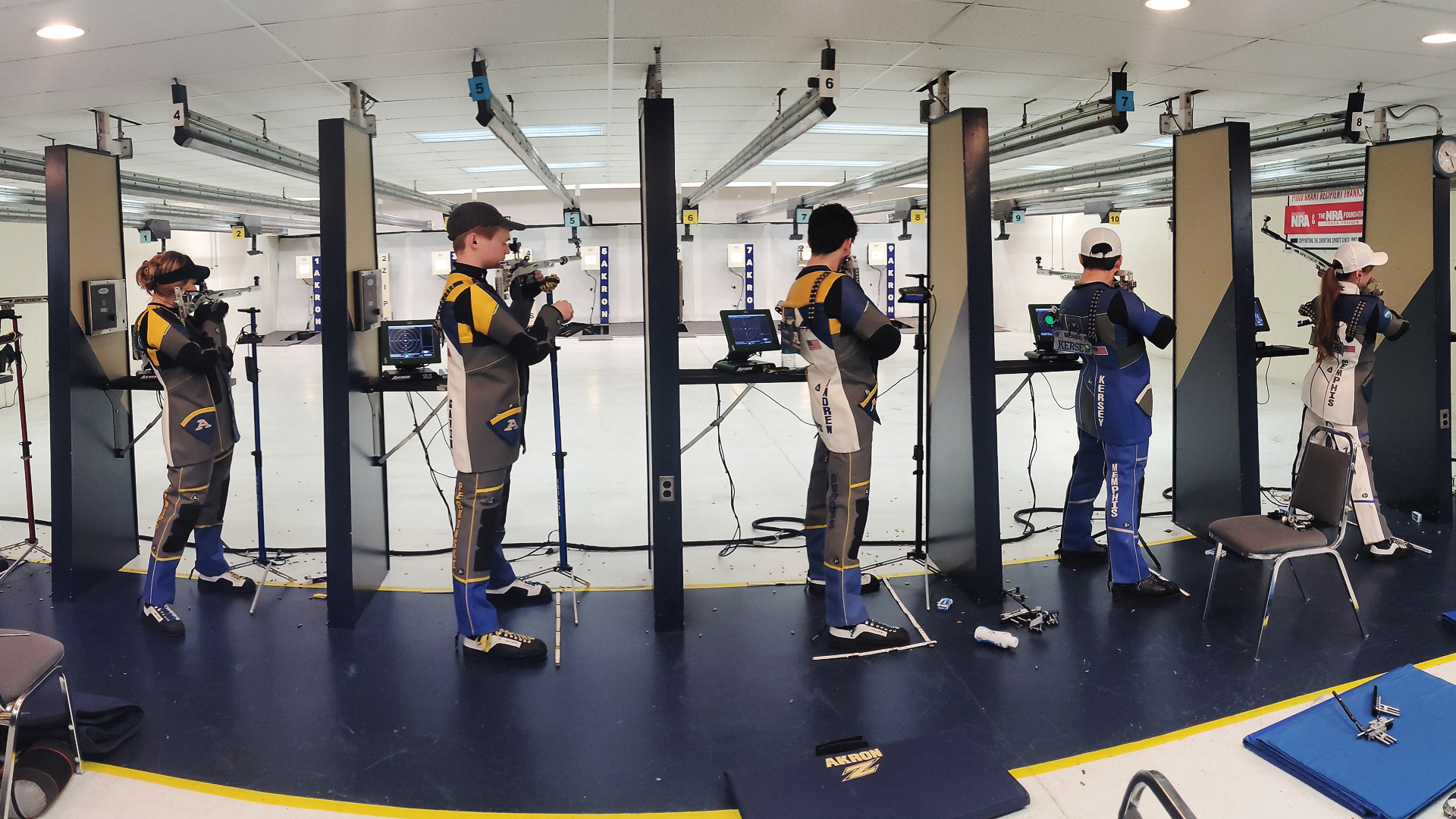 Starting out with smallbore, Akron battled hard and managed to keep a slim 11-point lead over Memphis. Memphis Tigers' sophomore Gabriella Zych took first place in smallbore with a score of 586. Junior Lex Kirk was the top gun for Akron finishing in second place with a score of 582. In addition, Akron seniors Gavin Perkowski and Erin Schnupp finished third and fourth, respectively, with like 580s. Despite Akron's outdistancing of the opposing team, the team walked off the line knowing this was not one of its stellar performances. Every member of the Akron Zips rifle team is keenly aware of the fact this performance did not demonstrate the best of their abilities. This will help the team focus on training this coming week in preparation for the next competition.
However, the air rifle range belonged to Akron in the match against Memphis. Again, Kirk led the way with 596 out of the possible 600. This score was one point shy of the school record. Six other Akron team members finished in the 590s. When it was all said and done, the team total of 2379 toppled the previous school record of 2377 that was set last season against Ole Miss. As the Akron rifle team coach, I am beside myself with pride over what this team accomplished on the air range at this match. They have been working hard to improve their skills and clearly it is paying off. The exciting part is the fact they all know there is more to come.

The top individual shooter at the match was Gabriela Zych from the Memphis rifle team, who posted an aggregate score of 1182 (air rifle 596, smallbore 586). Taking second place in the individual aggregate was Akron's Lex Kirk with 1178 (air rifle 596, smallbore 582).
You can view the full match scorecard at the NCAA website.
This week, Akron will travel to the University of Kentucky to compete in a rare double-header. On Friday, November 3, Akron will go head-to-head with the Kentucky Wildcats. Then on Saturday, November 4, Akron will face the Ole Miss rifle team on the Kentucky range. Both matches will start each day at 9:00 a.m. and will be live at this link.