by
posted on January 23, 2023
Support NRA Shooting Sports USA
DONATE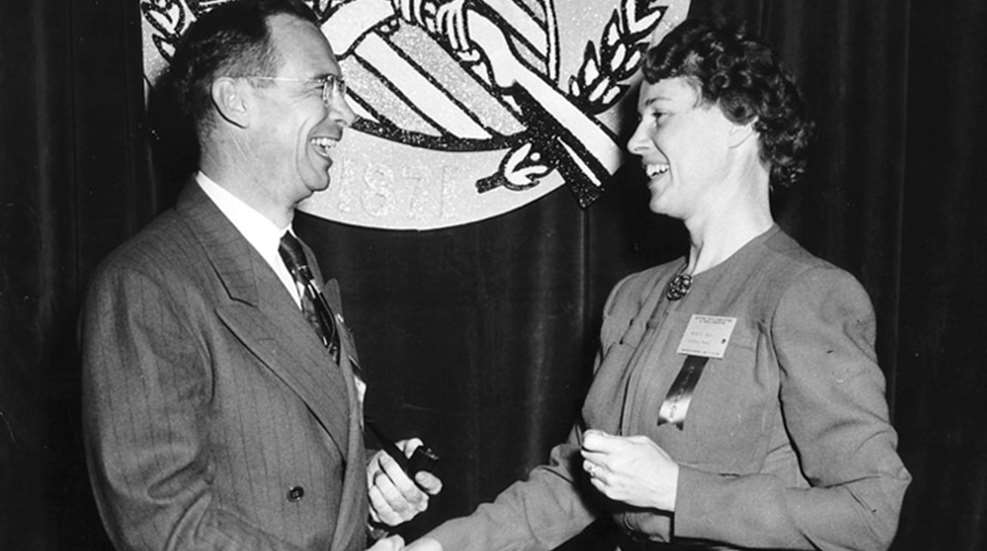 Starting during her collegiate career at the University of Washington and for the rest of her life, four-time National Women's High Power Rifle Champion Alice Bull was closely associated with rifle shooting.
At the National Matches, Alice Bull took second place in the 1935 Members' Match and would go on (1936) to become the first woman to win a President's Hundred Tab (she placed 19th), the first woman to earn a Distinguished Rifle Badge (1961), the first woman to serve on the National Board for the Promotion of Rifle Practice (precursor organization to today's CMP) and, perhaps most important of all—the first woman elected to the National Rifle Association's Board of Directors.
For all her life, from college until she passed away in 1998, Bull (shown in the photo at the top of this article with NRA Executive Director C.B. Lister upon her 1949 election to NRA's Board) was closely and successfully associated with rifle shooting. In the 1920s, she coached and shot on a national champion collegiate rifle team. In 1959, she was the first woman to earn a leg toward the Distinguished Rifle badge. Bull served on the Army's National Board for the Promotion of Rifle Practice and on the NRA's Executive Council.
A national rifle marksmanship trophy is awarded in her honor. Today, the Civilian Marksmanship Program commemorates her achievements by awarding the Alice Bull Trophy to the civilian having the highest aggregate score in the President's Match and the National Trophy Individual Rifle Match. At the time of this writing, she is the only woman ever elected to Honorary Life Membership in the National Rifle Association of America.