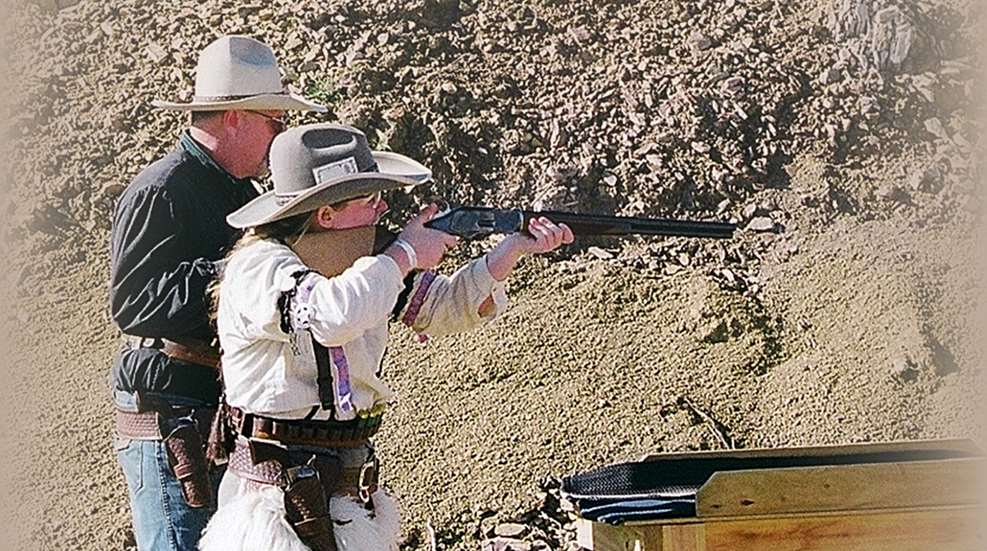 Above: Armed with one of the few modern pieces of equipment on the firing line, "Cody Conagher" runs the timer while cowboy shooter "Half Pint" slings lead downrange at the Peacemaker National Training Center in West Virginia. Photo by Zane J. Daily.
For family fun or just something new, two top shooting sports are Cowboy Action and NRA's
Cowboy Lever Action
and Smallbore
Silhouette
. The latter is run like any other NRA match, while the former involves as much socializing as it does shooting.
NRA Cowboy Silhouette
For many NRA shooters, "Lever Action" is associated with the the word "Silhouette" since this sport is something that NRA members have been enjoying for decades. According to former NRA Silhouette Program National Manager, Greg Connor, "This is a sport for people wanting something to do without spending a lot of money. Millions of lever-action and .22 cal. rifles can be found in U.S. homes. The type of ammunition needed is readily available and is easy to shoot. All you need is eye and hearing protection and you're ready to get started."
"The unsupported course-of-fire was developed for ranges that were already in existence. We have three disciplines, subdivided into five
classifications
with five special awards. That makes cowboy lever action and smallbore fun and competitive for the whole family, regardless of age, experience or skill. We call it
'
organized plinking.'
"

Rifle and pistol shooters were happy to share their stories about how they became interested in this sport. Darlene Ward (Norfolk, VA) told us, "Not only is shooting fun, I met my husband while silhouette shooting. 'Cleaning the rails' (knocking a bank of silhouette targets off their stands) is something we really enjoy doing together. If you hit all your pigs, then you say, 'It's a bad day to be a pig.'"

Diane Stairs (Beavers Dam, VA) explained that her interest in silhouette shooting began when her son's Boy Scout troop helped set targets for a match and attendees convinced her to give it a try, "It is challenging, but there is instant gratification in seeing the animal targets fall to the ground." She started shooting with her son and, in less than a year, she has achieved winning results.

While safety and marksmanship fundamentals are shared with other competitive shooting disciplines, silhouette shooting is also an excellent preparation for hunting, due to the firing position, targets and distances used. NRA member Bruce Mooneyham (Raphine, VA), participates in other shooting events with his daughter until just before deer season. He explains, "When hunting season approaches, I start shooting silhouette. Silhouette shooting is good practice."

The sport of silhouette was created "South of the Border." Therefore, the targets (from smallest to largest) are the gallina (chicken), javelina (pig), guajalote (turkey) and borrego (ram). The steel chicken silhouettes are placed closest to the shooter, then the slightly larger pigs, followed by turkeys and then rams, placed farthest away. The distances for silhouette ranges are as follows:




For more information on the course-of-fire, you can find the NRA rulebook for Silhouette shooting online at: competitions.nra.org/documents/pdf/compete/RuleBooks/Sil-r/sil-r-book.pdf. For more information about NRA Cowboy Lever Action matches, send an email to: [email protected] or call 703-267-1480.

Cowboy Action Shooting

Shooting in the style of the Old West has developed into a sport with more than 95,000 members of S.A.S.S. (the Single Action Shooting Society). Whether or not you are interested in a 3-gun match from the old west or meeting like-minded people, you can relive your childhood playing "Cowboys and Indians" in this sport, and include the entire family. Cowboy Action Shooting helps 21st century people relate to the American west in the 1800s, since actual events from history may dictate the course-of-fire.

Shay Fletcher (Middlebrook, VA) told us, "I got into this style of shooting because just watching wasn't so interesting after a while. I don't ever practice, and I really don't worry too much about how I do in the competition. What I really enjoy are the people and the diversity amongst the shooters. I really look forward to seeing everyone at the matches and catching up. The sport, over all, has given me confidence around firearms and how to handle them safely, and have fun!"

Equipment and other things you'll need

While a great deal of equipment and gear can be acquired by serious cowboy action shooters, you will need four things to fully immerse yourself in this sport: Guns and leather, an alias (shooting persona), a costume and "spirit of the game."

Guns and Leather. As the name implies, Cowboy Action shooting uses guns in which the Cowboy or Cowgirl are part of the action, either by working the rifle's lever-action or by cocking the single-action revolver. Cowboy Action includes three firearms: A rifle, either lever action in pistol caliber or a pump (Lightning); a shotgun, either side-by-side (hammered or hammerless), pump action 1897, or lever action 1887; and two single-action "six-shooters." Replicas are accepted and are usually much more affordable. You will need a leather gun belt, two safe leather holsters and a shotgun belt or bandoleer.

Much like modern action pistol matches, smokeless cartridge Cowboy Action matches enforce a power factor of not less than 60 (bullet weight x velocity / 1,000) with a velocity from 400 fps to no more than 1000 fps for revolvers and a 1400 fps limit for rifles. (Pocket pistols, derringers, and long-range rifles are exempt from the power factor and velocity requirements.) Specific requirements are listed in the S.A.S.S. rulebook: www.sassnet.com/Downloads/SHB%20Version%2021.8.pdf

Alias Smith or Jones? Members of S.A.S.S. register their "alias" as their membership username. A family may choose to be a "gang" with some part of their name in common, while others pick an ancestor, name that relates to their profession, favorite firearm, notable trait (Slow Joe), something funny (Sal Monilla), or a movie character.

Costumes. Whether you don late 19th-century-style clothing or a B-Western-type costume, what you wear depends as much on your budget as your character. It is possible to outfit yourself very affordably by checking the back of your closet. Details are important. For example, even though the zipper was patented in 1893, "period" clothing doesn't allow zippers or snaps. Hook-and-loop-type fasteners, wrist watches and sneakers are not allowed.

Spirit of the game. As an adjunct to good sportsmanship, and second only to firearms safety, "the spirit of the game" means you do not look for ways to create an advantage out of what is or is not stated in the rules. There is also a helpfulness mindset. Everyone helps reset targets and police brass.

Targets and scoring

A typical S.A.S.S. single stage will include 10 rifle shots, 10 pistol shots and four from a shotgun—or a "10-10-4." Depending on the host club, the configuration of targets and the order in which you shoot them may depict an actual historical event, a scene from a Western movie, or feature a target array using newly-acquired equipment. Modern timers are used in S.A.S.S. and matches are scored based on time-elapsed shooting, with penalty points and/or procedural penalty points added for missed targets and targets shot out of sequence. For more information about S.A.S.S., go to: www.sassnet.com.

Match comparison

Let's compare the NRA's Lever Action Silhouette match to S.A.S.S.-style Cowboy Action shooting: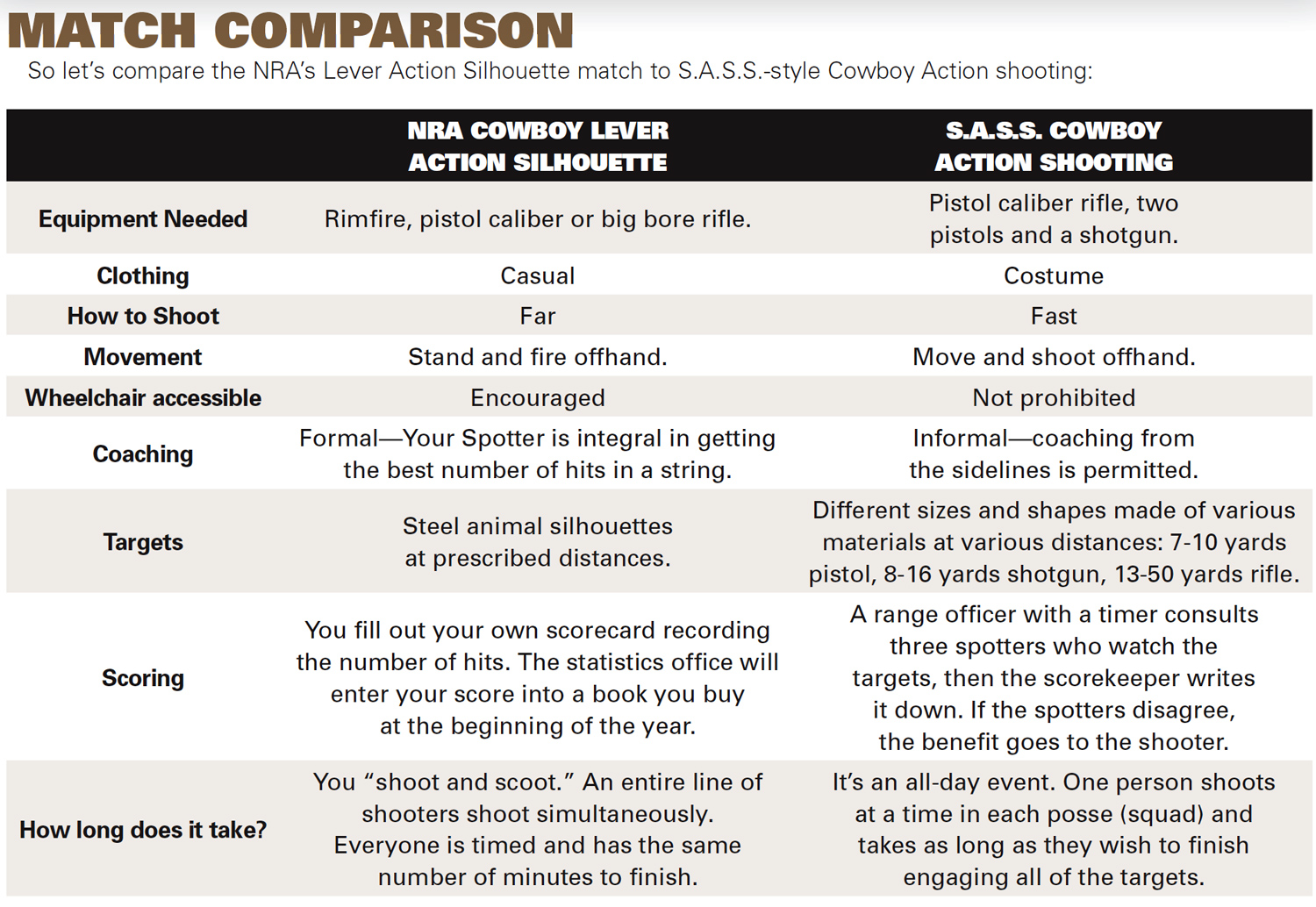 Now, go find your nearest enclave of NRA Cowboy Lever Action Silhouette or Cowboy Action shooters and try it for yourself.