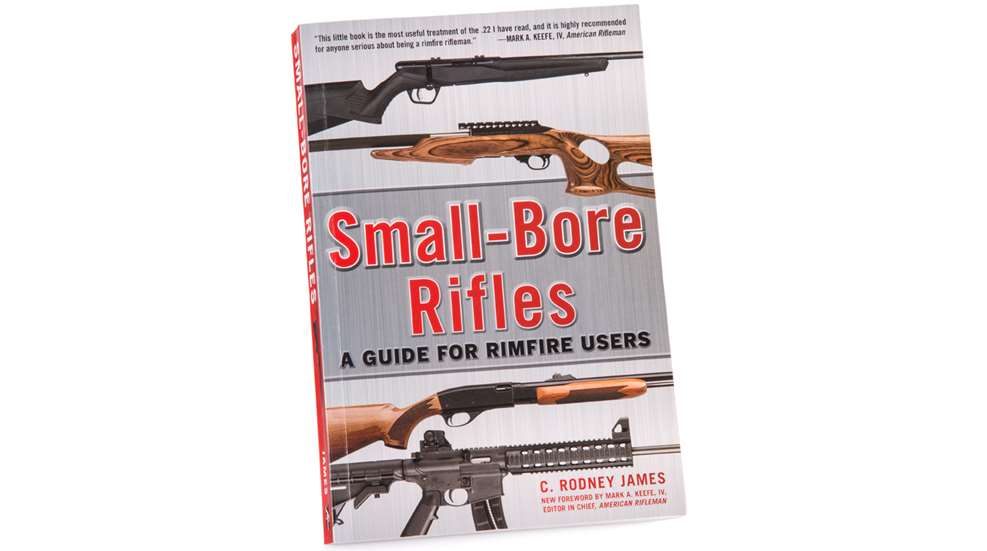 Small-Bore Rifles
A Guide for Rimfire Users
By C. Rodney James, Ph.D.
Skyhorse Publishing  $17.99
Whether you're an avid rimfire match shooter or just a dedicated plinker, there is now a comprehensive resource for all your smallbore shooting queries. Written by C. Rodney James, Ph.D., who boasts a wealth of experience as a firearms forensic expert and writer, Small-Bore Rifles A Guide for Rimfire Users (Second Edition), represents a wide-ranging look at near every aspect of rimfire shooting, from a detailed history of its calibers and platforms, to a discussion of proper maintenance and expected accuracy in the present day.

Laid out in chronological format, the Guide first dives into the rimfire's past iterations, from the all-but-forgotten BB Cap, to the ill-received .22 Long, to the venerable and storied .22 Long Rifle, to even once-discontinued calibers, such as the 5mm Remington Magnum. This treatise on calibers, as well as the following discussion of the platforms which fire(d) them, will be of interest to anyone who considers themselves a rimfire history buff. The sections' utilities don't end there, however. At the end of each, Dr. James gives a rundown on velocities, ammunition interchangeability between rifles, and guides readers through what to consider when shopping for new or used rimfires; invaluable information for any shooter or collector. This is followed by two entire chapters devoted to the technical intricacies of semi-auto and bolt-action competition rimfires, aimed at the mechanically-minded enthusiast.

From here, the book tacks more towards shooters, and a discussion of rimfires' practical applications. There's a chapter devoted to improving rimfire accuracy, which dismantles the concept of sorting cartridges by weight and rim thickness (though  the importance of measuring bullet diameter is upheld). Near the end, the author's attention is devoted to factors of hunting, such as range, lethality, and tactics for getting nearer one's oft-skittish target. Finally, the guide wraps with a discussion of the basics and highlights of modern competitive shooting, as well as a look towards what the future may hold for rimfire.

Informative as it is interesting, Small-Bore Rifles A Guide for Rimfire Users, is a one-stop-shop that certainly belongs on every rimfire rifle aficionado's bookshelf. As American Rifleman Editor-in-Chief, Mark Keefe, says in the forward to the Guide's second edition: "This little book is the most useful treatment of the .22 I have read, and it is highly recommended for anyone serious about being a rimfire rifleman." There can be little praise higher than that.

Small-Bore Rifles: A Guide for Rimfire Users is available now.