Support NRA Shooting Sports USA
DONATE
Most American shooters by now have noticed the influx of Turkish-made pistols, which are typically priced less than better-known brands of comparable quality. Buffalo Cartridge Company recently expanded to include importation of its own 9 mm Turk, the polymer frame BRG9 Elite, and first impressions are positive.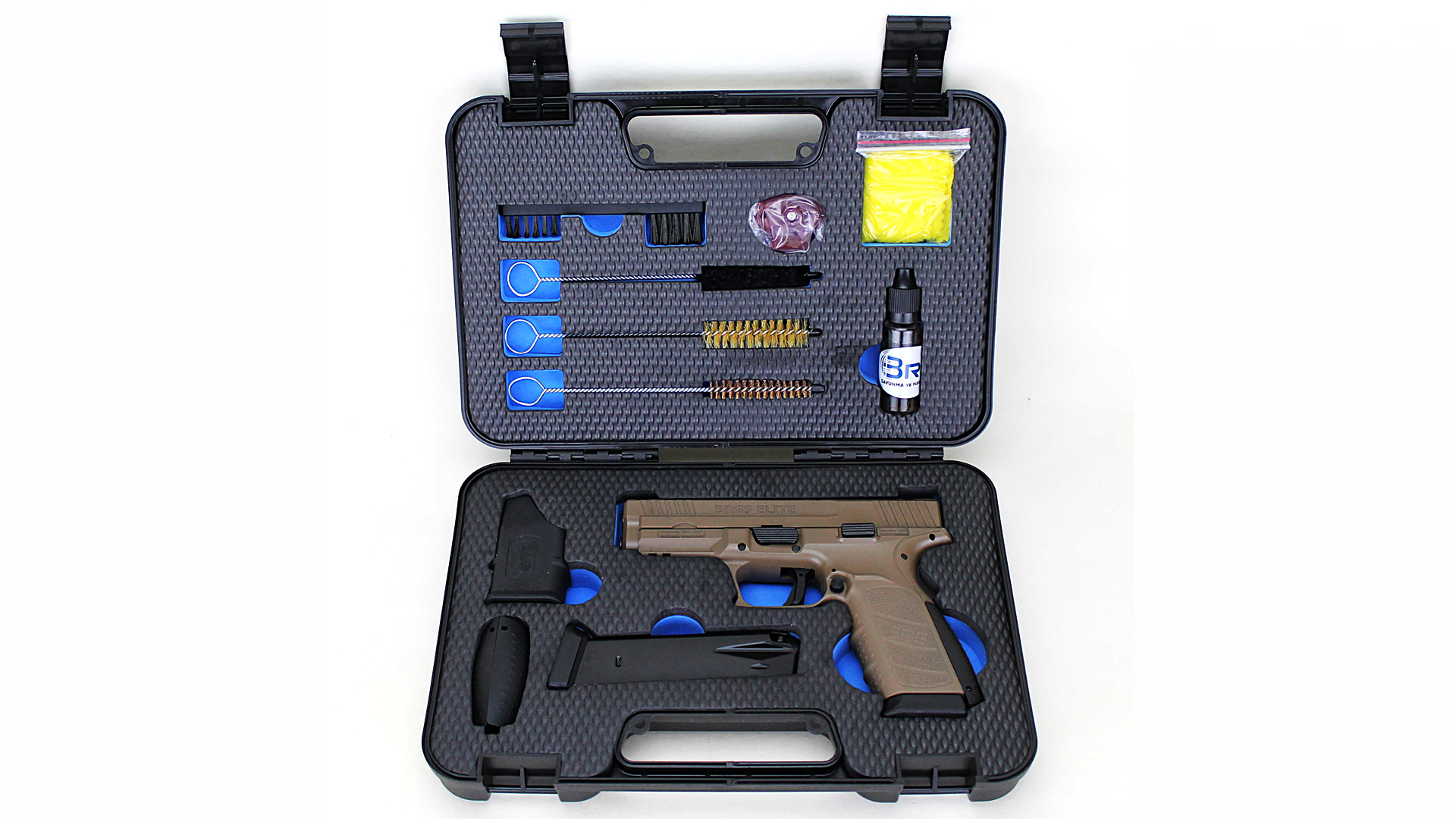 Packaging of the BRG9 Elite presents the first good impression. The plastic case interior is filled with a neoprene-like material cut out to form-fit the pistol and each of its accessories, which include two 16-round magazines, a mag loader, interchangeable large, medium and small backstraps and a variety of cleaning accoutrements.
Imported under the subsidiary company name, BRG-USA, the BRG9 Elite is a polymer frame 9 mm pistol of locked-breech design and overall intermediate-full size with a square-slide profile similar to Glocks, the Smith & Wesson M&P and other such pistols. While not revolutionary, the BRG9 Elite incorporates some of the better, practical features found—or that should be found—on pistols intended for both self-defense and recreational shooting.
Practical features
Many hammerless pistols offer no outward indication whether the firearm is cocked or loaded. A "striker status indicator," a separate extension behind the striker, protrudes from the back of the BRG9 Elite's slide plate when the striker is cocked, and a European-style loaded chamber indicator at the top of the slide raises when there is a round in the chamber. Both are tactile as well as visual.
Slide lock/release and takedown levers are both on the left side of the BRG9 Elite. There is no thumb safety; instead, the BRG9 Elite has redundant grip and trigger safeties. The magazine release is ambidextrous, and the magazine drops completely free of the pistol when the mag release is depressed. There is no magazine disconnect safety. The slide release lies flat against the frame, yet is easily manipulated without shifting grip on the pistol.
Matching serial numbers appear on frame, slide and barrel. Front and rear three-dot sights are dovetailed in and reinforced by set screws. The slide has no provision for mounting a reflex sight; what appear at first glance to be screws for an optics mount are actually roll pins securing the extractor and striker. The bottom of the dust cover incorporates two Picatinny-style slots for mounting a light, laser or Mantis X training device. Slide serrations at the slide front and rear are deep and sharp enough to be truly practical, rather than merely aesthetic.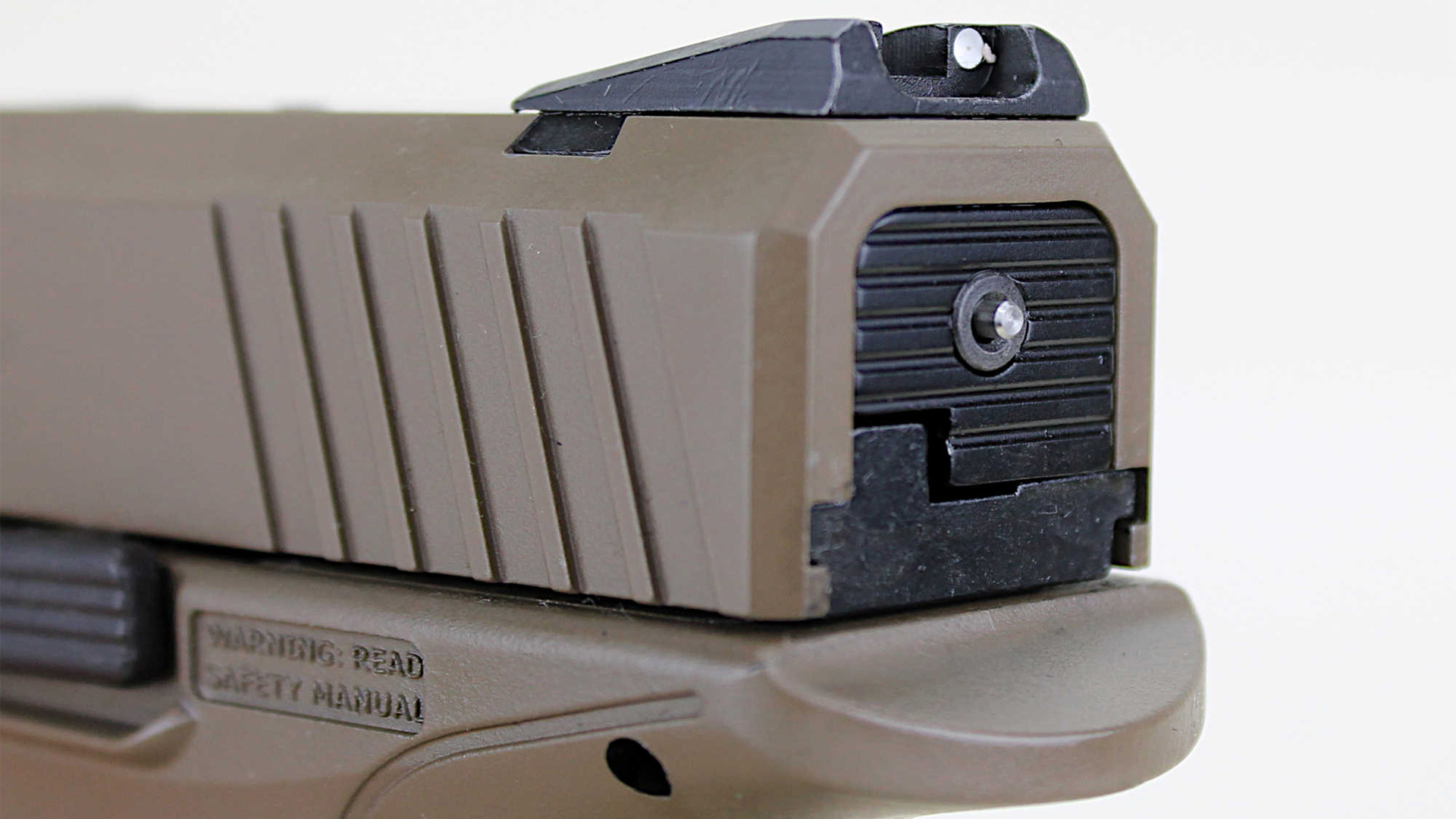 Ergonomics
The front of the trigger guard is serrated for off-hand index finger support and has a slight forward-swept ledge at the bottom to aid retaining finger position under recoil; while the ledge works well, the serrations, however, could be sharper for more positive purchase. The stippling and bumps on the grip and backstraps could be more aggressive, as well. Grip angle and contouring are excellent; a scallop under the trigger guard for the middle finger and the sweep of the frame at the grip safety allow the pistol to settle naturally into the hand. With the small backstrap installed, the BRG9 Elite fits my medium-size hand perfectly, even given the wide double-stack magazine well.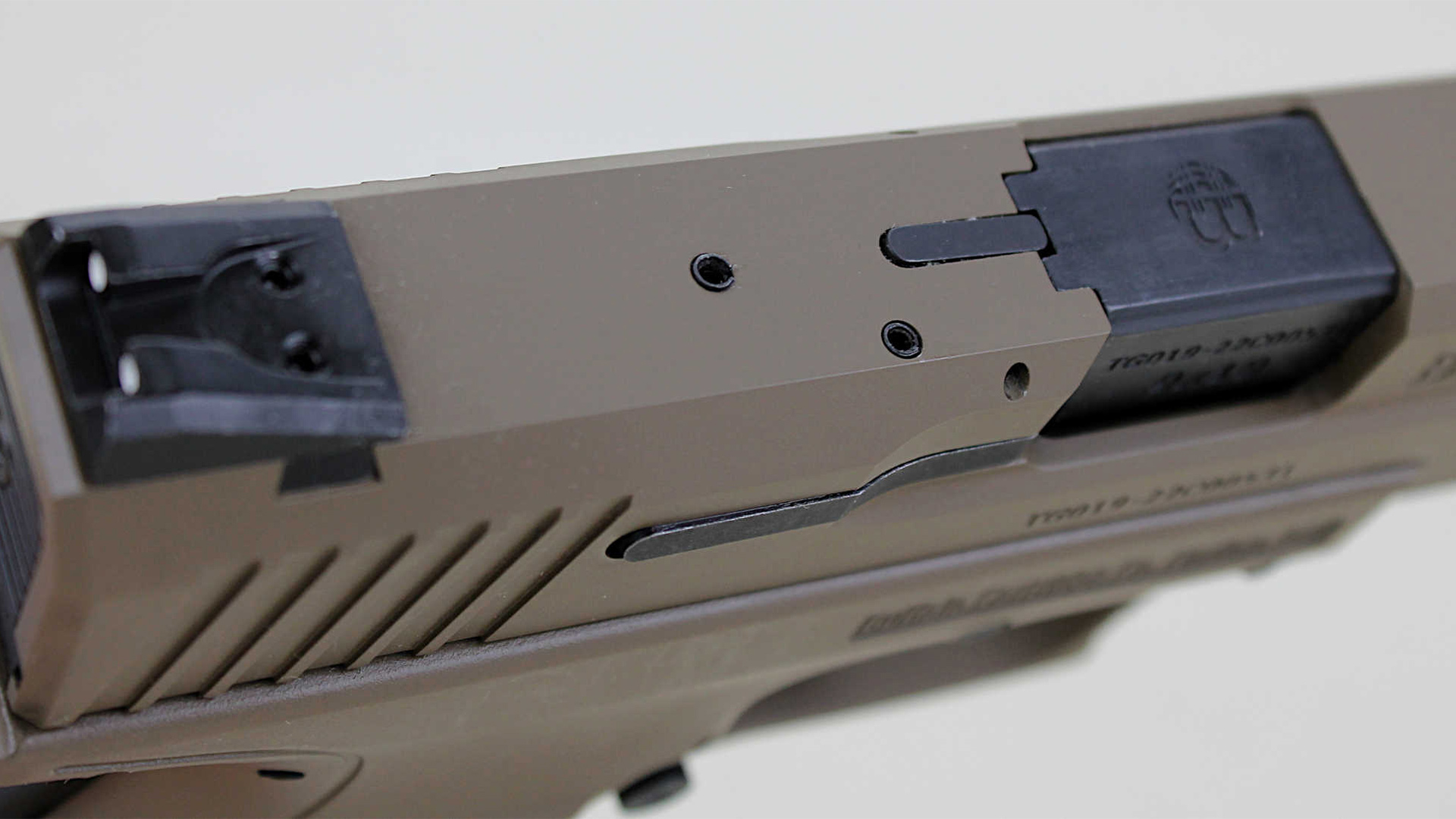 Take-up of the flat-faced single action trigger is like that of other striker-fired polymer pistols (I admit to a bias toward the 1911 trigger and leave it at that). A friend who carries a Springfield Armory XD said he liked the trigger and the ergonomics of the BRG9 Elite. Another friend who carries a Smith & Wesson M&P9 liked the ergonomics, but not the trigger. These are, of course, subjectives. Objectively, trigger break is a consistent 5.25 pounds, and reset occurs when the trigger has returned about halfway back to its full forward position.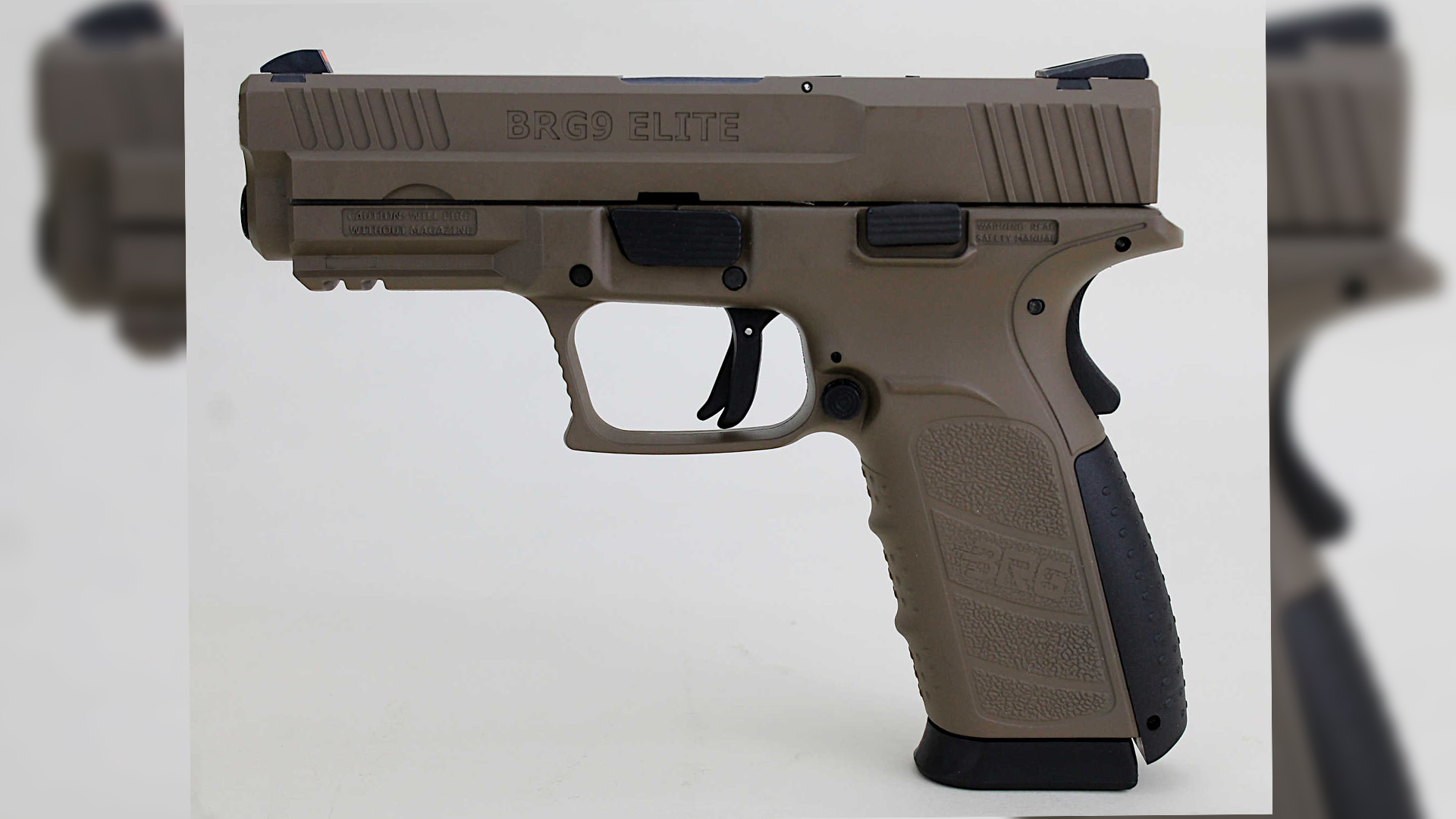 Shooting results
A general rule is that a new semi-automatic pistol needs to fire about 200 rounds to achieve break-in. Until then, shooters may experience minor problems. Utilizing standard 9 mm 115-grain FMJ factory loads, the BRG9 Elite at first suffered a failure to lock the slide back on an empty magazine, and brass sometimes ejected straight back or straight up. After about only 40 rounds, both these problems went away, and brass now ejects about two feet to the right.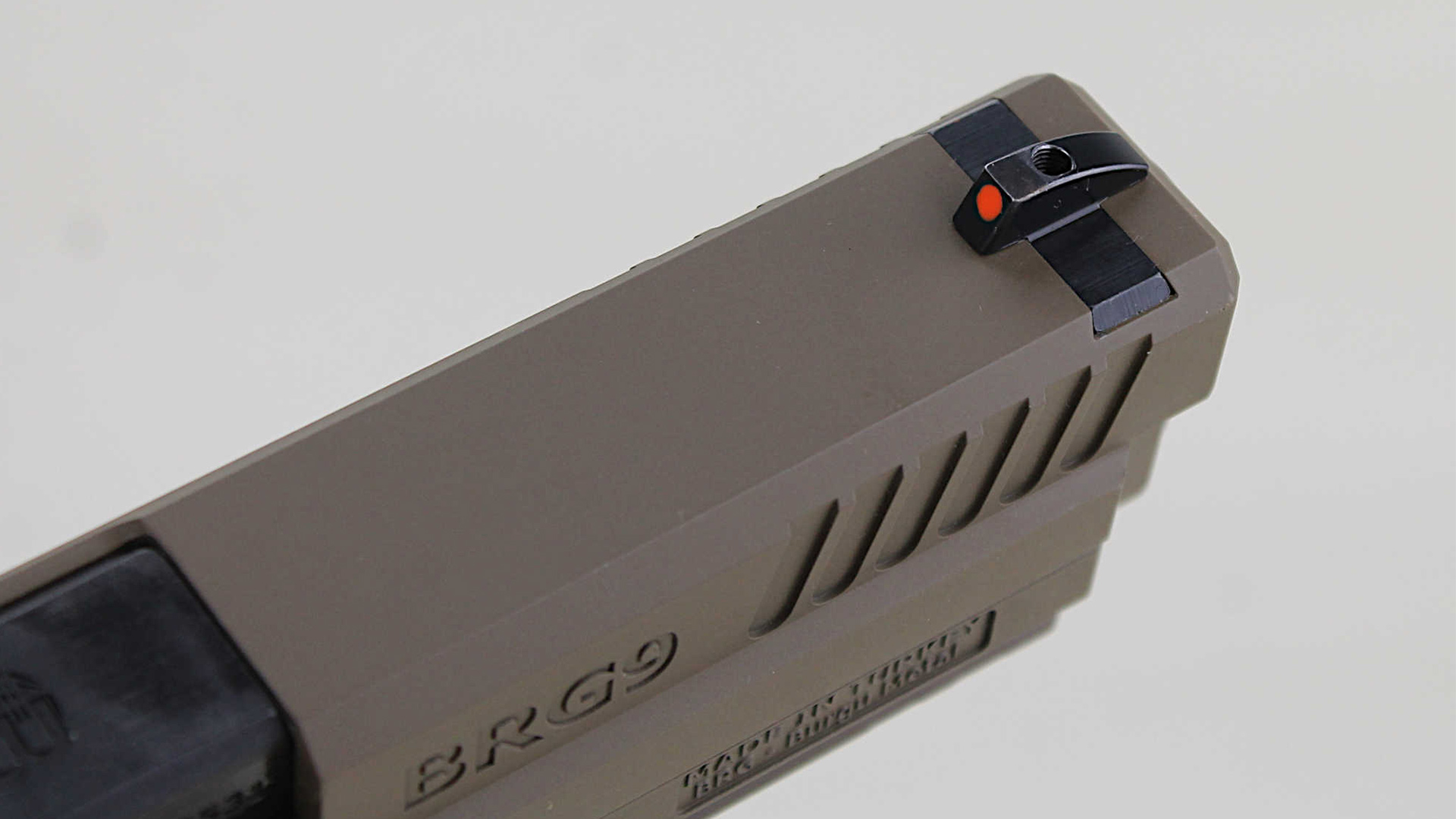 Trigger travel on the BRG9 Elite is not conducive to shooting small groups from the bench, but the BRG9 Elite is not a bullseye pistol, it is a combat pistol. Even so, groups fired offhand at 15 yards ran about three inches; at seven yards they landed right at point-of-hold. At seven to 15 yards combat distance, emphasis is more on a pistol's reliability than fine precision. In that regard, the BRG9 Elite performs as well as the more expensive polymer nines, producing double taps and fail safes on an FBI "Q" target at combat distance without a hiccup.
BRG9 Elite pistols come in basic black, desert tan, and a two-tone version of a hard chrome slide on a black frame, priced from $399.99 to $429.99, all with four-inch barrels. Holsters and extra magazines are available at the BRG-USA website for $59.99 and $32.99 respectively. Replacement slides and barrels are available now; parts and 10-round magazines will soon be available directly from BRG-USA.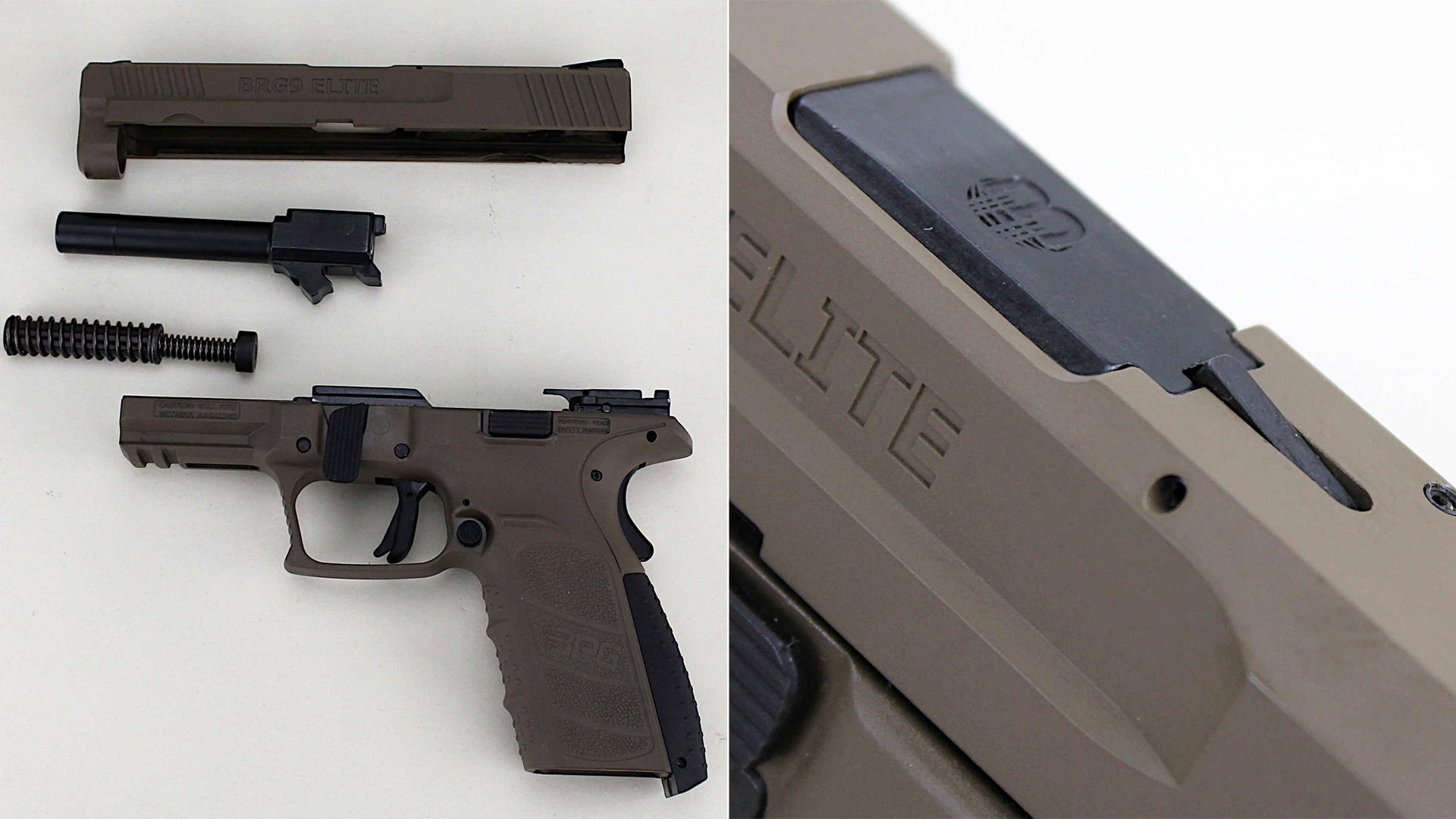 At a price point well below that of other polymer nines while boasting a few more features and excellent ergonomics, the BRG9 Elite makes a good entry level pistol for action games and is suitable for self-defense purposes—or just a fun day at the range.