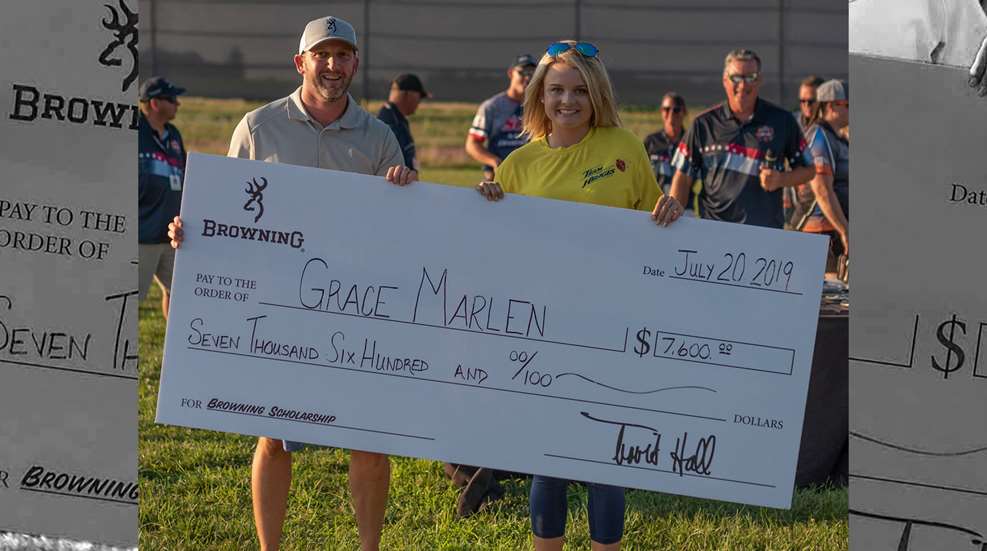 At this year's Scholastic Clay Target Program (SCTP) and Scholastic Action Shooting Program (SASP) Nationals, special scholarships were awarded to student-athletes by Browning, Beretta and Blaser USA.
This is in addition to the 126 scholarships handed out this year by the Scholastic Shooting Sports Foundation (SSSF), parent organization of SCTP and SASP. We are talking big money here, to the tune of $100,000.
The SCTP and SASP national championships were conducted at the Cardinal Shooting Center in Marengo, OH, last month.
To be eligible for one of the three special scholarships, student-athletes had to use a Browning shotgun in 16-yard singles trap, a Beretta shotgun in the skeet event or a Blaser shotgun in the sporting clays event.
Grace Marlen of St. Louis, MO, was the Browning winner, receiving a scholarship for $7,600 after shooting a 200x200 and winning a three-way shootoff to claim the prize. You can see her pictured with Browning's Rafe Nielsen at the top of this article.
In addition, Eatonton, GA, native Graham Eubanks secured the Beretta scholarship for $4,000. Not to be outdone, Baylor Garland, also from Eatonton, took home the Blaser sporting clays scholarship in the amount of $5,000.
Over 2,000 student-athletes attended this year's combined SCTP and SASP national championships.
---
See more:
2019 Scholastic Clay Target Program Nationals