Blaser has announced that trapshooter Sidney Coffin is the newest member its shooting team.
A native Texan, Coffin specializes in Bunker Trap—a.k.a. International Trap—a sport in which clays move at 68 m.p.h. (or faster) and at wider angles than American Trap.
Coffin is a two-time Junior National Team member with 2023 team selection matches underway, and has her sights set on the Paris 2024 Olympic Games.
Right now, she shoots a Blaser F3 Supersport shotgun.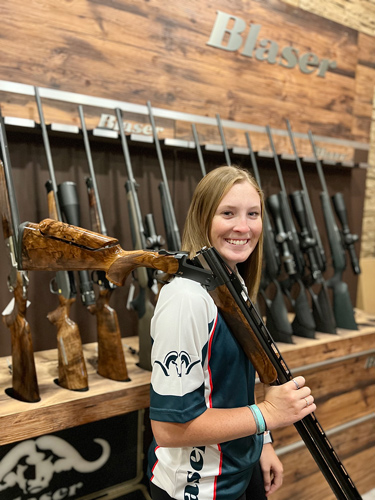 "When I visited Blaser USA's corporate headquarters for the first time, I had a great feeling overall—about everything," Coffin said. "The people there are wonderful and so supportive of my hard work. I am honored and proud to be part of their team and love shooting my F3 Supersport."
Currently a freshman at Schreiner University in Kerrville, Texas, Coffin shoots on the university's shotgun team. Her first exposure to shotgun shooting came in the seventh grade when she joined the 4-H shooting program, and she's never looked back.
"Sidney is an exceptional talent, and we are proud to welcome her to Team Blaser and support her efforts in Bunker Trap tournaments throughout the U.S. as she eyes the road to Paris in 2024," said Jason Evans, chief executive officer of the Blaser Group.
A 2022 National Sporting Clays Association scholarship recipient, Coffin was a gold medalist at the 2020 USA Shooting Olympic Trials Junior Team selection, also winning multiple state and national shooting championships.
When she's not shooting clays, Sidney can be found hunting, fishing or playing volleyball, basketball or softball, among other sports.
Find Sidney Coffin on Instagram: @sidney_coffin. Learn more about Blaser at blaser.de.