From the vault: At the 2005 International BB Gun Championship, attendees celebrated the 40th anniversary of the match with great excitement. The annual head-to-head air gun competition for junior shooters was held at Western Kentucky University in Bowling Green, Ky., back in June 2005. Read our coverage of the match as published in the October 2005 issue of Shooting Sports USA.
Photo Finish: 2005 International BB Gun Championship Match
By J.R. Absher
Maybe it's a photo finish or a squeeze play in the bottom of the ninth. Perhaps it's overtime, or a three-point shot with no time left on the clock.
Regardless of your definition of a close finish, when the winning team's aggregate score is 2349 and the next nine teams are all within 33 points of the leader, it's getting pretty exciting. Not close enough? Okay, how about the top five teams separated by only seven points?
Are you biting your nails yet? Add a tie for first place broken by X-count, a pair of new records—including one settled in a head-to-head shoot-off—and if you're a parent or coach, it's antacid time.
It was only fitting that excitement and drama should reign supreme during the 2005 International BB Gun Championship Match, held July 1 to 3 on the campus of Western Kentucky University in Bowling Green, Ky. After all, it was a birthday party of sorts for the annual event, which was celebrating its 40th anniversary.
The best young air gun shooters in the nation had assembled for a weekend of competition, camaraderie and even a little frivolity. Co-sponsored by Daisy Outdoor Products and the U.S. Junior Chamber of Commerce (Jaycees)—supported by NRA staff, which provides match officials for proper operation of the range and statistical office—some consider this event nothing less than the World Series of BB-gun competition for youth shooting clubs and organizations. In all, 250 shooters—comprising 36 teams from 16 states—competed in the NRA-sanctioned matches in the spacious WKU Diddle Arena.
And compete they did. Eager parents, shooters and coaches watched anxiously as scores were posted. No team ever clearly took the lead all weekend, and it wouldn't be until the final target of the competition was scored and official before the winner was determined.
In the end, the perennial powerhouse team from South Dakota, Pierre Junior Shooters, was victorious for a second consecutive year with a score of 2349-90X. In second place, separated only by X-ring totals, was the Oregon Timber Beasts team with a score of 2349-74X. In third was the Belgrade Sharpshooters team from Montana scoring 2346-73X.
Top-notch performances are nothing new for the Pierre Junior Shooters. In addition to back-to-back titles the past two years, they placed second at the IBBGCM in 2002 and third in 2000.
As for the individual competition, two records were shattered. Kelsey Rasor, a member of the Shelby County (Alabama) Shooting Sports Association, shot a record-breaking 100-6X while winning the overall prone championship.
A record top score was also produced in the kneeling position, but this time it was shared by two shooters. Tim Gaworski of the Belgrade Sharpshooters and Jessica Smith, a member of the Gillespie County (Texas) 4-H team, were knotted at 100-7X at the end of regular competition. In a tie-breaker, Gaworski proved victorious, garnering the overall championship.
The top individual shooter of the 2005 event was Nebraskan Micaela Jochum, a member of the Homestead 4-H Shooting Club with an aggregate of 390-25X.
The International BB Gun Championship Match and its qualifying events are shot on a five-meter range, with 10 shots taken in each of four positions: prone, kneeling, sitting and standing. Competitors are allowed 10 minutes in each of the shooting positions. With the four matches, the grand aggregate is a total of 400 points. Teams are comprised of five shooters.
In addition to the shooting competition, all participants in the championship match are required to take a written test. The 50-question exam covers subjects including BB-gun specifications, competition rules and general firearms safety. Test results count as part of a team's overall score and are taken very seriously by participants and coaches alike.
The 2005 team recognized for highest total test score was the Tussey Mountain Junior 4-H Club from Pennsylvania. Scoring 476 out of a possible 500, the team received a special award for this important achievement. In addition, club member Shane Dodson scored a perfect 100 on his exam, which was also the individual high test score.
Besides the serious and competitive aspects of shooting and test taking, the championship also has some more laid back and social traditions that make the event something that participants will remember for a lifetime. Perhaps the most anticipated event is the barter bar. Each club hosts its own table, displaying items representative of its state or region for trading or bartering with other clubs and individuals.
Cups, caps, shirts, stuffed toys and, of course, pins are popular trading material at the barter bar. In addition, there's the obligatory taste of cheese from the Jaycees shooters from Richland, Wisconsin, and a bottle of souvenir hot sauce from the folks with the St. Martin, Louisiana, Parish 4-H Shooting Club. The event makes for an enjoyable evening and a great way to make friends.
Whether competitor, coach or parent, there's no doubt that participants in the 40th annual International BB Gun Championship Match left Bowling Green with a rejuvenated appreciation for BB guns and a renewed understanding of why shooting is indeed a classic life sport.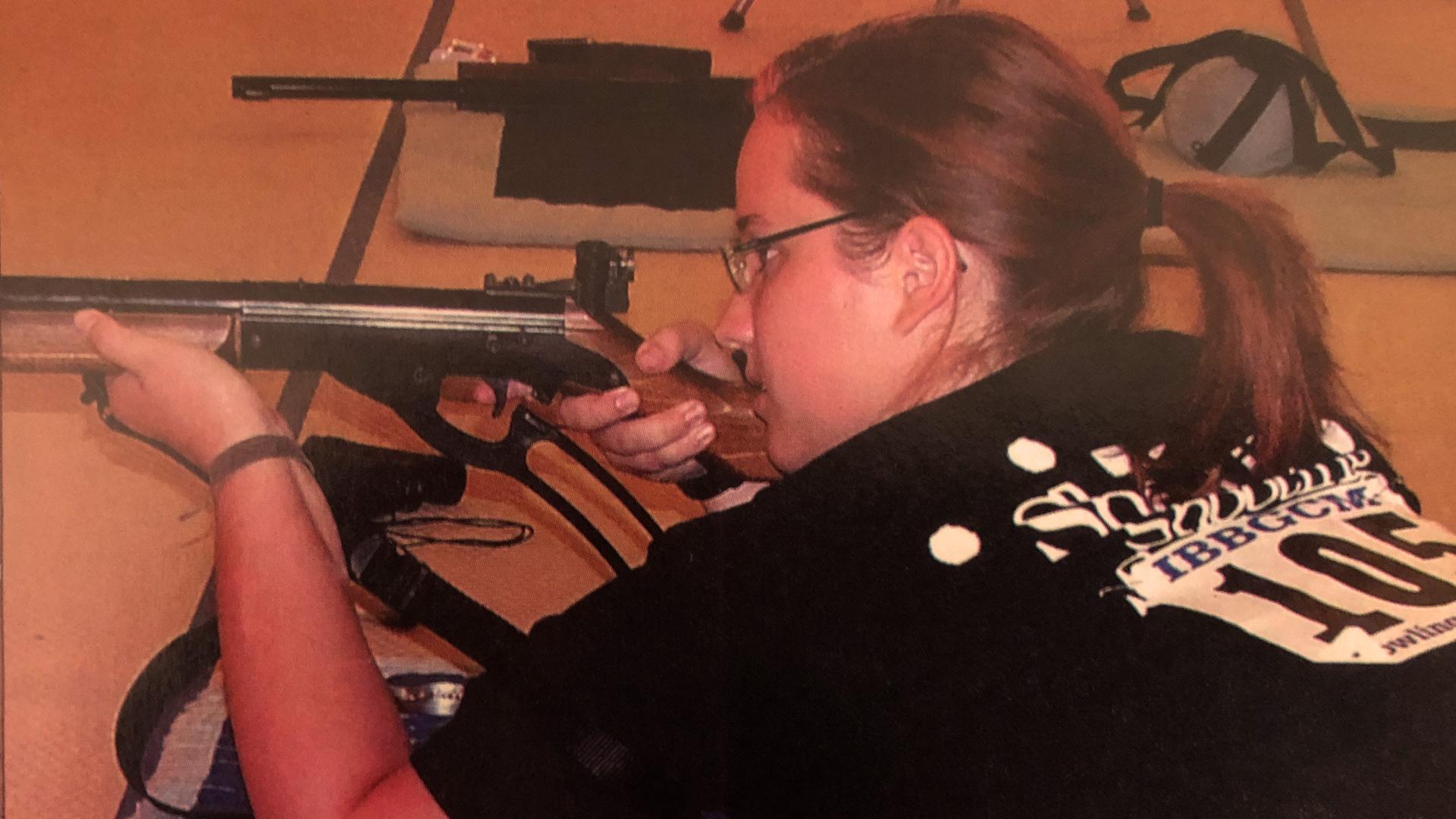 Photo: Kelsey Rasor, representing the Shelby County (Alabama) Shooting Sports Association, set a new record for the prone position after firing a 100-6X score at the 2005 International BB Gun Championship Match. Photo by J.R. Absher.
---
Read more:
Classic SSUSA: Flirting With Perfection