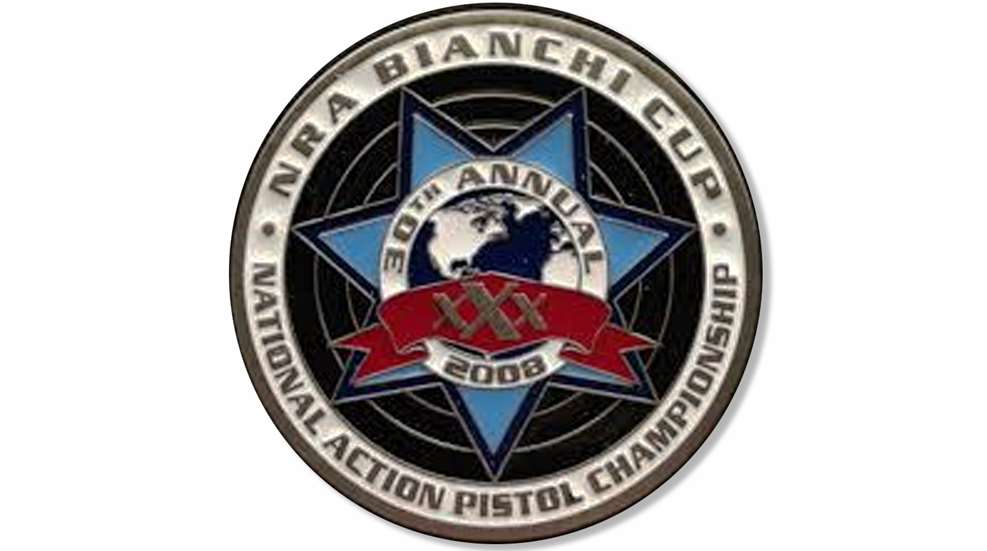 For today's Throwback Thursday: an article from the vault about the 2008 Bianchi Cup. One of many firsts that occurred at this match was U.S. Border Patrol Pistol Team shooter Rob Vadasz winning his very first Bianchi Cup Metallic Championship―outshoting none other than the legendary Jerry Miculek. Read on for our coverage of the event, as written by Mr. Daniel Feldbusch and published in the September 2008 issue of Shooting Sports USA.

To fully understand the phenomenon that is the Bianchi Cup, it's necessary to look at competitors of the past and present.

There are people like Vera Koo. She was a 61-year-old California native going into the 2008 NRA Bianchi Cup. Koo was already a seven-time Bianchi Cup Women's Champion when she arrived at the Green Valley Rifle and Pistol Club's Chapman Academy Range outside Columbia, MO, for the 2008 championship. To get into the mindset of Koo is difficult. She always asks not to be interviewed until after the championship has been completed.
"It's not best to talk to me now," Koo said during the registration period. "I get a little crazy because I'm focused on what's ahead of me." But her focus doesn't make her a champion. It's her love for the sport.
Koo has become a staple each year at the Columbia range during the week leading up to Memorial Day, the time when the NRA Bianchi Cup is usually held. The year was 1997 when she first competed. Since then she's either won or been near the top of the women's category every year. There have been a few rare instances when she didn't come out the victor. For instance, Julie Golob from Team Smith & Wesson defeated Koo in 2007 to win Golob's first Women's Championship. However, Koo's spirits weren't dampened. "We can't win them all, and there's always next year," a smiling Koo said at the awards banquet.
Flash forward one year to 2008, and Koo was standing in a better place. Holding a crystal vase—the trophy that is given to the women's champion—Koo had just beaten Doris Siebert 1870-136X to 1870-117X. Koo was filled with excitement for what had just occurred during the past three days.
"This is the most prestigious, most challenging, and fun match that I've ever come across," a smiling Koo remarked. "What makes this most grand is the fact that I won't have just a trophy to remember this year by." Koo was referring to an anniversary gift from her husband who had a photographer accompany her during this year's tournament. "My husband knew that this tournament meant so much to me that he offered me a chance to get it in pictures," Koo said.
"I love the Bianchi Cup so much," Koo explained, "because it's not just about shooting. It's about overcoming obstacles, and staying with it, and then surviving it. Through it, you gain the confidence to know that whatever you want in life, you can get it." This year's tournament gave away close to $100,000 in cash and prizes.
Koo felt very lucky to win the Women's Championship this year at the Bianchi Cup because she knew that she didn't have her best year. "But that gives me the opportunity to really dedicate myself to this event now that I know what to work on," Koo said. "I can come back and win another championship."
Koo isn't the only one who is waiting for 2009. Bruce Piatt was telling himself the same thing in 2008 that he had told himself in 2007. "So close," said Piatt. Piatt can be considered a champion for his determination to win the NRA Bianchi Cup. In the 30 years that the cup has been awarded, many legends have been formed, including Mickey Fowler's dominance in the early 1980s and Brian Kilpatrick becoming the first international shooter to win the cup in 1996.
Lately, it has been an ever-close battle between the world's top shooters. Since 1997, the Bianchi Cup has either gone to Bruce Piatt or Pennsylvania native Doug Koenig. The final scores are usually separated by only two or three Xs. This year, however, Koenig left open an opportunity for Piatt to win his fifth cup.
Going into Event III, the Moving Target Event, both shooters had a perfect score up to that point. Koenig, a 10-time National Action Pistol Champion, had dropped one target and finished with a 1918-185X. Piatt only needed to make all of his shots in the 10-ring and he would be $5,000 richer.
The 25-yard stage got him.
With his second round at the second target, the onlookers responded with a harmonious, "Oohhh!" One day later, the losing Piatt sat in the vendor's hall thinking about that crowd reaction. "I was so close," he was telling himself. Piatt had shot a 1918-182X to finish second.
"We've had a lot of years where there are multiple 1920s," Piatt said, referring to the perfect score that a shooter can achieve in the NRA Bianchi Cup. "A lot of people are capable of doing it. In fact, one year I think we had six 1920s. Rarely do we have a year where no one gets it."
Piatt doesn't blame his shooting ability, and he understands why he wasn't perfect. "The actual shooting in the Bianchi Cup isn't that hard. The problem is battling the stress when you know that the whole match is riding on the final event," Piatt said. "There's the big crowd, the TV cameras. You know, that can get to you. You have to overcome all of that. You need to focus on the shooting itself." So Piatt had to tell himself the same thing that he's said in many years before—"There's always next year."
Doug Koenig knows that winning this championship is never automatic. "Anybody that shoots this match realizes that it's not a gimmie," Koenig said. "This year proved it. We both can't finish every year perfect, but it's a rarity when we both aren't perfect."
So the battle will continue in 2009. One person who will definitely be there next year for the 30th anniversary of the Bianchi Cup is Robert Vadasz. He edged shooting legend Jerry Miculek 1902-138X to 1902-137X to win his first ever Metallic Championship in 2008.
Vadasz showed great excitement and enthusiasm over the fact that John Bianchi, the founder of Bianchi International, attended the 2008 annual competition, which made Vadasz a champion. "He's a legend to me," said Vadasz during an interview at that match. "After I'm done talking to you, I want him to sign this trophy."
Vadasz loves the drama in knowing that a shooter has to wait until the last day before the winner is crowned. "I've never experienced another level of stress in competition like there is at the Bianchi Cup," Vadasz said. "This is it! I mean, for 48 hours after your first match, you're either catching up or trying to stay up."
"That is a whole different game that you have to learn. And you can't learn unless you're here," Vadasz explained. "This is one of my favorite shooting events to attend," he added.