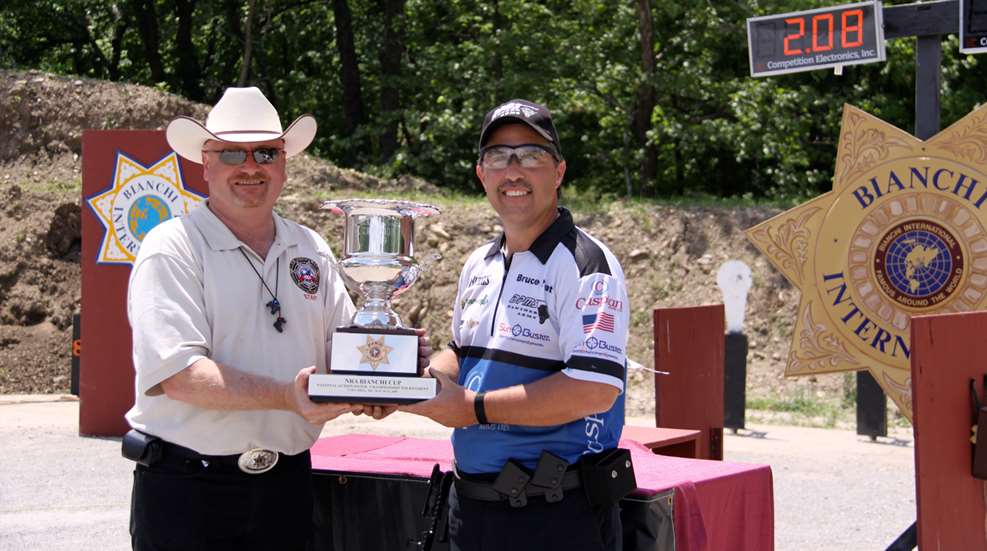 From the vault: this classic SSUSA article by former Managing Editor Chip Lohman about the 2009 NRA Bianchi Cup, which many consider to be a watershed year for the iconic pistol championship. Read his coverage, as first published in the August 2009 issue of Shooting Sports USA. Notably, this was the year that 2019 NRA Bianchi Cup Champion Bruce Piatt had won his fifth title at the storied match.
---
30th Anniversary NRA Bianchi Cup

By Chip Lohman

With 30 new production shooters toting their every-day guns, a turnover of the crown in both the men's and women's open events and continued support from household-name sponsors, this year's NRA Bianchi Cup was a success any way you measure it. In the words of Match Coordinator and NRA Action Pistol Manager Tom Hughes, "By listening to our sponsors, competitors and former police officer John Bianchi himself, we're all working towards bringing the 'Cup' to a larger audience. Our major sponsors, including Larry and Brenda Potterfield of MidwayUSA, Scott Carnahan of Safariland, Bud Fini of SIG Sauer and Dave Sevigny of Glock all see value in this team approach to making the Cup the most prestigious pistol championship in the world." (See Hughes pictured with 2009 Bianchi Cup Champion Bruce Piatt.)
One hundred and ninety participants made the trip to Columbia, MO this year—up from previous years despite a flat economy. Shooters from Australia, Canada, Germany, Italy, Japan, New Zealand and Switzerland shot shoulder-to-shoulder with U.S. action shooters to compete for the Cup. Many who made the trip were first-time action shooters, thanks to the new Production division. In addition to the expensive "race guns" in the Open and Metallic divisions, this year's firing line saw Glocks, SIGS, Springfield XDs, Berettas and stock Model 1911s competing at this prestigious, 30-year-old action shooting event. According to Dave Sevigny, Team Glock Captain, "It was a service to the firearm industry and competitors when NRA Action Pistol recognized Production division in 2009. The division is very accessible due to the relatively low cost to get set-up. Plus, with the same gear, you can compete in other venues such as IDPA, GSSF, Pro-Am, Steel Challenge and USPSA."
The Bianchi Cup is NRA's version of IPSC, USPSA and IDPA action pistol shooting, but without individual timers or competitor movement between shots. And instead of using a "power factor," whereby larger calibers receive a scoring advantage, Bianchi Cup shooters are scored head-to-head with only a divisional separation for open, metallic and now production division guns. As world-famous speed shooter Jerry Miculek (Smith & Wesson) put it, "IPSC shooters can make-up for a bad string by shooting faster, later in the match. At Bianchi, it's a level playing field. If you blow an early string, there's no going back."
In addition to the fun Nostalgia and Speed shooting events, there are four official stages during the three-day match. Competitors fire one or two stages each day unless they sign-up for more than one division, which allows a lot of time in-between relays for camaraderie and visiting with the pros.
Julie Golob (Smith & Wesson) toppled fellow world-action shooting champions Helen Jeavons and Vera Koo for top honors with an overall lead of 14 points. Julie began shooting as a "daddy's girl" and, as of last year, now has a daughter of her own. Returning from a year-and-a-half away from the sport, Julie is back with a vengeance.
In the men's category, the two arch rivals swapped places yet again this year with active duty police officer Bruce Piatt beating Doug Koeing by a mere 4 Xs (both had perfect scores). The play-by play for both men and women went as follows:
                                      Practical          Barricade         Moving            Falling             Total   
Bruce Piatt                  480-45X          480-47X          480-41X          480-48X          1920-181X
Doug Koeing              480-46X          480-48X          480-35X          480-48X          1920-177X
Julie Golob                  475-30X          480-32X          472-28X          480-48X          1907-138X
Helen Jeavons             461- 21X         478-37X          474-27X          480-48X          1893-133X

In the new Production division, there were 30 new entrants. This was more than expected for the very first year of this new division. The roster included many enthusiasts using their every-day sport or personal protection guns, pet reload recipes and gear used every weekend at their hometown range. While the scores reflected the absence of custom gunsmithing and high-priced components, the objective of this new division is to make this prestigious match accessible to the majority of folks who shoot for fun.
---
See more: Remembering The 2008 NRA Bianchi Cup Action Pistol Championship