Those wishing to purchase military surplus ammunition from CMP's E-store shouldn't dally, as the .30 Carbine supply for online sales is apparently already gone, no longer listed on the CMP website only a week after being offered for sale starting April 11, 2023.
M2 Ball .30-06 ammo for the M1 Garand and Winchester T22 .22 Long Rifle target ammo are still available at this time.
The Civilian Marksmanship Program (CMP) announced earlier in 2023 that it had acquired milsurp M2 Ball, .30 Carbine and T22 .22 Long Rifle ammo and would begin sales in the Spring. While the .30 Carbine is no longer listed on the website, standard 150-grain FMJ M2 Ball loaded by Lake City, and Winchester T22 .22 Long Rifle ammunition are still available. Price of the M2 Ball is $392 plus $12.95 for shipping 400 rounds packed in 20-round cartons in an ammo can, one can per customer permitted. The total cost comes out to $1.01 per round.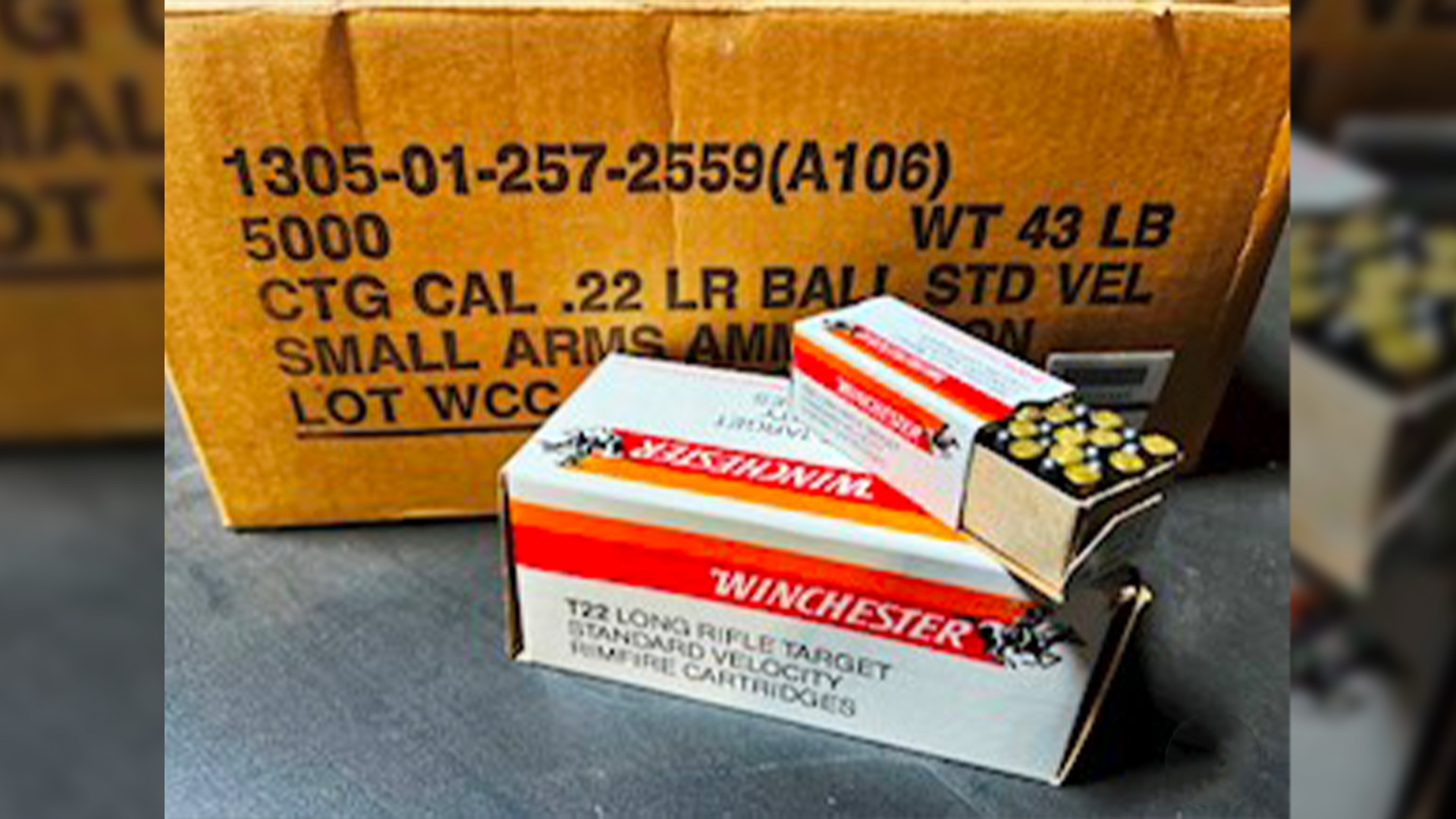 Though the 7.62x51 mm NATO cartridge replaced the .30-06 and M2 Ball in 1954, Lake City Army Ammunition Plant was still manufacturing .30-06 into the late 1970s. Though much was intended for Army Reserves and National Guard, it is likely some also went overseas to countries still fielding M1 Garands. CMP did not indicate the source of this latest cache of M2 Ball, but said it dates from the late 1960s to the early 1970s.
CMP has priced the standard velocity Winchester T22 at $40 per 500-round brick, plus $12.95 shipping, equating to 10¢ per round. Customers can purchase two bricks per year. Acquired by the U.S. Army for use in pistols, T22 is also suitable for use in rifles. The packaging appears to be commercial 1980s vintage.
CMP still has .30 Carbine milsurp ammunition in stock, but buyers have quickly exhausted the quantity designated for online sales this year. "We are sold out for regular sales on the E-store," CMP Customer Service representative Melissa Hille said in an email exchange. "We will post more in 2024."
CMP is husbanding its finite supply of milsurp ammo, reserving enough for sales at CMP competitions "for several years," according to a press release. "[L]ater this year ammunition will be for sale for registered and qualifying competitors at the Eastern Games, CMP Bianchi Cup, the Talladega 600, the National Matches and the New England Games," the press release reads. "Competitors will fill out order forms at these events and the ammunition will be shipped from Anniston, Ala.
All sales support CMP, a non-profit organization, in promoting competitive shooting, with an emphasis on youth. Buyers must provide proof of United States citizenship and membership in a CMP-affiliated club. For more information on ordering ammunition, rifles and other products and services from CMP, visit the website.