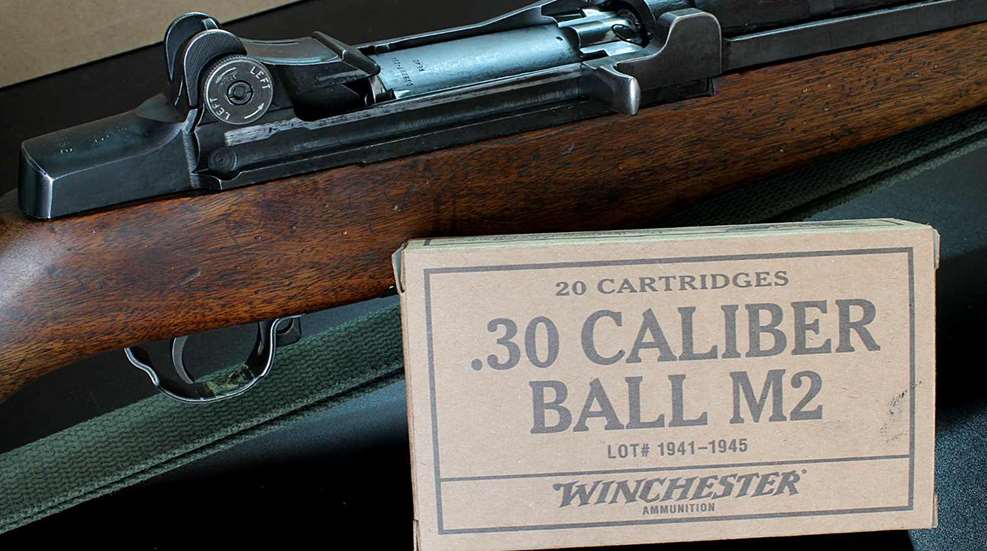 New—and temporary—for 2018, Winchester is introducing limited runs of ammunition specifically for those interested in U.S. vintage military arms. The .30-06, .45 ACP, .30 Carbine and 12-gauge ammunition is a throwback to World War II and comes in packaging reminiscent of the era's government issue boxes.

At January's SHOT Show range day, Winchester brought samples of the .30-06 for attendees to run through an M1 Garand. Beyond the skin-deep (admittedly subjective) beauty of the packaging, the .30-06 is deserving of the "M2 BALL" labeling because, Winchester Product Management Specialist Jimmy Wilson said, Winchester loads it to replicate M2 Ball's 2740 fps with a 150-grain FMJ bullet, and it produces only 50,000 to 52,000 psi, suitable and safe for the Garand's semi-automatic gas system.

But U.S. servicemen didn't utilize just the Garand (and the .30-06 Springfield rifles) in WWII—there was also the M1911A1 in .45 ACP, and the .30 Carbine M1 Carbine to supplement the pistol. Winchester is giving these rounds the same WWII treatment. Lesser known but not ignored by Winchester, 12-gauge shotguns firing 00 buckshot also went back into combat in WWII. Because tropical humidity and rain caused waxed paper shot shell hulls to swell and become difficult or impossible to chamber, the latter ammunition eventually came to be issued in full brass hulls. Winchester's 2018 throwback offering in 12-gauge also features these brass hulls.

Wilson said the .30 Carbine offering should reach shooters first, around June of this year. The .45 ACP will follow about July, and Winchester ups the coolness of this one by packaging the pistol rounds in nice wooden boxes to keep as attractive curiosities that will look spiffy on the reloading bench. Winchester's M2 Ball and 12-gauge should hit store shelves near the end of the year, possibly by November.

Interested buyers shouldn't dawdle when they become available, as each offering is, again, a limited run.

"When you see it out there, you need to go get it," Wilson said.