Right on the heels of Winchester unveiling their new 350 Legend cartridge at SHOT Show 2019, SAAMI (Sporting Arms and Ammunition Manufacturers' Institute) has announced acceptance of the cartridge for standardization and published diagrams of the new cartridge.

"Winchester's 350 Legend cartridge brings a fresh look and innovation to a very mature cartridge category, opening up new options to both the hunter and recreational shooter," SAAMI's Technical Advisor and Director of Technical Affairs Randy Bimson said in a press release.

Straight and .38

The "very mature cartridge category" is a reference to the straight-walled cartridge case, which harkens back to the earliest days of successful metallic cartridges. Like those early rimfire cases, Winchester's 350 Legend is straight-walled, but unlike them, it is a modern centerfire rimless design. Winchester based the 350 Legend on a .223 Remington blown out to take a .357-inch (.38 caliber) bullet.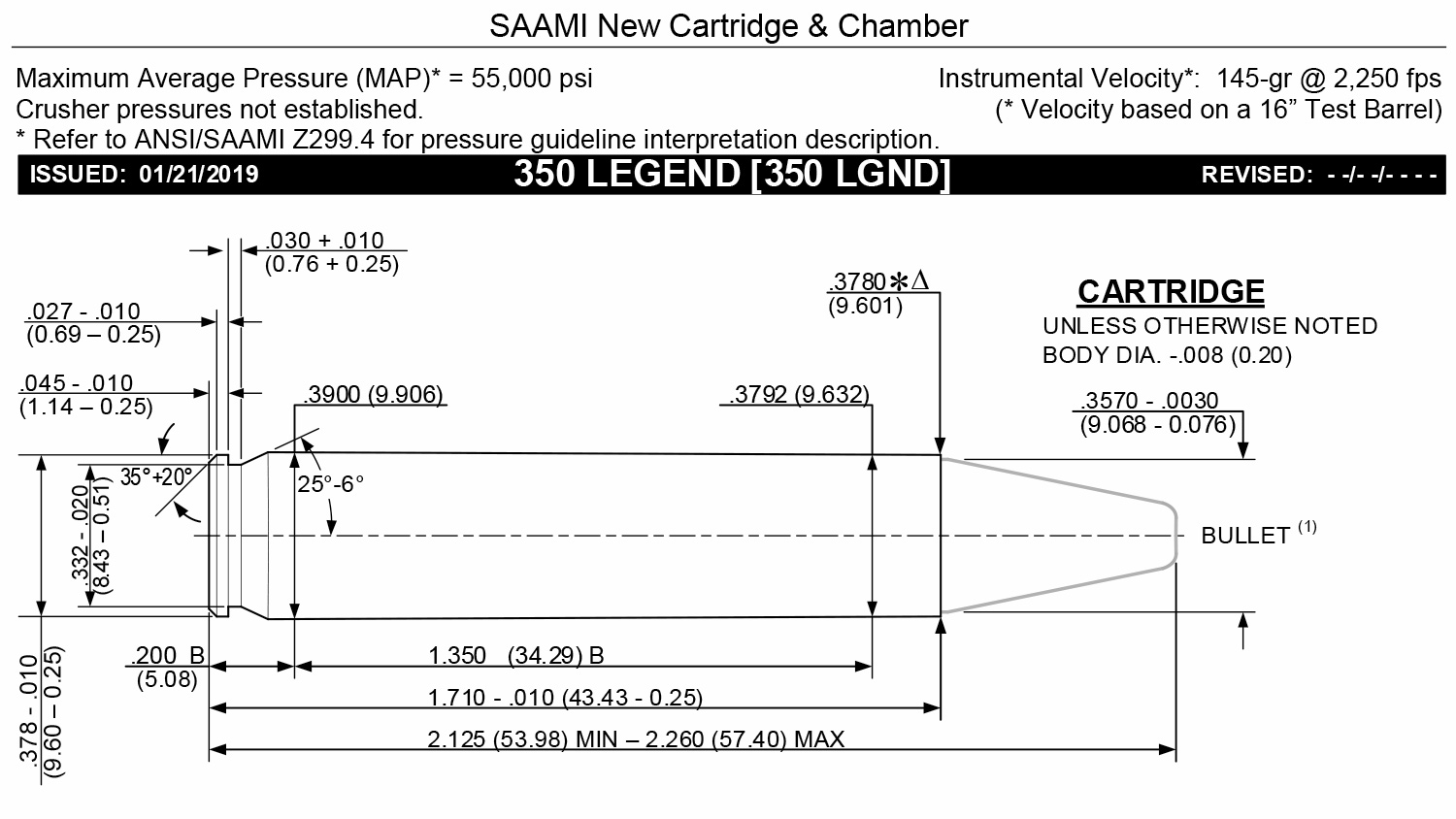 Winchester developed the 350 Legend for hunters in states that limit metallic cartridge firearms to comparatively short-range straight-walled cartridges for hunting big game. Such restrictions are intended to prevent "overtravel" of high velocity cartridge bullets in populated areas; Winchester designed the 350 Legend to outperform other straight-walled cartridges while staying within safety parameters.

Cartridge and chamber

With acceptance, SAAMI has released to the press their diagrams of the cartridge outer dimensions and the chamber dimension. According to SAAMI the reconfigured case has only the slightest amount of taper, measuring .3900 inch at the web and .3780 inch at the mouth, which aids smooth chambering. Case length is given as 1.710 inch, while minimum chamber length is 1.710 inch and maximum is 1.720 inch. Being straight and rimless, the 350 Legend must headspace on the case mouth, so it appears that handloaders may have to pay a bit of extra attention to case length and trimming, as case length for the 350 Legend will be more critical than case length for rimmed cases that headspace on the rim and bottleneck cases that headspace on the shoulder.

Throating (freebore) transitions to a .346-inch bore and .355-inch groove depth of the rifling; twist is 1:16. SAAMI lists instrumental velocity, based on a 16-inch, six-groove barrel and a 145-grain bullet as 2250 fps. Maximum average pressure (MAP) is 55,000 psi, the same as the .223 Remington. By comparison with other popular hunting rifle cartridges, SAAMI's MAP for the .30-30 Winchester is 42,000 psi, the .308 Winchester, 62,000 psi. Among straight-walled cartridges, MAP for the .45 Colt is 14,000 psi, the .44 Magnum, 36,000 psi.

A 145-grain bullet with a muzzle velocity of 2250 fps produces 1630 foot-pounds of energy. A generally accepted rule is that a bullet should have about 1000 foot-pounds of impact energy to reliably take a whitetail deer; a 145-grain bullet needs approximately 1800 fps of velocity to strike with 1043 foot-pounds of energy. To determine the maximum distance at which the 145-grain bullet would retain that velocity, the shooter/handloader needs to know the bullet's ballistic coefficient. Lacking more specific data of bullet choices, BCs, weights and starting velocities, at this time it appears the 350 Legend is perhaps a 200-yard deer cartridge. This would approximately double the range for hunters presently limited to using shotgun slugs and pistol cartridges. It also appears here at first blush that optimum performance may be somewhat more dependent upon bullets of ogive and expansion velocities tailored specifically for the new cartridge. We'll understand more about the 350 Legend's capabilities as load data becomes available.

Who is SAAMI?

Since 1926, SAAMI has set the commercial firearms and ammunition industry standards for chamber dimensions, cartridge dimensions and cartridge chamber pressures. These standards, voluntarily adhered to by manufacturers, assure consumers that all commercial ammunition will properly fit in its intended firearm, and that commercial firearms will properly and safely chamber and fire its intended ammunition.