Winchester begins release of its limited edition World War II commemorative Victory Series ammunition next month with the "45 Auto, Ball, M1911" cartridge. Fifty rounds of .45 ACP loaded with standard military 230-grain FMJ bullets come packaged in a wooden box reminiscent of the ammo crates of the WWII era.

"M1911" is the official military designation for the standardized FMJ loading, and while the ammunition is regulation GI issue in performance—U.S. Army technical manual TM 43-0001-27 lists M1911 Ball ammo muzzle velocity as 885 fps at 19,000 psi—the Victory Series cartridge case itself has a special "M1911" headstamp to separate it from the crowd. Each cartridge rests in an individual recess in a Styrofoam block enclosed in a brown cardboard box. Printing on the cardboard evokes that on USGI boxes; this commemorative series bears "LOT # 1941-1945."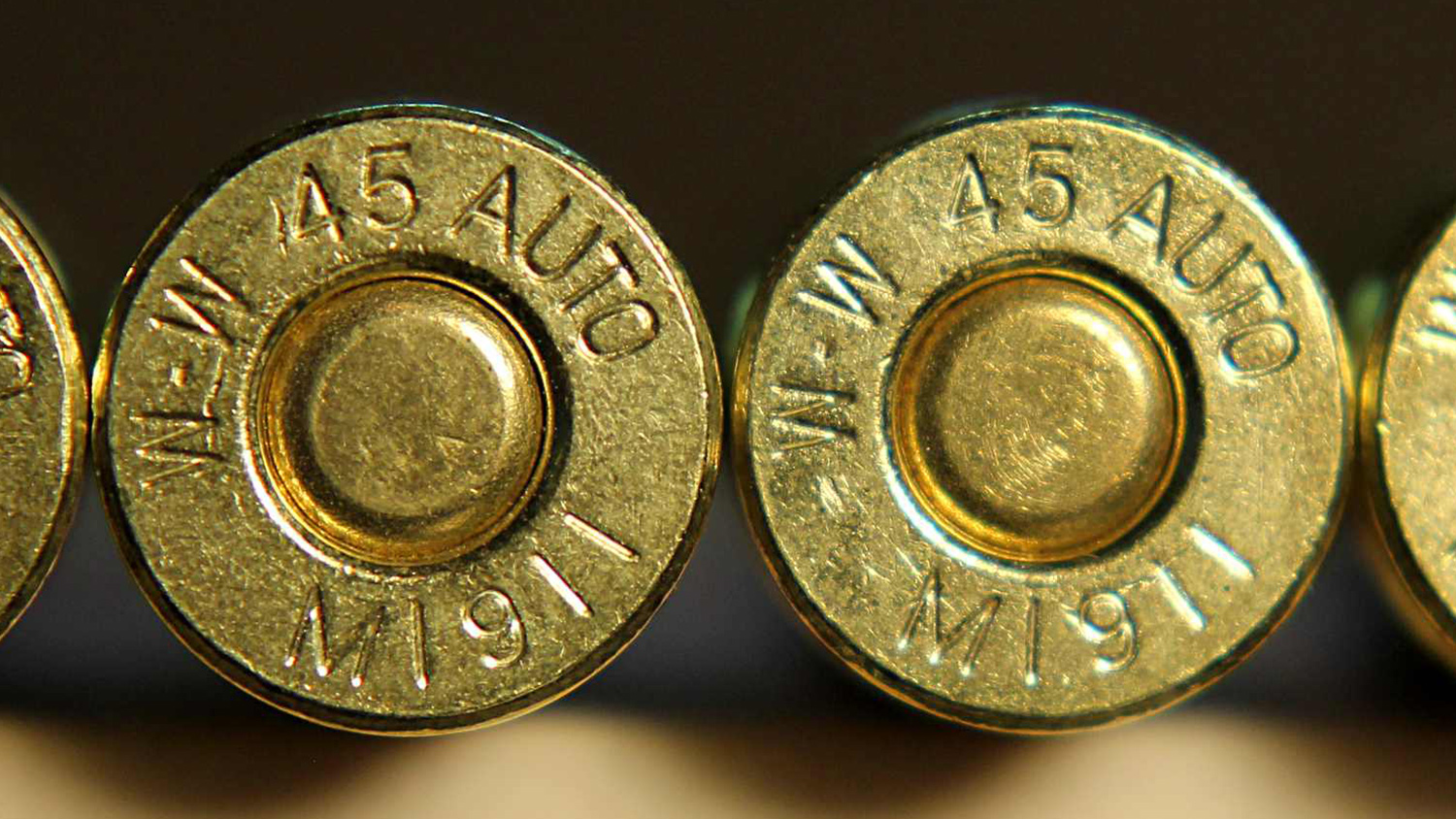 The wooden box protecting the cardboard box is no rough wartime crate; it appears well-made, with dovetailed joints, smooth finish and conservative but attractive artwork. The top bears an image of the American bald eagle, the end sides printed with the U.S. Army's cartridge designation as found on the military cardboard cartridge boxes. The back side has images of the M1911 pistol and cartridges.

Printed on the wooden box front is a reminder that Winchester, among its many other contributions to Allied victory in WWII, manufactured 15 billion cartridges. Artwork on the box front accompanying that reminder, the image of a soldier aiming a Model 1911 pistol amid war-ruined buildings, reminds one of the pen and ink style of Bill Mauldin, the WWII Stars & Stripes newspaper cartoonist whose "Joe and Willy" GI characters were very popular with the American troops of the day.
While perhaps not quite reaching the level of "keepsake" box (depending upon your personal taste), Winchester's first limited edition WWII Victory Series wooden box is tasteful enough for casual display as a conversation starter, and would make a nice gift for a fellow Model 1911 pistol aficionado. Expected retail price is $25-$30.

Winchester will release three more retro WWII-era combat cartridges in the Victory Series, .30-06, .30 Carbine and 12-gauge, the latter loaded in brass hulls. The .30-06 reproduces M2 Ball, suitable and safe for the M1 Garand's semi-auto gas system, and will be out in November of this year. Next follows the .30 Carbine, which TM 43-0001-27 labels, "Cartridge, Caliber .30, Carbine, Ball, M1," in June, 2019. Bringing up the rear in November next year is, "Cartridge, 12 Gage, Shotgun, No. M19."

Again, these are limited edition runs which Winchester expects won't languish on dealers' shelves. When they're gone, they're gone, so it behooves the interested to watch for them when they're scheduled for their appearances.

Learn more at www.winchester.com