This year, and for the first time since the NDAA (National Defense Authorization Act) was passed in 2016, the Secretary of the Army has seen fit to transfer 8,000 surplus 1911s to the CMP for sale and distribution. Though this falls 2,000 short of the 10,000 unit cap set by the 2016 NDAA, it is anticipated that a few of the guns will be unusual enough to merit auction, an exciting prospect for any collector! The rest of the lot will be sold based on a computer randomized lottery.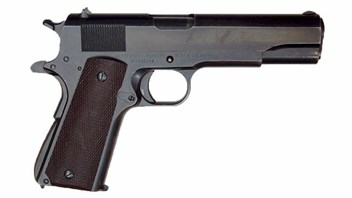 Pricing is currently set at $1,050 for service grade weapons, $950 for field grade, and $850 for rack grade. Auction grade pricing, obviously, will be determined by the bidders at the time of auction. This is fantastic news, considering speculators predicted that issuable pistols would be fetching well over a grand. One should note that if you have already purchased a 1911 pistol from the CMP (in this round), you will not be allowed to purchase an auction 1911, and vice versa. No repeat purchases will be allowed until all orders are filled.

Order form packets will be posted on the CMP website on June 4 for download. Only one such form may be submitted per customer. For more information, please visit thecmp.org/cmp_sales/1911-information. The CMP does not currently have any information regarding next year's allotment.