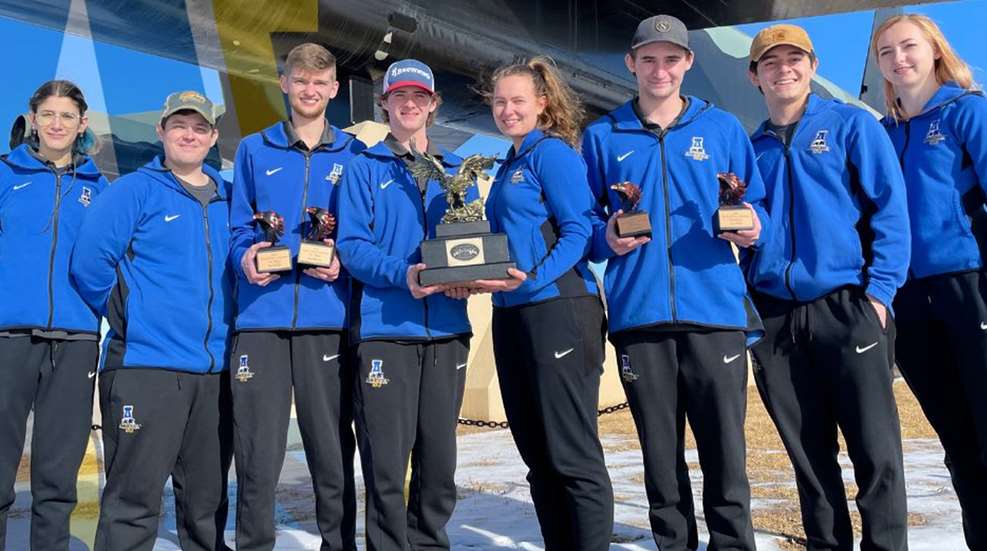 The No. 1-ranked Alaska-Fairbanks rifle team was dominant at the 2022 Patriot Rifle Conference Championship, held February 5-6 at the U.S. Air Force Academy in Colorado Springs, Colorado. In addition to host team Air Force and Alaska-Fairbanks, three collegiate rifle squads competed at the match—Ohio State, Nebraska and UTEP. TCU also participated, but was not able to make the trip due to bad weather, and instead competed virtually.


Winning the championship outright with a team aggregate score of 4752, not only did the Nanooks set a new program aggregate record at the tournament with its high score, the Alaska-Fairbanks rifle team also tied the NCAA team aggregate record and set a new air rifle program record. The runner-up school was Ohio State (4694), followed by Air Force (4689), Nebraska (4670) and UTEP (4553).
Five Alaska-Fairbanks student-athletes garnered spots in the individual aggregate top 10 rankings, led by Rylan Kissell with 1190, who was also perfect in air rifle with a 600 score. Following Kissell was teammates Gavin Barnick (1189), Kellen McAferty (1189), Sára Karasová (1184) and Daniel Enger (1175).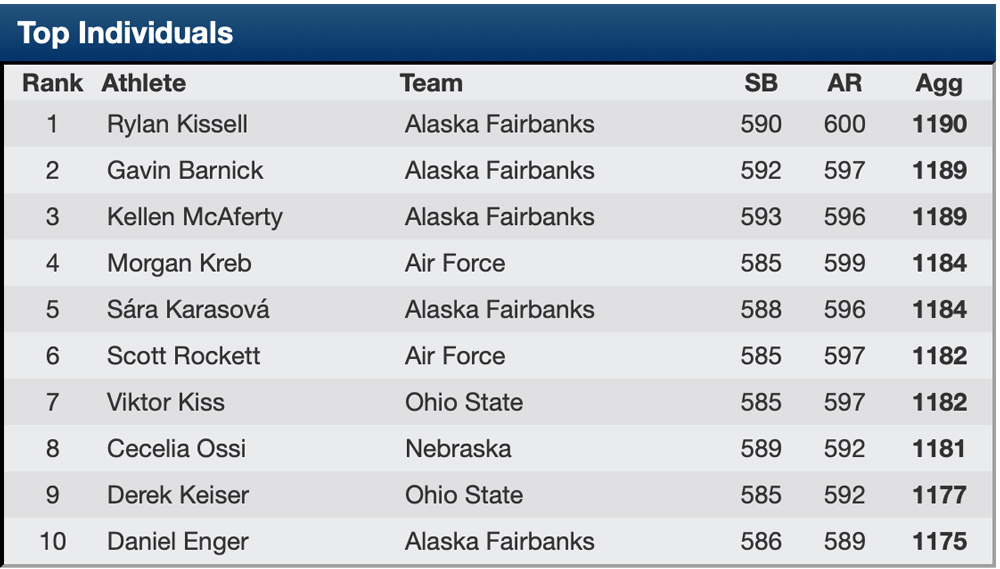 The following university rifle teams are members of the Patriot Rifle Conference:
Air Force
Alaska-Fairbanks
Ohio State
TCU
UTEP

See the full results of the 2022 Patriot Rifle Conference Championship at the NCAA rifle website.
---
Read more:
Alaska-Fairbanks Rifle Coach Will Anti On Season's Second Half: 'Plenty Of Work To Do'