The Texas Christian University rifle team will likely retain its No. 1 spot in the Collegiate Rifle Coaches Association's weekly poll ranking after defeating the University of Texas-El Paso on the road on Saturday, January 28, 4742-4541.
TCU freshman Julie Johannessen was the top individual shooter at the match, posting a 600 air rifle score and 595 in smallbore for a 1195 aggregate score. According to this article published to the TCU rifle website, her perfect 600 air rifle score is only the sixth occurrence of the feat in program history. Seven other TCU rifle shooters joined Johannessen on the top 10 individual leaderboard: freshman Katie Zaun (1185), graduate student Abby Gordon (1184), graduate student Kristen Hemphill (1178), senior Stephanie Allan (1175), freshman Mikole Hogan (1175), sophomore Anna White (1171) and junior Nina Schuett (1159).
The top shooter for UTEP was senior Jonna Warnken, who walked away from the match with a 1158 aggregate score, placing her ninth in the top 10 individual rankings.
With the regular season over for TCU, the rifle team will next compete on Saturday, February 4, at the PRC Championships on the campus of the University of Alaska-Fairbanks. In addition to TCU and Alaska-Fairbanks, the Air Force, Nebraska, Ohio State and UTEP rifle teams will participate in the 2023 PRC Championships in Alaska.
No. 3-ranked West Virginia University faced the No. 9-ranked Naval Academy rifle team at home in Morgantown, W.V., on Saturday, January 28. WVU claimed victory at the match, 4742-4709, due in part to top performances from senior Mary Tucker and junior Molly McGhin. Both rifle shooters posted scores that landed them in the top two individual rankings, with Tucker topping the aggregate leaderboard with 1195, and McGhin in second with 1188.
In addition, Mary Tucker—who regular Shooting Sports USA readers will remember landed a silver medal at the Tokyo 2020 Olympic Games—was the top shooter in both disciplines at the January 28 match against Navy, posting a 598 air rifle score, along with 597 in smallbore.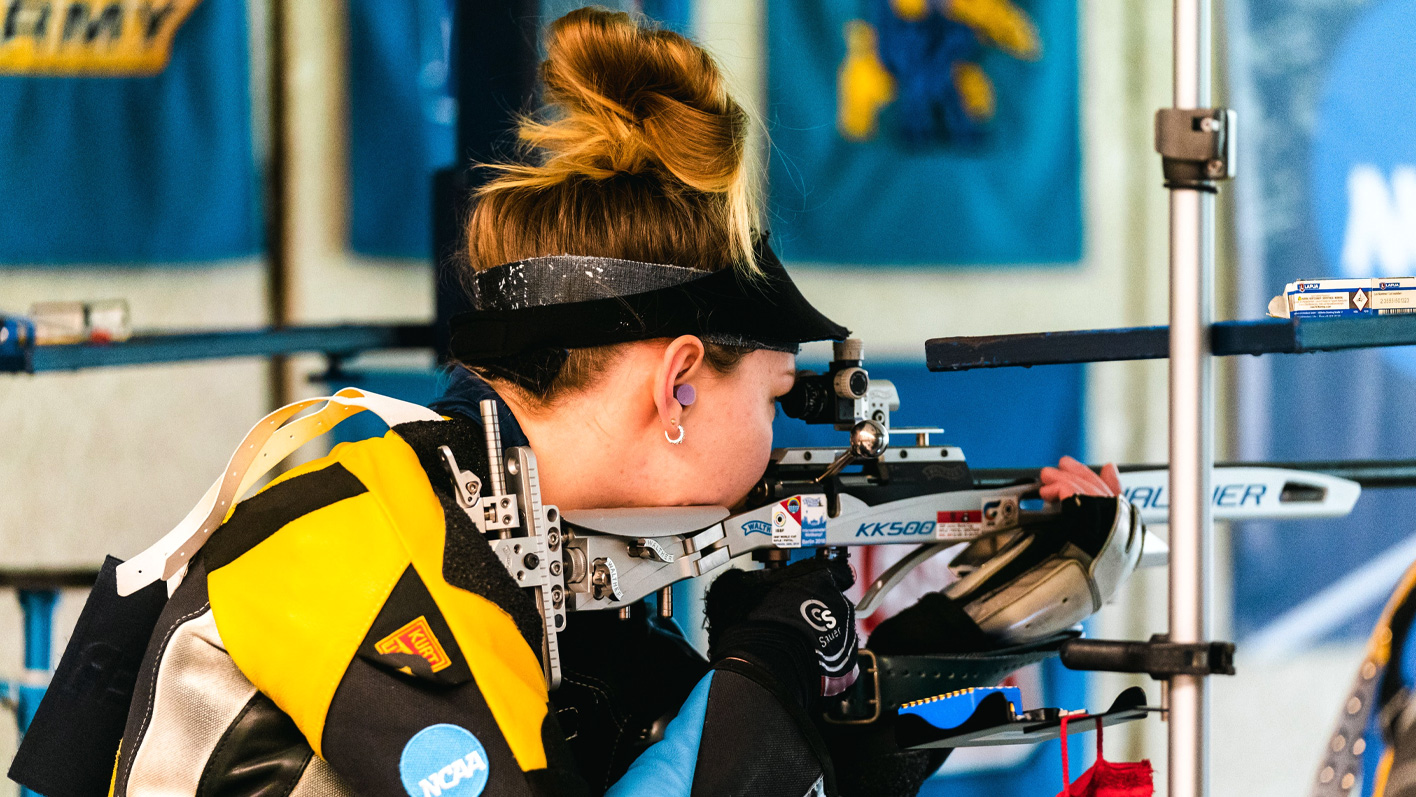 The win against Navy came to WVU on Senior Day. The 2022-2023 Mountaineer rifle squad has several seniors on its roster. "Senior Day is always a special match, and there can be extra emotions," Head Coach Jon Hammond said to John Keehan in an article published to the WVU Sports website. "This was a unique year honoring five seniors, and they have all had a big impact on our team in their years here, however many that has been."
Next up for WVU rifle will be a road match on Saturday, February 11, against No. 4 Kentucky. The match will conclude the regular season for WVU rifle as collegiate programs look towards the 2023 NCAA Rifle Championship. This year's tournament will be March 10-11 at the University of Akron's James A. Rhodes Arena in Ohio.
See the scorecards of the TCU-UTEP and WVU-Navy January 2023 collegiate rifle matches at the NCAA rifle website.
Learn more about each school's rifle program: