Although the 2020 collegiate rifle season has not concluded, the top eight teams have received their invitations to the 2020 NCAA rifle championships following the qualifying matches and the NCAA rifle team selection show. Collegiate rifle teams with the eight highest aggregate scores that qualified for NCAA rifle championship invites this year are No. 1 Kentucky, No. 2 Texas Christian University (TCU), No. 3 West Virginia University (WVU), No. 4 Nebraska, No. 5 Akron, No. 6 Murray State, No. 7 Navy and No. 8 Air Force.
Forty competitors at the 2020 NCAA rifle championships will be drawn from the top eight schools. The full field at the match will have 48 total shooters. The remaining eight shooters were selected based on individual qualifier scores. Air rifle individual qualifiers are Ariel Hall (Ohio State), Kaitlin Korinek (UT Martin), Kaitlyn Kutz (Army) and Makenzie Sheffield (NC State). And for smallbore, the individual qualifiers are Abby Buesseler (Ole Miss), Taylor Gibson (Memphis), Clayton Hanson (Army), Kaitlyn Kutz (Army) and Kellen McAferty (Alaska-Fairbanks).
After winning the regular-season GARC (Great American Rifle Conf.) championship over No. 3 WVU the previous week, No. 1 Kentucky earned the victory at home with a team aggregate score of 4723 (2380 air rifle, 2343 smallbore) against No. 14 Morehead State for its NCAA qualifier match on Saturday, Feb. 22. Freshman shooting sensation Mary Tucker was again the top scorer for Kentucky, with a 599 air rifle score and 592 in smallbore. The air rifle score marks the fourth time Tucker has fired a 599 this season in the discipline—one of only four NCAA shooters to do so this year. Two years ago, Kentucky won the NCAA rifle championship after entering the tournament as the fourth-ranked team. Kentucky hits the road for its next match, the 2020 GARC championship in Memphis, TN, on Feb. 28-29 at the R.F. Fogelman Rifle Range on the campus of the University of Memphis.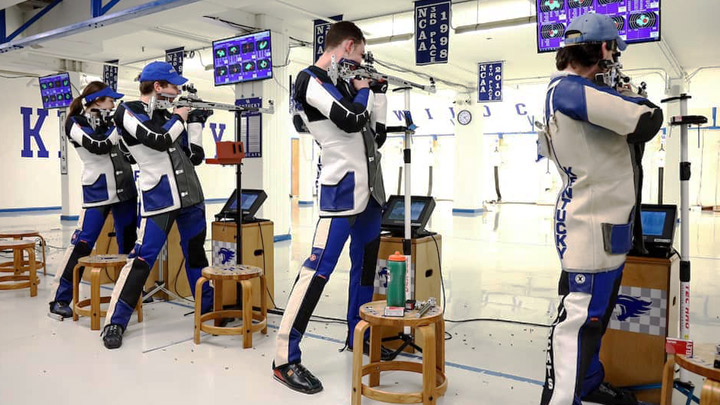 No. 2 TCU qualified for its 14th consecutive NCAA rifle championships after posting its best away match score this season—4718 (2388 air rifle, 2330 smallbore)—at its NCAA qualifier match against No. 8 Air Force on Saturday, Feb. 22. TCU freshman Stephanie Grundsoee took top honors in both air rifle (598) and smallbore (587) for the match's top aggregate score at 1185. For the season, Grundsoee has the highest individual aggregate average score (1188) outside of Kentucky rifle shooters and 2020 Tokyo Olympics U.S. air rifle team members Will Shaner and Mary Tucker. Additionally, TCU will enter the 2020 NCAA rifle championship with the highest average aggregate score in the country at 4712.692.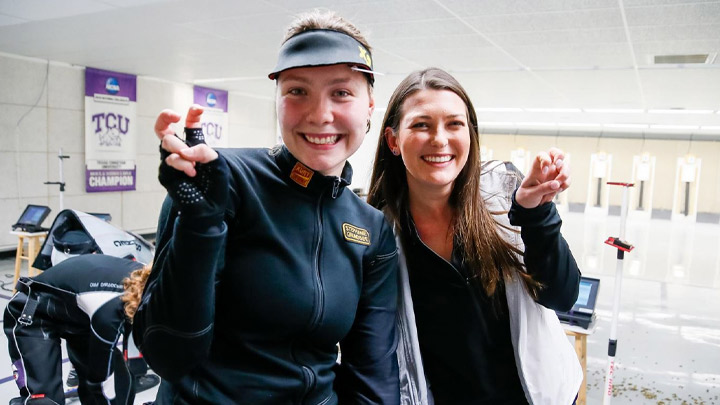 On Saturday, Feb 22 the No. 3 WVU rifle team posted a 4706 score (2375 air rifle, 2331 smallbore) during a three-way NCAA qualifying match at home, alongside No. 20 North Georgia (4578) and No. 23/25 VMI (4505). Leading the way for WVU was senior Morgan Phillips, who notched the top individual aggregate score of the match with 1177 (592 air rifle, 585 smallbore). WVU seeks to reclaim the NCAA rifle championship next month, entertaining the possibility of winning the title for a sixth time over eight seasons. Up next for WVU is the GARC championship, where the team aims to win for the 11th consecutive time on Feb. 28-29 in Memphis, TN.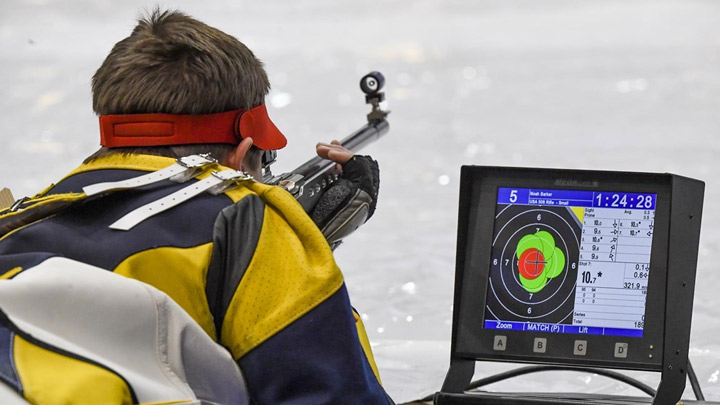 At its final NCAA qualifier on Saturday, Feb. 22, No. 4 Nebraska defeated No. 6 Murray State with a final score of 4707 (2373 air rifle, 2334 smallbore). Nebraska set several records at the match, including posting a score over 4700 for the first time—as well as the highest team aggregate score in program history. Elena Flake, a Nebraska sophomore, boasted the top individual aggregate score with 1181 (591 air rifle, 590 smallbore); while her teammate, junior Emily Cheramie was a point behind in the individual aggregate and also garnered the top individual air rifle score with 597. Nebraska will hit the road next for the 2020 GARC championship in Memphis, TN, on Feb. 27-28.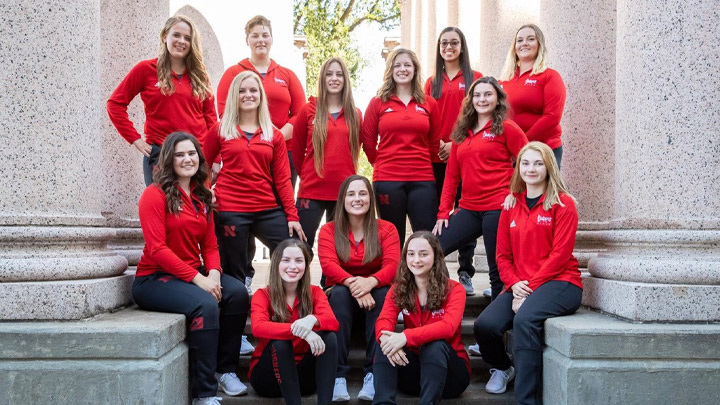 Perhaps the biggest story thus far is No. 5 Akron, who qualified for the NCAA rifle championship for the first time ever after defeating No. 12 Ohio State on the road 4683-4651 on Saturday, Feb. 22. Akron's air rifle team aggregate was 2364, and the team dominated in smallbore with 2319 over Ohio State's score of 2295. Wyatt Openshaw, a junior on the Akron rifle team, tied Ohio State sophomore Ariel Hall at 594 for the top individual air rifle score. Akron teammates senior Kera Kaufman and sophomore Andre Gross both topped the individual smallbore podium with 581. Akron's next match is the GARC championship in Memphis, TN, on Feb. 28-29.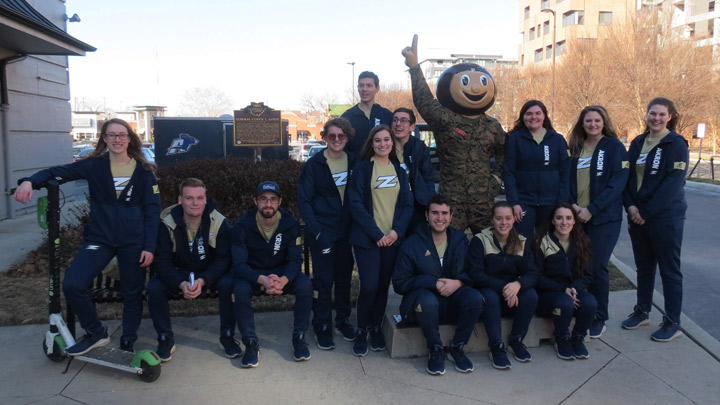 Rounding out the top eight NCAA rifle teams are No. 6 Murray State, No. 7 Navy and No. 8 Air Force.
Despite its loss to No. 4 Nebraska on Feb. 22, No. 6 Murray State fired a season-high aggregate score to qualify for the 2020 NCAA rifle championship. Murray State's total team score of 4685 (2364 air rifle, 2321 smallbore) was a full 28 points better then the team's previous average. Thanks to this strong performance, Murray State placed sixth in the rankings, well within the eight-team cutoff for the NCAA rifle championship.
No. 7 Navy had its best performance of the season on Saturday, Feb. 22, after setting a program record at its NCAA qualifier match at home against No. 27 John Jay. Navy's aggregate team score of 4685 (2369 air rifle, 2316 smallbore) was aided in no small part by strong individual shooting—the top six shooters in the field were Navy ones. 
As for No. 8 Air Force, the 2019 NCAA air rifle team champion, the aforementioned loss on Feb. 22 to No. 2 TCU did not spell doom for the team's hunt for a 2020 NCAA berth. Air Force sophomore Peter Fiori, who was an air rifle finalist at the 2019 NCAA rifle championships, finished second in individual smallbore at the match with a score of 582.
Below are the NCAA top 30 teams this week based upon the most current standings. The NCAA national rifle championships will be held at the University of Kentucky on March 13-14, where the top eight teams in the NCAA standings will face off for the 2020 title. Qualifier team scores and total scores used to determine rankings are in parentheses.
No. 1   Kentucky (4723, 9450)
No. 2   TCU (4718, 9436.33)
No. 3   WVU (4706, 9423.67)
No. 4   Nebraska (4707, 9393)
No. 5   Akron (4683, 9365.33)
No. 6   Murray State (4685, 9359.67)
No. 7   Navy (4685, 9357)
No. 8   Air Force (4669, 9351)
---
No. 9   Army (4661, 9332.67)
No. 10  Memphis (4656, 9331)
No. 11  Ole Miss (4652, 9328.33)
No. 12  Ohio State (4651, 9315.33)
No. 13  NC State (4644, 9312)
No. 14  Morehead State (4642, 9297.33)
No. 15  Alaska-Fairbanks (4633, 9295.33)
No. 16  Jacksonville State (4623, 9270)
No. 17  UT Martin (4628, 9238)
No. 18  UTEP (4608, 9203.67)
No. 19  Alabama-Birmingham (4597, 9175.67)
No. 20  North Georgia (4578, 9172.67)
No. 21  Coast Guard (4569, 9144.67)
No. 22  Citadel (4554, 9093.33)
No. 23  VMI (4505, 9021)
No. 24  Wofford (4478, 8937.33)
No. 25  VMI Women (4454, 8856)
No. 26  MIT (4342, 8716.67)
No. 27  John Jay (4241, 8543)
No. 28  Citadel Women (4196, 8401.67)
No. 29  Georgia Southern (0, 4491)
No. 30  Nevada (0, 0)

For more collegiate rifle shooting news, be sure to subscribe to the free SSUSA Insider newsletter.
Lead photo courtesy of UK Athletics.
---
More collegiate rifle coverage: