Watch the video above, with highlights from the WVU rifle team's fifth consecutive NCAA Rifle Championship win. Video courtesy of WVU Athletics.

The No. 2-ranked West Virginia University (WVU) rifle team claimed its fifth straight NCAA title, reaffirming themselves as a force to be reckoned with—shooting a championship-record 4723 aggregate score at the 2017 NCAA Rifle Championships at The Ohio State University French Field House. The eight-time reigning Great America Rifle Conference (GARC) champions, WVU finished the 2016-17 season with a 12-0 overall record and an 8-0 conference mark.

"Today is always pretty tense, but this was an amazing showing," WVU coach Jon Hammond said. "We were prepared for an incredibly tight championship. This was an incredible performance by this team in this environment. It is crazy to shoot a season-high air rifle at an NCAA Championship. This is a great result overall."
No. 1-ranked TCU finished second overall with a 4706 score. The Horned Frogs also placed second in air rifle (2372). TCU's Rachel Garner tied Morgan Phillips for first in the open relay and finished fourth overall in smallbore with a score of 430.8. The Horned Frogs turned in a trio of strong scores in the first relay of the day. Rachel Garner posted a 597 followed closely by Mind Miles with a 596. Both Garner and Miles qualified for the individual finals. It was a battle to the finish as Garner and Miles stayed within striking distance of the individual title. Miles finished fourth after shooting a 164.6. Garner pushed to the end, but ended up third after firing a 186.1 in the finals.

No. 3 Murray State finished third overall with a 4692 total. The Racers shot a 2366 in air rifle. MacKenzie Martin shot a team-high 594 to lead MSU in air rifle, while Ivan Roe followed at 593. Robert Broadstreet was next in line for the Racers at 591, while Barbara Schläpfer and Ben Estes rounded out Murray State's day at 588 and 587, respectively. Roe led the Racers in the championship with an aggregate of 1176, with Broadstreet and Martin following close behind at 1174.

The University of Kentucky finished fourth, Alaska-Fairbanks earned fifth place and Nebraska was in sixth place. Ohio State placed seventh, while Air Force finished eighth.

WVU does it again

This is the second straight season, and third time in four years that the WVU rifle team have swept the team discipline titles. The Mountaineers NCAA Championship five-peat is the third in the sport since 1980. WVU previously won six straight titles from 1988-93, and Alaska-Fairbanks won six straight from 1999-2004.

WVU freshman Milica Babic became the second Mountaineer rookie in as many days to win an individual title, as she shot 208.1 in the final to claim the 2017 NCAA air rifle championship. A native of Belgrade, Serbia, Babic entered the final in first place with a 598 (100-99-100-100-99-100) relay score.

"I'm really pleased for Milica," Hammond said. "She's had a great year in air rifle, and she came in here and performed exceptionally well. Milica has worked so hard this year on the mental side of the sport, and we've seen her grow as a shooter and a person."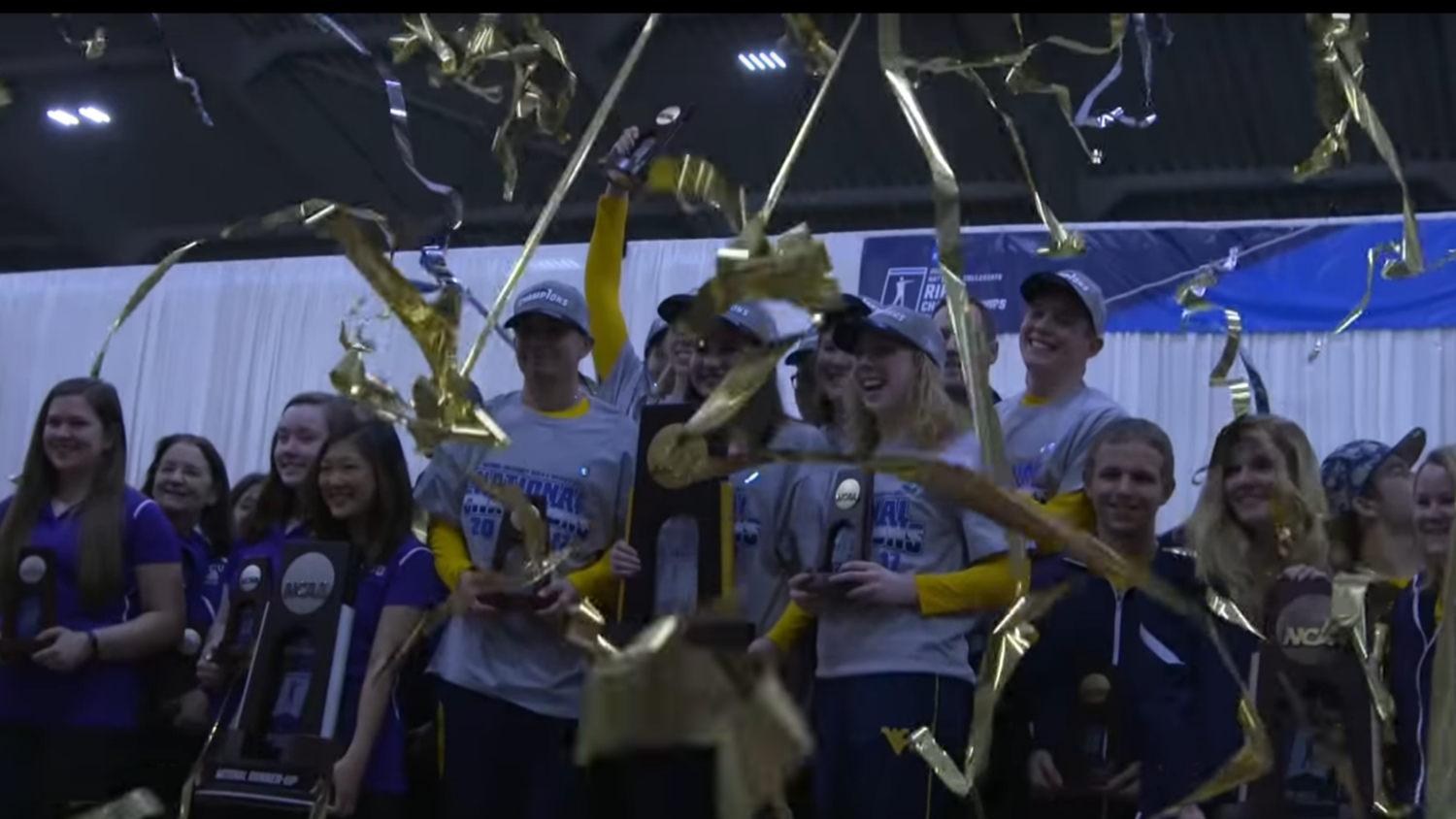 Classmate Morgan Phillips, who won the NCAA smallbore title with a 464.3 final score, finished second behind Babic with a 207.2 mark. The final two shots were tight between the roommates, as each shot a 10.9 in the second-to-last shot. This earned Phillips the NCAA Championships' Top Performer Award. The Salisbury, MD, native is the second WVU freshman in as many seasons to earn the title, as teammate Ginny Thrasher, the runner-up, won the 2016 title, while Petra Zublasing won the title in 2013.

"Morgan shot a personal best both days, and that's unbelievable at an event like this," Hammond said. "She's so calm, but also mentally tough. She did a great job."

WVU shooters have now swept the NCAA individual titles five times since 1992. This is the first time since 1993 that two different Mountaineer shooters have won the individual titles. Additionally, following sophomore Ginny Thrasher's sweep in 2016, a freshman shooter has now claimed the last two straight NCAA air rifle and smallbore titles.