Above photo: Ginny Thrasher is one of the best student-athletes in the nation right now. Photo credit: WVU Athletics.

Ginny Thrasher had quite a year since SSUSA last talked to her, after she won the 2015 NRA National Smallbore Metric 3-P Championship. The young shooter is now a freshman on the West Virginia University (WVU) Rifle team, one of the best in the nation. WVU won an unprecedented 18th NCAA title this year, which is half of the total NCAA rifle championships ever held. This is also WVU's fourth consecutive NCAA title.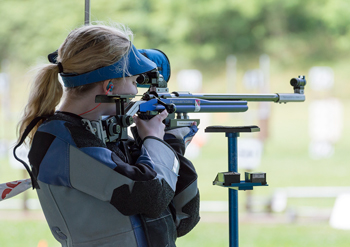 Thrasher was able to clinch the individual smallbore championship the first day of the match with a record score of 586/600. She went on to win the individual air rifle championship, thanks to help from talented upperclassmen who assisted her in keeping focused on the match. Thrasher is only the second WVU athlete to win both individual honors at NCAA since Petra Zublasing in 2013.

As if all this isn't enough, Thrasher's shooting performances have qualified her for the U.S. Olympic Team competing in Rio this August. She will be the third female rifle shooter from WVU to represent the U.S. at the Olympics.

Thrasher found time in her busy schedule to talk to SSUSA about her string of recent competitive shooting accomplishments.

SSUSA: When we last spoke, you were fresh off your victory last year at the NRA Metric Championships … you are still shooting great! Congratulations on your string of recent accomplishments.

Ginny Thrasher: Thank you! I have been having a great time since our last interview.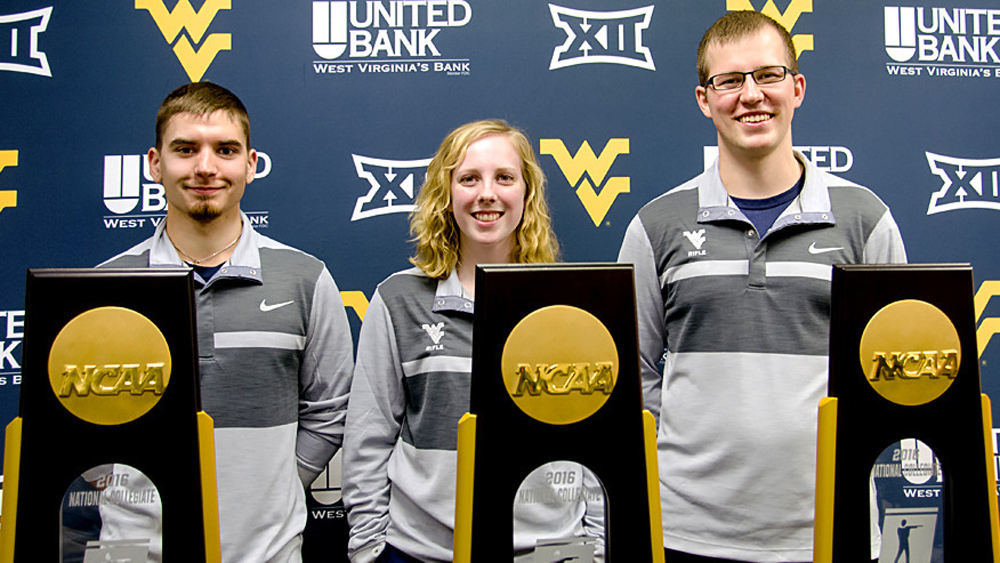 SSUSA: Glad to hear you are having a great time, you have certainly been shooting phenomenally. Coach Hammond said that you "shot an incredible final on that last day to win both [NCAA air rifle and smallbore championships]." Please share with our readers more about NCAA this year.

GT: The NCAA Championships were such a great experience for me. It was kind of a weird situation, because we took 4 seniors and myself to the championship. I was very thankful to have all the seniors there to help guide me, especially after the first day when I won smallbore and needed to refocus. The seniors were monumental in helping me turn off social media and make sure I was prepared the next day to go and shoot a match the way I know I can.

SSUSA: How does it feel to be only the WVU athlete since Petra Zublasing in 2013 to sweep both NCAA air rifle and smallbore individual honors?

GT: I'll be honest, it hasn't really sunk in yet, the amazingness of everything that has happened for me this year. This year has really led me to learn more about the history of WVU Rifle, and having people to follow like Petra that have been able to sweep NCAA Rifle like that. It really makes it seem like these things aren't so "far away", and that great things like this can be a reality for anyone. It's a great opportunity, one I never take for granted.

SSUSA: It certainly is a great opportunity. Are you still using the same guns and ammo as before? Tell our readers more about the gear you use for competition.

GT: I am not, I got a new smallbore rifle about six weeks ago, a Bleiker. My ammo is Eley Tenex. I still use a Feinwerkbau 700 for air rifle.

SSUSA: Recently you were selected for the U.S. Olympic Team headed to Rio in August, congratulations! How will you be preparing for Rio?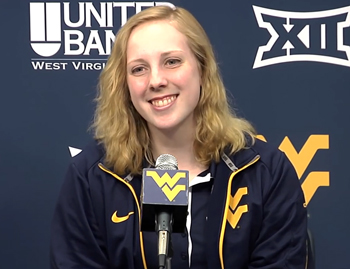 GT: Thank you! This summer I definitely have a busy schedule planned for preparation. I head to Rio for two weeks this Tuesday for the Olympic Test Event. This match is a dry run for the Olympics. When I come back from Rio I will finish the semester, and then I start an intense training regimen of going to world cups and international training camps. When I'm not training at the WVU range or traveling for my shooting, I'll be at home relaxing with friends and family.

SSUSA: Did you have to "up your game" after coming to WVU, with its then-17 NCAA Rifle championships? For example did you start practicing more?

GT: I really didn't think about it like that. I wanted to make my freshman year on the team one of learning for myself. At the beginning of the season, I sat down with Coach Jon Hammond and told him, "This is the year I want to make changes. I want to learn, and give myself the best foundation for success the rest of my career."

I really wasn't focused on the outcomes of matches, but I did want to make the scoring team at WVU. It didn't matter to me what I was shooting, as long as I was improving, and I did improve a lot this year. I am very fortunate to be able to learn, improve, and shoot some pretty good scores this year! I am very thankful.

SSUSA: Tell us more about your next match?

GT: My next match is the ISSF World Cup in Rio, which is the Olympic Test Event. I'm very excited to go, since it's going to be an opportunity to train on that range and be around some of the people that will be at the Olympics. It will be great to have some time to enjoy myself and experience what the city has to offer, before it gets really crazy for me as we get closer to the Olympics.

SSUSA wishes Ginny Thrasher the best of luck in all her future shooting endeavors. We know she will help represent the USA well this August in Rio!