Olympic gold medalist Ginny Thrasher (Springfield, VA) has advanced to the second cut for the 2019 NCAA Woman of the Year award.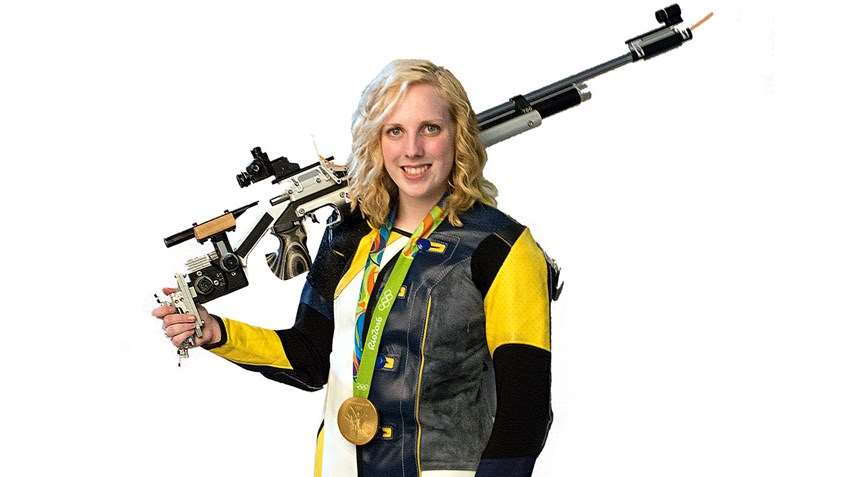 Some background on the awards process: From an original group of 585 nominees, an independent selection committee chose 148 student-athletes to continue their eligibility. The award recognizes graduating female student-athletes who have distinguished themselves in academics, athletics, service and leadership during their collegiate careers.
Thrasher, who graduated earlier this year from West Virginia University with a degree in biomedical engineering, is one of 64 student-athletes to have competed at the Division I level. Even more impressive is fact that she is the only rifle athlete among the 148 nominees. Thrasher had quite the distinguished career with the Mountaineer rifle team, including being named to 12 All-American Teams. She concluded her collegiate rifle experience in March at the 2019 NCAA rifle championship, where she helped the team post a respectable second place finish.
The 148 nominees are drawn from 20 different sports across all three NCAA divisions. The breakdown is as follows: 64 student-athletes from Division I, 33 from Division II and 51 from Division III.

The 2019 NCAA Woman of the Year will be named in October at the awards ceremony in Indianapolis, IN.
Article courtesy of WVU Athletic Communications.
---
See more:
Beard, Thrasher Clutch At Pan American Games, Secure 2 Olympic Quotas