On the cover is the legendary Jerry Miculek, who set not one, but two NRA World Records last month in Maryville, Tenn., on the grounds of Smith & Wesson's new headquarters after departing its longtime home in Massachusetts. He set both records the day before the grand opening celebration, one for the fastest time to hit six steel plates with a 9 mm revolver at seven yards from the draw after a red-hot 1.88-second run, and the other for 9 mm handgun shooting on the same course of fire with an equally impressive 2.01-second run. Read about Miculek's record-breaking day (page 18), along with our in-depth look at Big Blue's new Tennessee headquarters facility and the star-studded ribbon-cutting ceremony.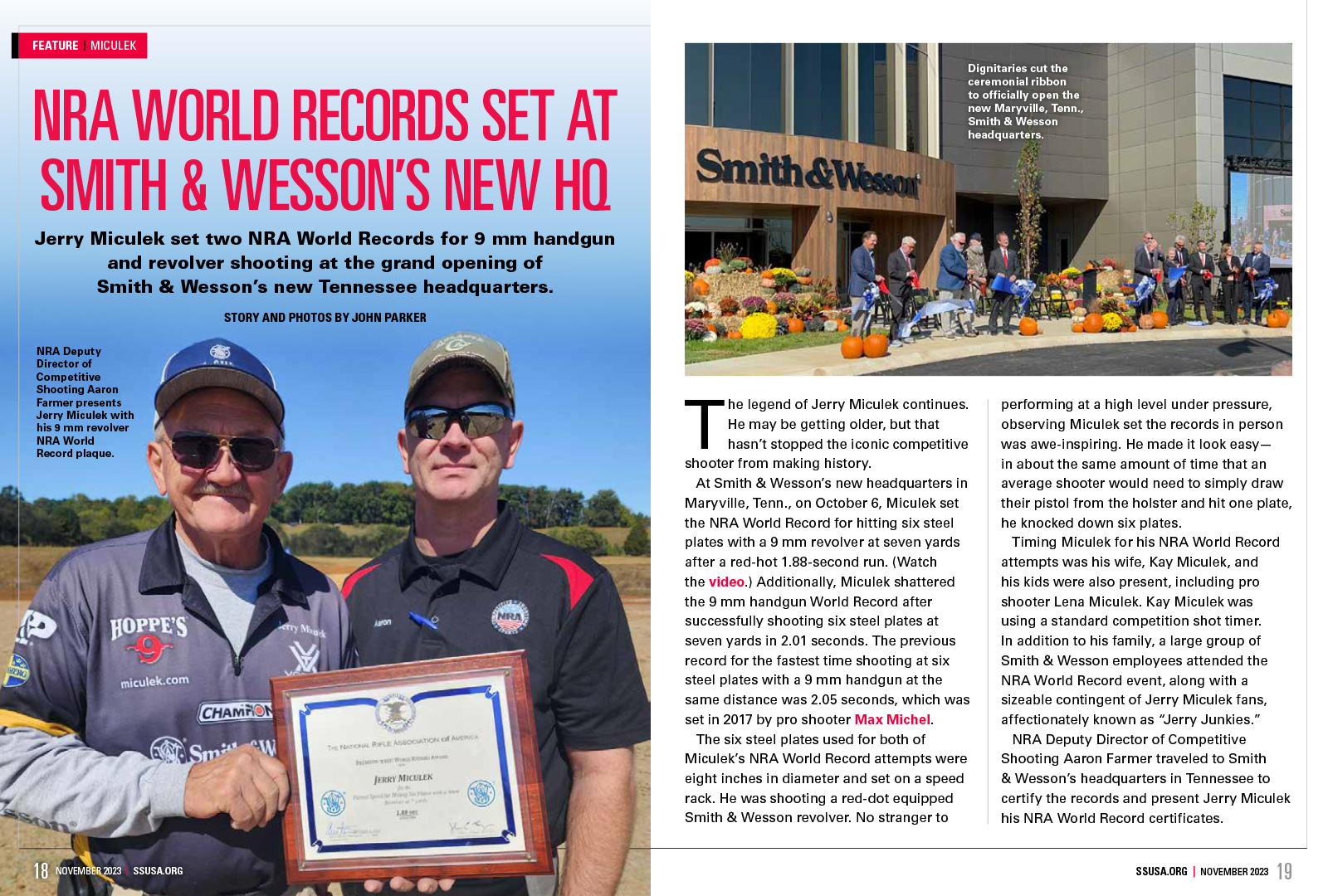 Earlier this year, Benelli debuted its redesigned Montefeltro shotgun to much fanfare. A classic semi-automatic scattergun, the updated Montefeltro is available in 12- and 20-gauge models with multiple configurations. Sporting more than a mere facelift, the company has upgraded the Montefeltro with its excellent inertia-driven operating system and a larger, two-piece shell latch for improved shell loading. Learn more about the remimagined Benelli Montefeltro in Product Focus (page 12).
The best Smallbore and High Power Silhouette competitors traveled this summer to the NRA Whittington Center in Raton, N.M., for the 2023 Rifle Silhouette National Championships. With competitors from across the United States, Canada and Mexico in attendance, as well as some traveling from as far as Australia and Italy, this year's Rifle Silhouette Nationals was the largest gathering of silhouette shooters at the NRA Whittington Center in the last 25 years. Additionally, the 2023 Rifle Silhouette Championships provided competitors with opportunities to win prizes in the Lapua Monarch Cup, an aggregate match for shooters competing at tournaments across North America. In my match report (page 24), you can find out who topped the Smallbore and High Power championship leaderboards in Standard Rifle and Hunting Rifle by knocking down the most chickens, pigs, turkeys and rams.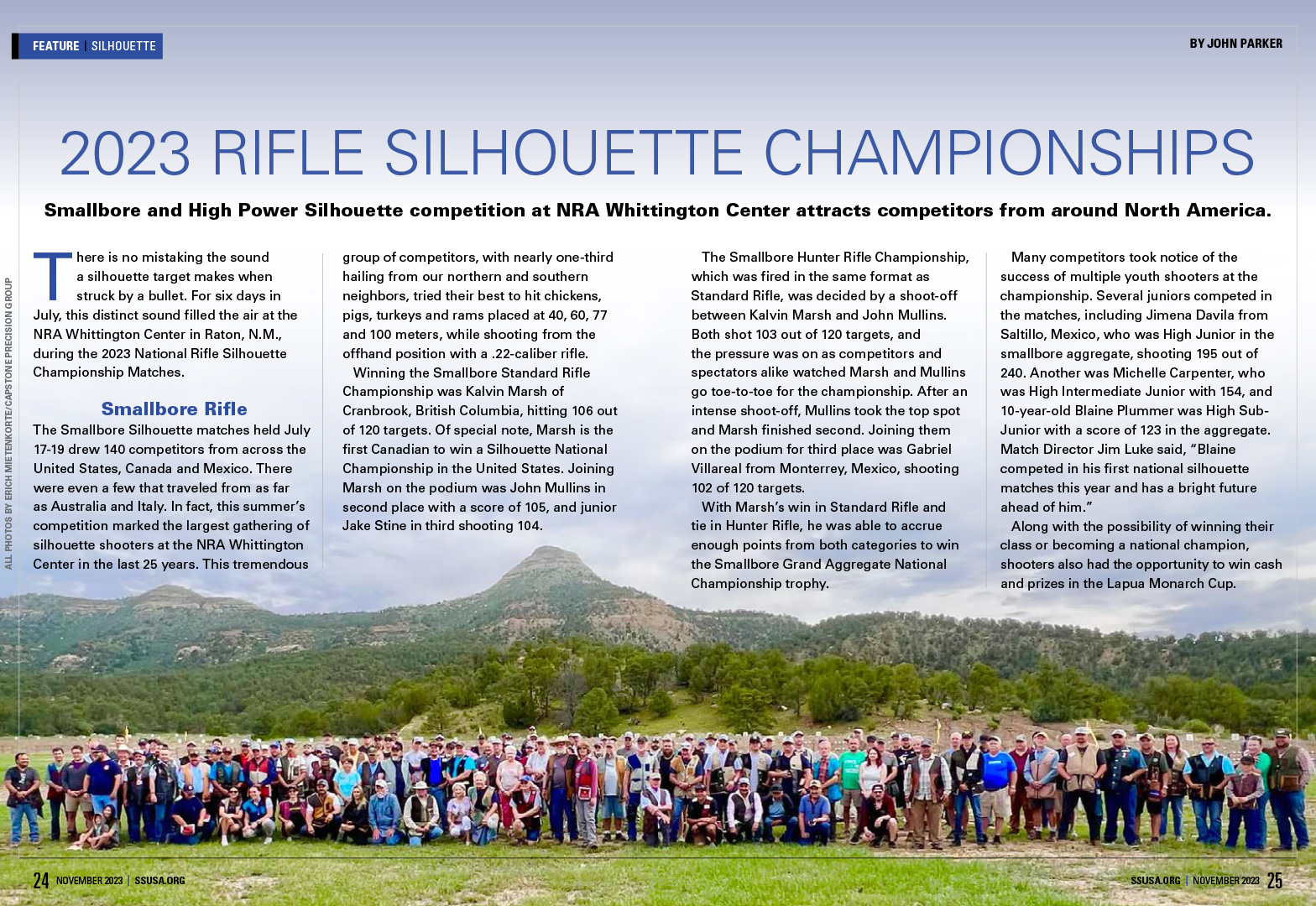 In his feature this month, Field Editor Art Merrill goes in-depth on the meanings of two words familiar to all competitive shooters that are often misused: "accuracy" and "precision" (page 32). When it comes to the shooting sports, Merrill said, "there is a real difference between accuracy and precision as descriptive scientific terms of measurement." For technical information such as with firearms, it is important to maintain clarity, since the two concepts are quite different.
Olympic gold medalist and United States Air Force Academy rifle team coach Launi Meili needs little introduction to readers. Author Maggie Kelch recently interviewed Meili (page 36), who became the first American woman to win a gold medal in smallbore rifle at the Barcelona 1992 Olympic Games and is a member of USA Shooting's Hall of Fame. Besides her rifle team coaching duties at Air Force, these days Meili is focused on giving back to the sport and promoting its growth. Also, if you're visiting the NRA National Firearms Museum in Fairfax, Va., you won't want to miss the Olympic section, where Meili's gold medal-winning rifle is on display.
John Parker
Editor-in-Chief, Shooting Sports USA
Are you a subscriber?
Not receiving the monthly digital magazine announcement in your inbox? Become a subscriber. Not only is it completely free, it only takes a minute to sign up and it guarantees you'll never miss a single issue of the NRA's competitive shooting journal. Subscribe here.