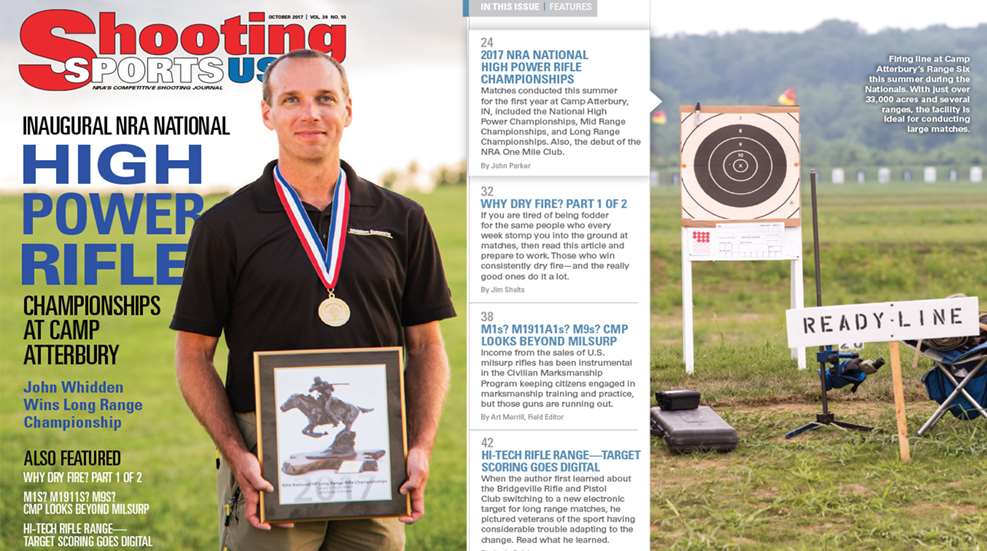 I am very sad to say that the shooting sports have lost one of their best. In August, Paul Nordquist, noted smallbore competitor and Shooting Sports USA author, passed away. While his shooting accomplishments are worthy of note, Nordquist's true legacy will be the numerous articles he authored about the history of the shooting sports. His writing filled pages of Precision Shooting magazine, and for years he was my go-to man when in-depth research of shooting sports history was required. Nordquist performed this critical function with great skill, filling a void that was left after the retirement of NRA Archivist John J. Grubar in 2015. His passion for the history of target shooting will surely continue to enrich the next generation of shooters. Be sure to read author Hap Rocketto's touching tribute to Paul.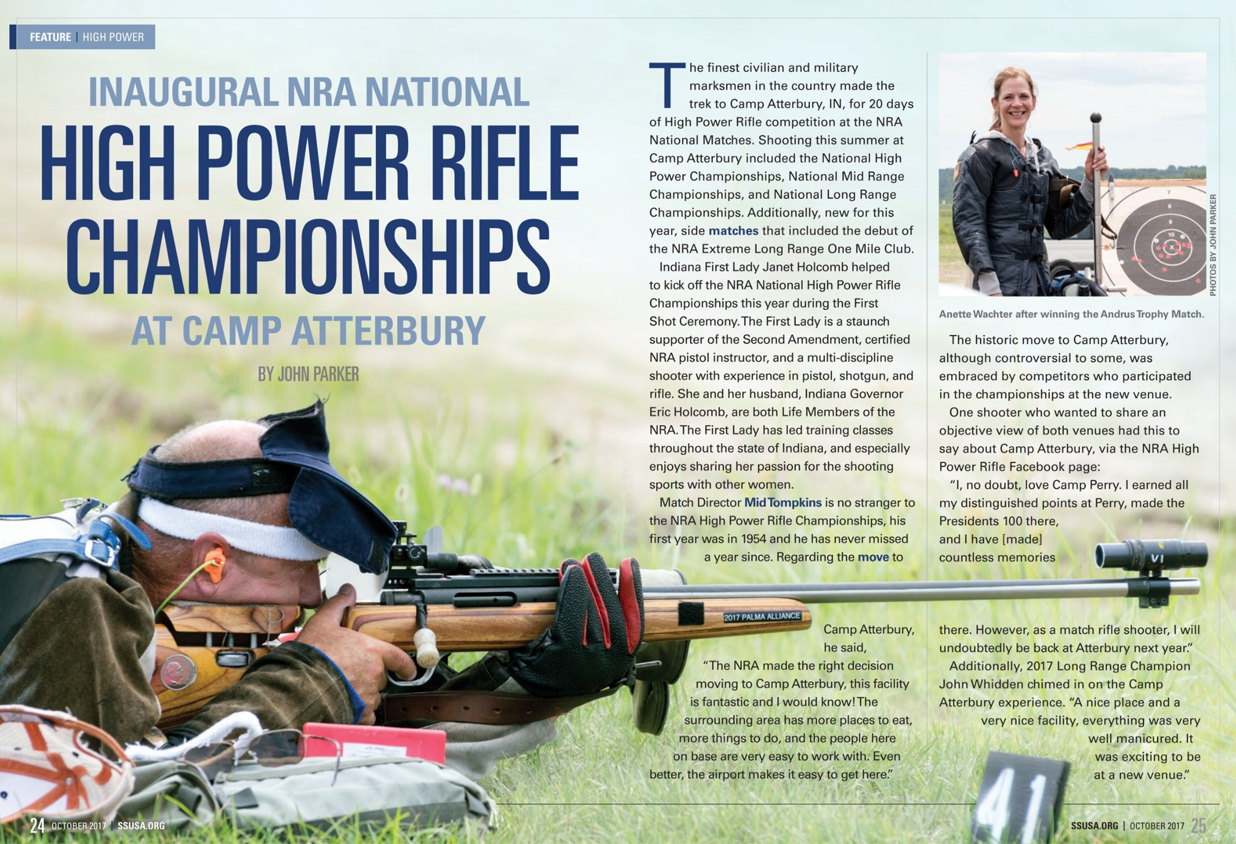 On another note, this month's cover feature highlights the very first NRA High Power Rifle Championships conducted at the match's new home—Indiana's Camp Atterbury. Located about 50 miles south of Indianapolis, this active Indiana National Guard base boasts over 60 ranges, making it the ideal new venue to continue the legacy of NRA High Power. Hundreds of competitors made the trek to continue the historic tradition of rifle competition at the National Matches.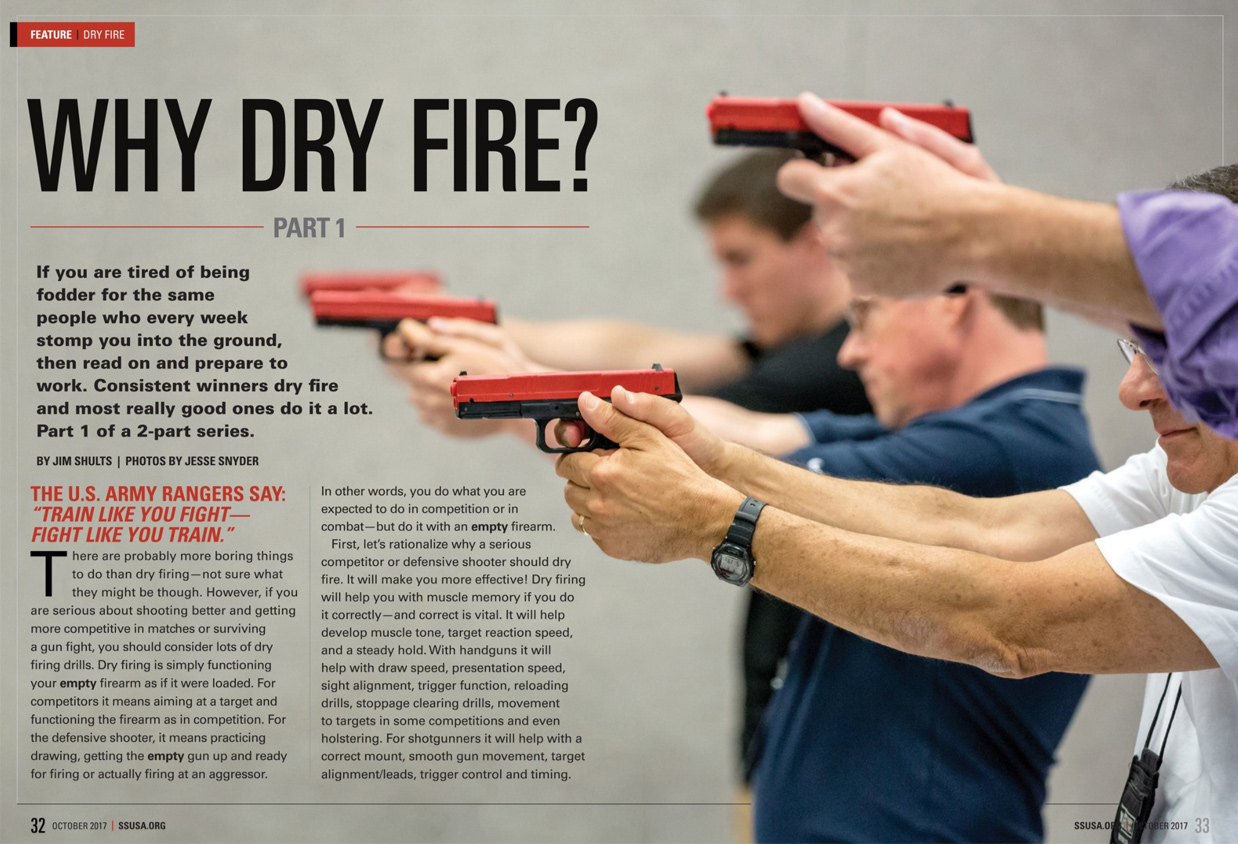 Why dry fire? Shooters who consistently win matches dry fire. Author Jim Shults says that it is the best way to become a more effective competitive shooter. He has written an informative two-part series that not only shares some great tips, but also several compelling reasons why every serious competitor should dry fire—muscle memory, draw speed, sight alignment, trigger function—all of these subjects are included. Read part one of Shults' advice.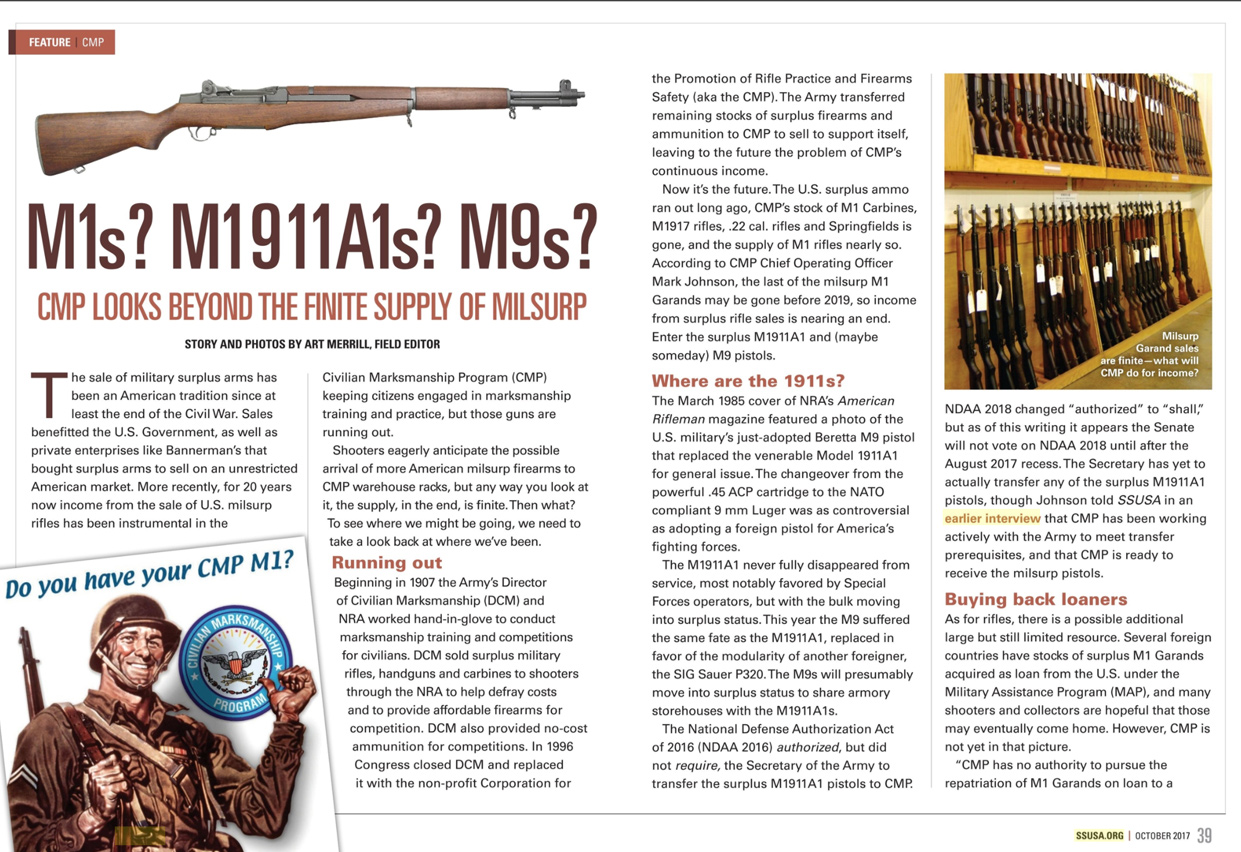 Military surplus sales have been the lifeblood of the Civilian Marksmanship Program for decades. But, the days of these sales may be coming to an end because their supply of M1 rifles is just about gone. Since match fees alone as an income source do not cover the high costs of conducting large competitive shooting programs this presents a problem. Recently, Art Merrill spoke with Mark Johnson, CMP's chief operating officer about the situation, and how they are exploring alternative sources of revenue to ensure their financial future.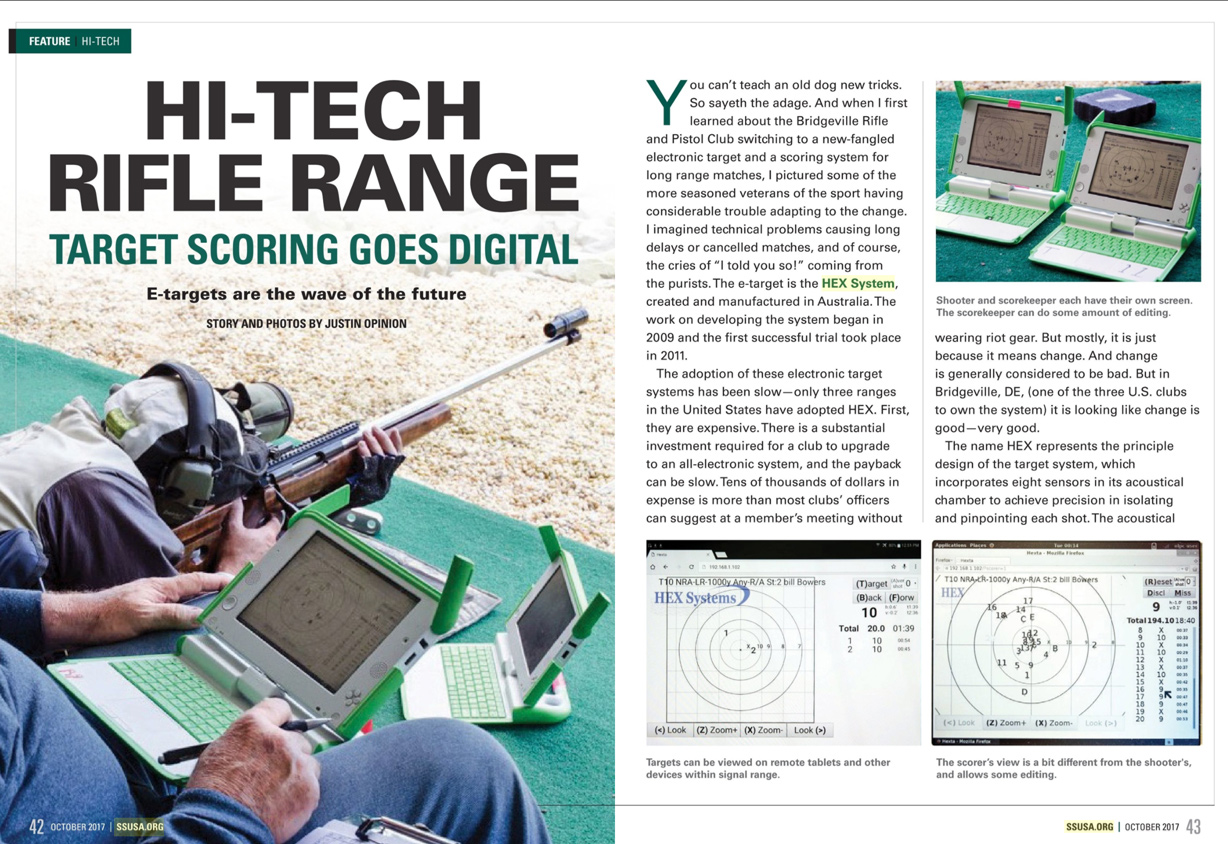 SSUSA first reported on the Australian built and developed HEX Electronic Targets last December, when they were installed at the Reade Rifle Range in Fallen Timber, PA. What makes HEX different from others is the fact that they incorporate eight acoustic sensors in their system for additional precision in recording hits. This summer, the Bridgeville Rifle and Pistol Club in Bridgeville, DE, installed the new HEX E-Target System—the third club in the U.S. so far to install them. This article by Justin Opinion shares what a few high power shooters had to say about their debut at Bridgeville, including former NRA president John Sigler.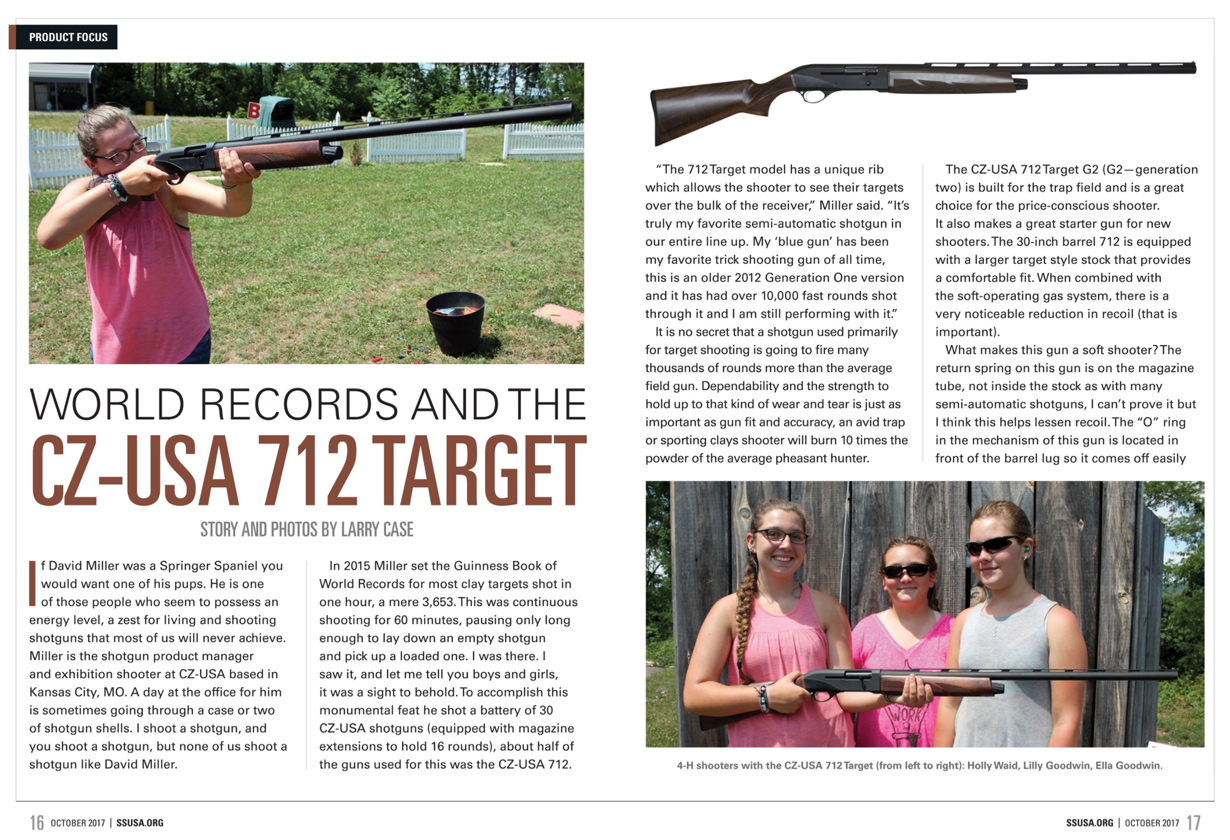 The soft-shooting CZ-USA 712 semi-automatic shotgun is built for clay shooters, like exhibition shooter and Guinness World Record holder Dave Miller. Dave's record: most clay targets shot in an hour (a mind-blowing 3,653!) and naturally, as CZ-USA's shotgun product manager he was using 30 of the company's shotguns during his successful attempt. His favorite CZ semi-auto, the 712 comprised nearly 50 percent of the guns Dave used for his record-breaking shooting performance. The new 712 G2 Target 12-gauge model improves on the original formula with some nice upgrades including chrome-lined barrels, laser-engraved checkering, right-hand palm swell, and a barrel lock-ring for easier assembly. Our resident shotgun expert, Larry Case brings us insight on the 712 Target, along with the opinions of a few 4-H junior shooters he met on a trip to his gun club in October's Product Focus.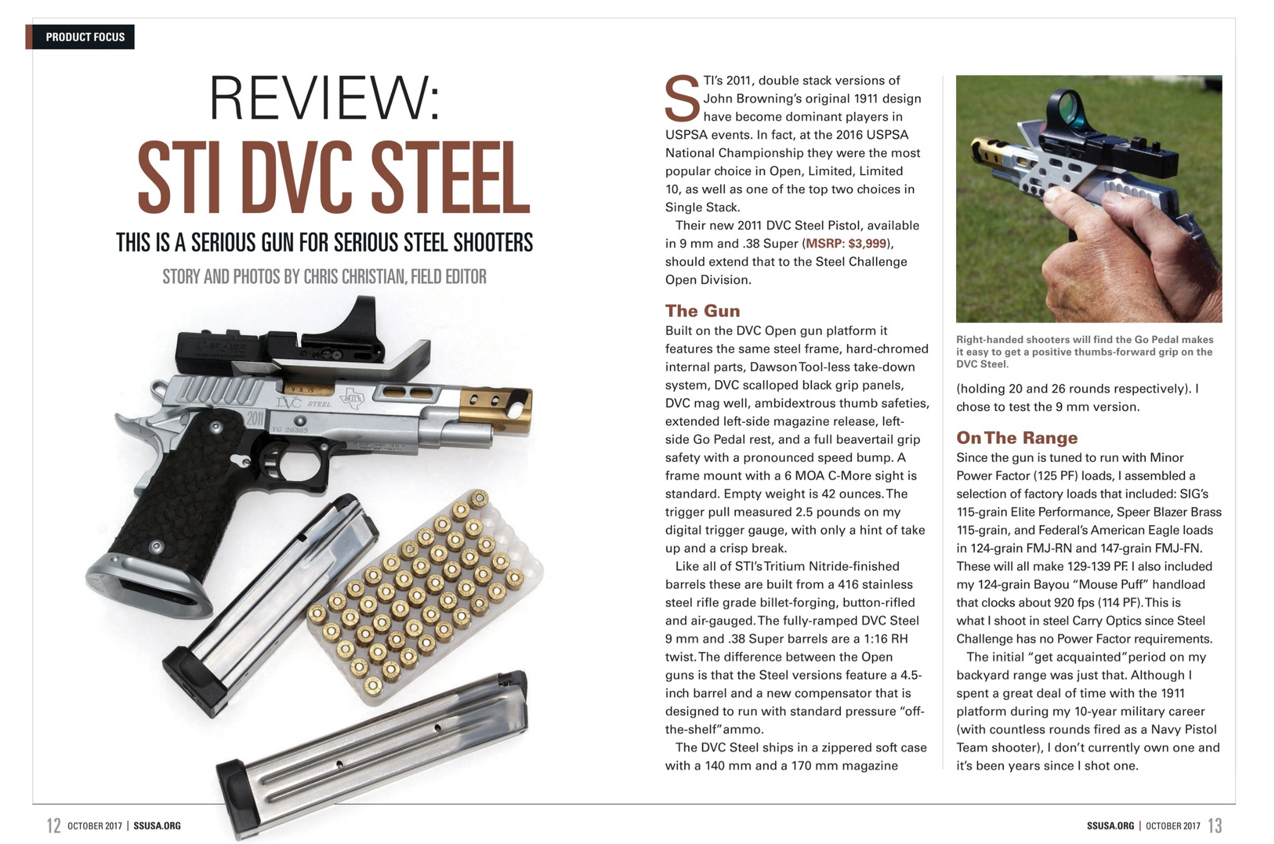 A final note: I am excited to announce the promotion of two key SSUSA contributors to Field Editor—Art Merrill and Chris Christian. Art has been writing for the magazine for over 10 years and is a former Navy shooter. He is a Vintage Military Rifle expert among many other competitive talents, and one of the best in the business at breaking down complex subjects. A veteran newsman with a keen photographic eye, Art has penned some of the most popular articles we have featured over the last few years, including "Goodbye, Brass"—which was featured on the cover of the February 2017 issue of Shooting Sports USA. Chris Christian joined our writing team a few months after I took the wheel in early 2015. Since then, he has proven to be one of the most knowledgeable writers on action shooting in the United States—focusing on ICORE, IDPA, USPSA and Steel Challenge competition. A skilled competitive shooter, you can tell his enthusiasm for these sports in his writing, especially his informative product reviews. But don't take my word for it—see for yourself by reading his latest review: the STI DVC Steel 9 mm model.